Amata Industial Estates in Thailand and Vietnam
Amata, incorporated in 1989 and listed on the Stock Exchange of Thailand (SET) in 1997. is Thailand's leading developer and manager of industrial estates in the country's largest industrial area, the Eastern Seaboard, with a market share of 40 per cent of the country's total industrial land sales in 2003. Amata currently operates two industrial estates on Thailand's Eastern Seaboard, Amata Nakorn in Chonburi and Amata City in Rayong, serving over 400 local and multinational clients. Amata in Vietnam is located in Dong Nai Province with over 80 companies from the U.S., Thailand, Korea, Germany and more.

---
Thailand: Amata Nakorn in Chonburi and Amata City in Rayong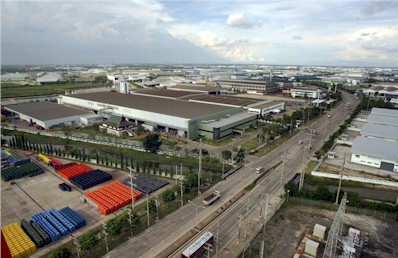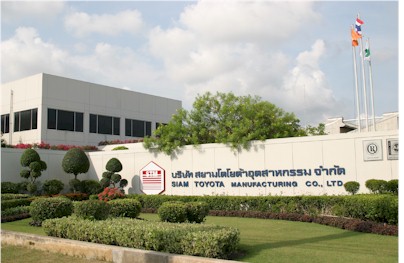 Above pictures: (left) Amata Nakorn's main road and (right) Toyota factory in Amata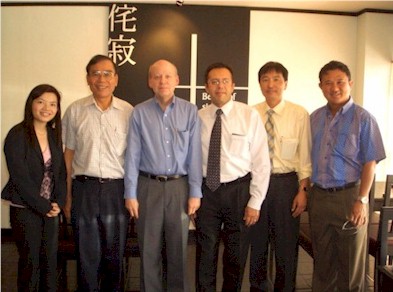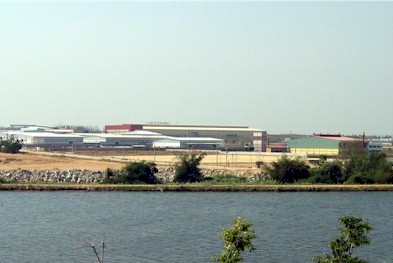 Above pictures: (left) Mr. Chackchai Panichapat, Amata Executive Director (second from left) with Mr. Chris Runckel, President of Runckel & Associates (3rd from left) during one of visits to Amata Nakorn (right) One of the factories in Amata

Amata Nakorn Industrial Estate, Thailand
Amata Nakorn Industrial Estate (previously known as Bang Pakong 2), the company's flagship estate is located on a prime site only 57 km (35 Mi.) from Bangkok in between Bangna-Trad Elevated Expressway and Bangkok – Chonburi Motorway. It is 42 Km. from the new international airport. Factories set up here have excellent access to Bangkok and the Eastern Seaboard region and benefit from location in the heart of the Eastern Seaboard Industrial Region and its supporting infrastructure. Amata Nakorn is under BOI investment zone 2 and covers an area of over 11,000 rai. Amata hosts over 300 multinational companies.


Distances:

Bangkok 57Km
Bangkok Int. Airport: 85Km
Bangkok New Int. Airport 42Km
Laem Chabang Deep Sea Port 46Km

Total area: Rai 12,000
Major industries: Automotive, Electronics, Consumer Goods

More on Amata Nakorn: Amata Nakorn Fact Sheet (2 pages)| Customer List

Amata City Industrial Estate, Thailand
Amata City Industrial Estate is located on Highway No. 331 in Rayong province, in the heart of the Eastern Seaboard of Thailand. The estate is located close to a deep-sea port and all major infrastructure of the area. Investors at Amata City will be automatically granted the maximum tax privileges and incentives provided by the Board of Investment for Zone 3. Its 6,000-rai site is home to over 70 international clients. The estate is strategically located just 27 kilometres from Laem Chabang Deep Sea Port and 1.5 hours drive from Bangkok.

Distances:

Bangkok 114Km
Bangkok Int. Airport 142Km
Bangkok New Int. Airport 99Km
Laem Chabang Deep Sea Port 27Km

Total area to date: Rai 6,000 - Phase 2 under expansion
Major industries: Automotive, Electronics, Consumer Goods
More on Amata City: Amata City Fact Sheet (2 pages)| Customer List
Amata serves companies from around the world with industrial land for sale in various sizes to suit the individual requirements of each investor. Amata works in partnership with the Industrial Estate Authority of Thailand. Therefore, investors are allowed to own land freehold and enjoy investment incentives from the BOI. "Free Zones", the latest government measure to stimulate competitiveness, are available in both Amata Nakorn and Amata City. Investors benefit from import duty exemption, exemption of VAT and excise taxes, etc. They also get access to fast and easy customs clearance through an on the spot Customs Office.

Amata Cyber Factories
Many smaller Thai and international firms move to industrial estates to act as secondary or tertiary suppliers. Amata now offers Cyber Factories for SMEs. These are ready built factories of 500-5,000 square metres equipped with high speed, broadband and digital multimedia ICT services.

Quality development, maintenances, and the dedication to keep Amata estates "green & clean" contribute to the company's success. Both estates in Thailand are ISO 14001 certified. The industrial estates are planned cities offering efficiencies of scale and lower costs through shared facilities and utilities. Amata plans to create "Perfect Cities" where people not only work, but also can live rewarding lives. Amata hosts education institutes (Satit Kaset Multilingual School, Suankularb School, YWCA, Thai-German Institute), residential and commercial facilities (Amata Mansion, Labour Department Jobs Market, Amata Commercial Plaza) and recreational areas such as the Amata Spring Country Club, opening in December 2004.
Vietnam: Amata City Bien Hoa Industrial Park
Amata also operates an industrial estate outside Ho Chi Minh City in Southern Vietnam: Amata City Bien Hoa with over 60 international clients. Amata is currently developing Amata Express City in Dong Nai Province outside Ho Chi Minh, and Amata Petro City at Dung Quat, Central Vietnam.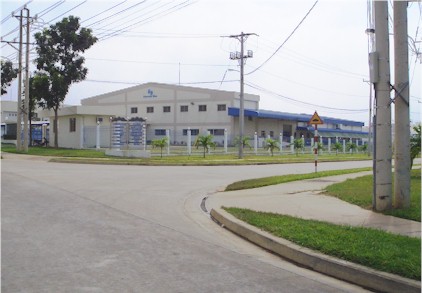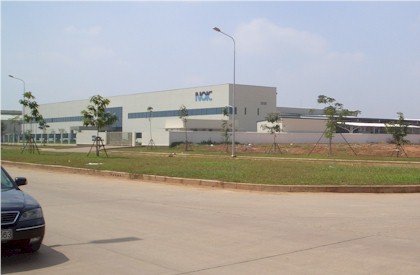 Above pictures: Factories in Amata City Bien Hoa IP, Vietnam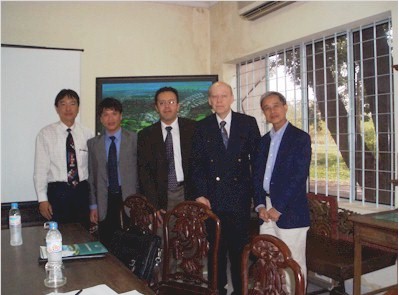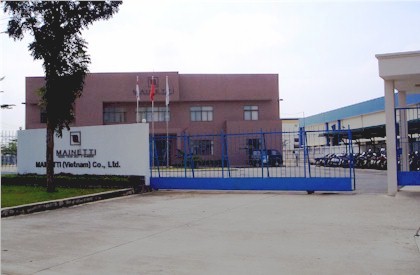 Above pictures: (left) Dr. Huynh Ngoc Phien (far right) heads Amata's Management in Vietnam with Mr. Runckel
of Runckel & Associates and (right) A paint factory in Amata City Bien Hoa IP
Amata City Bien Hoa Industrial Park, Vietnam
Amata City Bien Hoa is the premier choice for new facilities in Vietnam; especially those that need easy access to shipping, reliable power and water supplies, and a quality environment to attract and retain high quality employees. Amata (Vietnam) Co., Ltd. was established in December 1994, as a joint venture Project between Amata Corporation Public Company Limited, Thailand and Sonadezi Bien Hoa, Vietnam.

Sonadezi is the State developer of industrial estates in Dong Nai Province. To date they have developed Bien Hoa 1, Bien Hoa 2 and Go Dau; which are some of the most successful industrial estates in the south of Vietnam.

Over 51 Multi-Nationals have selected Amata City Bien Hoa, such as:
Aventis Crop Science; Amanda Foods; Bayer Vietnam; Fukuyama Gosei; Gannon; Kao Consumer Goods; Sanko Mold; Wacoal Corporation; etc

Total area: 700 ha; First phase 129 ha
Phase 2 under expansion
Major industries: Automotive, Electronics, Consumer Goods
More on Amata City: Amata City Bien Hoa Fact Sheet (2 pages)| Customer List

For more information, visit www.amata.com
---

www.Business-in-Asia.com