---

Chinese Commerce Minister Chen Deming, at an Association of Southeast Asian Nations (ASEAN) meeting of economic ministers in Bangkok in August 2009, said that China wanted to boost cooperation with ASEAN countries to increase trade and investment, Xinhua News reported. China and ASEAN ministers signed an agreement to increase bilateral investment by as much as 60 percent within the next two years. The 41st meetings have been focusing on the economic integration within the ASEAN region as the ASEAN Economic Community is expected to complete integration in 2015 at which point investment, capital and skilled labor can flow freely.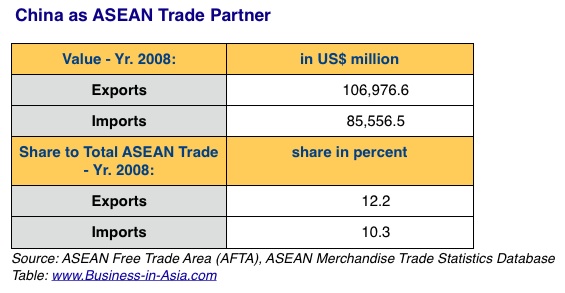 Background:
- China is an important trade partner of ASEAN and is the fourth largest export market of ASEAN.
- In 2009 (January-September) ASEAN export to China was approximately 85.6 billion U.S. dollars.
- China is the third largest source of imports of ASEAN. Imports from China are valued at nearly 107.0 billion U.S. dollars.
- China is the 8th largest investor in ASEAN, with accumulated investments as of 2008 valued at 6.1 billion U.S. dollars, while ASEAN accumulated investments in China as of 2008 were valued at 5.6 billion U.S. dollars
- China signed its FTA with ASEAN in 2004 and has since emerged as the Southeast Asian countries' largest trading partner.
- Trade between China and ASEAN jumped from $59.6 billion in 2003 to $202.6 billion in 2007.
- Then, came the first step in opening up both sides' service sectors in July 2007 and both sides are now conducting a second round of negotiations, aimed at producing a proposal for the Asean-China summit in October 2009.



China-ASEAN Investment Agreement signed:



The signing of the investment agreement, together with already-signed China-ASEAN agreements on the trade in goods and services, completed the negotiation process of the China-ASEAN Free Trade Area (FTA), which is to be realized by January 1, 2010.

Zhang Kening, Counselor from the International Department of the Chinese Commerce Ministry, said that the Investment Agreement, which included 27 clauses, aimed to provide a free, transparent and fair investment mechanism for investors from both sides, who can enjoy most-favored-nation treatment, citizen treatment, and fair and equitable treatment on reciprocal investments. Following negotiations that started in 2003, the agreement would expand trade and investment between ASEAN and China as well as enhance economic ties with China. Both sides agreed to support foreign direct investment of their investors, as well as promote and protect investments of parties to the Agreement by giving non-discriminatory and fair treatment to investors, compensating investors in case of expropriation and providing for investors-state dispute settlement. Investment facilitation and protection will result in increases in production, exports, and trade volume of both sides, reported Xinhua News.



ASEAN to get loans from China:



In the meeting between Asean Commerce Ministers in Bangkok in August 2009, China agreed to provide a US$15 billion loan to help Southeast Asian countries with infrastructure development and another $10 billion in the form of an emergency investment fund to help the region cope with future economic crises, reported Bangkok Post newspaper. The loan will be used to improve transport and telecommunications infrastructures in the region.

For example, the funds will be used to build a railway connections between Kunming in southern China to Vietnam, Laos, Thailand, Malaysia and Singapore, which will also will be used to boost trade, investment and tourism between ASEAN and China.


---
Read more about ASEAN Free Trade Agreement on our website:
- Free Trade Agreement with Asia