---
India, which has one of the few national economies still in growth, signed a free trade agreement (FTA) with the Association of Southeast Asian Nations (ASEAN) in August 2009, reported Economic Times in India. According to the ASEAN-India joint statement, the agreement, required more than six years of negotiations, and will take effect on Jan. 1, 2010. Between 2013 and 2016, tariffs will be eliminated on products including machinery, chemicals, electronics and textiles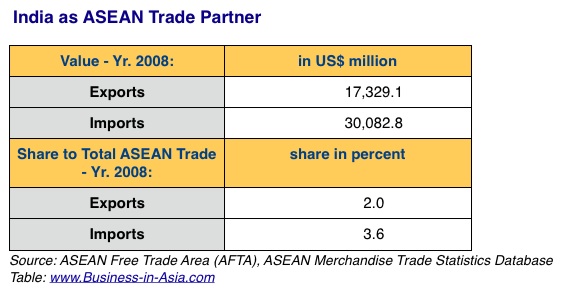 ASEAN is India's fourth-largest trading partner after the European Union, the United States and China. Trade between India and ASEAN totaled $47 billion in 2008 and is expected to rise to $60 billion with the signing of the FTA. Trade between Asean and India has risen by more than 27% annually since 2000. The agreement is key to creating an open market across the region. India is looking to boost its export sector, which accounts for only 26% of its economy, said Indian Commerce Minister Anand Sharma. India's domestic economy continues to remain strong and GDP growth will likely rise by around 6.7% even in 2009 after having grown at the same pace in 2008. "This is due to the domestic economy's strength," said Sharma. India's continuing economic strength partly reflects its high savings rate and high investment rate. However, India's exports have been declining since the global financial crisis deepened in mid-September 2008. Their value in June was 27.7% down on $17.73 billion in the same month last year.



Liberalize Tariffs:



- The FTA will liberalize tariffs on about 4,000 items accounting for nearly 80% of trade between India and Asean. Electronic goods, chemicals, certain capital goods and some categories of textiles are among the items covered. T

- When the agreement becomes effective, from Jan 1, 2010, tariffs on the products covered will sink to zero between 2013 and 2016.

- A bilateral safeguard mechanism will address any sudden surge in imports with ''safeguard tariffs'' to protect domestic industries for a period of four years.



Oppositions to the FTA:



Many Indian organizations oppose the deal because of India's trade deficit with most ASEAN countries. Opposition from some states in India, for example: Kerala and Karnataka states feared that their farmers would be hurt by an influx of goods such as coffee, tea and palm oil from ASEAN. After strong lobbying by India's farm sector, the terms of the FTA let India exclude 489 products, mostly commodities including rubber, from tariff cuts. Tariffs on a much smaller list of ''highly sensitive'' products, including palm oil and coffee, would be reduced over about 10 years, but only modestly.

The FTA also does not include software and information technology in which India is a world leader. A services trade agreement, which is of enormous interest to India and its export-oriented software and information technology sector, has been postponed until December 2009.

For some of the most sensitive products like tea, coffee and pepper, the tariffs are being phased down gradually from 70-100 percent tariff levels.

By locking in its demands on tariff reductions through a multilateral FTA like with ASEAN, India now has more trade allies and a stronger footing for an informal ministerial meeting of the World Trade Organization (WTO) that it will be hosting in New Delhi Sept. 3-4, 2009.



Steps Ahead:



India is taking real steps to further its Look East policy toward Southeast Asia. The FTA signing with ASEAN marks India's first major multilateral FTA. A few days before the ASEAN FTA signing, India signed a comprehensive economic partnership agreement (CEPA) with South Korea. CEPAs are lighter versions of FTAs, in which the tariff removal rate occurs on a much slower pace than with regular FTAs. Before South Korea, India's only other comprehensive economic partnership agreement was with Singapore in 2005. This FTA is an aggressive move on the part of India in competing primarily for influence with China in ASEAN. Further, it give ASEAN countries another reason to promote themselves as a location for a factory or regional office as the ASEAN-India FTA agreement gives them a real claim that locating in their country opens up a market of nearly 1.6 Billion people which is larger than even China's population or market.

---
Read more about ASEAN Free Trade Agreement on our website:
- Free Trade Agreement with Asia