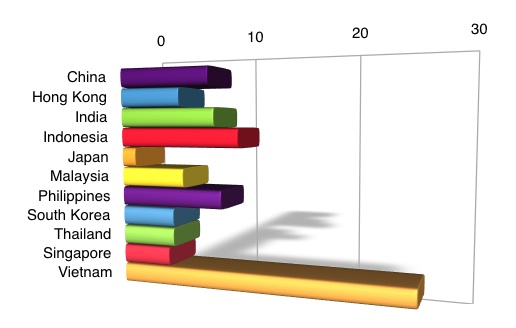 Inflation Rate in Asia
(June 2008)
Inflation is accelerating across Asia driven by surging food and oil prices. Some of the Asian countries' governments have had an increasing realization that inflation would not go away quickly and governments have started to take actions to curb inflation as it is posing a threat to economic growth. A recent Reuters poll noted that accelerating inflation across the region is expected to increase pressure on central banks to tighten their policies and to reduce liquidity in the market. Central banks in Indonesia, India, the Philippines, Taiwan and Vietnam have raised interest rates already in 2008, but analysts believe that most of the Country's noted Central Banks remain behind the curve as inflation expectations rise and firms try to pass on higher costs to consumers. The Reuters poll also showed that central banks in seven economies, including China, Indonesia, the Philippines, India and Thailand, would raise interest rates in 2008 to tackle inflation.
On June 21, 2008, Managing Director general of the Asia Development Bank (ADB), Rajat M. Nag, told reporters at a two-day World Economic Forum on East Asia that the ADB's latest projection for inflation in Asia indicated that it would hit 5.1% in 2008 due to surging food and fuel prices and could threaten economic growth in the region. He further explained that inflation could endanger growth in Asia and if the inflation was not slowed down, it would hurt Asia's poor. Mr. Nag added that to reduce the impact of the rise in food and fuel prices on the poor, Asian economies should launch cash income support programmes for the poor, but not a general subsidy.
The Asian Development Bank has said it expects growth in the region's economies, excluding Japan, to ease to 7.6 percent in 2008 from 8.7 percent last year as exports slow due to weaker demand from the United States. Asia's economic growth is slowing as weaker global demand dents exports; however, Asia's exports remain resilient due to rising demand from other emerging markets.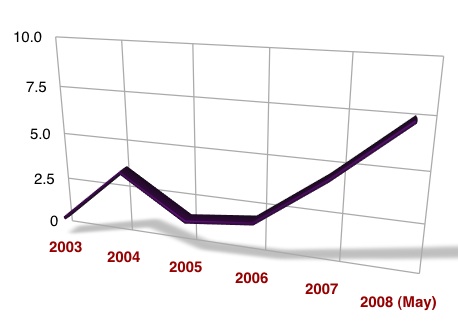 Consumer Price Index (CPI) Growth of China (%)
The China Post reported that the Statistic Bureau's records showed China inflation rate slowed to
7.7 percent in May and 8.5 percent in April, 2008

.
The Aprils number was not far from February's twelve year high of 8.7%.
China's central bank efforts to fight the rising inflation may mean that China's growth will drop below 10 percent in 2008 for the first time since 2002.
China's consumer prices in 2008 will probably rise at the fastest pace in more than a decade, extending a policy dilemma for Chinese leaders as they try to balance the risks from slower economic growth with higher inflation. At the same time, the resilience in exports also has hurt China's economy. In 2008, there are already signs of some weakening when the overseas shipments showed a gain of 22.9 percent in the first five months, down from the 25.7 percent gain for all of 2007.
Vietnam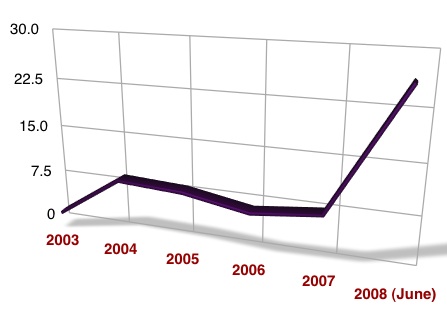 Consumer Price Index (CPI) Growth of Vietnam (%)
Vietnam's inflation raced to multiyear highs this year, hitting an annual rate of
26.8% in June 2008
, compared to June 2007, inflation on an annual basis stood at 7.8% but is expected to continue to increase. With annual inflation in double digits for eight consecutive months and a tripling of the trade deficit, economists have argued a slowdown in growth would help cool the economy of Vietnam, one of the fastest expanding Asian economies after China.
On June 25, 2008, according to a report in the Bangkok Post Newspaper, IMF Deputy Managing Director, Takatoshi Kato, said that the message to policymakers in Asia was to ensure minimal second-round effects of elevated food and fuel prices. Second-round effects refer to price rises spreading through an economy, such as through demands by workers for higher wages. Mr. Kato mentioned that countries such as Vietnam and Indonesia were behind the curve on policy imperatives to tackle inflation; however, he said that each country needed to take actions best suited to its own circumstances.
Accelerating Indian inflation continues to pressure the Central Bank as it is reaching its fastest pace in more than 13 years. The central bank is under pressure to increase borrowing costs again in mid 2008, reported MarketWatch. India's annual inflation is expected to rise to
9.95 percent in fiscal 2008/09
(April-March). That far exceeds the 5.55 percent in a previous poll conducted in March and the 4.7 percent rate recorded in the previous fiscal year.
Thailand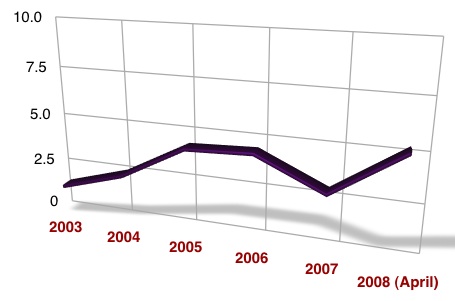 Consumer Price Index (CPI) Growth of Thailand (%)
In April 2008, Thailand raised the year's inflation forecast to 5.0-5.5 percent from 3.0-3.5 percent because of soaring oil prices, reported Thailand's Finance Minister in the Bangkok Post Newspaper. The Bank of Thailand Governor, Tarisa Watanagase, also sent similar signals, warning that inflation there could hit double-digits in some months ahead while trying to assure that the rate rises would not hurt economic growth.
South Korea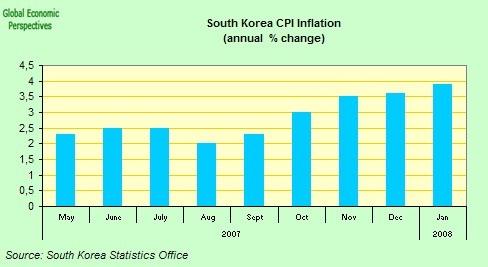 Market Watch reported South Korea June consumer prices were up 5.5% from June 2007 and May prices were up 4.9% from the year-earlier month. The June price surge in South Korea was the highest in 10 years, according to Action Economics.
Malaysia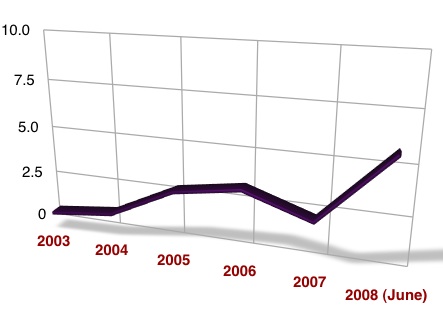 Malaysia's inflation is likely to have hit
6% to 7% in June 2008
and the central bank would take action on monetary policy in the event of generalised price increases, Central Bank Governor, Tan Sri Dr Zeti Akhtar Aziz, said in the Reuters news report. Also in an interview with Reuters, the Central Bank Governor said domestic factors, including recent cuts in fuel subsidies, and a slower external economic environment could lower the growth rate below 5% this year.
Singapore


Inflation in Singapore could exceed 5 percent in 2008, which is at a 25-year high, according to Prime Minister Lee Hsien Loong in a quote noted by Reuters. The Singapore government previously expected inflation to come in at around 3.5-4.5 percent. Soaring inflation in Singapore is led by high food and transport costs. Singapore's central bank, which conducts monetary policy by guiding the Singapore dollar exchange rate, usually allows the local currency to appreciate at a faster pace to curb imported inflation. But economists said this might not happen as a weaker global economy would restrain the Monetary Authority of Singapore from further tightening monetary policy.
Earlier in May 2008, Reuters News reported inflation in Indonesia jumped into double digits after the government raised subsidised fuel prices. Indonesia's annual average inflation this year is seen accelerating sharply to 11.2 percent from 6.6 percent in 2007.
The Philippines' inflation also hit a nine year high of 9.6% in the same month. In June, the government raised interest rates by 25 basis points as soaring commodity prices piled pressure on central bank.
While inflation is rearing around the world, Japan, by contrast, may see only a 1.3% yoy rise in Japan's overall CPI – the eighth straight rise and a 10-year high - as a sign the economy has finally emerged from a decade of debilitating deflation.