---

Asean economies have enjoyed brisk economic growth since the Asian financial crisis, with a combined GDP that has risen from US598 billion in 2000 to exceed 1.2 trillion in 2008. By comparison - GDP in 2009 in India was 1.2 trillion making Southeast Asia approximately an equivalent market.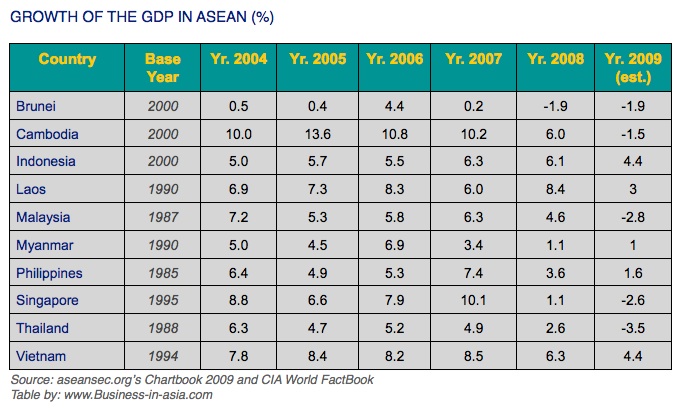 Despite this, international economics is like a race and it not only requires that you do good but that you do better than those with whom you compete. By this measure Asean has done well but the BRIC (Brazil, Russian, India and China) have done better. From 2000 to 2008, Asean has grown at an impressive rate of 12.2 percent but the BRIC countries have done even better - rising at a rate of 16.6% in the same period. This means that the BRIC countries exceeded Asean in growth by 36% - an impressive difference.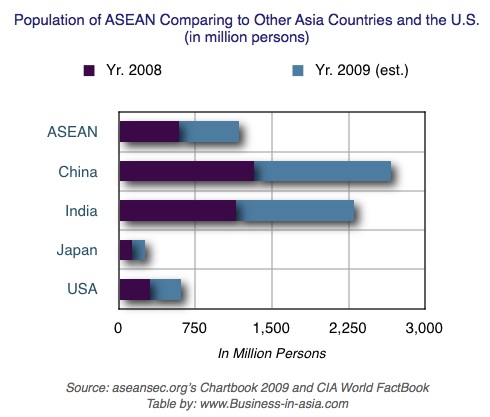 If only the growth figures were less, there would be less to worry about but they are not. Another example of the gap is in terms of investment. In the early 1990s the so-called "tiger economies" of Asia were the place to be. In 1991, Asean led the FDI race pulling in investments of $13.6 billion compared to the BRIC's much less significant $5.5 billion. By 2008, things had changed. In that year the BRIC countries attracted $265 billion and Asean only $60 billion.

Capital markets have seen a similar change. In 1996 Asian equity markets accounted for 57 % of the Asia's ex-Japan index, but by 2009 their share had fallen to just 16%. Asean's largest stock exchange, Singapore, has seen its weighting on the same index dwindle to 6.9% in 2009 from 9.5% in 2004, while China's rose to 26.4 per cent from 11.3 in the same period.

Looking at similar figures but from a different perspective, the combined market capitalizations of Asean's five stock exchanges in 2008(Singapore, Thailand, Philippines, Malaysia and Indonesia) is now barely half (US$708 billion) of that of the Shanghai stock exchange (US$1.43 trillion) alone.

Based on these figures, it is obvious that the rationale for an Asean only investment pales when compared to a China investment but Asean remains quite viable for a China plus one strategy especially given the recent expansion of the Asean-India Free Trade Agreement (FTA). This FTA allows one increasingly to tap the better infrastructure and lesser bureaucracy of Asean but still reach all of Asean and India as a consuming market.

Asean has had an uneven record of pressing economic links but this changed in 2007 when Asean accelerated the time frame for the implementation of the Asean Economic Community (AEC) to 2015(from 2020). The result of this increased pace of trade liberalization among Asean members is that intra-Asean trade exceeded extra-Asean trade by 40% between 1995 and 2008. Further intra-Asean investment has also grown. In 2008 investments in Asean by member states exceeded $11 billion, up from just US$2.3 billion in 2003, an impressive average annual growth rate of 35%.

Increasingly it is becoming clear that Asean will increasingly integrate and that prosperity in fact demands that they do so. Despite this, much remains to be done if Asean is to achieve its ultimate potential. For example:

All of Asean needs to do more to reduce bureaucracy and increase transparency

Market liberalization by all countries needs to be fast tracked.

Corruption is a major issue for Asean in all places with the possible exception of Singapore. More needs to be done to eliminate or reduce it throughout the region.

More needs to be done to capitalize on the strength of the individual member states of Asean. For example, Thailand has developed a hugely successful automobile and automobile spare parts industry. Wouldn't it make more sense for Malaysia to consider moving its own Proton automobile company to Thailand or in some way linking with Thailand and taking advantage of the infrastructure Thailand now has in this industry. Malaysia has obvious advantages in increasing its competetive advantages as an islamic finance hub.

A merger of national security exchanges would make sense. Each country doesn't need to have its own security exchange - a strong, larger community exchange would serve the region better.

More regionalization is also needed in capital markets. A regional Asean rating agency, with economies of scale, would better serve the region as a whole.

A single Asian aviation market would better serve the interest of the traveling public and of each nation in Asean.

Asean has tremendous potential and frankly is not currently reaching its full capabilities. Prosperity for all the nations of Asean demands increased leadership and accommodation toward a stronger, more-vibrant and increasingly linked community.




---



About the Author:



Christopher W. Runckel, a former senior US diplomat who served in many counties in Asia, is a graduate of the University of Oregon and Lewis and Clark Law School. He served as Deputy General Counsel of President Gerald Ford's Presidential Clemency Board. Mr. Runckel is the principal and founder of Runckel & Associates, a Portland, Oregon based consulting company that assists businesses expand business opportunities in Asia. (www.business-in-asia.com)

Until April of 1999, Mr. Runckel was Minister-Counselor of the US Embassy in Beijing, China. Mr. Runckel lived and worked in Thailand for over six years. He was the first permanently assigned U.S. diplomat to return to Vietnam after the Vietnam War. In 1997, he was awarded the U.S. Department of States highest award for service, the Distinguished Honor Award, for his contribution to improving U.S.-Vietnam relations. Mr. Runckel is one of only two non-Ambassadors to receive this award in the 200-year history of the U.S. diplomatic service.