---
November 2009
(source: BOI Investment Review)

Supported by a hard-work ethic, steady investment and generous government incentives, Thailand's automotive industry is poised for accelerated growth. Currently employing more than 300,000 people and generating 12% of the national GDP, the auto industry is respected as one of the biggest manufacturing sectors in the country.
Thailand's industry has attracted virtually all of the world's major automakers, assemblers, and parts and component manufacturers, and many are planning further investment. Ford, General Motors, BMW, DaimlerChrysler, Mitsubishi, Mazda, Toyota, Isuzu, Honda and Nissan all have an established presence in the country, together accounting for the lion's share of the nearly 1.4 million vehicles produced here in 2008. That is a far cry from when Thailand had just one automotive assembly plant in 1961.

Truly a global player, the Thai industry has expanded from its days as strictly an assembler into a major automotive production center. Automotive exports totaled 775,652 units in 2008. With shipments steaming to 130 countries, Thailand is currently the world's largest producer of one-ton pickup trucks and the seventh-largest automotive exporter overall. It is the top manufacturer in all of Southeast Asia, with measures in place for expansion.

And it's not just production. More foreign makers now appreciate Thailand as a prime location for R&D investment as well. For example, in recent years Toyota has established a technical facility here to conduct R&D work on product design, testing and evaluation. Moreover, Toyota Tsusho Electronics (Thailand) Co., Ltd. was established in 2005 as a joint venture between Toyota Tsusho Electronics Co., Ltd. and the Toyota Tsusho Group to develop embedded software for automotive applications. Thailand, in fact, is the only country outside of the 30-nation Organisation for Economic Co-operation and Development in which Toyota has such sophisticated facilities.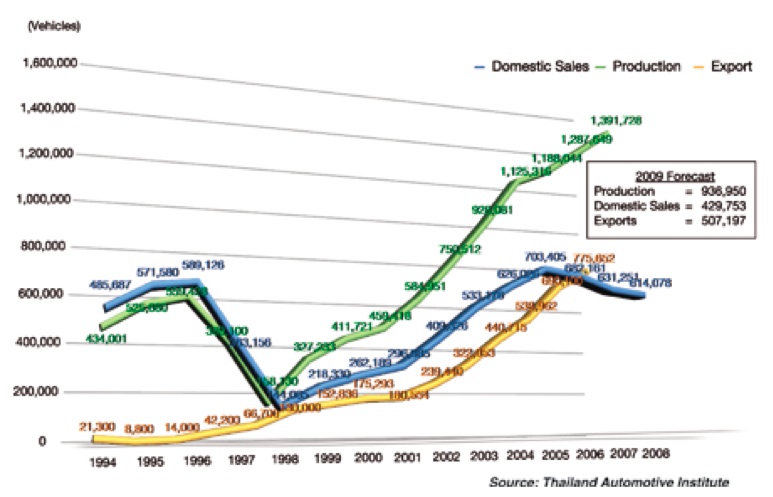 Optimism and Opportunity



The automotive industry in Thailand is looking to further growth and development. Such optimism stems largely from free-trade agreements (FTAs) with countries such as Japan, China, South Korea, Australia, New Zealand and India, and the prospect of rising exports to ASEAN member nations. As the industry contributes significantly to the local economy, the Thai government is also offering support in the form of tax incentives and various other measures, making Thailand fertile ground for investors.

In June 2009, the Thailand Board of Investment expanded its automotive incentive scheme to cover automobiles that have high technologies that are new to Thailand, such as hybrid drive, brake energy regeneration and electronic stability control. The BOI's new policy, which is designed to attract international automakers looking to restructure by relocating production facilities overseas, provides a range of incentives, including corporate income tax holidays of between 5 and 7 years. To be eligible, projects must involve a minimum investment of 10 billion baht.

Among the many programs aimed at developing the automotive industry, Thailand's Ministry of Energy is promoting fuel- efficient transportation through a natural gas vehicle initiative. Growth opportunities also exist with E85 ethanol. Thailand's Ministry of Finance is offering a 3-year exemption on the import duties of foreign auto parts used to make vehicles E85- ready. The ministry has also reduced the excise taxes on cars using E85 to 25%, 30% and 35%, depending on engine size.

Expect to see more environment-friendly cars coming down the road. In perhaps one of the most exciting stimulus measures, the BOI and the Ministry of Finance are offering maximum incentives to eco-car manufacturers in Thailand. Under the new program, the BOI offers an 8-year corporate income tax holiday and duty-free importation of machinery to eco-car part projects that have a minimum investment value

of 10 million baht. The Finance Ministry allows makers to pay a reduced excise tax of 17% on cars with petrol-powered engines smaller than 1,300cc and diesel-powered engines below 1,400cc. As the excise tax levied on standard passenger cars is currently 30 to 40%, the tax reduction on eco-cars amounts to a US$2,000 drop in the sticker price. That is a juicy incentive for consumers and manufacturers alike.

Early response has been impressive. Six global auto assemblers have already proposed investments totaling an annual production capacity of 675,000 eco-cars. The first made-in-Thailand eco-cars are expected to roll off assembly lines in early 2010.

The eco-car sector in Thailand promises growth opportunities for parts and component manufacturers as well. In July 2009, the BOI announced a 90% reduction on the import duties of eco-car raw materials and parts that cannot be produced locally. Again, this will benefit manufacturers and consumers by lowering production costs and retail prices. Granted for a period of two years and subject to annual review, the 90% import duty reduction should spur investment in eco- car parts manufacture in Thailand, making the local industry more competitive globally.

There are many other reasons, hundreds in fact, why Thailand is an attractive base for automotive parts production. Of the more than 3,000 parts and components in a typical vehicle, many of them still have to be sourced from overseas. Opportunities exist for foreign suppliers to manufacture fuel injection pumps, transmissions, injection nozzles, anti- lock braking systems, and central locking systems, among numerous other products. More R&D, design and testing centers are also needed, even though Yamaha, Bridgestone, Maxxis and Michelin already operate such facilities here.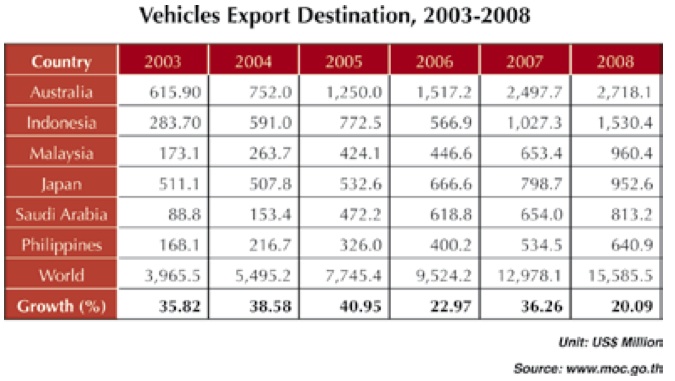 Demand for Thailand-made automotive parts is growing. In response, there are already approximately 1,800 such suppliers in the country, of which about 700 are OEMs or original equipment manufacturers. Since all major Japanese

utomakers have opened manufacturing sites in Thailand, many of their parts manufacturers, such as France's Valeo, Germany's Bosch, U.S.-based TRW, Britan's GKN and Japan's Denso, Mitsuba and Mitsubishi have followed suit to serve their customers.

According to the Japan Automobile Manufacturers Association, the quality of automotive parts in Thailand is the highest of any ASEAN nation. Local parts manufacturers supply nearly all the requirement used in the assembly of motorcycles, about 85% of parts used in pickup truck assembly, and as much as 70% of those for passenger cars.

Thailand's exports of auto parts more than quadrupled between 2003 and 2008, as locally produced vehicles and components continue to gain global acceptance. The value of auto parts exported from Thailand exceeded US$4.6 billion in 2008, the fifth consecutive year of double-digit growth. Growth will continue as the government works to push Thailand into the top 10 of automotive producers.

In 2008, most of the automotive electronics used in the cars made in Thailand were imported from Malaysia or Japan. These imports were valued at US$4 billion. Given this market size, the currently limited number of automotive electronics producers in Thailand presents an excellent investment opportunity, particularly for value-added systems.



Attractive Investment Site



But why choose Thailand? With many of the world's leading automakers manufacturing here and the economy rebounding, the country's automotive industry is expected to continue to expand in coming years. Consequently, demand for locally produced auto parts will increase as well. Currently, passenger cars are seeing the highest growth in total industry sales.
Geography is also a benefit. A gateway to Asia, Thailand provides easy access to regional markets. The country's many FTAs include terms advantageous to local auto parts producers. In particular, the agreement with ASEAN opens the door to a collective market of 585 million people in the association's member nations. Auto parts exported to ASEAN nations are currently subject to a tariff of less than 5%, and the tariff will be eliminated entirely in 2010.

Thailand's FTA with Australia calls for the elimination of tariffs on commercial vehicles, passenger cars, and their parts and accessories in 2010. The Early Harvest Scheme with India provides for lifting tariffs on hydraulic systems, speedometers and gear boxes next year as well. The majority of China's and New Zealand's tariffs on auto parts and accessories are scheduled to be cancelled in 2010.

The Thailand-Japan Economic Partnership Agreement increases the market potential for local parts producers. Under the JTEPA, tariffs on all but five automotive parts will be lifted by 2012.

The Thai people are a plus as well, as the country boasts a skilled workforce. Labor costs here are lower than in many other areas of Asia. The land and facility costs are also competitive. Moreover, the government is encouraging the development of so-called auto parts clusters, where proximity between manufacturers and suppliers will result in further cost and efficiency benefits.

There are also many industrial estates that focus on the automotive industry and provide state-of-art facilities for manufacturers. Exporting automotive parts in Thailand is a breeze with the country's extensive road networks, well- developed seaports and several international airports.

In addition to the policies on tax reduction, there are non-tax incentives that the Thai government offers to manufacturers of vehicles and vehicle parts, and for automotive R&D and testing. These include land ownership rights for foreign investors, permission to bring in foreign experts and technicians, and work permit and visa facilitation for expatriate employees. As additional assistance, the BOI provides the Unit for Industrial Linkage Development and also maintains the ASEAN Supporting Industry Database, a comprehensive online database of more than 20,000 ASEAN suppliers.

---