Thailand has a number of agencies that work in the field of biotechnology. Many of them receive government funds for research and administer grants for research of a host of topics. Among them are the National Science and Technology Development Agency (NSTDA), the Thailand Institute of Scientific and Technological Research (TISTR), the National Research Fund, the National Research Council of Thailand, the Ministry of Agriculture, plus many of the major Universities such as Chulalongkorn, Mahidol, Kasetsart, Chiangmai, etc. NSTDA and TISTR are both part of the Ministry of Science. The National Research Fund reports to the Prime Minister, the other organizations listed above are parts of separate government bodies. Despite the fact, however, that there is little hierarchy in this structure, most of the organizations cooperate closely on like research topics and contacts among colleagues of the different organizations is frequent.

National Science and Technology Development Agency (NSTDA)
NSTDA, an independent government organization, comprises four national research centers (BIOTEC, NECTEC, MTEC and NANOTEC) in the strategic areas of biotechnology and genetic engineering; electronics, computer, telecommunications and information technology; and metal and materials technology and nano technology. NSTDA has over 1,600 staff plus a strong network of cooperating local and international agencies. NSTDA provides technical assistance and research and development services to Thai industry. In the area of research and development (R&D), NSTDA grants funds to motivate and accelerate R&D in the public and private sectors, and also implements in-house research in the three national research centers and in the first science park in Thailand which was completed in 2002. This now houses over 600 researchers, 33 companies renting in the facility (one third are biobusiness related). Extension plans for phase II have been announced and are to commence shortly. A phase III is also planned for further expansion later.
Another Science Park is located at King Mongkut Institute of Technology in Thon Buri (a Bangkok suburb). There are six bio-businesses renting space in this facility plus research in a wide range of scientific subjects. Science Parks are also planned to be attached to local universities. At present, Chiang Mai University, in the North of Thailand, has already inaugurated their facility in a University building. There are also plans to establish another two science parks in the South at Songkhla and in Northeastof Thailand.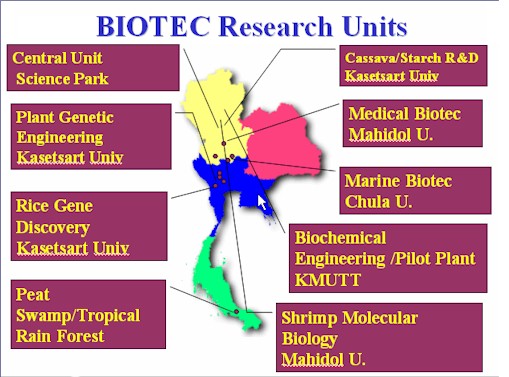 Activities to Support Private Sector:
1. Finance: low-interest loan and joint venture
2. Technology and Management: consultancy, training, searching for new technologies, intellectual property management, research and development project endorsement
3. Locations and Equipment: Science Park
List of Activities:
• Industrial Technology Assistance Program (ITAP)
• Company Directed Technology Development Program (CD)
• NSTDA Investment Center (NIC)
• Intellectual Property Services (IPS)
• Research and Development Certification Committee Secretariat (RDC)
• Thailand Science Park (TSP)
Industrial Technology Assistance Program (ITAP)

ITAP is a national technology support program for SMEs. ITAP assists in the development of technology-based products and processes. Technical assistance includes preliminary identification of technical problems; technical problem solving by local and overseas experts; production and process improvement; and development of new products and processes. ITAP's Industrial Technology Advisors (ITA) and technology specialists from around the world are cooperating to develop, train, investigate, search for new technologies and provide business-partnership-matching service.
Objectives of ITAP are as follows:
• Further develop potential for Thai SMEs by encouraging high level development of technology-based products and processes, increase innovations and exports.
• Support industrial business clusters by connecting industrial groups in the near-by area to research institutes and government organizations that provide services to SMEs
• Support transferred technology by obtaining funds for research and development of technology, innovations and inventions from inside Thailand and from overseas. Find ways to apply these technologies to improve and create new industrial processes and products in the market.
ITAP Applicant Qualifications:
• Thai registered company with no less than 51% Thai shareholders.
• Is a small or medium industrial enterprises; and may support specific large private enterprises
• Reach appropriate standards of finance, technical and management capabilities
• Must be determined to develop potential in production technologies.
ITAP Services
• Consultancy services for industrial product development
o Assist in technology analysis and business development by ITAP's ITA and area specialists
o Assist in finding suitable specialists
o Coordinate contacts with specialists, assist in negotiation and hiring as specialist and as project advisor
o Help coordinate contacts for information gathering, such as procedures in production, machines, testing, or related institutes that support industrial sector
o Arrange for special projects to immediately support specific needs.
• Organize academic seminars
• Providing industrial data
• Searching for technologies from inside and outside of the country
• Business and technology partnership matching
• Providing connections between various industrial service organizations and our clients
ITAP and Network Cooperation:
• Specialists in Thailand from both government and private sectors, academic institutes, universities, various research institutes and independent researchers.
• Specialists from abroad from volunteer specialists of various institutes including:
- Austria Senior Experts Pool (ASEP)
- Australian Executive Service Overseas Program (AESOP)
- Business Advisory Center, USA (ASEP)
- Canadian Executive Services Organization (CESO)
- Echanges Et Constulations Techniques Internationaux, France (ECTI)
- Industrial Research Assistance Program, Canada (IRAP)
- International Executive Service Corps, USA (IESC)
- Japan Overseas Development Corporation (JODC)
- Netherlands Management Consultancy Programme (NMCP)
- Senior Experts Services, Germany (SES)
- Steinbeis Foundation, Germany (StW)

ITAP Financial Support:
• 100% of specialist compensation on performing technical analysis and business development plan
• Support expenses up to 50% of the standard payment for hiring specialists (maximum of Bht. 500,000 or approximately $12,820)
• Support fund is available for a limit of 2 projects per year
Service Criteria:
Production Procedures
Products

Production Management
- Design of production process
- Improvement of development process
- Increase quality of production
- Decrease or eliminate waste
- Use computerized production planning process
- Replace labor with automated systems
- Reversed engineering
- Design and improve products
- Analyze and test raw materials and products
- Improve formula
- Improve product quality
- Research and develop new product
- Standardize production systems/GMP HACCP TFQS ISO 9000 ISO 14000 TQM
- Environment management waste water
- Study technical possibilities
- Using information systems in management of products
Company Directed Technology Development Program (CD)

This program provides financial support i.e. grants and low-interest loans to enable private companies to invest in RD&E for commercialization. Applied R&D projects, upgrading of products or production processes and the building or refurbishing of laboratories are all eligible for the soft loan while research grants are also available for higher risk industrial R&D projects.
Loan for Development of Industrial Technology
CD offers financial assistance in the form of low-interest loans to private sector in production industry. This loan is for research and development and using technology to improve production.
Applicant Qualifications:
• Thai registered company with no less than 51% Thai shareholders
• Small or medium industrial enterprises; and may support specific large private enterprises
• Reach adequate standards of finance, technical and management capabilities
• Never receive supporting fund to development research and engineering from other institutes for the same project
Supporting Fields:
• Genetics Engineering and biotechnology
• Metal and Materials Technology
• Computer and Electronics
• Other fields that will lead to progress in Science and Technology
Qualified Projects:
• Research and development for commercial purpose
• Improve product or production technology process
• Establish or improve laboratory
Loans:
Budget Loan: Maximum of 30 million Baht (approximately $769,230.77) or not exceed 75% of total project budget

Low-interest Rate soft loan: loan is 50% of the one year fixed deposit interest rate plus 1.125%

Loan period: must not exceed 7 years from receiving the first loan

Financial Institutes in the Program:
• Bangkok Bank
• Thai Military Bank
• Siam Commercial Bank
• Asia Bank
• Thailand SMEs Bank
• Thailand Industrial Capital Company
• SMEs Insurance Company
Activities to Upgrade Technologies:
• Build machine
• Improve production procedure
• Develop new product and increase product value
• Set-up quality-control station, laboratory or research station
Benefit from CD Program:
• Safe Investment Capital
• Increase competitiveness
• Develop technology for company
• Obtain suggestions from specific area technical specialists
• Receive news from NSTDA
Table 2

Performance in Private Sector Support Program (soft loan)






Items
CD
FY 2002
FY 2003
FY 2004
FY 2005 (6 m.)
Total
Budget (Million Baht)
161.67
362.81
294.36
65.59
884.43
No. of

total projects

9
19
16
8
52
100% Thai Owned Clients (no.of

projects)
8
18
13
8
47
100% Thai Owned Clients in FOOD/Pharma/Cosmectic Industry


(no.of

projects)
2
4
6
3
15
Budget (Million Baht)
17.06
63.91
71.94
24.05
176.96
100% Thai Owned Clients in Biotec Sector

(no.of

projects)
1
5
1
2
9
Budget (Million Baht)
52.7
148.67
30
30.71
262.08
NSTDA Investment Center (NIC)

The Center provides joint investment in technology ventures with the private sector to promote science and technology development in Thailand. The Center targets projects that have pioneering technology, or high impact technology with commercial potential. In the Knowledge-based economy, factors of success in the industrial business are "6 Ms": Manpower, Money, Machine, Material, Market, and Management. Not many enterprises have all these factors.
Joint Venture:
Goals:
To promote investment in Thai private sector that can help increase competence in nation's science and technology development in general through investment fund, workforce and science and technology management.
Target Groups:
Small and medium projects that have potentials both in science and technology, and commercialization, and that will affect and support science and technology development in Thailand as a whole.
Steps in Approval of Joint Venture Projects:
• Investment Center is responsible for receiving business plan, reporting studies of project possibilities, verifying data and documents submitted, and using these materials to analyze its commercial potentials.
• For technical side, this project obtains supports from 3 centers: National Electronics and Computer Technology Center (NECTEC), Genetic Engineering and Biotechnology Center(BIOTEC) and Metal and Materials Technology Center (MTEC). Moreover, there are cooperatives from other area specialists of NSTDA.
Investment Principles:
• Is a project that follows national policy in science and technology development or consistent with NSTDA policy.
• Is a project that demonstrates commercial potential
• Is a project that helps to increase export value or reduce needs for imported goods, supports technology transferred to Thai personnel.
• Create jobs, help in rural area developments, or environmental protection
• Suitability of the project depending on benefits to nation's economy and society
• NSTDA will take part in management by assigning representative as committee members
• NSTDA will not invest exceed 49% of the project's total investment
Benefits of Joint Venture:
• Encourage growth opportunity and business expansion in the market
• Increase competence and create strong base for company in the field of research and development; while, at the same time, secure investment capital
• Expand business and information networking
• Encourage potential in innovation and ownership of the invention, which ultimately will benefit the company in the long-run
• Create ability to compete in the global market
NSTDA Investment Center (NIC) can be thought of in some respects like a VC for joint ventures with private start-up companies. Examples of joint ventures start-up businesses created utilizing this program include the following three startup companies; Innova Biotechnology Co.Ltd., the Shrimp Culture Research and Development Co., Ltd., and Thai Dairy Development Co.Ltd.
Intellectual Property Services (IPS)

This unit offers services such as the preparation of applications relating to IP protection; preparation of agreements regarding intellectual property rights; provision of legal advice relating to intellectual property rights, technology transfer; and patent information searching.
IPS was established in June, 1996 and officially endorsed in December, 1998. IPS did not however until 2000 start providing intellectual property services for the private sector.
Type of Services:
• Copyright, patent, and trademark
• Consulting on intellectual property issues
• Patent verifications (as allowed by Department of Intellectual Property)
• Organize seminars and trainings
Applicant Qualifications:
• Thai registered company with no less than 51% Thai shareholders
• Thai citizen
• Has records of research and development work
Service Fees:
Invention Patent 4,000 Bht. (approximately US$ 103)
Pre-patent 3,000 Bht. (approximately US$ 77)
Product design 2,000 Bht. (approximately US$ 51)
Trademark/services/approval/co-copyright 1,000 Bht. (approximately US$ 26)
Copyright 1,000 Bht. (approximately US$ 26)
Approve for invention patent 2,000-15,000 Bht (approximately US$ 51- 385)
Research and Development Certification Committee Secretariat (RDC)

RDC is one of NSTDA operations established to assist the private sector in technology research and development investment by granting tax exempt privileges.
Purpose of Tax Exemption for Research and Development Work:
• Increase competence in the nation's science and technology
• Promote investment in science and technology development in private sector
• Stimulate private sector on innovations, both in product and production procedure
Benefits:
Project owner receives tax exemption privilege on corporate income tax. For corporate income tax, 100% of expense on hiring personnel to research and develop technology, or in other words, the owning company or individual can deduct double of the true expense on their corporate income tax in qualifying research and development.
Currently, approved projects will get 200% tax exemption.
Conditions:
Must be a project that has been certified by NSTDA, which could be either a pioneering technology or high impact technology. Please note, RDC does not "grant" tax exemption which is granted by the Ministry of Finance Revenue Department. What RDC does is to "certify" that the project applying for the tax incentive is a Research and Development (R&D) project and therefore eligible for the tax incentive.
• The researchers name must be on the certified researcher list
Scope of Technology R&D that are Eligible for Tax Exemption:
• granted to R&D for Science and Technology only
• market analysis, social studies and human resources are not eligible for tax exemption
Service Fees
1,000 Bht. Per project (approximately US$ 26)
NIA (National Innovation Agency)
This agency is not part of NTDSA but is part of the Ministry of Science. It programs which involve support to much more than biotechnology was established by the Thailand's Innovation Development Fund. NIA provides financial supports and technical services for innovators who need help in market development. Innovators can obtain soft loan to study market and investment feasibility which includes expert hiring and innovation testing. The financial supports include reimbursement of the expense on technical services and soft loan with no interest. A firm can request a budget upto 5 million baht for 3 years. Moreover, NIA can do a joint venture (less than 25%) with a company and other investment organizations if it has a potential innovation. (http://www.nia.or.th/index_eng.htm)
Support for Technology Acquisition and Mastery Program (STAMP)

This is a program or project overseen and administered by NSTDA which used to be a standalone project but is now operated under the ITAP program. This program is intended to help the private sector request assistance in acquiring overseas technology. STAMP will support some of the expenses on traveling and business negotiation.
Science Technology And New Business Innovation Group (STANG)
This program or project is not administered by NSTDA but directly by Mahidol University, the SME bank, and the National Innovation Center (NIA) which jointly created the Science Technology And New Business Innovation Group (STANG). STANG acts like a venture capital firm and can joint venture with private companies who do technology transfer with Mahidol University.
Thailand Science Park (TSP)

As the first science park of the country, Thailand Science Park aims to be a hub for research and development where specialists and researchers from industry, academia and NSTDA can work together and be a base for innovation and technology for the country.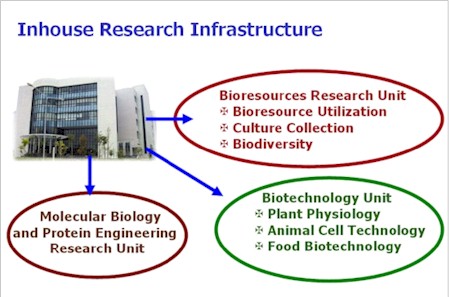 Location: Thailand Science Park is on 80 acres of land located adjacent to Thammasat University (TU) and the Asian Institute of Technology (AIT) on Paholyothin Road, Kilometer 42. It has easy access to central Bangkok and with 20 kilometers to the Bangkok International Airport. With this strategic location, Thailand Science Park is a good hub for Southeast Asia and the Mekong Sub-region.
Promoting Research:
• Facilitate private sector's research
• Incubator laboratory
• Modern equipment
• Pilot plant and greenhouse technology
• Training center, seminar hall and exhibition area
• Multi-tenant building
• Long-term rental property
Government Support:
• Provided full budget for full-project construction
• Three national centers (BIOTEC, MTEC, NECTEC)
• Permanent researchers for the project (over 600 reseachers)
• Grants for researchers and nation-wide universities
• Academic Grants for in-country and abroad for up to doctorate level
Support to the Private Sector:
• Arrangement for Thai and foreign specialists
• Providing industrial consultancy
• Providing financial support for research by offering low-interest loans
• Searching for technology and matching technology with business
• Providing valuable and rapid technology data
• Providing high-speed telecommunication
• Providing standardized tests, quality control and training
Tax exemption for R&D:
• Tax exemption on imported machinery, equipment and raw materials
• Tax exemption on corporate income tax for 8 years
• 200% deduction on research expenses
• fast-rate depreciation
• Facilitate researcher's visa and work permit
• Foreign researcher has a right to own business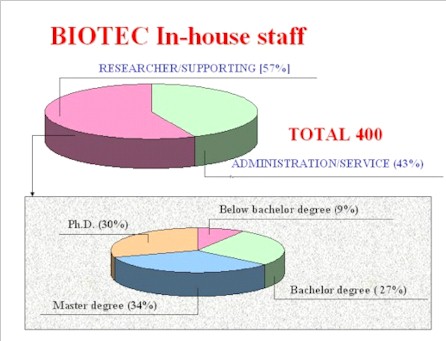 Thailand Institute of Scientific and Technological Research (TISTR)

The Thailand Institute of Scientific and Technological Research (TISTR) is a non-profit state enterprise. TISTR was originally setup in 1963 with the assistance of the United Nations and was moved under the Ministry of Science and Technology and Environment (MOSTE) after the Ministry was created in 1979. TISTR is headed by a Board of Directors and administered by a Governor, currently Dr. Nongluck Pankurddee.
The objectives of TISTR are:
To initiate and conduct research and to provide scientific and technological service to state agencies and private enterprises for economic and social development of the country.
To conduct scientific and technological research in order to promote the utilization of natural resources appropriate to the economic conditions, environment, health and welfare of the people.
To improve productivity in accordance with the government policies by propagating the results of scientific and technological research to benefit the country in agriculture, industry and commerce.
To train scientific and technological researchers.
To provide for the testing and measuring services and other scientific and technological services.
TISTR's organization includes four main groups – Research and Development, Technology Transfer, Services and Administion. The Research and Development Deparment has groups focused on food technology, pharmaceutical and natural products, post harvest technology, agricultural technology, biotechnology, microbiological resources, environment, ecology and energy, materials technology and engineering. The technology transfer group has four departments dealing with rural technology transfer, research station management, industrial and technical consultancy and training. The Services group runs four centers which include the Industrial Metrology and Testing Services Centre, the Material Properties Analysis and Development Centre, the Thai Packaging Centre and the Thai National Documentations Centre.
TISTR acts as the incubator for the Thai Science Park in Chiangmai. It also has a key role in helping to bring to reality the Burapa (Eastern) Science Park.
In 2004, TISTR earned a gross income of over 700 million Baht and a net income of 26 million on assets of 1.7 billion baht.
Thailand Research Fund (TRF)
(www.trf.or.th/en )
The Thailand National Research Fund was created in 1992 and reports to the Prime Minister. The TRF seeks to build an active and vibrant research community throughout Thailand. The Fund also administers the Royal Golden Jubilee Ph'D Program which seeks to increase the number of doctoral students in every discipline in Thailand. Currently over 800 doctoral students are participating in this program.
The National Research Council of Thailand
(www.nrct.net )
The National Research Council of Thailand was fouded in 1959 and is chaired by the Prime Minister with Deputy Prime Ministers as Vice Chairman and with Ministers and Deputy Ministers as Advisors. fund currently administers about 100 million baht a year in funds that can be utilized to fund all forms of research in Thailand.
The Venture Capital (VC) Industry in Thailand
Thailand's VC Industry is still in a formative stage and frankly still needs considerable strengthening. This sector received a crippling blow in the 1997 Financial Crisis and is only started to regain some steam in 2003 and 2004. There are several Thai venture capital firms that have considerable interest in biotechnology projects . Current examples include VNET Venture Capital, One Asset Management Limited. Additionally One Asset Management Ltd. has supported several biotech companies through the SME Venture Capital Fund (http://www.one-asset.com/vcf/vcf_eng/index.htm). The name of the companies securing venture capital support through this program are:
1. CTC Biochem-Chote Thana Chote Co.,Ltd. http://www.chotethanachote.com/
2. I-Med Laboratory Co.Ltd. http://www.imed.co.th/
These programs all help to support and facilitate growth of Thailand's science industries.
Efforts have also already born fruit in terms in helping to increase the human resources available to help grow a Thai biotech industry. Today, seventeen universities can now graduate up to 8-900 biotechnology students annually, 3-400 Masters graduates and under 100 Phd graduates annually. Most of these new graduates unfortunately do not go into biotechnology research. A survey by the Thai Society for Biotechnology recently showed that biotechnology scientists [with Bsc] tend to work mainly in the food and food beverage industries and only a few go into modern biotechnology industries.
From the above, it can be seen that Thailand has a number of strengths or resources in building a biotechnology industry.
---
More information on Biotechnology Industry in Thailand:
---