---
The International Monetary Fund (IMF) projected earlier that Cambodia's economic growth in 2011 would fall slightly below 6% as a result of the floods, down from an earlier forecast of 6.7%. However, just recently, despite the agricultural damage caused by unusually heavy flooding, Cambodian Prime Minister Hun Sen said the country's economy would finally grow by about 7% in 2011, reported Phnom Penh Post. While Thailand's flooding nightmare was widely reported in the global news, Cambodia's flooding were not highlighted. But the flooding which hit the country last year in 2011 was the worst in a decade.


The World Economic Forum (WEF): The Global Competitiveness Report (GCI) ranked Cambodia higher than previous years: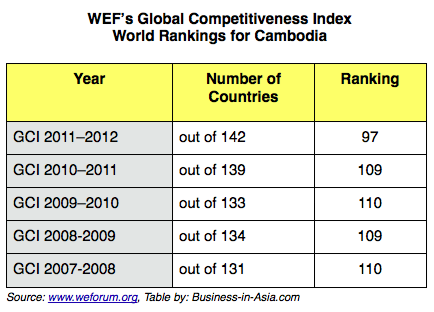 Cambodia in 2012 and beyond:



- According to the Cambodian Embassy's report, the Cambodian government has announced plans to promote the development of the

tourism sector

with an ambitious target of 6 million foreign visitors by 2020.

- Besides tourism, Cambodia has also benefited from

garment and footwear

exports to help improve its economy and they will continue to grow in the years to come.
On Friday, 20 January 2012,
Ministry of Commerce data showed a
strong growth in garment, textile and agricultural exports which drove a 42.7% year-on-year increase in Cambodia's total exports for 2011, reported the paper. Cambodia exported US$4.98 billion in goods in 2011, compared with $3.49 billion the year before. Market diversification and a relaxing of rules of origin in the euro zone helped in last year's growth, insiders and experts say. Cambodia's total export of garments and textiles rose about 25% year-on-year in 2011 to $4.25 billion, compared with $3.4 billion the year before, data shows. Of this, garment exports to the European Union rose more than 42% to $1.3 billion. Exports to the United States, worth $1.84 billion, rose 11.4%, retaining the country's number-one spot among importers of Cambodian goods. Garment exports to all other countries, including Japan and Canada, increased 38%, hitting $980 million last year from $645 million in 2010, according to the data.

-

Transport infrastructure

will play a key role in meeting this target, and this has seen the Cambodian government speed up the approval of key infrastructure projects such as Siem Reap International Airport.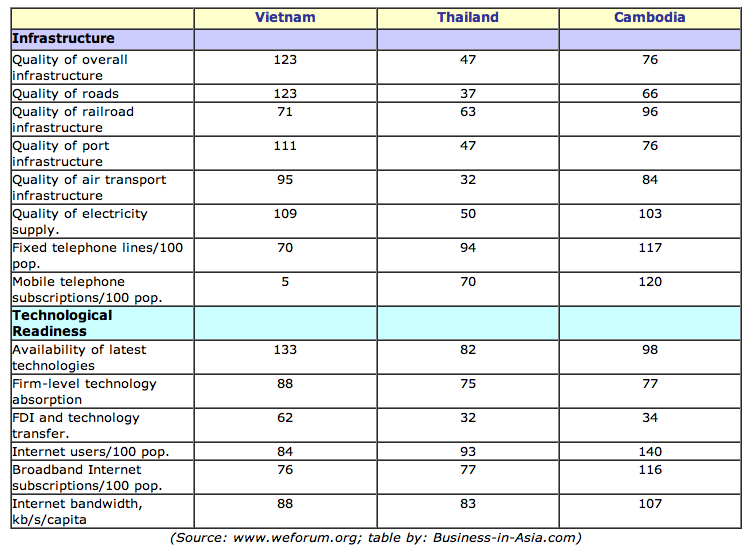 The marketresearch.com said that the surge in the number of approved construction projects and the approval of several large scale infrastructure ventures in Cambodia over the past year have combined to drive their forecasts for the country's construction industry. Real growth for the sector is set to reach 10.8% in 2011. However, it said, "Cambodia's business environment has a long way to go before it can compete with its regional neighbors, let alone developed countries. There are several major factors holding the country back, not least the poor state of existing infrastructure and regulation. Furthermore, a haphazard financial landscape, and widespread corruption impinge on future growth rates. However, the country has improved significantly this quarter with its Business Environment rating rising to 38.3, overtaking Pakistan to place second from the bottom in BMI's Asia Pacific Region Business Environment Ratings."

- Another key sector is the

growing manufacturing industry

: many foreign companies are keen to convert Cambodia's agricultural produce into higher value manufactured products like processed rubber and palm oil, according to the Embassy.

- Cambodia has an ambitious

rice

venture: just recently announced, Asia Golden Rice Co, Thailand's second-largest rice exporter, plans a 1.5-billion-baht rice investment in Cambodia. Asia Golden Rice Co, Thailand's second largest rice exporter, has planned to expand regionally, reported the Bangkok Post.


Top Rice Exports in Asia (unit: million tonnes)
Country

2009

2010

2011

(estimate)



2012

(estimate)

Thailand

8.57

9.05

10.00

8.00

Vietnam

5.95

6.73

6.40

6.40

India

2.12

2.05

3.50

3.50

Cambodia

0.80

1.00

1.00

1.00

Myanmar

1.45

0.45

0.80

0.80

Source: US Department of Agriculture; table by Business-in-asia.com

The plan includes modern, fully equipped milling and processing plants with a capacity to process up to one million tonnes of rice per year, and is considered a milestone investment in the rice industry of Cambodia, the world's sixth largest rice exporter. The facilities will be in the southern province of Kampot, which is also the location of a cement plant run by Thailand's top industrial conglomerate, Siam Cement Group. Vietnamese and Cambodian rice have improved in quality and now are coming in strong in the market against Thai rice.

- According to the Cambodian Embassy,

rural-urban migration

also continues to rise: the Cambodian government expects 10,000 new families to move into Phnom Penh each year. The value of housing projects approved by the Cambodian government in Phnom Penh rose by 10% in 2010 and continued to rise in 2011, according to figures released by the Ministry of Land Management, Urban Planning and Construction. To cater to this growing urban population, the Cambodian government plans to develop 1.2 mn residential properties by 2030, and this plan is expected to provide support for growth in the construction sector over the long term

-

Labor controversy

. Companies in Cambodia are facing the challenge of workers having abused their freedom of association by setting up too many trade unions, reported the Bangkok Post. Now, there are 2,300 unions for 400 factories, meaning one plant with some seven to 10 unions. This labor problem will have to be solved if the country is to go forward.

- Cambodia, even though it remains one of the world's poorest countries, will

chair the Asean chairmanship in 2012

. Hosting the Asean summits will help ensure that Cambodia is a credible and respected country as it demonstrates the country is playing a part in global society and can be relied on. Cambodia is hopeful for foreign investment when businessmen are confident in the country.


Cambodia has chosen a simple slogan of "One Community, One Destiny" - reflecting the nation's fundamental Buddhist values and new-found confidence. In short, at least for the time being, Asean's destiny is now in Cambodia's hand.





---



About the Author:

Christopher W. Runckel, a former senior US diplomat who served in many counties in Asia, is a graduate of the University of Oregon and Lewis and Clark Law School. He served as Deputy General Counsel of President Gerald Ford's Presidential Clemency Board. Mr. Runckel is the principal and founder of Runckel & Associates, a Portland, Oregon based consulting company that assists businesses expand business opportunities in Asia. (www.business-in-asia.com)

Until April of 1999, Mr. Runckel was Minister-Counselor of the US Embassy in Beijing, China. Mr. Runckel lived and worked in Thailand for over six years. He was the first permanently assigned U.S. diplomat to return to Vietnam after the Vietnam War. In 1997, he was awarded the U.S. Department of States highest award for service, the Distinguished Honor Award, for his contribution to improving U.S.-Vietnam relations.


---