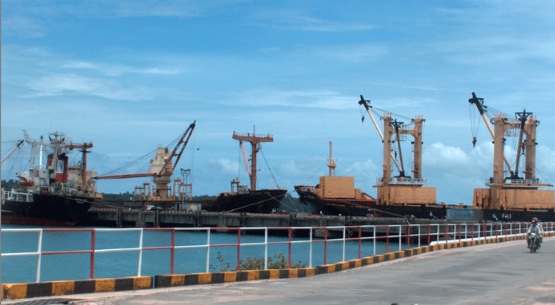 ---



1. Cambodia to build new port in Phnom Penh, Capital city of Cambodia



Early this year Cambodia's government announced a plan to build a new port in the capital city, Phnom Penh, by the end of 2009 or in early 2010 to meet the increasing demand for waterway transportation, Phnom Penh Post reported

The project, estimated at $25 million, was approved by the government in October 2008 and feasibility work is underway, said Keat Chhon, Deputy Prime Minister and Minister of Economy and Finance. The port will be located south of the city in the lower Mekong River area and not far away from the current Phnom Penh port. The new facility will have a capacity of 300,000 containers a day, which is six times larger than the current Phnom Penh port, Minister Keat Chhon added.



2. International Port at Kampot Special Economic Zone



The $80 million port is now scheduled to open in mid-2011. The construction of the international port at the 1,000-hectare Kampot Special Economic Zone (KSEZ) is running six months behind schedule after a design change to increase the depth from 9 metres to 19 metres.



3. Number of foreign visitors to Cambodia by sea rose by 46 percent in the first six months of 2009 - government aims to build a tourist port in Kep province



The number of the tourists by sea was up to 14,636, the Phnom Penh Post reported. It quoted Kong Sophearak, the director of the Ministry of Tourism's statistics department as saying, a rise he ascribed to the industry's strategy to link coastal and eco-tourism areas with Angkor Wat. Kong Sophearak said, "The government has already decided to build a tourist port in Kep province and other centers in the country in an attempt to woo more tourists by sea," he said. Ministry statistics showed that 15 cruise ships arrived at Preah Sihanouk port via Thailand in the first six months of this year.

Just 23 cruise ships carrying 14,159 tourists docked at the port during the whole year of 2008.

Mr. Sophearak added that, "We hope that in the near future Kep province will have an attractive tourist port like other countries in the region"



---
Other related articles on our site: