China
topped the list of foreign investing countries in Cambodia in the past 14 years, with total amount reaching 5.707 billion U.S. dollars, reported Xinhua newspaper recently.
The Cambodian Investment Committee also reported that other investing countries in Cambodia are
South Korea
, who trailed China with 2.749 billion U.S. dollars. This is followed by
Malaysia
with 2.199 billion U.S. dollars.
From 1994 to October 2008, Cambodia has attracted 24.768 billion U.S. dollars of foreign investment in all, with 24 percent of the investment used for service sector, 22 percent for industry, 5 percent for agriculture and the rest for construction and others.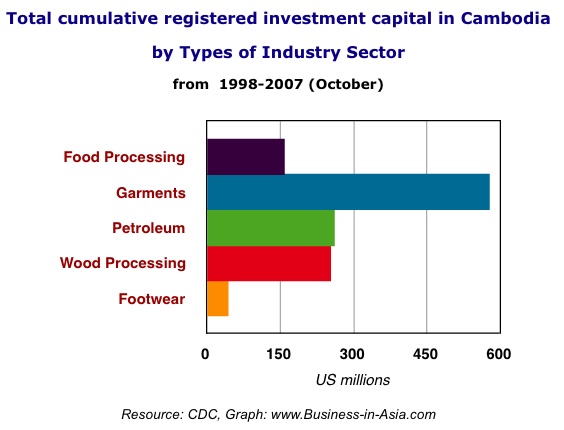 Vietnam-Cambodia
bilateral trade also shows an yearly growth of 40% since 2004. Vietnamese Commercial Affair to the Kingdom of Cambodia recently said that now 120 Vietnamese companies have opened representative offices or showrooms in the Cambodian capital of Phnom Penh. The bilateral trade between the two countries has posted a yearly growth of 40% since 2004. In 2008, Vietnam's exports to Cambodia gained US$1.45 billion while Vietnam's imports from Cambodia were US$250 million, bringing an increase of US$400 million in export turnover against 2007. Vietnam's many export items account for high market share in Cambodia such as seafood products (80%), steel and iron (65%), agri-products (67%) and consumption items with 45-60%. On November 4, 2007 an agreement allowing visa-free travel between the Vietnam and Cambodia, and five trade and investment agreements were signed. In 2007, bilateral trade with Vietnam totaled $1.2 billion and is expected to exceed $2 billion in 2010 as Cambodia increases its production of rice, cassava and rubber, and institutes stringent new anti-smuggling measures. Officials also expect the establishment of special economic zones on the border will boost trade and commerce with Vietnam.
Thailand-Cambodia
, despite the ongoing border dispute over the Preah Vihear temple, the border trade rose 28% in 2008, reported The Phnom Penh Post. However, most of the trade increase was in the form of Thai exports to Cambodia, with Cambodia exporting only $200 million to Thailand. Cambodia exported mainly agricultural products such as grain, tobacco, leather, rubber, wood and recyclable trash, while Thailand exported cars, construction materials, petrol, beverages, food products and electronics to Cambodia.

Records of the Increase in FDI
The U.S. Department of State's Bureau of Economic, Energy and Business Affairs reported that Cambodia Foreign Direct Investment (FDI) proposals approved by the Council for the Development of Cambodia (CDC) have dramatically increased in recent years, with approved FDI reaching $871 million during the first nine months of 2007, compared with $201 million in all of 2004. FDI registered capital however, has been modest since 1995, with an average inflow of $183 million in the period 1995-2007.