Starting as a small section under the machinery category, the auto industry has soared to become one of the five largest industries in China. In spite of rapid growth of all sectors in China's thriving economy, the auto industry has outperformed others in the last seven years thanks to annual double digit growth rates.

China has potential to become both a prospering production market and an ample consumption market with more than one fifth of the world's population and rapid development in almost all sectors of the economy. Although the fast-paced growth of China's auto industry was anticipated, it nevertheless transcended expectation in terms of world ranking. From 2001 to 2005, China has increased its share in the world auto market from 4% to 10%, to be at par with Japan. Given the current conditions and inertia in Japanese sales, it will not be surprising if China surpasses Japan in the near future.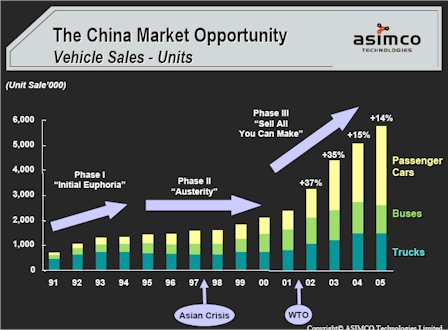 Graph of China Market Opportunity: Vehicle Sales - Units (courtesy of ASIMCO Technologies)
The rapid development entails even more rapid emergence of modern technologies and aggressive manufacturing firms. To stimulate investment and increase the locally manufactured part ratio in "made-in-China" vehicles, the Chinese government has imposed heavy tariffs on imported parts. In response, Japan has voiced its opinion on this "unfair practice", urging China to consider lowering tariffs on imported car parts. It also has threaten to go to the WTO to resolve this problem if China refuses to recognize and deal with this complaint. The current China government policy which may or may not change in response to the Japanese complaint is another reason auto parts manufacturers have been doing particularly well in China.
China's auto industry has prospered despite being highly regulated. The current government regulations requires any foreign investor to form business relationships with a local company. As a result, almost all global car manufacturers have established joint ventures with local partners and expressed their long-term interest in the China auto industry. Meanwhile, the number of domestic companies has also bloomed. By 2005, more than 28% of the market share was taken by the Chinese companies.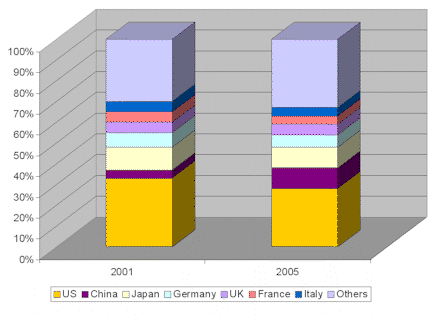 Graph: Shares of the world auto market
However, foreign investors, especially US foreign investors, also face several difficulties when investing in China. Low labor costs and abundant labor force and inputs aside, the difference in business culture can become an obstacle that unexpectedly increases the total expenses. Higher transportation costs and geographic distance should also be accounted for when compared with other competing countries worldwide. For instance, investing in Mexico requires higher costs for labor, but lower costs for transportation. Nonetheless, China, with its potential, is still attracting more and more investors in various industries, including the auto sector. As one CEO of a joint venture in China proclaimed, "Investing in China is risky, but not investing in China is even more risky."
---