Factories in China Starting to Struggle
in the Economic / Financial Storm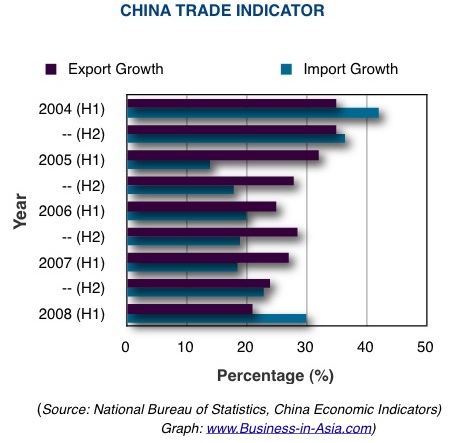 Global financial and economic turmoil have weakened demand substantially in China's two biggest markets: Europe, which consumes about 20.5 percent of China's exports, and the United States, which consumes about 17.5 percent. Demand is also weakening in Hong Kong (which consumes 13 percent to 15 percent), Japan (8 percent to 9 percent) and the ASEAN countries (about 8 percent) as they experience their own problems from recession in the West. Lower demand abroad causes trouble for China's coastal industries, which thrive almost entirely on exports. These industries are crucial components of China's overall system and the government can not allow them to fail as they are responsible for about 40 percent of China's gross domestic product. Already unemployment is becoming a larger burden on Chinese cities, and it is creating disruptive migration patterns as laid-off urban workers return to their home regions looking for work. Throughout September and October, the Chinese leadership has moved to prop up manufacturers and export industries with tax rebates and direct subsidies, and hoped to quite things with cheap credit by loosening monetary controls so they can borrow their way out of the crisis.
The China Economic Review reported in December 2008 that
Much of the effect has been felt in the steel, toy and clothing sectors, all of which posted notably weak growth in the first nine months of the 2008. China is sufficiently blessed in terms of skilled labor, scale and logistics that it won't lose its entire manufacturing base. But what these changes show is how dependency on low-end labor-intensive exports can breed volatility, which in turn raises issues of long-term economic sustainability. As for toys and clothing sectors, which are highly fragmented and dominated by private operators, have shown substantial downturns. In mid-October, Hong Kong-listed Smart Union, the world's largest contract toy maker and a supplier to the likes of Mattel and Disney, went into liquidation, leaving around 6,500 workers jobless. Earlier in the month, official reports claimed 3,631 toy exporters - over half the industry total - had gone out of business so far in 2008. China Economic Review also sited other reports painted an equally glum picture of the clothing and textile industries, with more than 10,000 export-oriented players closed and two-thirds struggling for survival. Once again, the rising tide that drowned many smaller players has also claimed some major ones as well. The headline closure was Zhejiang Jianglong, China's largest textile dye operation, based in the textile-heavy city of Shaoxing. Tao Shoulong - who turned Jianglong into a Singapore-listed company with four factories, 4,000 employees, 300 suppliers and US$110 million in sales last year - fled in October. Less than eight months ago, a Guangdong-based garment maker with 10 factories and contracts to supply the likes of Tommy Hilfiger and Polo told China Economic Review that his firm was offsetting higher labor costs by investing in automation. He was bullish about China's prospects in the face of competition from Vietnam and Bangladesh. Now this garment maker is not returning phone calls and the company is said to be struggling financially. Many shoemakers have already gone in that direction. Jason Long, owner of Dongguan-based GM Bright Star, which makes molds for running shoes, among other things, saw the export share of his output sink from 90% to 50% in October 2007 when Adidas shifted production to Indonesia and Vietnam.
Exports of machinery and electronic goods, which accounted for 58% of China's total exports last year, were up 24% year-on-year in the first nine months, compared with 28.1% for the same period in 2007. The value of signed contracts in these industries at the Canton Fair was up just 1.2% on last year, the slowest growth in years. An early big-name casualty was Hong Kong-listed home appliance maker BEP International Holdings, which closed its plant in Guangdong toward the end of October due to spiraling export volume. China's larger state-owned steel mills have tried to cope with the hit by cutting output, and there is ongoing talk of consolidation.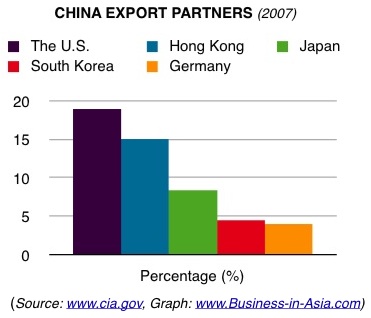 As Western growth slows, demand for Asian goods is dropping, and Asians countries are having to either shut factories down or subsidize them to keep operations continuing. China's National Bureau of Statistics reported Nov. 11 that the consumer inflation figures for 2008 had dropped dramatically since sharp commodity price spikes in the first half of the year. The consumer price index demonstrated that inflation had fallen to 4 percent (a 17-month low) in October, down from 4.6 percent in September. The statistics made for a sharp contrast with the first 10 months of 2008, when the consumer price index grew an average of 6.7 percent year-on-year as a result of price hikes in food and energy. In China which depentd on an export-driven economy, the news gives rise to fears of deflation. This is because in normal times, when an Asian exporter flood world markets with goods, the effect is good for importing consumers. Their purchasing power is enhanced, so they are encouraged to buy more goods. With inflation effectively out of the picture, governments can pursue easy monetary policies that boost consumption without worrying too much about prices being bid up. Ideally, export-based economies can ease their deflation by shipping surplus goods elsewhere and spurring consumption among the importers. But there is a danger for the export-oriented economies in this situation. Their tactic implies that they do not have vibrant domestic demand, and therefore have no choice but to sell their products to foreigners, sometimes even at a loss. If foreign markets become depressed, however, deflation can spread. If consumers become too accustomed to prices getting marked down again and again, they will eventually delay purchases in anticipation of better deals in the future. As consumption slows and supply continues to increase, prices everywhere swirl further and further downward in a spiral of deflation that is hard to stop.
---
More of our useful articles: