Provinces in China and Economic Comparison
---

The below chart ranks Chinese provinces by population, GDP, GDP per person and Exports. Those at the top of the list are the highest in each category. The 2nd place province is listed below that and from then on in relative rank.

Many provinces like for example Guangdong is tops in three of the four measures and is equivalent to major countries in population, GDP and in exports in other figures. At over 100 million people, Guangdong would be greater than the national population of all states in SE Asia with the exception of Indonesia. It is therefore a very big market and relatively rich as can be seen from the high rank of its GDP. The criteria of GDP per capita shows that as would be expected Hong Kong and Macau have high standards of living and pay and populations are relatively well off in these enclaves. As one would expect if he or she has recently visited Shanghai and Beijing, these cities rate next in the list. Other provinces are listed in descending order.



This chart is a quick guide to give you an idea of where to look for markets in China. China as many have observed, is not one market but a series of markets that must be focussed on and developed in the course of building a successful consumer or sales based company.




| | | | |
| --- | --- | --- | --- |
| Population | GDP | GDP per Person | Exports |
| Guangdong | Guangdong | Macau | Guangdong |
| Shandong | Jiangsu | Hong Kong | Jiangsu |
| Henan | Shandong | Shanghai | Zhejiang |
| Sichuan | Zheliang | Beijing | Shanghai |
| Jiangsu | Henan | Tianjin | Shandong |
| Hebei | Hebei | Jiangsu | Fujian |
| Hunan | Liaoning | Inner Mongolia | Liaoning |
| Anhui | Shanghai | Zhejiang | Tianjing |
| Hubei | sichuan | Guangdong | Beijing |
| Zhejiang | Hunan | Shangdong | Hebei |
| Guangxi | Hong Kong | Liaoning | Sichuan |
| Yunnan | Fujian | Fujian | Xinjiang |
| Liaoning | Beijing | Jilin | Hubei |
| Jiangxi | Inner Mongolia | Hebei | Henan |
| Guizhou | Anhui | Ningxia | Anhui |
| Heilongjiang | Shaanxi | Shaanxi | Jiangxi |
| Fujian | Heilongjiang | Chongqing | Hong Kong (excludes re-exports) |
| Shaanxi | Jiangxi | Hubei | Heilongjiang |
| Shanxi | GuangxiShanxi | Heilongjiang | Hunan |
| Chongqing | TianjinJilin | Shanxi | Guangxi |
| Jilin | Chongqing | Human | Chongqing |
| Gansu | Yunnan | Heman | Shaanxi |
| Inner Mongolia | Xinjiang | Qinghai | Shanxi |
| Xinjiang | Guizhou | Hainan | Inner Mongolia |
| Shanghai | Gansu | Xingjiang | Yunnan |
| Beijing | Hainan | Jiangxi | Jilin |
| Tianjin | Macau | Sichuan | Hainan |
| Hainan | Ningxia | Anhui | Guizhou |
| Hong Kong | Qinghai | Guangxi | Macau |
| Ningxia | Tibet | Tibet | Ningxia |
| Qinghai | | Yunnan | Gansu |
| Tibet | | Gansu | Tibet |
| Macau | | Guizhou | Qinghai |
(2009, Sources: The Economist; Table: by Runckel & Associates)
---
Average Chinese Workers Wage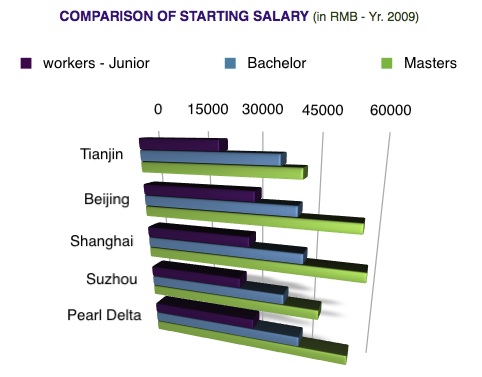 (Sources: TEDA; Graph: by Runckel & Associates)
---
---
More on Industrial Parks in Asia:
www.Business-in-Asia.com