Not being in a position to attend this year's Haining China Leather Fair because of commitments elsewhere, we asked our associates in China to attend and report on the fair. Here is their report: The Haining International Leather Fair is China's and Asia's and perhaps the world's largest yearly gathering of leather producers, buyers, middlemen, service providers, etc. This year's fair which started on September 2, 2004 led off with a Pop Music/Ethnic local music extravaganza that was attended by over 25,000. In the audience and on stage were famous movie stars from Hong Kong, Beijing, Shanghai and from many parts of Asia.


Also as a part of the opening night entertainment event was a spectacular fashion show which highlighted the work of many of China's most creative leather and fur designers?

China's top models strutted their stuff on the catwalks wearing creations that were spectacular in their use of leather and fur in new ways.






The main fair events started the following day. Totally there were over 780 manufacturers exhibiting at the fair. Walking the fair exhibits which were attended by foreign buyers from over 30 foreign countries our associates encountered buyers from the U.S., Canada, Finland, Denmark, Germany, Korea, Holland, Lebanon, the U.A.E., the U.K and Japan. The Fair had in excess of 30 thousand visitors which included 2000 registered buyer.
During the fair, our associates met with Beijing Brand Expert Mr. Bao Lindong and asked him about the movement toward increased branding in China and how it was changing China and this year's Haining Leather Fair. Here is his response:

Question: What do you think about the importance of branding for a factory (company) in China today?
Answer: The brand is very important for a company (factory). As a company's ongoing asset, as a company's mark in distinguishing itself from its competition and as a means of continuing its development, the importance of branding in China can not be understated. Today if a company fails to develop and build its brand, the company can not develop and grow.

Question: How do you see branding developing in China?
Answer: In the U.S.A., you have Coca Cola, McDonald's, Pizza Hut and other major brands. In Japan you have Sony, Hitachi, Panasonic, Citizen and many well known brands. But both of these countries are losing factories in their own country. Increasingly if you ask, where are their factories? They are in China, India, Malaysia, etc. Increasingly in not very developed countries, you are seeing increasing numbers of factories. These factories are increasing their size and number of workers and are printing the company's brand on all of their production. Although these less developed countries are improving their economies, however, increasingly it is not them but the holders of the Brand that gain the maximum benefit.

Question: What is the state of branding in China?
Answer: In China, in terms of famous brands you have Haier and in Weizhou, China you have Kangnai, but at least to this point, there are only a few famous brands. Chinese companies have become, however, aware of the importance of brands to their development and financial return and more famous Chinese owned brands are to be expected.

Question: Do you think that Haining or factories in Haining can develop a brand to distinguish themselves in the Leather field?
Answer: In Haining, you have many good factories that make high quality leather products. The success of Haining can be seen by the many domestic and foreign buyers at the show which is very impressive. But at this point, very few of the production factories exhibiting here have made the decision to develop a brand and even fewer have made the investment required. Haining is increasingly a name that is linked to the Leather trade and is gaining recognition, not only in China but internationally. I think that ultimately it may make more sense for factories in Haining to band together and help develop this name – Haining - than to try to develop their own names which ultimately will take a long time and require lots of investment. Haining is and can be a well known name in the field of leather. End of interview.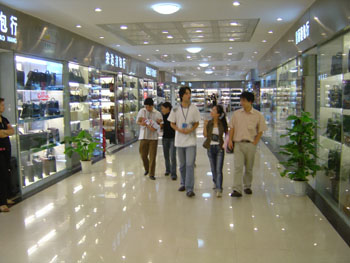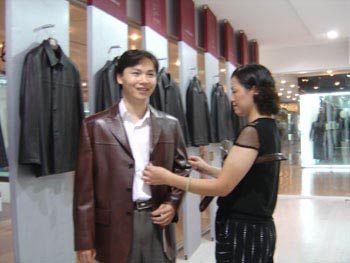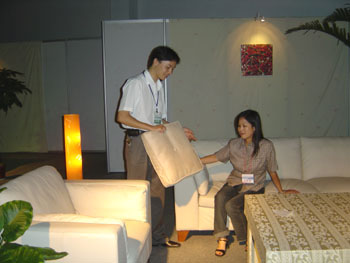 The 2004 Haining International Leather Fair completed this year's program with a full range of exhibits on September 5. Throughout the remainder of September and through November, exhibits and a full range of exhibitors from the fair will continue to reach out to future buyers through a traveling series of exhibits and shows in ten cities in China. These include Qingdao, Dalian, Shengyang, Harbin, Wuhan, Hefei, Nanjing, Shanghai, Xian and Chendu. Buyers interested in Haining and the wide range of leather glovers, wallets, handbags, briefcases, leather furniture and other leather and fur items can contact Runckel & Associates for referral to our Haining based associates who have extensive experience in serving overseas clients.

---
About the Author: Christopher W. Runckel, a former senior US diplomat who served in many counties in Asia, is a graduate of the University of Oregon and Lewis and Clark Law School. He served as Deputy General Counsel of President Gerald Ford's Presidential Clemency Board. Mr. Runckel is the principal and founder of Runckel & Associates, a Portland, Oregon based consulting company that assists businesses expand business opportunities in Asia (website: www.business-in-asia.com).
Until April of 1999, Mr. Runckel was Minister-Counselor of the US Embassy in Beijing, China. Mr. Runckel lived and worked in Thailand for over six years. He was the first permanently assigned U.S. diplomat to return to Vietnam after the Vietnam War. In 1997, he was awarded the U.S. Department of States highest award for service, the Distinguished Honor Award, for his contribution to improving U.S.-Vietnam relations. Mr. Runckel is one of only two non-Ambassadors to receive this award in the 200-year history of the U.S. diplomatic service.