---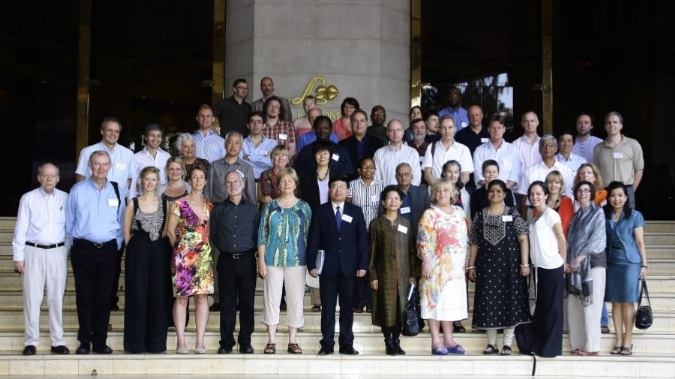 The first international network Conference on Health Innovation & Leadership took place on March 22-25, 2010 in Bangkok, Thailand, at the Landmark Hotel. The conference was hosted by the University of Leeds Centre of Innovation in Health Management (CIHM). CIHM which is headed by Becky Malby, Director of CIHM at Leeds University Business School (LUBS) has been active in the United Kingdom for many years in this field primarily working with the UK government National Health System (NHS), one of the worlds largest, most highly funded and complex organizations.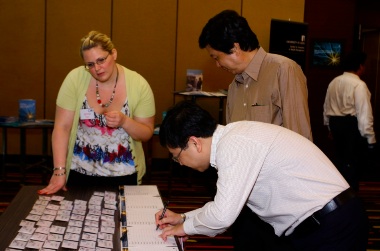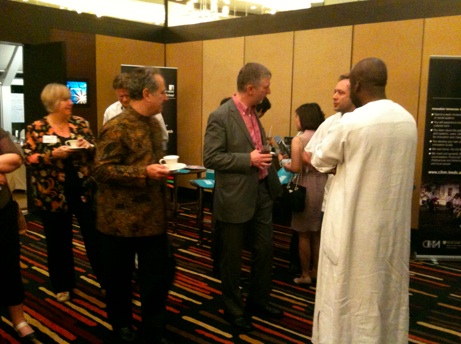 Picture above left: Dr Truong Vinh Long and Dr. Pham Gia Tran from Vietnam at the registration on the first day;
picture above right: participants from various countries get together to discuss building a network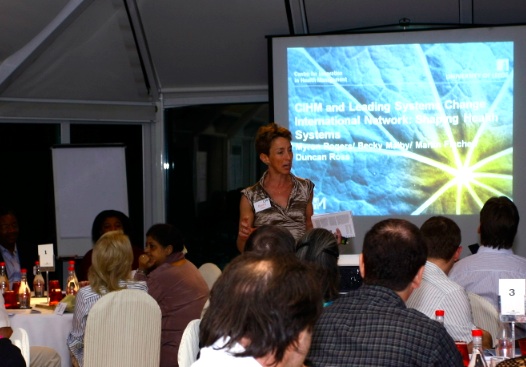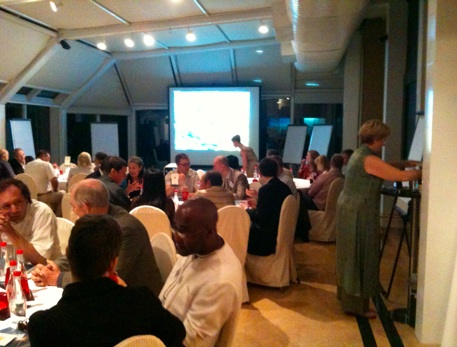 Pictures above: Dr. Rebecca Malby (left picture in the middle) gave introduction of CIHM to the participants

CIHM involves a network of doctors, public sector managers, organizational change consultants and academics, who are passionate about improving public services. This inaugural conference of the international portion of this effort involved participants coming together from places across the world including Ho Chi Minh City, Shanghai, Bali, Beijing, Ahmedabad, Bangalore, Leeds, London, Chicago, Wisconsin, Johannesburg, Cape Town, Sydney, Queensland, Stockholm, Milan, Bangkok and Chonburi.

The University of Leeds is one of the UK's top research powerhouses outside of London in the United Kingdom. It is the UK's second largest University with over 30,500 students from 130 countries. The University besides being one of the largest higher education institutions in the UK is also a member of the Russell Group of research-intensive universities and part of the Worldwide University Network (WUN).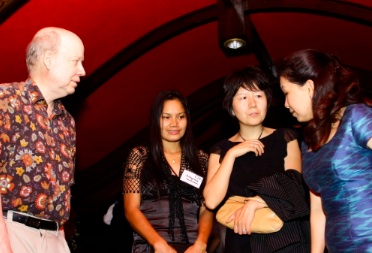 Picture above left: Dr. Zhongnan Zhang from China (seen at left) on Manorah Cruise dinner along Chao Praya River;
picture above right: Dr. Cindy Liang from China with Chris and Soraya Runckel of Runckel & Associates (from left - Chris Runckel, Mrs. Coyte, Dr. Liang and Soraya)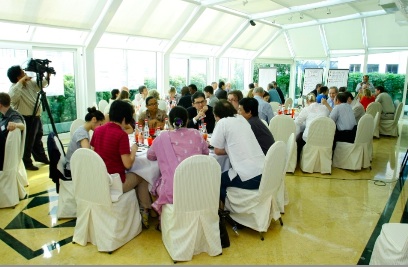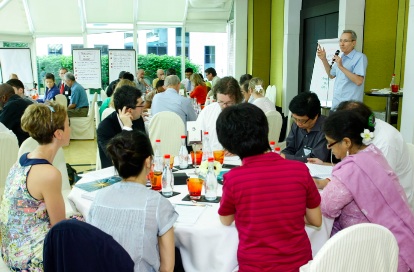 Pictures above: first day of the conference at the Landmark Hotel's Conservatory Room with full natural light.

CIHM believes that its program is unique in that it is a 'think and do tank': not only does the organization undertake major pieces of academic research but CIHM also works with public sector organizations to help create the conditions in which change occurs. In the face of a range of increasingly difficult management dilemmas and while the participants are doing cutting edge work in their own countries, these ideas and experience need to be discussed and shared more widely. Some of the questions shared during the week included the following such as: How can we best make ethical organizational decisions in the face of challenging resource constraints? What can we do to improve the ability of health services to work effectively with different communities? How can self-organizing collective action be generated in response to increasingly individualized social policy agendas? plus many more. The event was designed to foster innovation and new relationships and to develop practical solutions to these problems and hearing from the participants much was accomplished.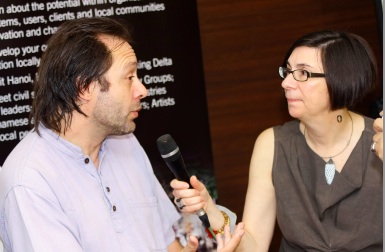 Picture above left: Mary Corrigan shares her expertise in graphic recording throughout the conference; while , picture above right, Joann Ricci helps with video clips and interview of participants.



Working Together and Building Collaborations:



After a welcome from CIHM Director Becky Malby on Monday afternoon, March 22 in which Ms. Malby set-out her and the organizers vision for the meeting and the challenges faced, the group shared a dinner get together to start learning from each other and to share some of Bangkok's more scenic sites and to sample the complexities of Thai cuisine and enjoy the pleasures of Thai hospitality. This dinner on the Manorah Cruise along Chao Praya River was stunning and flawlessly executed and helped us all come together over food to learn more about each other and our surroundings.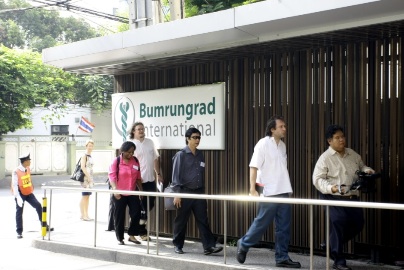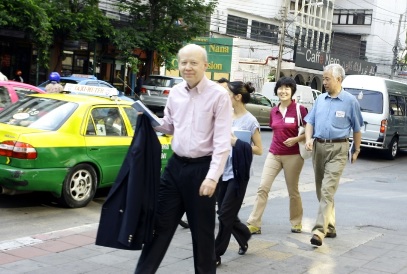 Pictures above: The group walked from the hotel to Bumrungrad Hospital nearby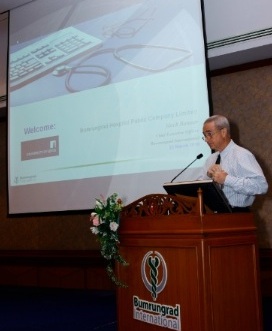 Pictures above: Mr. Mack Banner, CEO of Bumrungrad Hospital, speaks to the group.


Starting the next morning, the group came together to learn about each other, build up collective views of social change through various visits during the first day of the conference, such as to Bumrungrad Hospital for the first half of the day with insight small group tours and interviews of patient, doctors, staff and management of outpatient, inpatient care, IT, Quality improvement, Vital Life and study of the local/International market.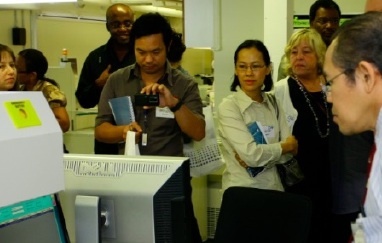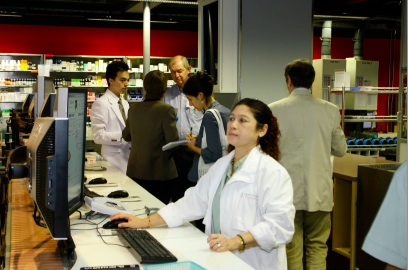 Pictures above left: Participants from Thailand, Ms. Usanee Janngeon Director of Mercy Centre(in the middle) and Mr. Monkol Powee(to her left) tour the Information System Center; picture right: other group tours the lab.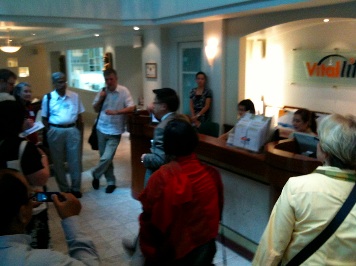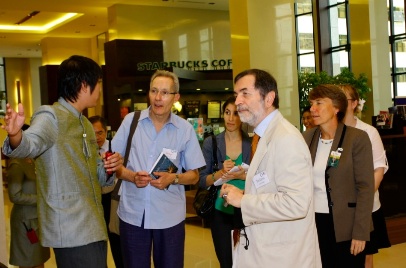 Pictures above: one of the six groups tours VitalLife (left); while another group tours and interviews staff, executives and patients in the hospital facilities.


CIHM chose Bumrungrad because CIHM believes it to be one of the most efficient, productive health facilities in the world and Bumrungrad kindly opened up their facilities to prove this well-regarded reputation. Following a morning of tours in small group and inquiry about this highly modern facility, Mack Banner, Bumrungrad Hospital CEO then answered questions raised by insights gained in the individual tours which had spread over the hospital. CIHM very much appreciates Mr. Banner and his staff's professionalism and open sharing of information.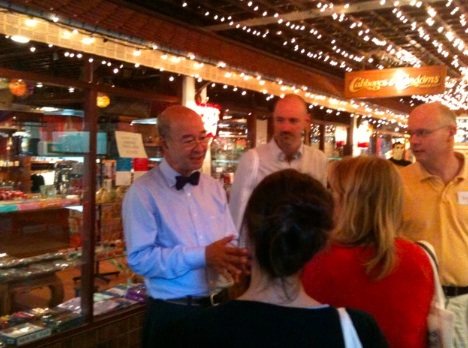 Pictures above: Dr. Mechai Viravaidya, Chairman and Founderof Population & Community Development Association (PDA) kindly hosts one of the small group visits in the afternoon. A former Senator, Dr. Mechai has been a major force in change in Thailand for over 30 years.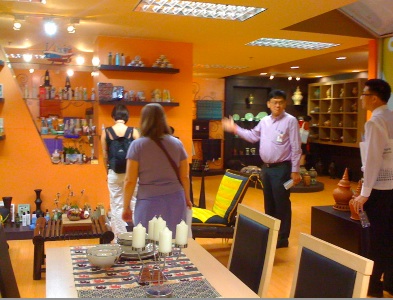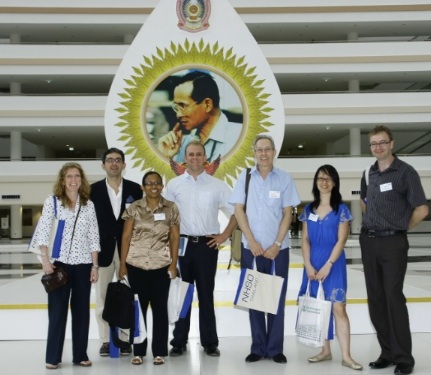 Pictures above: One of the 6 groups (left) visits and learns about Thailand's One Tamboon, One Products (OTOP); and at the same time, other group goes to the National Health Security Office (NHSO) to learn about Thailand's 30-Baht Healthcare Scheme
In the afternoon, the group split into teams and visited internationally well regarded local community organizations such as the Populations and Community Development Association(PDA), Duangprateep Foundation, Mercy Centre, 30-Baht healthcare scheme, OTOP and the Demonstration School of Prasarnmitr where the group learned about how these organizations have dealt with innovation and community involvement. The group was very much taken by the sense of energy, commitment and professionalism at each of these institutions which are each finding new ways to deal with new challenges in Thailand, the region and the world.

Later after again splitting into small groups to experience Thailand at the street level in a "Living Dining Experience" suggested by CIHM Faculty Myron Rodgers the group dined out in Thai restaurants throughout the area. The group then came back together to discuss over desert the next several days challenges and to hear from Richard Williams, Pro Vice Chancellor at the University of Leeds who had travelled from Singapore to welcome the group on the end of their first full day together.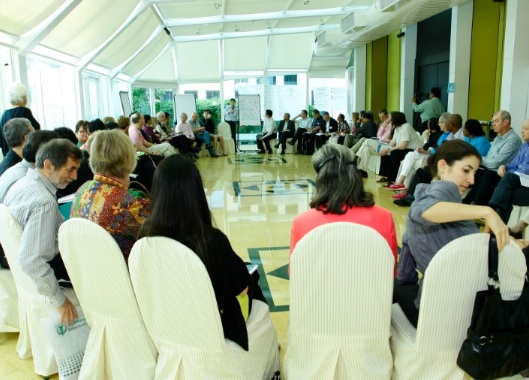 Picture above: Part of second day meeting



Later in the week, the group worked on questions which will be useful locally and internationally; found out more about each others local leadership challenges and worked out how the fellowship network can work effectively together, plus connected theory, ideas, experience and practice together for the future focus of collective effort and co-production of all its programs. They also discussed how the hub-based groups could interact at a national, regional and international level and how the group could use its resources to build new hubs in underrepresented portions of Africa, the Mideast, new parts of India, China, Asia and South America.

Chris and Soraya Runckel were gratified to work with CIHM as part of the core organizing team for this inaugural event and want to express our special appreciation for CIHM colleagues such as Becky Malby, Martin Fischer, Duncan Ross, Myron Rodgers, Joann Ricci, Peter Whittingham, Liz De Wet, Mary Corrigan, Jenna Paglia and Beth Lister who all worked ceaselessly to make the meeting a success. We also would like to thank our visit hosts for giving so freely of their obviously quite busy day to host us. We also would like to express our appreciation to the Landmark Hotel and to Tour East, the two pillars of our support in Bangkok, for their exemplary professionalism and true Thai style of service and support. We also would like to thank our photo and video team of Mr.Jullajak Karnjanintu and his team for their professional documentation, quick turnaround and excellent editing of this first ever event.

CIHM plans to build research and collaborative efforts and will meet again at least once a year to continue to build up its network worldwide. (more information at: http://www.cihm.leeds.ac.uk)




---



About the Author

:



Christopher W. Runckel, a former senior US diplomat who served in many counties in Asia, is a graduate of the University of Oregon and Lewis and Clark Law School. He served as Deputy General Counsel of President Gerald Ford's Presidential Clemency Board. Mr. Runckel is the principal and founder of Runckel & Associates, a Portland, Oregon based consulting company that assists businesses expand business opportunities in Asia. (

www.business-in-asia.com

)





Until April of 1999, Mr. Runckel was Minister-Counselor of the US Embassy in Beijing, China. Mr. Runckel lived and worked in Thailand for over six years. He was the first permanently assigned U.S. diplomat to return to Vietnam after the Vietnam War. In 1997, he was awarded the U.S. Department of States highest award for service, the Distinguished Honor Award, for his contribution to improving U.S.-Vietnam relations. Mr. Runckel is one of only two non-Ambassadors to receive this award in the 200-year history of the U.S. diplomatic service.