Campus Information and Photos



The University has 1,230 acres of land, with the main campus taking up 98 acres. The main campus is located 1 mile (1.6 km) north of Leeds city centre. It is within walking distance of both the city centre and Headingley, a popular residential area for students.



Faculties



The various schools, institutes and centres of the University are arranged into nine faculties:

Arts
Biological Sciences
Business
Education, Social Sciences and Law
Engineering
Environment
Mathematics and Physical Sciences
Medicine and Health
Performance, Visual Arts and Communications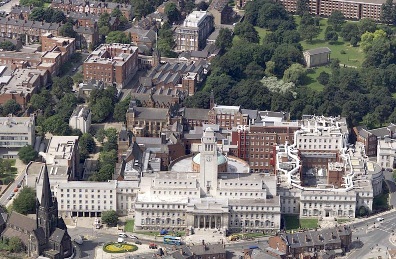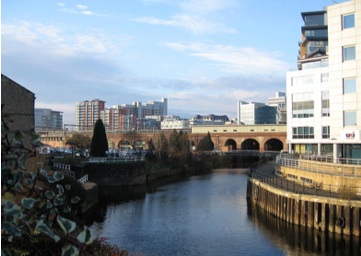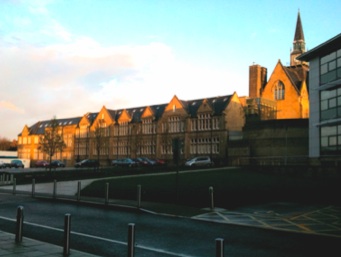 (Pictures above) Leeds campus and the River Aire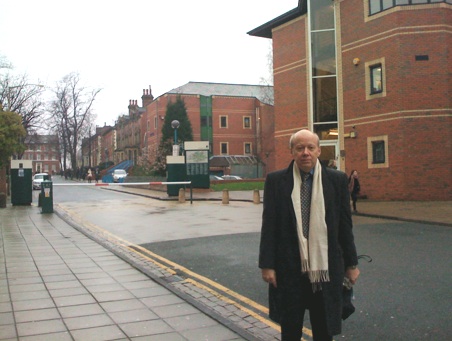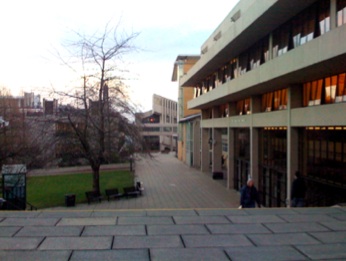 (Picture above, left) Chris Runckel, President of Runckel & Associates, has worked with
University of Leeds' Center for Innovation in Health Management (CIHM).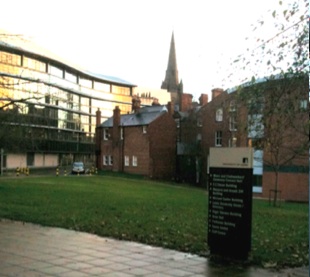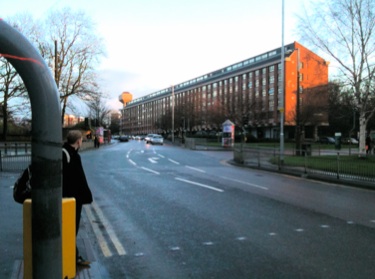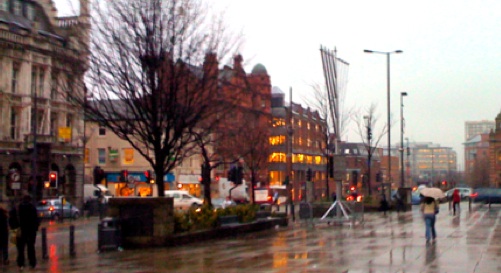 (Picture above) Downtown Leeds - Leeds has a compact city centre and excellent public transport
making it easy to get around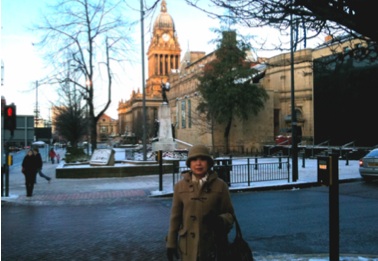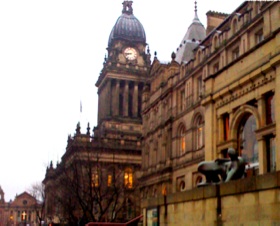 (Picture above, left) Soraya visited Leeds during the snow days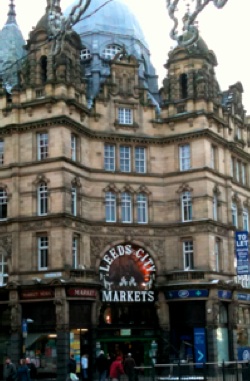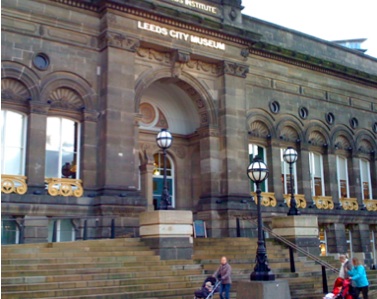 (Pictures above) Leeds City Market and Leeds City Museum
---

More information on University of Leeds and its description of the programs offered

Website: www.leeds.ac.uk/
Vision


The University's vision is that by 2015 its distinctive ability to integrate world-class research, scholarship and education will have secured us a place among the top 50 universities in the world.



Purpose


the University is a research-intensive university which strives to create advance and disseminate knowledge, and develop outstanding graduates and scholars to make a major impact upon global society.



Values


The University's values set out the principles of how the University works together. They are:

Academic Excellence

Knowledge, academic freedom, critical independence, creativity, innovation, world-class

performance

Community

Public service and citizenship, collegiality; teamwork and mutual respect

Integrity

Openness, transparency and honesty

Inclusiveness

Diversity, equal opportunity and access

Professionalism

Provision of effective and efficient customer-focused services in all aspects of the University's work

(internally and externally)
University of Leeds - A century of service



The University of Leeds is Yorkshire's oldest and largest university.

The University's predecessors were the Leeds School of Medicine, founded in 1831, and the Yorkshire College of Science, which opened in 1874.

The University of Leeds received its own Charter as an independent institution from King Edward VII in 1904.

The University is proud of its tradition and heritage and have build upon them to become a major player in higher education.


- has 30,500 students from over 130 countries.
- More than a million people have graduated from the University of Leeds.
- A total of 7,400 students graduated in 2007/2008 during 62 degree ceremonies.
- the University is one of the top ten research universities in the UK and a member of the Russell Group of research-intensive universities.
- Over 136,000 alumni are in regular contact with the University.
- 2007/2008 total income was £460m, an increase of 9% on the previous year.

Funding Council grants
153,099
Tuition fee and education contract
109,132
Research grants and contracts
101,207
Other operating income
84,811
Endowment income and interest receivable
11,929
Total Income
460,178

The University is a major contributor to the city and the region:

- with 8,800 staff it is the third largest employer in Leeds
- it contributes £860m a year to the local economy
- students add a further £190m to the local economy through rents and living costs
- The University of Leeds was ranked 104th in the THES-OS world ranking in November 2008
The University of Leeds has:

650 undergraduate courses
300 postgraduate courses
£360m campus development plan
30,500 students
250,000 graduates
The University inspires its students to develop their full potential.

The University has some 24,400 undergraduate and 6.300 postgraduate students.

Its 250,000 graduates can be found all over the world and have been successful in all walks of life.

Over 450 University of Leeds alumni from the worlds of business, arts and science have registered as invaluable career mentors for students and recent graduates.

The University is providing the best service and facilities for its students enabled by a £360m campus development plan.

From Arabic to Zoology the Universityoffer an enormous range of courses

- 650 undergraduate courses
- 300 postgraduate courses
Integrating research with learning and teaching is at the heart of its strategy. The courses are taught by staff who are actively engaged in world-class research and cutting-edge professional practice.

The University has fifteen National Teaching Fellows - more than any other English university - reflecting the excellence of its teaching.


St James University Hospital is the one of the largest teaching hospitals in Europe. It is home to the University's Clinical Sciences building and the Leeds Institute of Molecular Medicine.

The local community benefits from the University's 2,000 Student volunteers - almost five times the national average.

The University is dedicated to making its courses available to all those who could benefit from them and in 2007/08 the University committed over £3m to bursaries and scholarships.

110 student scholarships are currently funded by its alumni.

The University's students are heavily targeted by top rate recruiters and, in the world, university league tables published in November 2008, our 'employer review' score was a magnificent 98 out of 100.
Centres for Excellence



Centres for Excellence in Teaching and Learning (CETLs) are part of a Government initiative to develop excellent learning and teaching in UK higher education.

Its involvement in six CETLs demonstrates its outstanding strengths in teaching and learning.

- The assessment and Learning in Practice Settings (ALPS) Centre ensures that health and social care graduates develop their practical skills. - The Inter-Disciplinary Ethic Applied (IDEA) Centre equips students to respond to ethical issues.
- The White Rose Centre for Excellence in Teaching and Learning of Enterprise (WRCETL) raises awareness of enterprise skills.
£101m annual research income
£105m new grants in 2007/2008
£10m Transformation Fund
The University is a leading research university - one of the top ten universities for research power and market share of research funding.

Its annual research income exceeds £101 million. The total of new grants awarded in 2007/2008 exceeded £105million

The University is part of the Russell Group which consists of the 20 most successful universities in research in the U.K.

The University is part of the Worldwide Universities Network (WUN), chaired by Vice-Chancellor, Professor Michael Arthur. this network of leading research universities across four continents supports innovations in research and education on a global scale.

The University's new £10 million Transformation Fund, launched in 2007, is encouraging and promoting research in major societal issues including food security, water processes, translating clinical research into healthcare treatments and the production of pharmaceuticals and fine chemicals.
Medical research
Leeds has one of the largest medical and bioscience research bases in the UK. the Universityare leaders in cancer research, and are transforming the treatment of TB, HIV, and malaria across the world.
Earth and environment
From the poles to the Amazonian rain forests, its research is greatly adding to knowledge about the nature and effects of climate change. the Universityhave first-class expertise in earth systems science from the Earth's core to the atmosphere.
Culture and society
Its ground-breaking work in dialect studies, medieval studies, cultural studies, post-colonial studies, international business research and global society is recognized world-wide.
Nanotechnology
Nanotechnology is set to transform the future. Leeds is at the cutting-edge of this new science and its application to create new products to benefit society.
Energy
Renewable energy, sustainable energy systems, processing and reusing waste, solutions for nuclear waste - the Universityare at the forefront of energy research.
Transport
The planning design, operation and use of transport systems across the globe is informed by world-leading interdisciplinary transport research group - the largest such group in Europe.
£39m industry contracts
85 families of patents since 2006
45 active spin-out companies
£150m value of spin-out companies
The results of the University's research have a direct impact on the world around us. 40% of academics are involved in applied research or consultancy contracts with industry and public sector organizations, with a value of around £39m.

One in four of the University's graduates moving into employment joins a company with a Leeds post-code.

Since 2006, the University has:
- filed more than 85 families of patents
- developed 28 Knowledge Transfer Partnerships with local companies.
- included 63 companies daunted by undergraduates.

The University leads the ground-breaking White Rose Health Innovation Partnership, pioneering methods of open innovation to enable rapid development of new healthcare services and technologies in partnership with clinicians, hospitals and manufacturing companies in Yorkshire and New Jersey, USA. The partnership has received international recognition for its pioneering work including a USA Thomas Edison award for innovation in 2008.


Centres of industrial Collaboration apply the University's research in the areas of particle science, tissue engineering, engineering design, digital print and wireless communications.

The University fosters and celebrates success in personal entrepreneurship through new "enterprise Scholarships" for undergraduates and the annual Sir Peter Thompson Enterprise Prize award, which rewards enterprising staff on students at the University who have innovative commercially viable ideas.

A new state-of-the-art Innovation Hub part of the new Charles Thackrah building, was completed in 2007. The hub incorporates high quality space for enterprise activities and incubation space for spin-out companies.



Spin-out companies


The University that 45 active spinout companies in areas as diverse as oil exploration, cancer drug development geological research, embryology and foetal development.

The majority of these companies are based in Yorkshire and their total value is an estimated £150 million. Since 2007 the University has spun out 18 new companies. Recent success stories include:

- The development of an almost waterless washing machine, which could change the way the Universitylive and save precious resources by Ceros.
- Avacha provides new technologies of the biopharmaceutical, defense and healthcare sectors. It has listed on the Stock Exchange AIM in 2006, and this year has gone from strength to strength wit the acquisition of two diagnostic sector rivals.
- Tracsis was founded in 2004 to commercialize world class research and expertise in transport scheduling. They floated on the AIM a year ago and due to their recent success the Universityhave been awarded a high commendation for outstanding contribution to innovation and technology at the Times Higher Education 2008 Awards.

5,000 international students
130 counties
101 nationalities of staff
The University of Leeds is an international university



The University is one of the largest recruiters of international students in the country.


The University's
total international student population exceeds 5,000 - they come to a range of programmes from advanced PhD study to summer schools.

International students from over 130 countries. the University has staff of 101 different nationalities.

The University is in touch with graduates living in over 160 countries throughout the world, and the University has over 30,000 active international alumni - meaning graduates really are spanning the globe.

The University has one of the largest and most successful study abroad programs in the UK. Students can choose from hundreds of universities across Europe, North and South American, Africa and Asia.

A new degree in petroleum engineering is an example of the University's responsiveness to the demand of international markets, students and sponsors.

The University's offices in China, South East Asia. South Asia. Nigeria and Japan support student recruitment.

In the past year over 1,500 of alumni have attended a University of Leeds event somewhere in the world - from New York to Sydney via London. Riyadh and Tokyo

A new Indian TV reality show offered a full scholarship to Leeds University Business School as a prize. The winner, Akshay Goyal, started his course in 2007.

The University is a founding member of the Worldwide Universities Network. This key international partnership combines intellectual fire power and leading-edge facilities and resources with 18 other world- leading universities to tackle research problems of global importance.

The University leads the White Rose Health Innovation Partnership involving over 290 companies and organisations with White Rose Universities and the University of Bradford, along with university and medical partners in the USA.

James U Lynch India and South Asia Business Centre was formally opened in 2006. Its market research briefings 'Watching India' keep UK firms informed of India is rapidly changing economic environment.
The Centre for International Business, part of its highly successful Business School, helps businesses interested in investing in China and India.

The School of Education offers bespoke programme for teachers, lecturers and administrators from schools and universities around the world. As part of this the School has designed and run a jointly taught Masters TESOL (Teaching English to Speakers of other Languages) program with a university in Guangdong.


180 capacity of Leeds new main theatre
260 activities, clubs and societies
DARE, a pioneering collaboration between the Univeristy and Opera North, has created a powerful force exploring new ways of working and performing. This combination of artistic and academic excellence is making a real contribution on the local, regional and international stage.


- European Union Culture Cooperation funding has been secured to help bring DARE together with Bregenz Opera Festival Austria, Sibelius Institute Finland and Shanghai Theatre Academy China, to explore the many traditions that make up European and Chinese opera. The results of Operatic Encounters: Common Voices will be.
- Over 300 students and staff have already experienced life at the heart of a working opera company, through placements, internships and participation in the opera production process.
- After receiving funding from the Arts and Humanities Research Council, two collaborative PhDs studying Opera as an Adaptation' are now being run.
Key competition


the Universityare proud of long association with the Leeds International Phanoforte Competition - one of the most significant events in the international music calendar. As a result of winning, Leeds prize- winners - such as Murry Parahia, Llya Itin and Michel Dalberto - have achieved world-wide renown.


Rising Stars


Composer Iian Eshkeri, who graduated from Leeds in 1999, has produced the score for the film Stardust, starring Robert De Niro and Michelle Pfieffer.


Dramatic effect


The new state-of-the-art home for the School of Performance and Cultural Industries, stage@leeds, has a 180-seat main theatre. The theatre hosts a huge variety of performances throughout the year by students, community groups and professional theatre companies.


Music


Set over four levels, the School of Music provides rehearsal, performance and practice spaces, as well as a professional recording studio. It is connected to the spectacular Clothworkers' Centenary Concert Hall, where a lunchtime concert series has been running since 1912.


Great gigs


The University Refectory has a national reputation as a great venue for gigs. The Rolling Stones, The Who, Led Zeppelin, Pink Foyd, The Kaiser Chiefs, Arctic Monkeys, Editors and Klaxons have all played at the Refectory.


University Union


Leeds University Union is one of the biggest and best students' unions in the country, providing services, facilities and entertainment for all students. Over 260 sports and leisure activities cater for all tastes. The Union organizes numerous volunteering projects to help the local community. It also runs an award-winning student newspaper, radio and television station.
£360m campus development plan
£16m student services building
£20m Brenner building
£14m improved sports facilities
The University is transforming its campus


The University's single campus is a ten minute walk from Leeds city centre. The University is one of very few Russell Group Universities to have a full campus so close to the heart of the city.

The University is set to enter a renaissance period that will see many changes taking place to the campus as the University embarks on an ambitious £360 million development plan over the next ten years. New buildings, and the transformation of existing buildings, will create state-of-the-art space for research and teaching.

The new landmark Marjorie and Arnold Ziff building was completed in May 2008. The £16m six- storey building brings key student services under one, environmentally-friendly roof.

The Leeds Institute of Molecular Medicine (LMM) brings together researcher, medics and patients so that new developments and research results can flow from the laboratory to the ward. In May 2007 Nobel Prize winner Dr. Sydney Brenner opened the £20m building which now bears his name.

Stage@leeds offers exciting opportunities for staff and students to get involved in live theatre. The new £5m home for the School of Performance and Cultural Industries houses a theatre, a "black box" rehearsal studio, and a dance studio.

The University leads the way in the healthcare and bioscience sector with the new Charles Thackrah building. The building provides state-of-the-art accommodation for all enterprise activities and also houses the Institute for Health Sciences and Public Policy Research.

Chemists can work alongside biologists, physicists and engineers in new state-of-the-art chemistry facilities.

The University's growing number of dental students are benefitting from the £14m investment in new dentistry teaching laboratories and clinical centers.

A swimming pool and fitness complex to be completed in 2009, will provide outstanding sports facilities for students, staff and Leeds residents.

The newly re-opened Refectory reveals the stunning results of a £4.5m refurbishment. The decor celebrates the Refectory's role as a major venue.



Green campus


The striking Marjorie and Arnold Ziff building incorporates chilled beams as a lowest-every air- conditioning solution. This is just one example of its commitment to promoting a "green" campus.

The University has won a number of prestigious awards for environmentally friendly buildings and practices. Recent awards include the Green Gown award for Waste Management in 2006 and the 2007 Award for Continuous Improvement. the Universityalso retained for 2007/2008, itsSilver membership of the Business in the Environment Scheme and received a "First" in the people and planet green league table for environmental performance.