Recently I sat down with Mr. Muller to discuss personal security for business and other travelers and here are his comments:



John Muller:

I have spent over 40 years in Asia, starting in security in Vietnam with the U.S. Army and then continuing on with the U.S. government and most recently in private business. As a security professional I have operated in war zones such as the Afghanistan, Iraq, and faced the challenges of living and working in Vietnam, Thailand and Cambodia for many years. Events like the 2004 Thailand Tsunami that claimed 280,000 lives, the many coups, political unrest and high crime rate in this region has left many people without any means to survive until help arrives. I have been in this situation myself. By far the worst fear is not being able to communicate. When landlines, radio, internet and other means of communication are no longer available, panic and feelings of desperation can quickly overwhelm us. Exodus provides low cost critically important, GPS messaging and satellite communication together with other tools to survive.

In general, SE Asia has become a safer place in terms of outright wars and civil disturbance. The same however is not true for travel. Today many of us are working in crime prone densely populated urban areas, high risk locales or countries experiencing political unrest. Further, many of us are traveling for business and especially for the young and not so young to remote locations. What I find distressing is how few people take the time to realize the risks going in and are therefore not properly prepared. This is not only a shame for the individual but also a cause for worry for their loved ones, business associates, Embassy or Country. I have in the past been called upon by the family or others to locate such travelers and I know the heart aches and headaches that this causes.

Increasingly I am seeing those who arrange a trip for ill advised adventure tourism purposes or who get "caught up in the moment" and ultimately get on the wrong side of a situation or put themselves in danger. In the past months internationally, we saw American students arrested by authorities in Egypt allegedly for participating in anti-government rioting who were subsequently released. Here in the region, we have had earthquakes in China, the Tsunami in Japan, floods and typhoons all over the region and political unrest on the Thai Malaysian border. Daily I read of travelers who end up in hospitals because of failure to wear a helmet while on a motor scooter or bike, people who get robbed, injured while drinking or engaging in highly risky behavior, people who lose their passports, credit card and identifications and many other sorts of events. Spending time in a foreign hospital, jail or prison is disagreeable, dangerous and often unhealthful to say the least.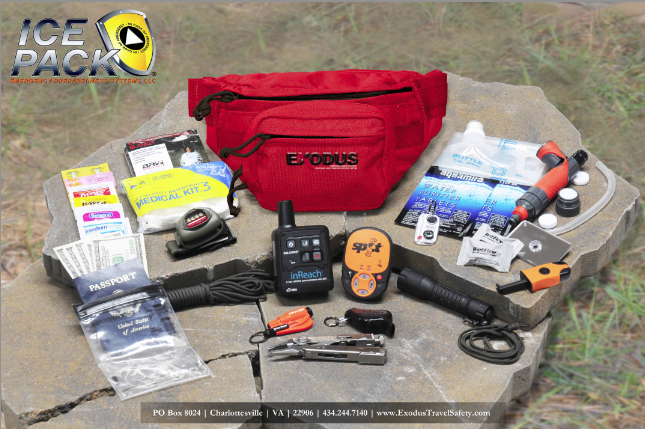 Picture above: The EXODUS Waist Pack model comes in discreet fashionable color combinations (shown here in red). The retail price is $575USD including the SPOT GPS Satellite Messenger (DeLorme In-Reach is optional).

Travel security starts with awareness. Awareness of your surroundings, attention to changes happening near you and bottom line preparation and a well thought out plan for your protection and safety. This brings me to EXODUS, a new product that is being sold by a Virginia. USA company named ICE PACK Emergency Preparedness Systems LLC that really all travelers, especially those going "off the grid" should consider and purchase prior to traveling. The product is the new EXODUSTM Personal Crisis Incident Response and Communications System.

EXODUSTM is designed to help those who want to control a situation instead of having it control them. The system and associated travel safe training prepares men and women for crisis incidents ranging from common car/bus accidents and street crime incidents to violent political upheavals, natural disasters and acts of terrorism in foreign countries or in the United States.

This equipment is of great use to travelers but also should be useful for government and corporate professionals on foreign travel or assignmentbased missionaries, non government organization (NGO officials) and UN
personnel, disaster relief personnel, backpack tourists and journalists who might find themselves in harm's way. These small well-thought out packs are for anyone traveling for work or vacation and who might quickly become a part of a dangerous situation beyond his or her control. Having life‐saving resources at hand during such times becomes an invaluable asset and could make the difference between perishing and returning home.

"The EXODUSTM system [equipment and travel safe training] is designed to help individuals gain some control over their personal situation, in the midst of crisis." It allows you to take care of many immediate situations and to if necessary contact loved ones and seek assistance. Let me assure you, your loved ones will thank you for taking this small pack along. It will not stop every emergency but certainly it is a part of a good overall travel security plan that I would advise all travelers to make and to update.


---



About the Interviewer:

Christopher W. Runckel, a former senior US diplomat who served in many counties in Asia, is a graduate of the University of Oregon and Lewis and Clark Law School. He served as Deputy General Counsel of President Gerald Ford's Presidential Clemency Board. Mr. Runckel is the principal and founder of Runckel & Associates, a Portland, Oregon based consulting company that assists businesses expand business opportunities in Asia. (www.business-in-asia.com)

Until April of 1999, Mr. Runckel was Minister-Counselor of the US Embassy in Beijing, China. Mr. Runckel lived and worked in Thailand for over six years. He was the first permanently assigned U.S. diplomat to return to Vietnam after the Vietnam War. In 1997, he was awarded the U.S. Department of States highest award for service, the Distinguished Honor Award, for his contribution to improving U.S.-Vietnam relations.


---