---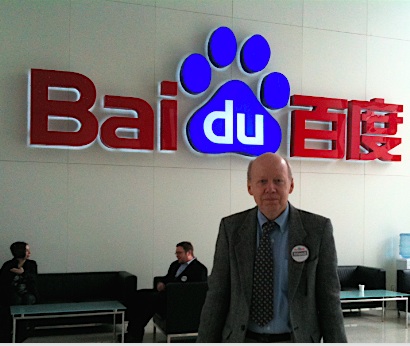 Chris Runckel, President of Runckel & Associates (Business-in-asia.com)
at the Baidu's Headquarters
The 2011 China Internet Conference was recently opened in Beijing, with the theme of "Connecting China - Responsibility and Vitality". This theme in 2011, different from prior years that mainly concentrated on the latest development of the applications of the Internet, demonstrates the huge momentum and promising prospects of the application and innovation of China's internet in its fusion with conventional industries, said the Beijing Times.

The internet in China has come a long way since Business-in-Asia.com reported "Internet in China" in 2007 (and "Timelines of China's Internet Development"). The numbers of Internet users, websites, domain names, applications and Internet businesses have increased substantially. Below are a summary of the rise of the internet in China.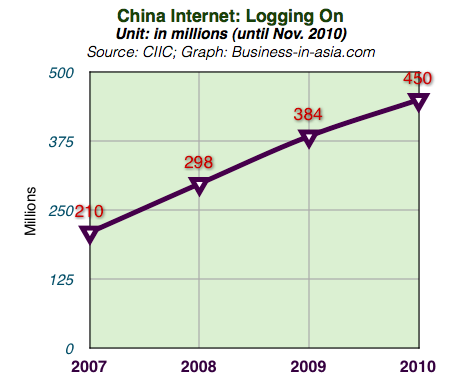 Statistics of the Development



A study recently published by the China Internet Network Information Center (CIIC), started in 1997 and now the country's domain management and information service agency, showed that the number of internet users in China now has reached 485 million, up 73.3 million from 2009. Furthermore, according to China Daily, consulting firm McKinsey & Company has predicted 750 million Chinese will be online by 2015.

The China Internet Network Information Center (CIIC) survey was carried out among 60,000 individuals and 5,103 enterprises in 31 provinces, autonomous regions and municipalities on the Chinese mainland, as well as nearly 90,000 completed online questionnaires. Its Investigation Support Websites are CCTV International, International Online, China Daily website, Guangming website, Southern website and Eastday website.

Reference the CIIC report, the factors that contributed to the rapid development of the Internet in China are:


1. The continuous improvement of infrastructures in China. As seen from number of Internet users in China's rural areas which totaled 125 million in 2010, up 16.9% from 2009. The newspaper also reported that with the continuous progress of the MONet project, the popularization of 3G, and the integration of the three networks, the Internet industry is becoming an important infrastructure for business and new media.
2. The maturing internet business models has helped commercial opportunities to be more diversified. However, many of the business models that are successful in China are those replicating successful internet, software or mobile applications from the U.S - creating a Chinese version for the domestic market in China. For example: Sina's Weibo (Chinese version of Twitter), RenRen and KaiXin001 (Chinese version of Facebook), TuDou and YouKu (Chinese version of YouTube), 360buy.com (Chinese version of amazon.com) or Taobao.com (Chinese version of e-Bay).

Top 10 Provinces by Number of Users:





| | |
| --- | --- |
| 1 | Guangdong |
| 2 | Zhejiang |
| 3 | Jiangsu |
| 4 | Shangdong |
| 5 | Fujian |
| 6 | Hubei |
| 7 | Hunan |
| 8 | Liaoning |
| 9 | Shanghai |
| 10 | Sichuan |

Most Popular Websites in China:





| | |
| --- | --- |
| 1 | Baidu.com |
| 2 | QQ.com |
| 3 | Google.cn |
| 4 | Sina.com.cn |
| 5 | Taobao.com |
| 6 | 163.com |
| 7 | Google.com |
| 8 | Youku.com |
| 9 | Tudou.com |
| 10 | Sohu.com |

A summary of the some of the main points of the CIIC report follows:


-

Access to Internet:

about 66.2% of Internet users, or 303 million, used mobile phones to surf the net, an increase of 5.4% points from 2009, the report said. However, it showed the number of people going online via laptops grew at a faster pace than that of those surfing the net using mobile phones or desktops. About 45.7% of netizens used laptops to surf the net, a year-on-year increase of 15% points.
-

Time the Users Spent Online

: Chinese netizens spent about 18.3 hours online every week or 2.61 hours each day, the CNNIC report said.
-

Areas of increasing use:
1. shopping online - up 48.6% year on year
2. using e-banking - up 48.2% year on year
3. online payment services - up 45.8% year on year
-

Websites:

the business-to-consumer part of China's online shopping market is expected to expand more than fivefold to 650 billion yuan ($100 billion) over the next three years, according to Beijing-based research firm Analysys International. More Chinese are using group-buying websites to enjoy bulk discounts. Group-buying websites in China emerged in January 2009 and have increased to about 1,800 now in operation. About 18.75 million or 4.1 percent of China's Internet surfers used group-buying websites, according to the CNNIC report.
-

Social Network:

Micro-blogging has been the fastest developing Internet service in China in 2010. More than 40 percent of the country's Internet users, who totaled 485 million at the end of June 2010, used the service, according to the report. Major players, such as Sina and Tencent Holdings Ltd, have been investing heavily in the service in terms of marketing and research and development. Tencent's microblogging service had 175 million active monthly users; Sina's Weibo has registered users of 141 million; and Sohu is third with 65 million users.
-

Online Games:
Analysys International, a Beijing-based research firm, predicts that by 2013, the number of social game users in China is expected to exceed 130 million, with an estimated annual revenue of $443 million. According to Xinhua News, revenue is earned by embedding advertisements in the game and by selling virtual goods to users that enhance the game. The revenue is normally divided between the game developers and platform providers. Statistics from the CIIC report show that in 2010, the number of "social game players" exceeded 92 million, far more than that of "multiplayer online role playing games".
-

"Digital Beijing":

the level of Internet accessibility among users in Beijing is much higher than the national average, reported CIIC. Beijing has put in great efforts in building the IT industry and providing high-quality digital service during the past five years in a bid to build a "Digital Beijing". A total of 372,000 websites are based in Beijing and the number of Internet users surpassed 11.6 million by the end of 2010, accounting for 66.1% of the city's total population of over 17 million. By the end of 2010, Beijing has completed construction of China's leading 3rd Generation (3G) telecommunication network and an information network with 20-megabyte broadband that covers the largest number of users. Statistics from BMCEIT show that Beijing has set up about 18,000 3G base stations and some 5,400 access points for wireless networks.

Access Devices for Internet in China





| | | |
| --- | --- | --- |
| | Dec. 2009 | June 2010 |
| Desktop Computer | 73.4% | 73.6% |
| Mobile Phone | 60.8% | 65.9% |
| Laptop Computer | 30.7% | 36.8% |
| Others | 0.5% | 0.8% |




Source: CIIC; table: Business-in-Asia.com

(Table above) Numbers of access by mobile phone and laptop have increased substantially in 6-month period.



(Table Right) Data of utilization in China overall has increased; especially in the top 3 commercial online services:
- Online payment
- Web shopping


- E-banking

Utilization of Internet in China:





| | | |
| --- | --- | --- |
| | Dec. 2009 | June 2010 |
| Web music | 83.5% | 82.5% |
| Web News | 80.1% | 78.5% |
| Search engine | 73.3% | 76.3% |
| Instant messaging | 70.9% | 72.4% |
| Web game | 68.9% | 70.5% |
| Web video | 62.6% | 63.2% |
| E-Mail | 56.8% | 56.5% |
| Blog | 57.7% | 55.1% |
| Social exchange | 45.8% | 50.1% |
| Network literature | 42.3% | 44.8% |
| Web shopping | 28.1% | 33.8% |
| Forum/BBS | 30.5% | 31.5% |
| Online payment | 24.5% | 30.5% |
| E-banking | 24.5% | 29.1% |
| Online stock operation | 14.8% | 15.0% |
| Travel ordering | 7.9% | 8.6% |




Source: CIIC;

table: Business-in-Asia.com

Who's Who in China Internet:



1. Chinese Online Retailer:

rivalries between Beijing Jingdong Century Trading Co.'s 360buy.com and Alibaba Group Holding Ltd.'s Taobao.


- Beijing Jingdong Century Trading Co.
According to the Wall Street Journal, the company has more than 12,000 employees and a company spokesman said its revenue at Jingdong rose to nearly $1.6 billion in 2010, up from nearly $626 million in 2009. Beijing Jingdong Century Trading Co., runs 360buy.com, a fast-growing online-shopping site that sells a broad range of goods, mostly direct to consumers, much like Amazon.com Inc. The difference is that Jingdong's 360buy.com warehouse and ship goods themselves, rather than simply match buyers and sellers.
- Alibaba Group Holding Ltd.
Alibaba Group's Taobao.com is a Chinese-language website for online auctions and shopping. Xinhua news reported Taobao.com claimed they had nearly 200 million registered members and more than US$29.07 billion in turnover. Alibaba Group, in which Yahoo Inc. owns a roughly 40% stake, was largely responsible for building the Chinese Internet shopping market, similar to eBay. Taobao doesn't charge fees to its sellers, but makes its money by selling ads and logistics and other support services to its merchants, reported the Wall Street Journal. Different from rival 360buy.com; Taobao generally doesn't handle deliveries of items purchased on its sites



2. Internet Portals


Sina Corp.- search engine and China's biggest Internet portal VS. Baidu, Chinese, search engine and web services company.


- Sina Corp.
Sina Corp., founded in 1999, is based in Shanghai. SINA operates four major business lines: Sina Weibo, SINA Mobile, SINA Online, and SINA.net. SINA has over 100 million registered users worldwide. Sina owns Weibo.com, a sort of Facebook - Twitter social network hybrid all rolled into one, which has 56.5 percent of the Chinese micro-blogging market based on active users and 86.6 percent based on browsing time over Chinese competitors such as Tencent and Baidu.
- Baidu, Inc.
Baidu, Inc., found in 2000, is a Chinese web services company headquartered in Haidian District, Beijing. Baidu offers many services, including a Chinese language search engine for websites, audio files, and images. Baidu offers 57 search and community services including Baidu Baike, an online collaboratively-built encyclopedia, and a searchable keyword-based discussion forum.



3. Social Networks and Online Games


Tencent's microblogging VS. Sina's Weibo; and RenRen Network VS. Kaixin001


- Tencent Holdings Ltd
Tencent, a Chinese Internet portal and a social networking site with more than 100 million active accounts (as of July 2010, Tencent's microblogging service had 175 million active monthly users). Tencent also was successful in online games embedded in social networking communities, such as one popular game, Happy Farm (Kaixin Nongchang) on kaixin001.com, known as FarmVille in the United States. The game, which allows players to steal virtual vegetables from their friends' online farms, became a smash hit in 2009.
- Sina's Weibo
Weibo is a successful domestic microblogging site in China. As of July 2010, Sina's Weibo had 141 million users, according to the Internet industry observing company iResearch in Beijing. Microblogging has rapidly increased since Sina.com and QQ.com introduced their applications at the end of 2009. Microblogging users have increased to about 13.8% of China's total netizens at the end of 2009.
- The RenRen Network, formerly known as Xiaonei Network.
RenRen Network has been called the Facebook of China. The company claimed to have a total of 31 million active monthly users.
- Kaixin001 was launched in March 2008 and is the main rival of the RenRen Network with similar services.



4. Video Services


Tudou Holdings VS. Youku.com


- Tudou Holdings Ltd., the Shanghai-based company, is China's second- biggest video website, according to Bloomberg news. Tudou's website offers user-generated videos much like YouTube as well as licensed and proprietary content. The company invested in copyrighted movies and TV series as well. However, Tudou's price range is high compared to others in the industry. At the end of June 2011, according to the company, Tudou had 90 million registered users, compared with 35.6 million at the end of 2008. Investors in Tudou include Singapore's state investment company Temasek Holdings Pte.
- Youku.com Inc.
Youku.com, established in 2006, is one of the leading video hosting services in China. The company initially emphasized user-generated content but has since shifted its focus to professionally-produced videos licensed from over 1,500 content partners.




Challenges for China's Internet



Despite progress, China's Internet capability still faces challenges:


- Speed: The average connection speed last year was relatively slow - merely 100.9 KBps (kilobytes per second), the CNNIC report 2010 said. The speed was about half of the global average of 212.5 KBps, according to figures from the U.S. network giant Akamai in early 2010, said Xinhua news.
- Viruses: About 45.8% of Internet users encountered viruses or Trojans, while 21.8% of them fell victim to account break-ins and password theft. Moreover, like the rest of the world, China is haunted by online pornography, hacking and online fraud. A campaign against Web pornography was launched in December 2009. By November, authorities in China had shut down more than 60,000 pornographic websites, arresting 4,965 suspects, according to China Daily.
- Copy Cat: Statistics from CNZZ, an Internet data provider, in the beginning of 2011, showed that China's total number of online social games was increasing by 100 every month. However, most of them are copycats of international games and none of them have the capability to reign over the market.
- Competition: Chinese online retailer websites feel threatening by major brands like Apple Inc. and the Gap Inc. that have launched their own online stores in China in the past year. Also, the consumers' fear for sales of counterfeit products on Chinese websites.
- Not all successful: Some Chinese players entered the industry; then left the market due to unsuccessful business. For example, Baidu Inc, China's largest search engine, said in early 2011 that it will completely shut down its micro-blogging service, Shuoba. The service, which came online in 2010, required users to sign up with their real names and to prove their identities. This, combined with a lack of distinguishing features in the service, caused its failure to catch on and led to closure, analysts said.
- Government's censorship: - In 2009, Twitter, Facebook and YouTube became inaccessible in the mainland for not meeting China's Internet regulations. Users there can only access these websites by using VPNs, proxies or other means. In the same year, portal giant sina.com launched Weibo, a Twitter-like microblogging service, in China. Sina's rival sohu.com and messenger service provider Tencent quickly followed suit.



2011 Theme of "Connecting China - Responsibility and Vitality"



China's Internet is developing rapidly and has created a very large market. The integration of internet with other industries and sectors continues to deepen in China. In order to ahieve "Responsibility and Vitality", China needs innovation and entrepreneurship instead of following the U.S. footsteps. Miao Wei, Minister of the Ministry of Industry and Information Technology said that China "needs to.. enhance the cultivation of new models and new trends, substantially improve internet and information safety, deepen system construction, and improve technology insurance capability"; while in regards to industrial content, Qian Xiaoqian, Deputy Director of the National Internet Information Office, pointed out that China needs to make more effort to improve the internet industry's capability in original creation and digesting and absorbing other's creativity, continue to enhance the overall strength and international competitiveness of the industry, strength cultural soft power, and perform the duties in the construction of a civilized internet.

China Internet is a market that cannot and should not be ignored because the opportunities are large for both sides. Runckel & Associates, the parent company of www.business-in-asia.com works with high-tech companies, particularly small to medium-sized software and internet firms on gaining a foothold in the Asian market. We also work with American based investors and larger IT companies looking to partner with Asian firms. Contact us for more information.



---
Related Information on our website:
---