The Minister said that his country had realized early on the importance of biotechnology to the country and its people and had therefore formed
the
National
Center
for Genetic Engineering and Biotechnology
(
BIOTEC
), a subsection of the Ministry of Science in 1983.
In 2003, the Country formed a National Biotechnology Committee chaired by the Prime Minister to further encourage this new field.
This was followed shortly thereafter by the country's first
Science
Park
established in
Bangkok
's suburbs and in the campus or in close proximity to several well known Universities.
In 2004, the Cabinet approved a
national policy framework for biotechnology
with six key goals. In 2005, the government noted the success of the first science park which had grown to be a hub for between 40-50 biotech start-ups and also had led to the construction of a neighboring private sector biotech research facility by further
announcing the establishment of a second science park in Chiangmai in the North and plans for additional parks in Burapa (in the East), Songkhla (in the South) and in Northeast Thailand.
The Minister who is a graduate of
Wilbraham
Academy
and
Clark
University
in
Massachusetts
has had a long career in Thai government.
He has previously served as both Minister and Deputy Minister of Industry, Chairman, House Committee on Energy, Minister to the Prime Minister's Office and as Deputy Prime Minister and Minister of Health.
This wide range of experience in both business and government and in the key health portfolio gives him a broad view of the needs and the challenges that Thailand faces as it moves to encourage investment in biotechnology and expansion of its own domestic biotech field.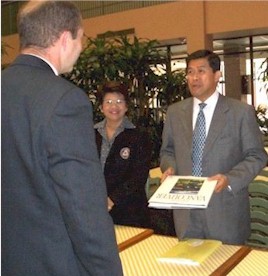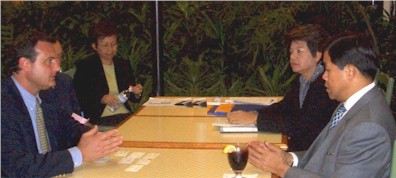 (Pictures above) H.E. Minister Korn in his recent meetings arranged by Runckel & Associates (
www.Business-in-Asia.com
)
for Thailand Board of Investment (BOI) with investors who are interested in Thailand
The Minister said Thailand's strategy was to increase efforts to bring Thailand's unique bio resources, well trained research and engineering expertise, the unique geographic location of Thailand as a center for export and service to neighboring countries like China, India, all of Southeast Asia, Australia and New Zealand and the countries rapid progress in concluding Free Trade Agreements (FTAs) with China, India, Australia, New Zealand, AFTA (all of Southeast Asia) and with the U.S. and Japan in the final negotiating stages to the attention of major western biotech companies
.
He noted that
Thailand
has long had a strong and consistent policy of support to business and that
this
has been demonstrated since the 1960s and 70s when he first joined government.
Further Thailand has proven over the years to be a much stronger protector of Intellectual Property (IP) and a more unified government better able to control corruption and conflicts between levels of hierarchy (province, city, nation) than China and even India which can be seen in some respects to be seen as the two claws of the nut cracker with Thailand in between.
Minister Korn said that with local biotech companies,
Thailand
was promoting a policy that encouraged these companies to look at opportunities where the import content was low, where know-how or intellectual capital existed locally and where the country could work to build brand identification and get higher value added.
The Minister said that his government had established a large number of
programs
to support start-up biotech ventures and joint ventures in research, commercialization of biotech, clinical trials and other projects with foreign firms.
Within his Ministry, these efforts are headed up by the National Technological Development Science Agency (NSTDA), the Thailand Institute of Scientific and Technological Research (TISTR) and with the National Research Council that reports to the Prime Minister.
Significant further biotech research occurs in the Ministry of Agriculture and throughout
Thailand
's many Universities such as Chulalongkorn, Mahidol, Chiangmai, Kasetsart and many others.
The Minister noted recent efforts in high value fruit that would soon be exported to the U.S. plus certain efforts in "green" growing techniques for herbs and other organic products as the types of biotech programs he hoped to see accelerate in the years ahead.
| | |
| --- | --- |
| | The Minister also noted his Ministry was targeting "green" energy including wind, solar, biomass, bio-oils, ethanol, gasohol, etc. to try to reduce the high import charges for petroleum which were greatly affecting Thailand. He said his Ministry was further increasing efforts to further expand Thai capabilities in bioenergy and bioplastics and biotechnology as it affected this sector. In terms of producing the raw materials for bioenergy, biotechnology will be required to alter the plants in question and to mass-produce them. Thailand already was making considerable progress in biomass conversion and in ethanol/gasohol and was now looking at further developments in bio-oils and other green energy. |