---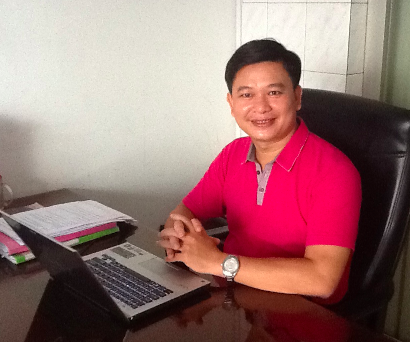 Van Nguyen is a young man with a smile and also a time for a good joke. He also knows an amazing amount about Vietnam, its culture and its people. His English is excellent; he is an active entrepreneur and always coming up with new travel ideas. Van heads Vietnam Alive Travel, a small boutique travel company in Ho Chi Minh City, Vietnam which has a reputation for providing the best in service. Van also has a flexibility unique among Vietnam travel and tour providers and often tailors tours to meet client interests. By way of example, when he found out that a group from Rider University in the U.S. was interested in Vietnamese music and in traditional medicine, he reorganized the whole program to give one day's focus to both subjects. In another example, a group from Britain arranged by the University of Leeds wanted focus on rural health and on a home stay in a rural village. Van made all this happen and had all of the participants praising the final product. Van is an expert on the Mekong Delta but also in intimately familiar with all the rest of his country. Recently Van took some time off to speak with me about the travel industry in Vietnam. Here is the interview:



Business-in-Asia.com:

What is your view of the Vietnam tourism industry and how many tourists will Vietnam welcome in 2012?





Van Nguyen:

Vietnam's tourism industry is continuing to grow and there were many improvements in terms of hotels, restaurants and tourism locations in 2011.

According to Vietbiz24, at a press conference to announce the country's tourism slogan

"Vietnam – Timeless Charm"

, the new icon of Vietnam's tourism industry in December 2011, the Vietnam National Administration of Tourism (VNAT) said, "in 2012, the sector targets to welcome 6.5 million international tourist arrivals and served 32 million local tourists with revenue of 150 trillion dong." These figures will grow in 2012 but considering the world economy, growth will be slower than in previous years I believe.


Business-in-Asia.com:
Are you optimistic for the Vietnamese travel industry?
Van Nguyen:
Yes, I am very optimistic in the long-run. The VIetnam travel industry is still growing. Our Prime Minister recently asked localities to promote the potentialities and advantages for tourism development with an expectation of gaining revenue of $20 billion by 2020.

The PM said that by 2020, Vietnam expects to welcome over 10 million international visitors. This would be nearly twice as many as we see today. Further, the Prime Minister noted the tourism sector would create an additional three million jobs and contribute 7% to the country's total GDP (gross domestic product). I feel proud to be helping to make Vietnam a more prosperous country and to help foreign visitors better understand my country and its very exciting future plus its old and more complex history and culture.


Business-in-Asia.com:
How does the travel industry in Vietnam compare to Thailand?
Van Nguyen:
In Thailand, the number of tourists increased to 19,098,323 in 2011. This is in despite all the political unrest and street fighting over the last few years and also the devastating flood in the latter half of 2011. The Thai government is projecting growth to 20.5 to 20.8 million tourists in 2012. These figures are over 3 times what we have been able to achieve in Vietnam.

Thailand has locations like Phuket, an island off the south coast, and Koh Samui, an island in the Gulf of Thailand or Northern locations like Chiang Mai and Chiang Rai where foreign tourists return many times. Unfortunately, Vietnam has many fewer of these locations although our country is very scenic. What we currently lack is the infrastructure and investment in tourism that Thailand has achieved. We hope to develop Phu Quoc island to have the good points of Phuket without the environmental degradation and with more sustainable development. Right now we find it hard to compare ourselves to Thailand - they have a much longer history of welcoming tourists and are currently much further along. There is much for us to learn from Thailand and we want to copy the good things and hopefully avoid some of the bad.


Business-in-Asia.com:
How have 2011 and 2012 been for Vietnam travel and tour companies otherwise?
Van Nguyen:
For all Vietnamese small and medium businesses, the last half of 2011 and so far in 2012 have been hard. In order to bring down inflation the government pushed up interest rates and decreased the availability of loans. This reduced inflation which is good. Unfortunately, small firms who needed money for working capital or for responding to new requirements have found it very difficult to find funding unless at very high levels - say 15% interest rate and higher. This has really been a challenge.

At the same time, we all have had price increases and had to worked hard to lower our costs. It has been a challenging time for all the tourism industry in Vietnam.


Business-in-Asia.com:
What brought you into the travel industry and what keeps you there?
Van Nguyen:
I have always enjoyed meeting people from all over the world. I love my country and believe Vietnamese culture and history are fascinating. I believe by better knowing about Vietnam, it's people, culture and way of life that people understand and appreciate us better. Such understanding between peoples is critical to peace, stability and progress for Vietnam, the region and I believe the world. I also enjoy seeing people enjoy their selves and like to be a good "host", both to my travel clients, friends and the many people I meet. It is this that truly motivates me.


Business-in-Asia.com:
What are your plans for the 2012 and 2013?
Van Nguyen:
Vietnam Alive Travel offers customized travel services for individuals, families, groups and businesses, including incentives, veteran and theme travel in Vietnam and elsewhere in Indochina. Our plan in the upcoming years is to focus on two segments:

The Mekong Delta experiences: we will promote this package to individuals, foreign tour providers and universities in the U.S. and elsewhere


MICE (Meeting, Incentive, Conference and Exhibition)

Specialty trips for groups wanting to focus on a particular aspect of Vietnam's culture, history or way of life. This might include Veteran groups, cultural groups interesting in art, dance, traditional medicine, minority traditions and culture, etc.
---



About the Interviewer:

Christopher W. Runckel, a former senior US diplomat who served in many counties in Asia, is a graduate of the University of Oregon and Lewis and Clark Law School. He served as Deputy General Counsel of President Gerald Ford's Presidential Clemency Board. Mr. Runckel is the principal and founder of Runckel & Associates, a Portland, Oregon based consulting company that assists businesses expand business opportunities in Asia. (www.business-in-asia.com)

Until April of 1999, Mr. Runckel was Minister-Counselor of the US Embassy in Beijing, China. Mr. Runckel lived and worked in Thailand for over six years. He was the first permanently assigned U.S. diplomat to return to Vietnam after the Vietnam War. In 1997, he was awarded the U.S. Department of States highest award for service, the Distinguished Honor Award, for his contribution to improving U.S.-Vietnam relations.


---