Shandong: Increasingly Demanding Attention as a Site for Investment
China's two deltas – the Pearl River and the Yangtze – have long been the focus of international companies and the site of much investment. Companies seeking a factory location have long been attracted to both locations because of their development and access to ports, airports and other infrastructure. This, however, is changing as soaring costs for land, labor and utilities in both deltas and problems with site availability, labor availability, electricity capacity (particularly in the Pearl River Delta) and environmental concerns are causing new companies seeking a factory location to look further afield.
Searching for Location
In looking for locations, one technique has been looking further inland in China, but this means dealing with longer transport arrangements, dealing with local authorities that may not be as experienced and predictable, often accepting less developed infrastructure and other issues.

Another solution has been looking off shore to Vietnam, Thailand or other locations.

A third solution to all of this that more executives should consider is going north and looking at Shandong province which often offers better logistics, better labor availability and costs than either of the two deltas, better land availability and local administrations well experienced in dealing with foreigners although most of their experience has been with Korean and Japanese business to-date .
Shandong province has averaged a 13 percent GDP growth over the past five years. By estimates, for the first six months of this year, the province's GDP growth stood at 15 percent, as against the national rate of 10.9 percent. September 2006 news reports noted that Shandong is expected soon to surpass Guangdong province as China's biggest industrial province. This comes because of Shandong provinces deep involvement in mineral and energy technology and a recently published ranking indicated that of the top 20 enterprises in Shandong, 13 are engaged in the energy or mineral business. Further according to Shandong authorities I met with, Shandong will continue to focus on six key industries. These are – steelmaking, equipment manufacturing, pharmaceuticals, salt, coal and chemicals and new building materials.

Shandong peninsula is unique in that a total of 26 ports dot the province's 3,000 km coastline. This is a strength but until recently all of these ports were either under the Ministry of Communications, the provincial authority or local government and there was not optimum cooperation among the various elements. One result was that while big ports like Quingdao, Yantai, Weihai and Rizhao were working often beyond capacity, other smaller ports were often sitting with little cargo to handle. The uncoordinated nature of port operations also led to internal competition and under cutting on shipping charges that caused further problems. This is changing now that port integration is going forward according to a Blueprint for Ports in Coastal Shandong recently submitted to the Ministry of Communications. This change should help the province further to improve on its current shipping advantages and this should ultimately translate to more comparative advantage for factories locating in the region.
Recently in September 2006 I took a trip of Shandong that involved stops in several locations in three areas Weihai, Yantai and Quingdao. Here is my assessment:
Weihai has continued to develop and now the earlier industrial parks are mostly full or approaching complete land sales.

The majority of investors continue to be Korean and Japanese and protection of the environment has continued to be observed which makes this city one of my favorite picks in Shandong province.
Because of the success of the industrial parks nearer in to the central core area, Weihai recently designated a 92 square kilometer area in an area that was quite close but had not yet undergone development because of the lack of infrastructure into the Weihai Industrial Park.
The park which is currently accepting projects and already has 40 projects committed is currently building out infrastructure. The park will emphasize developing two main categories of industries, with electronic information, electromechanical tools, food and pharmaceuticals as the first one, machinery and equipment, rubber and chemicals, metal materials as the second pillar grouping. One feature of the park is a distinct series of sub-zones that include a new-type materials park, a rubber & chemicals park, an automobile components park, a food & pharmaceuticals park, a digital-control tools park and electronics and an Information park. Already the larger park has five large high-tech projects committed. These include low energy glass production, carbon fibre, special vehicles for airport support and ecological medicines.
Yantai (www.yantaifdi.gov.cn) is about 45 minutes drive from Weihai and is also a very modern, clean and ecologically attractive city.

Yantai has five districts and a total population of 6.47 million with 1.68 million living in the city.

Like Weihai, Yantai is also famous for aquaculture and annually produces just less than 2 million tons of marine products.

Yantai is also famous for fruit and vegetable production and is the site of China's most famous and best winery, the Chanyu winery.
We visited the Fushan District Industrial District and the China APEC Yantai (Fushan) Science & Technology Industrial Park and the Yantai Fushan Hi-Tech Industrial Zone (www.ytfushan.gov.cn), which has a population of over 260,000. The Industrial park occupies 31 square meters and totally has 400 companies of which about 60 percent are foreign. This is the site of the Intel Service Center, which is currently under construction and is totally a $1.26 Billion dollar project. Honda also has a large plant here. Additionally there are over 75 auto parts producers, high tech and IT companies, food processing, textile and garments manufacturers plus many other factories. Yantai is bigger than Weihai but still has the same well ordered seaside city atmosphere that is found in Wehai. The town is larger but is much more manageable than Quingdao and/or Shanghai which are very large and somewhat overwhelming in their sheer size and complexity.
From Yantai, we drove across the province on a several hours drive on very well laid out and maintained highways to Shandong provinces major city and the biggest port in the area – Qingdao.

Qingdao is a large city with a total area of 10,654 square kilometers and a total population of 7.4 million people of which 2.6 million are located in the urban area. In 2005, Qingdao's gross domestic product (GDP) reached 269.55 billion RMB, up 16.9% over the previous year. Foreign trade totaled 30.5 billion U.S. dollars, up 25.2% over 2004. Qingdao has focused its efforts in developing three major specialty economies: port, marine and tourism. It has four major industrial bases: electric home appliances and electronics, petrochemicals, automobiles, locomotives and shipbuilding; and new materials.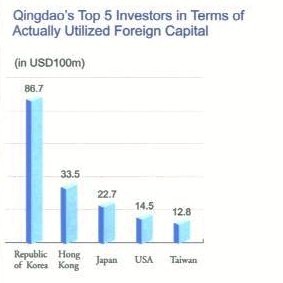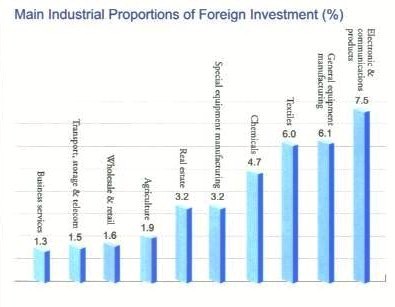 What first impresses about Qingdao is the modernity of the city and the truly spectacular port. In 2005, the port handled 6.31 million TEU of shipments making it one of the top 15 ports in the world and number three port in China behind Shanghai and Shenzhen ports. The port has facilities to handle ore, crude oil and coal in addition to container and bulk shipments and has more than 90 international sea routes to more than 130 countries.
Foreign investment in Qingdao has been large. In 2005, Qingdao had approved 2,530 foreign-invested projects with actually utilized foreign capital utilization of $3.65 billion dollars. Totally 77 of the world's largest 500 companies invested in 142 projects in the city. Key investors are Korea, Hong Kong, Japan, USA and Taiwan in that order. Following are some charts showing the cities main industries, imports and exports.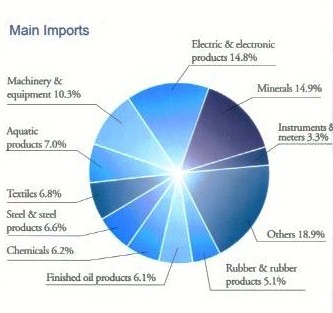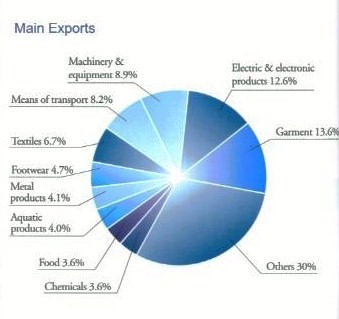 In Qingdao, we visited two industrial parks including Qingdao Liuting International Airport Industrial Park (www.liuting-gov.com), which is located very close to the airport in the Chengyang district of Qingdao. Land prices in Qingdao are considerably more than Yantai or Weihai but offer superior logistics and access to services as the city has a much longer history of investment and a much larger base of service providers.
Shandong is a truly impressive province and one that more foreign investors need to note and to visit. It offers a wealth of potential for investors as a base for production and for export to North Asia and other worldwide locations.
---
About the Author:
Christopher W. Runckel, a former senior US diplomat who served in many counties in Asia, is a graduate of the University of Oregon and Lewis and Clark Law School. He served as Deputy General Counsel of President Gerald Ford's Presidential Clemency Board. Mr. Runckel is the principal and founder of Runckel & Associates, a Portland, Oregon based consulting company that assists businesses expand business opportunities in Asia. (www.business-in-asia.com)
Until April of 1999, Mr. Runckel was Minister-Counselor of the US Embassy in Beijing, China. Mr. Runckel lived and worked in Thailand for over six years. He was the first permanently assigned U.S. diplomat to return to Vietnam after the Vietnam War. In 1997, he was awarded the U.S. Department of States highest award for service, the Distinguished Honor Award, for his contribution to improving U.S.-Vietnam relations. Mr. Runckel is one of only two non-Ambassadors to receive this award in the 200-year history of the U.S. diplomatic service.