---



In 2010, most of the projects that our company has worked on in Vietnam have been located in the areas outside of Ho Chi Minh City - predominantly in Binh Duong province but also to a much lesser extent in Dong Ngai, Long An, Ba Ria-Vung Tau and other areas. It had been a long time since I was back in the Central Southern Coast where I spent considerable time in 1969-70 during the Vietnam War. Thus when a friend asked me to fly to Cam Ranh Bay to see some potential investment projects in Ninh Thuan, I jumped at the chance.

Flying over Cam Ranh Bay which has to be one of the most spectacular port and airport locations in the world, I thought back to the first time I had seen this land. The year was 1969, I was a young soldier assigned to be radio operator and Cam Ranh Bay which was the location of a huge military base at that time was the first location I landed at in Vietnam. The spectacular scenery of the area stunned me then and it still does today. Spectacular beaches, rocky outcrops and mountains rising from a tropical plain and a short distance away soaring mountains with dark green jungle moved me then and still does to this day.

The airport terminal in Cam Ranh is new and modern and serves both Khanh Hoa province (Nha Trang) and Ninh Thuan province (Phan Rang) but the airfield itself dates from the war and although grown over in many places still provides a smooth landing area. Driving out of the former base I noted the lake where a friend and I learned to sail and also other points that seemed familiar. On Route 1A we joined the highway South and I noted the increasing prosperity of the houses and shops. Prosperity has even come to this area which is one of the four poorest provinces in Vietnam as Vietnam has developed and economic change has come not only to the city but even to farther provinces like Ninh Thuan.



Ninh Thuan lies on the southern end of Central Vietnam in the coastal region. It borders Khanh Hoa in the North, Binh Thuan in the South , Lam Dong in the west and the East China sea makes up the East. This province and it's northern neighbor of Khanh Hoa are known in Vietnam for having some of the most beautiful beaches in all of Vietnam. The province of Ninh Thuan lying in the middle of Central Vietnam, has a small plain created by the Dinh River originating from the Lam Vien Plateau. Nearly two-thirds of the province is mountainous which limits agricultural land but adds to the provinces scenic nature.

The population of the entire province is just over 600,000 of which over 35% are located in urban areas. A large number of the Cham ethnic group resides in this area, along with the Ra Glai and Hoa. The Cham ethnic minority people makes up 12% of the population; many of them live with the Kinh in and around Phan Rang-Thap Cham.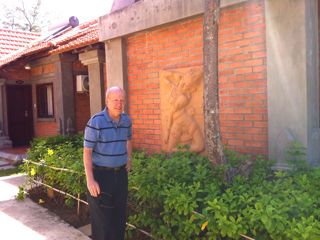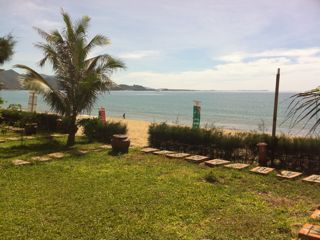 Climatically Ninh Thuan is the driest and hottest region of the country. The climate is a combination of the tropical monsoon and dry and windy weather. The annual average temperature is 27°C (about 80 degrees Fahrenheit). Ninh Thuan has the highest number of hours of sunlight of any province in Vietnam and is the driest province in terms of rainfall in the country - a mere 700mm. Partially because of these conditions and the failure until recently to take advantage of the provinces tourism and business potential Ninh Thuan is one of the four poorest provinces in Vietnam.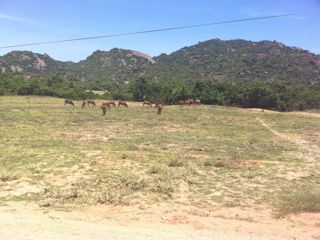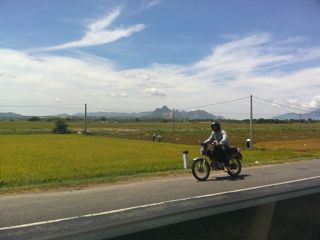 Most visitors to Ninh Thuan arrive via road from Ho Chi Minh City in the South or by rail or for foreigners primarily through Cam Ranh International Airport which is located in the far North and just across the province border with Khanh Hoa province. The provincial capital is the twin towns of Phan Rang and Thap Cham on the banks of the Cai River, five kilometers from the sea, 60 Km South of Cam Ranh Bay and 110 km South of Nha Trang.

Agriculturally, the province is famous for vast gardens of table grapes, onions and hot peppers which we saw at numerous locations in the province. Garlic, tobacco and cotton also grow well in the province. Neem trees were introduced to the province to deal with soil erosion and have grown well. Over 80% of the province population is engaged in agriculture although most of this agriculture is at just over subsistence levels.

Ninh Thuan recently received a new President of the People's Committee (equivalent to Governor) in Nguyen Chi Dung and from what I had been hearing from many who had met him, he was a dynamic new leader who was trying to move Ninh Thuan from a poor backward province to a province that was a leader in tourism plus energy generation and industrial production. Although we did not meet Nguyen Chi Dung on this trip we did meet his Deputy, government officials and many of the more successful business leaders in the province. They impressed me with their sense of purpose, ingenuity and willingness to give back to the community in helping to assist new investment.


Ninh Thuan has focussed on being a hub for clean energy production for the country. The province has the most hours of sunlight anywhere in the country and one of the highest rates of wind - at the height of 65 meters the average wind power velocity is 7-7.5 meters per second. An example of this form of investment is EAB Viet Wind Power Co.,Ltd which was licensed to develop the Phuoc Huu wind power plant worth VND1.5 trillion, which will be one of the country's first wind power projects.

Also in the area of wind power, authorities in Ninh Thuan have just agreed in principle to a project by Trung Nam Investment and Construction Joint Stock Co. to develop a wind power project with total designed capacity of 200MW.

In a document signed recently by provincial President of the People's Committee Nguyen Chi Dung, the project will be carried out on the total area of 900 hectares encompassing two villages of Loi Hai and Bac Phong in Thuan Bac District.


Nguyen Hai Yen, marketing manager of Trung Nam Investment and Construction Joint Stock Co., told newspapers that the wind power project would require a total investment of $500 million. In a letter of commitment sent to the provincial government, the company also pledges to carry out another project manufacturing technical equipments to supply local wind power plants once its 200- MW wind power project is completed.

Ninh Thuan is the third locality in Vietnam that received foreign directed investment (FDI) in producing bio-ethanol. Covering an area of 60 hectares in Phuoc Nam Industrial Park, the US$50 million manufacturing complex for ethanol, fertilizers and animal feeds of Thai-Viet Bio Ethanol JSC is a joint venture between Thai investors, which holds 70 percent of the total and Vietnamese partners.

With construction work starting in 2011 the project will go into operation by the end of 2012 to provide over 60 million litres of ethanol annually for the domestic and overseas markets such as Japan, Thailand, the Republic of Korea and the European Union.

In addition to manufacturing facilities, the company also plans to invest in planting trees to provide a source for the ethanol, thus generating jobs for thousands of farmers in Ninh Thuan and neighboring provinces.

Also in the area of clean power, the National Assembly of Vietnam on November 25, 2010 approved a project to build two nuclear power plants with a combined investment of around 200 trillion VND (roughly 11 billion USD) in Ninh Thuan. According to the approved plan of the Ninh Thuan Nuclear Power Project, it will include two plants, each with two turbine groups and a capacity of 2,000 MW. Once completed, the plants will supply electricity to the national grid, thus contributing to the country's socio-economic development in general and Ninh Thuan province further development in particular as Ninh Thuan will have access to cheaper electricity which should assist projects like the Ca Na Steel project and others that need access to plentiful power resources.

The first power plant will be located in Phuoc Dinh commune, Thuan Nam district while the second one will be built in Vinh Hai commune, Ninh Hai district. Work on the Ninh Thuan 1 nuclear plant will begin in 2014 and the first turbine is expected to be operational by 2020.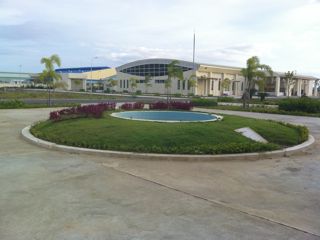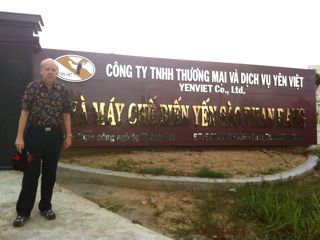 Ninh Thuan is also focussing on attracting industrial development. Ninh Thuan currently has two industrial parks. These are Phuoc Nam Industrial Zone located in Phuoc Nam commune which is 15 km from Phan Rang - Thap Cham City and 70 km South of Cam Ranh International Airport. This industrial park is focussed on attracting less polluting industries like motorcycle and automobile assembly, machine manufacturing, building materials, agricultural process, food processing, garment and other industries which can benefit from Ninh Thuan's ample available workforce.

Further to the North is Du Long Industrial Zone which is only 30 km from Cam Ranh port. This zone also focusses on attracting assembly, machine manufacturing, food processing, building materials and other standard industries.

Two examples of bigger manufacturing projects in Ninh Thuan is first Saigon Invest Group, or SGI, which struck a deal with the province to develop a big semi-processed titanium factory worth VND1 trillion. Dang Thanh Tam, chairman of SGI, said that his group would develop the project like the one that SGI has built in the central province of Binh Dinh that was opened in July. "Its purpose is to process titanium into highly valuable product, helping limit the export of raw ore," he told.

And secondly, Ha Long Production and Investment Co. Ltd companies project which recently started on a big project to process salt worth VND340 billion for the first phase. It will be put into operation in 2011 to produce 200,000 tons of salt a year for domestic consumption and export.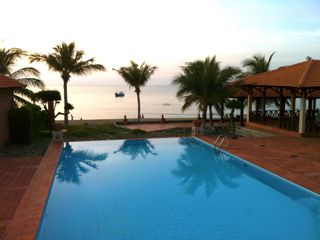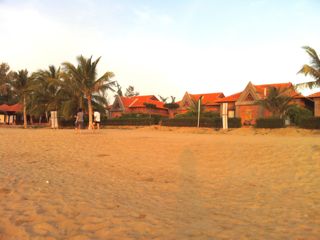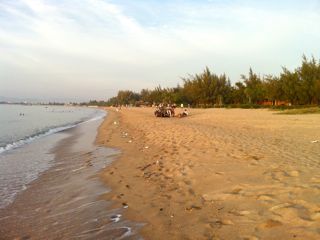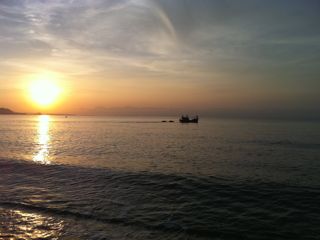 Tourism is also very much an area where Ninh Thuan has obvious advantages and also where the province in seeking to attract investment. Some recent examples are the Binh Tien Tourist and Investment Joint Stock Co. which is now constructing a tourism project covering 190 hectares that houses a luxury resort, a hotel, villas, a cultural village, a dog racing ground, and an 18-hole golf course. The project has an investment capital of nearly VND2.58 trillion and is expected to be completed in 2014. Additional examples are ICC Toan Cau Joint Stock Co. which is investing more than VND482 billion to develop the Ganesa Ninh Thuan Resort and Minh Thanh Tourism Co., Ltd., which will develop the Bai Thung eco-tourism area and an urban area worth VND170 billion.

Infrastructure is not being ignored and work has started on the construction of Ninh Chu Bridge across Khanh Hoi estuary by the provincial Department of Transport. The 511-meter-long bridge at a cost of VND192 billion is expected to facilitate traffic along the coastal route after its completion in 2011. Further as we drove around the province, we saw electrical towers being erected and new power lines being run to spread high voltage power to industrial parks, new tourism areas and other key places.

| | |
| --- | --- |
| | Ninh Thuan is at this point still a work in progress. It does not yet have anywhere near the industry of such provinces as Binh Duong, Dong Ngai or even Khanh Hoa to the North. I was, however, impressed about the leadership of the province and the desire of everyone I met to take the hand that life had dealt them and to try to make the best of their opportunity. I also found a community spirit of friendly assistance, a willingness to listen and a basic friendliness that I found enticing. I believe Ninh Thuan will gain increased investment in the years ahead and I am looking forward to helping investors pre-qualify opportunities, carefully do their due diligence and help to plan and execute new investment projects in this sunny seaside province. |
Read our related articles:
---
About the Author
:
Christopher W. Runckel, a former senior US diplomat who served in many counties in Asia, is a graduate of the University of Oregon and Lewis and Clark Law School. He served as Deputy General Counsel of President Gerald Ford's Presidential Clemency Board. Mr. Runckel is the principal and founder of Runckel & Associates, a Portland, Oregon based consulting company that assists businesses expand business opportunities in Asia. (
www.business-in-asia.com
)
Until April of 1999, Mr. Runckel was Minister-Counselor of the US Embassy in Beijing, China. Mr. Runckel lived and worked in Thailand for over six years. He was the first permanently assigned U.S. diplomat to return to Vietnam after the Vietnam War. In 1997, he was awarded the U.S. Department of States highest award for service, the Distinguished Honor Award, for his contribution to improving U.S.-Vietnam relations.