The business climate in Japan seems to be improving. According to the Wall Street Journal, business investment in Japan rose for the first time in 3 quarters of 2011. During the October to December period, in a positive sign that will be used to revise fourth-quarter GDP figures according to the Ministry of Finance, capital spending grew 7.6%. However, the data also showed Japanese companies remain under pressure, with pre-tax profits decreasing by 10.3% during the period compared with a year earlier and corporate sales falling 1.3%, said the paper.

"Overseas economies are likely to keep improving, and that should lead to further weakening in the yen," Mr. Takuji Aida, an economist at UBS in Tokyo commented to reporters. "If this momentum continues, Japan's domestic demand will increase and deflationary pressure will ease. The trend is changing to a better direction."

Japan has been hit hard in agricultural and fishery exports in 2011. The country's export fell 8.3% in 2011 because other countries restricted imports on worries about radiation contamination, according to statistics form the Ministry of Agriculture, Forestry and Fisheries. After the March 2011 nuclear disaster in Japan, more than 40 nations and regions limited imports from Japan. The exports have declined also because the value of the yen currency rose.



Japan is now Tapping the Asia Market




- Japan starts marketing consumer products and services to Asian middle class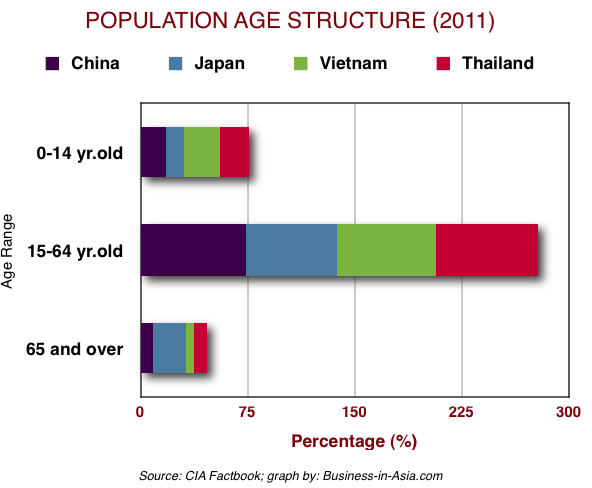 Japan's domestic market is expected to keep shrinking as the population ages and the birth rate declines. Many consumer-focused companies in Japan are trying to make inroads with the rapidly growing middle class in the rest of Asia, reported the Bangkok Post. The Asia region has posted steady growth and consumer markets in Asia have drawn the attention of companies around the world. To cash in on the Asian mega-market, many Japanese consumer-focused firms that have traditionally relied on domestic demand for growth, are rushing to expand operations elsewhere in the region. Japanese retailers and food service companies are also expanding operations on the continent amid declining domestic sales.
-

Japan venture funds target Asian IT firms
Internet-focused venture capital firms in Japan are also ramping up investment in Asian information technology ventures as the number of new online users in the region soars and It-related consumption rises in emerging markets, further reported the Bangkok Post newspaper.
"In China, electronic commerce is expanding rapidly, and this is spawning the rise of many new online advertising firms, payment-settlement service providers, price-comparison sites and related businesses," said Souichi Tajima, the president of Cyberagent Ventures in Japan to the paper. Mr Tajima said that Southeast Asian markets offered enormous growth potential. "What happened in China is also happening in Vietnam, but there is a three- to five-year time lag. Indonesia is another promising market, due to its large youth population."
-

AEC, FTAs and ASEAN+3: the regional economic development
The upcoming establishment of the ASEAN Economic Community (AEC), various free trade agreements are also attracting Japan to other countries in the region.
In recent years, the ASEAN Plus Three (APT) mechanism - ASEAN plus China, Japan and the Republic of Korea - has also formed the basis of regional economic development. This process should continue as a main vehicle towards the long-term goal of building an East Asian community with ASEAN as the driving force

.
---