In 2006 – Choice of Locations for a Foreign Factory
Becoming Increasingly Complex


In the past, companies looking to put a new factory in Asia had no more to follow the general buzz on the business news that China was the place to be and get on a plane and make the trip to Shanghai or Guangdong to start-up Asia operations. Increasingly, however, the days during which China's coastal region was a magnet that sucked up $60 billion in foreign direct investment (FDI) for China are behind us. In the first half of 2006, foreign direct investment into China dropped by 2.1 percent to $37.2 billion, according to the Commerce Ministry, and is likely to further decrease in the months and days ahead.

The reasons for this are many and varied, among them are rises in land, labor and other costs that increasingly are making it incumbent upon foreign businesses to think carefully through their business objectives and to ensure their due diligence is complete.




For example, in late August 2006, the Chinese central government issued "Circular of the State Council Concerning the Relative Questions of Enhancing the Adjustment of Land". This decree, which was just reaching officials in early September when I visited China, has become increasingly clear in the days that followed although final interpretations are only just now coming out. The decision which was issued by the central government affects all of China's industrial parks which all have government involvement. The implementation of the regulation is fairly complex but the reasons behind the change are not. Increasingly the Central government has decided that the old policy that left pricing of land to local authorities was not working. Local authorities were setting below market value for land in an attempt to draw increasing investment. Local authorities were more focused on volume of investment instead of quality and the next result was that land was often offered at prices that did not fully recoup the costs of relocating local farmers, building infrastructure and other related costs.





(Picture above) Chris Runckel, President of Runckel & Associates, in his trip to China early September 2006 when the new decree was annouced and that affected rises in land, labor and other costs.

The net result of this is that all over China, the price of industrial land, which was cheap in comparative terms to other Asia locations, is going up, in most cases more than double.

In the Shanghai area for example, land that previously sold for 90-100,000 RMB per Chinese Mu (one mu equals .067 hectares) will in December when the new procedures are fully in effect cost over RMB 200-300,000. This new nationwide increase in property prices for land comes on top of five years of increases which saw land for industrial use prices in Kunshan, a country-level city between Shanghai and Suzhou see the cost of land increase five-fold during the last five years. Whether this increase in pricing will adequately resolve the problem of land availability for industry is hard to say.


In cities like Ningbo, which has been very successful in attracting investment in years past, new projects are stymied not only by higher prices but also by lack of availability of land in nearby areas for industrial use. This lack of available land has driven investors to look at other locations for their projects and total foreign investment in the first five months of the year in the city decreased by 23 percent over the same period of 2005.

In addition, to land prices taking a major leap, labor prices are also increasing swiftly throughout the coastal area. In Qingdao, a coastal city and the major port in Shandong province, the minimum monthly wage in 2005 increased 29 percent over the previous year to RMB 530 (US$66.5). In Shanghai, the minimum monthly wage has jumped from RMB 210 (US$26) in 1993 to RMB 750 (US$94) in 2006. Wage jumps in the Pearl River delta which last year saw a 20 percent rise are even more pronounced in 2006 as seen from the graphic below: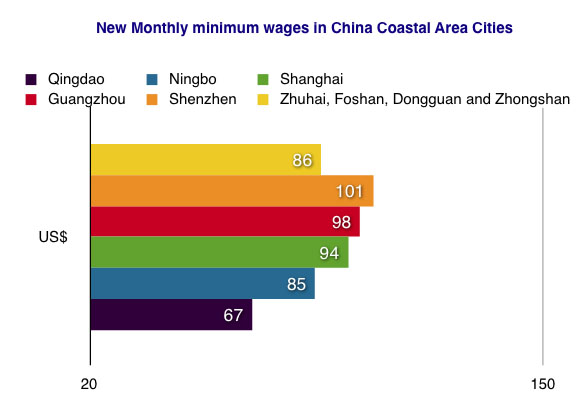 Further, enforcement which had been largely ignored in prior years is increasingly strict which is making manufacturers further increase their costs.

Utility bills are also increasing for all projects, again hitting the company's bottom line and reducing China's competitive comparative advantage. Many cities, particularly in the North of China but also in many coastal areas have increased the price of water in order to cope with water shortages and increasing costs for wastewater treatment. Also at the end of June, China's National Development and Reform Commission (NDRC) decided to raise the electricity price by and average of 0.0025 Yuan per kilowatt-hour (KWH) throughout the country.

But even beyond increases in land, labor and utilities, government policy is also driving up other costs. In September, the Central government announced that it was further reducing rebates for raw materials purchased for export of particularly lower-tech items and that plans were to eliminate such export rebates in the years ahead. In October, the Party Central Committee will meet in Beijing and according to government sources I met, the issue of tax incentives is also to be discussed with the likelihood being great that the current "Two Free – 3 at 50 Percent" rule for investment incentives for foreign businesses is to be reduced or most probably phased out totally.

The above changes are politically motivated changes to help to reduce China's soaring export balance or trade surplus with most nations which increasingly is leading to complaints not only by the U.S. but by nations throughout the world. It is also being pushed by a belief that China needs to move up the value chain on production and not only be the lowest-cost producer anymore.


| | |
| --- | --- |
| | All of this changing costs and policies are causing foreign investors looking for a factory location in Asia to rethink their plans. Where the focus is the China market or this is a major component of the overall project, companies often will pay the higher prices or relocate to a slightly more remote but still close-by location to meet their siting requirements. Increasingly in industries where there is a large labor component, suppliers are looking to more inland China locations in the west and center often 4-5 hours drive inland or a one-hour flight from coastal cities. The problem here is that infrastructure in these areas is often less developed; government administrative officials are often less experienced, enforcement and rule of law is less predictable and inland shipping in China can add further to costs. |


This is causing many new investors and many companies currently located in the Eastern Coastal areas of China to consider locations such as Vietnam, which has costs much lower than China's coastal regions and tax incentives much more generous for their projects new location. Additionally a slightly higher cost location but one with superior infrastructure and predictability are areas in Thailand that are more remote from Bangkok but still relatively close because of the well developed infrastructure there. These areas benefit from a very well thought out and generous system of incentives administered from the Thai Board of Investment (BOI) and can be a good substitute or alternative to Vietnam although Vietnam continues to be the current best bet on both cost and worker productivity.

Bottom line for all investors is the old adage "Let the buyer beware". Starting up a foreign factory takes a well-thought out preliminary plan, research, the further fine tuning of the plan to reflect lessons learned in performing your due-diligence, an attention to selecting the best partner in locating an industrial park, solid HR and training plans, close monitoring of costs in construction and start-up costs and an openness to change as conditions alter or previous policies demonstrate that they need further thought and refinement. Working with an investor, local knowledge, the right contacts and good advice is always needed and these are skills and knowledge that Runckel & Associates has built over years of experience in Asia. Let us assist you in your research, planning and execution needs.



---
About the Author:
Christopher W. Runckel, a former senior US diplomat who served in many counties in Asia, is a graduate of the University of Oregon and Lewis and Clark Law School. He served as Deputy General Counsel of President Gerald Ford's Presidential Clemency Board. Mr. Runckel is the principal and founder of Runckel & Associates, a Portland, Oregon based consulting company that assists businesses expand business opportunities in Asia. (www.business-in-asia.com)
Until April of 1999, Mr. Runckel was Minister-Counselor of the US Embassy in Beijing, China. Mr. Runckel lived and worked in Thailand for over six years. He was the first permanently assigned U.S. diplomat to return to Vietnam after the Vietnam War. In 1997, he was awarded the U.S. Department of States highest award for service, the Distinguished Honor Award, for his contribution to improving U.S.-Vietnam relations. Mr. Runckel is one of only two non-Ambassadors to receive this award in the 200-year history of the U.S. diplomatic service.


---