Long An Province: A Growing Option for Factory Relocation
| | |
| --- | --- |
| | Long An Province is a mid-sized province in the Southern region of Vietnam extending between Ho Chi Minh City on the West and the Cambodian border on the East. A Cuu Long (Mekong) Delta province, Long An borders Ho Chi Minh City, Cambodia, Dong Thap, Tien Giang, and Tay Ninh. The province runs mostly from west to east and is served by a large number of rivers. The Vam Co Dong, Vam Co Tay, and Soai Rap are the three biggest rivers crossing the province and these provide help in moving container shipments, moving goods, plus also help to nourish agriculture, which abounds in the region. Long An province is famous in Vietnam for production of Cho Dao rice (Cho Dao is the name of a local market in Can Duoc District of Long An province) which although not as famous internationally as Thai Jasmine Rice is growing in name as better processing helps deliver a better quality product. |
The province has a total area of just over 4,400 square kilometers and a total population of about 1.4 million of which 900,000 are laborers. Tan An is the province capital and other major cities include Ben Luc, Duc Hoa and Thanh Hoa and Moc Hoa District. Despite the provinces Western border abutting Ho Chi Minh City which has led many factories to recently consider it as a site for factory relocation the province is still much less developed than Binh Duong and/or Dong Nai which also border Ho Chi Minh City and received much of the early waves of investment into Vietnam. Despite this, with a very advantageous location and improving industrial zone infrastructure, Long An is destined to grow strongly over the years ahead.

Real industrial take-off for Long An started in 2002 after Ho Chi Minh City started moving about 30,000 polluting industrial and craft production businesses from the inner city to suburban locations.


| | |
| --- | --- |
| | Long An Province People's Committee quickly saw opportunity for socioeconomic development by cooperating with Ho Chi Minh City, and a plan was made to relocate the industrial and craft establishments from Ho Chi Minh City to the province during the next two years. To be able to accept these businesses, the provincial People's Committee completed the planning for 22 industrial zones covering a total of 8,200ha. The Government approved the plan for six industrial zones and selected mainly local companies with strong finances to build the infrastructure. Duc Hoa industrial zones were the first to develop. Duc Hoa I started in 2001. Two Industrial Parks are now completely full. The 114-hectare Thuan Dao site and Duc Hoa I which has 70 hectares and 45 companies mostly in plastics, shoes, feed mill and general factories. |

Many Ho Chi Minh City plastic manufacturers have relocated to Long An's industrial zones. Additionally there has been a considerable influx of Hong Kong and Taiwanese companies that have chosen Long An and one of its industrial parks as their location to process agricultural products for either domestic consumption or for export. According to Long An Industrial Zones Authority there are currently 110 foreign companies already operating in Long An. Of these 60% are Taiwanese with other major investors being from Thailand, France, the U.K. and Korea. Total investment of these foreign firms currently exceeds $1 billion and is growing rapidly. Production of shoes, clothing and plastics are the largest manufacturing industries province wide.


| | |
| --- | --- |
| (Picture) From left: Mr. Dao Von Son - Director of IPC, Long An Province; Mr. Nguyen Ven Tinh - Department Chief, Long An Industrail Zone Authority; Mr. Christopher Runckel - President of Runckel & Associates and Mr. Quach Lien Hoang, Phu My Vinh Construction and Investment Joint Stock Corp. | According to Nguyen Van Tinh, Department Chief of the Long An Industrial Zones Authority, who I met with during my visit Long An provinces advantages are its nearness to Ho Chi Minh City (the countries largest urban center and largest market); the large number of agriculture and seafood producers in the province, the road network to Cambodia and the region and the abundant supply of labor both from the province and from nearby Mekong Delta provinces. In terms of its proximity Duc Hoa III Industrial Park that I visited and which is being developed by the Phu My Vinh company is only 25 kilometers from District one in Ho Chi Minh City. Ben Luc, another center of industrial activity, is only 30 kilometers from District one. The main port facility is about 60 kilometers away. National road 1A is the main link to Ho Chi Minh City but there are other links as well which help to spread traffic flow. |

The key advantage of this province for a potential investor seems most easily grasped as a base for agricultural products processing. Cargill (the huge U.S. food processor) has invested $25 million in Ben Luc in a food processing plant for animal feed and other food products. Japfa, another major feed mill processor from Thailand, also has a major facility in the province that we observed. The largest factory in terms of workforce in the province is Ching Luh Company, which has 30,000 workers producing shoes for Addidas and Nike in Ben Luc. Second largest, again in terms of employment, is Formosa Taffeta, which produces fabric and textiles and totally has over 8,600 workers. The third largest manufacturer in terms of employment in De Vuong (Emperor Company, Ltd.) a Taiwanese shoe producer, which has a workforce of 5,000 laborers.


| | |
| --- | --- |
| (Picture above) Formosa Taffeta, one of the large factories in the province - with 8,600 workers. | To further take advantage of its competitive geographical location and facilitate investors' production and goods circulation, both for itself and for the nation at large the Long An People's Committee made a plan to build a seaport at Tan Tap (new port) that would be able to handle 30,000-50,000DWT ships. The seaport covers 400ha and is located where the Vam Co and Soai Rap rivers meet. This project requires the river to be dredged four meters deeper and although this project still has not received approval from the Central Government and doesn't yet have an investment license, Vinacapital has, according to province officials, expressed interest in funding the new port. |

The province has also been simplifying administrative procedures and adopted a one-stop shop – a service common to better-run industrial parks in Vietnam. It takes 3 days to issue an industrial license once you have your paperwork complete. The province has good access to electricity and there are five suppliers of telephone, ADSL and other services. Major industrial parks in the province include Viet Hoa Industrial Park - Duc Hoa 3, Thai Hoa - Duc Hoa 3, Anh Hong - Duc Hoa 3, SILICO - Duc Hoa 3, Thanh Duc, Duc Hoa 1 - Hanh Phuc, Duc Hoa 2, Tan Duc, Vinh Loc 2, Tan Kim and Nhut Chanh.


| | |
| --- | --- |
| | The cost of a 50-year land lease at Long An industrial zones ranges from US$20-40/square meter/year depending on infrastructure conditions and location. Land prices are not as cheap as I would have expected considering the lesser level of development and infrastructure and the obvious need for larger scale development. Despite this, the following told to me by a Vietnamese official should be noted, "In the U.S., you have two parties but one price. In Vietnam, we have one party but too many prices." The message, says it all – be prepared to negotiate and negotiate hard. Further expect higher construction costs than in Binh Duong and Dong Nai. Because of Long An's lower elevation and higher water table, land must generally be filled and buildings built on pilings. This can add 10-20% to construction costs. |

My assessment on Long An is that there is considerable opportunity here particularly for agriculture related processing and activities like shoe processing, textiles, etc. I believe this could be a good site for Thai companies involved in food processing as a good alternate location to their own country but also think that there are opportunities for U.S. and other companies as well. I definitely would advise a visit and consideration of Long An as a potential site. Land prices appear on the high side compared to those in Binh Duong and also infrastructure is still less developed than in Binh Duong. Further, there are several issues that are currently limiting the province's industrial zone development. One is a regulation that limits the creation of new industrial zones. The regulation states that before establishing a new industrial zone, the existing industrial zones must be at least 50 percent occupied. Many believe that this regulation no longer meets present development requirements as the different business goals and nature of the companies leads them to widely different business models and investment goals.



Picture: Master Plan of Long An Economic Zone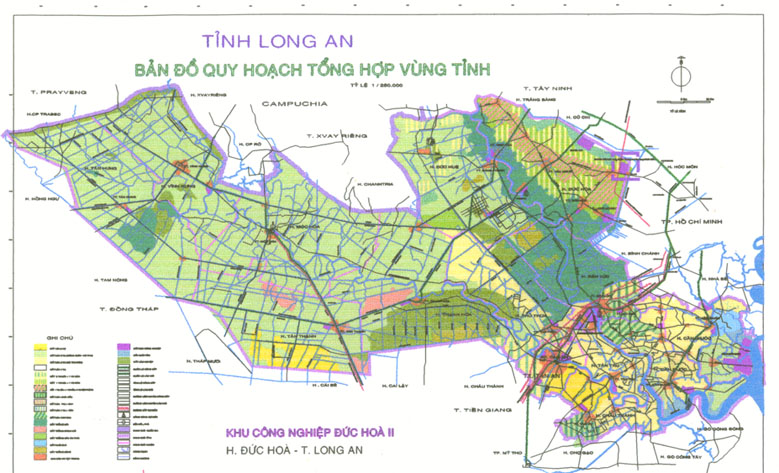 ---
About the Author:
Christopher W. Runckel, a former senior US diplomat who served in many counties in Asia, is a graduate of the University of Oregon and Lewis and Clark Law School. He served as Deputy General Counsel of President Gerald Ford's Presidential Clemency Board. Mr. Runckel is the principal and founder of Runckel & Associates, a Portland, Oregon based consulting company that assists businesses expand business opportunities in Asia. (www.business-in-asia.com)
Until April of 1999, Mr. Runckel was Minister-Counselor of the US Embassy in Beijing, China. Mr. Runckel lived and worked in Thailand for over six years. He was the first permanently assigned U.S. diplomat to return to Vietnam after the Vietnam War. In 1997, he was awarded the U.S. Department of States highest award for service, the Distinguished Honor Award, for his contribution to improving U.S.-Vietnam relations. Mr. Runckel is one of only two non-Ambassadors to receive this award in the 200-year history of the U.S. diplomatic service.


---