TRAVEL BASICS





Visa:


Visa link to Thai Embassy in the U.S. (pdf file)



Long-Term Stay:


How to get a Work Permit: Living and Working in Thailand on a Long Term Basis



Thailand at a Glance:


country's current economic data



Currency:

Baht (THB)
Baht per US dollar - 37.882 (2006), 40.22 (2005)


Current exchange rate:

click here



Weather:

tropical; rainy, warm, cloudy monsoon (mid-May to September); dry and cool (November to mid-March); hot and humid in the summer


Current weather:

click here



Time:




Current time and weather:

click here



Capital:

Bangkok


Large Cities:

Chiang Mai, Phuket, Chonburi, Udorn Thani



Border Countries:

Burma, Cambodia, Laos, Malaysia
(click here for planning your trips to Thailand's neighboring countries)



Airports in Thailand:





Telephone:


Country Code: 66
City code for Bangkok is: 2
Emergency phone number

Plan Your Business Trip:

Thailand




Trip Journal:
I
ndustrial Parks and Ports to Visit:
Medical Tourism in Thailand:
Thai Art:
Thai Food:

Thai cuisine are combination of hot (spicy), sour, sweet, and salty. There are use of coconut milk, fresh turmeric, various fresh herbs, fish sauce and lime juice. Thai cuisine also has been greatly influenced by its neighbors, especially India, China, Malaysia, Laos.


Guide to Thai Restaurants:

click here

Thailand Useful Links: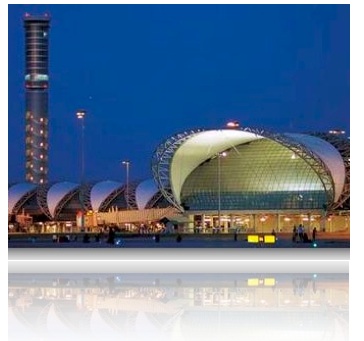 Runckel & Associates Service:

Visit Facilitation
On the Ground Support
Site Selection, Logistics, Licenses for Building and operating Factories in Thailand

Sourcing Products, Meet the companies
Assisting Executive MBA Programs and Business Groups
Runckel & Associates has experienced English-speaking associates on the ground in Thailand to prepare and support your visits:
Most of these associates have been working with us for 6-8 years during which they have performed a wide variety of projects with us. This gives you and your company experience, knowledge, a trusted partner and an advantage helping you in all aspects of your new endeavor in Asia.
Site selection and logistics during the visits:
We regularly work with the major industrial parks, national business promotion agencies and local specialists on site selection, licenses and permits. We therefore can arrange meetings and visits that can help simplify your data collection and help ensure that you are receiving the most accurate information and are not missing key facts or failing to consider important information that can make your project more profitable and more predictable in terms of its success.
Sourcing products and visiting factories during the visits:
We are specialists in assisting companies seeking to produce products or to source products in all parts of Thailand. Our specialists in Thailand can help you find the best company to produce and source your product and visit them.
Assisting Universitiy's EMBA programs and business group for trips to Thailand:
Our study tour is designed for business schools, EMBA students and business executives with a view to provide understanding of Thailand's business culture, business organization and management in an Asian context. Our team of international business, diplomatic and cultural specialists has a long and rich background in Thailand. We arrange for lectures, company visits and tours throughout the trip to help executives better understand the challenges and the opportunities that Asia offers.


Knowing a few words of any language helps to show your business contacts and people you meet, etc., that you are interested in their country and seek more than a short-term gain. Here are a few keywords:


Hello: Sa-wat-dee-krap(used by males), Sa-wat-dee-ka(used by females)
Please: Ka-roo-na (with a request)
Thank you: Khaup khoon
You're welcome: Mai pen rai
Excuse me: Khaw toat
My name is: Pom cher..(used by males), Di-chan cher..(used by females)
I understand: Pom kao jai khrap (used by males), Di-chan kao jai kha (used by females)
I don't understand: Pom mai khao jai(used by males), Di-chan mai khao jai(used by females)
Good bye: Sa-wat-dee

---



News:


Bangkok Post
The Nation



Radio:


Radio Thailand
MCOT Radio Network

Tourist Attractions



Bangkok


Chao Phraya River, the Royal Grand Palace, Wat Phra Kaeo, Wat Pho, Wat Arun,

Jim Thompson's House,

National Museum Bangkok, Chatuchak Weekend Market, Sukhumvit Road, China Town, Silom-Surawong-Patpong



Diving
ANDAMAN SEA: Dive sites are found off the coast of Phuket, Krabi and Trang.
GULF OF THAILAND: Ko Samui, Ko Pha-ngan, Ko Tao, Ko Nang Yuan, Mu Ko Ang Thong Marine National Park, and Ko Chang in Trat Province near the Combodian border.
EAST COAST: Pattaya offers dive trips out to Ko Larn, Ko Sak, Ko Krok, Ko Rin, Ko Pai and Ko Marn Vichai.





Major Holidays





- January 1: New Year's Day
- January/February (lunar-based holidays and change from year to year): Chinese New Year
- February/March (lunar-based holidays and change from year to year): Makhabucha Day
- April 6: Chakri Day
- mid-April:Songkhran Day (Thai New Year)
- May (lunar-based holidays and change from year to year): Ploughing Ceremony
- May 1: Labor Day
- May 5: Coronation Day
- May/June (lunar-based holidays and change from year to year): Visakhabucha Day
- July/August (lunar-based holidays and change from year to year) :Asalahabucha Day
- July/August (lunar-based holidays and change from year to year): Rains Retreat
- August 12: Queen Sirikit's Birthday
- October (lunar-based holidays and change from year to year): Ok Pansa
- October 23: Chulalongkorn Day
- December 5: King Bhumiphol's Birthday
- December 10: Constitution Day
- December 31: New Year's Eve