Plan Your Business Trip:

Vietnam
Business Trip:

Research and Preparation for your trip:
Table of Investment Cost Comparison for 5 Countries in Asia

: Vietnam, China, Thailand, Cambodia and Laos - covers factors such as: land, building cost, utilities, taxes, labor, company registration, factory licensing, safety and security, etc.

Planning A Business Trip:

Ten Things To Think Of Before You Go

Business Trip Journals:

Our useful business trip journals
Industrial Parks and Ports to Visit:
Tourism:
Our Other Vietnam Useful Links:
TRAVEL BASICS



Visa:


Visa form from Vietnamese Embassy in the U.S. (pdf file)



Vietnam at a Glance:


country's current economic data



Currency:

dong (VND)
dong per US dollar - 15,983 (2006), 15,746 (2005)


Current exchange rate:

click here



Weather:

tropical in south; monsoonal in north with hot, rainy season (May to September) and warm, dry season (October to March)


Time:




Current time and weather:

click here



Capital:

Hanoi


Large Cities:

Ho Chi Minh City, Da Nang, Hue



Border Countries:

Cambodia, China, Laos
(click here for planning your trips to Vietnam's neighboring countries)



Airports in Vietnam:




Telephone:


Country Code : 84

City code for Hanoi is: 4
City code for HCMC is: 8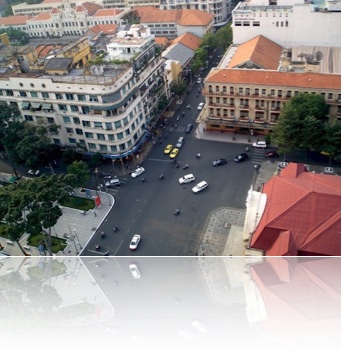 Runckel & Associates Service:

Visit Facilitation




On the Ground Support
Site Selection, Logistics, Licenses for Building and operating Factories in Vietnam
Sourcing Products, Meet the companies
Assisting Executive MBA Programs and Business Groups
Runckel & Associates has experienced English-speaking associates on the ground in Vietnam to prepare and support your visits:
Most of these associates have been working with us for 6-8 years during which they have performed a wide variety of projects with us. This gives you and your company experience, knowledge, a trusted partner and an advantage helping you in all aspects of your new endeavor in Asia.
Site selection and logistics during the visits:
We regularly work with the major industrial parks, national business promotion agencies and local specialists on site selection, licenses and permits. We therefore can arrange meetings and visits that can help simplify your data collection and help ensure that you are receiving the most accurate information and are not missing key facts or failing to consider important information that can make your project more profitable and more predictable in terms of its success.
Sourcing products and visiting factories during the visits:
We are specialists in assisting companies seeking to produce products or to source products in all parts of Vietnam. Our specialists in Vietnam can help you find the best company to produce and source your product and visit them.
Assisting Universitiy's EMBA programs and business group for trips to Vietnam:
Our study tour is designed for business schools, EMBA students and business executives with a view to provide understanding of Vietnam's business culture, business organization and management in an Asian context. Our team of international business, diplomatic and cultural specialists has a long and rich background in Vietnam. We arrange for lectures, company visits and tours throughout the trip to help executives better understand the challenges and the opportunities that Asia offers.



Knowing a few words of any language helps to show your business contacts and people you meet, etc., that you are interested in their country and seek more than a short-term gain. Here are a few keywords:



Hello: Chao (folow by "Ong" to men, "Ba" to women)
Thank you: Cam on
You're welcome: Khong co gi
Excuse me: Xin loi
My Name is: Toi ten la.....
I understand: Toi hieu
I don't understand: Toi khong hieu
Goodbye: Chao (folow by "Ong" to men, "Ba" to women)




---
Vietnamese Names:
The order of Vietnamese names is different than in the west. Also, as in most of Asia, one's relationship to the group is of upmost importance. These marks of relationship also are part of the language. Read about
Vietnamese Name and Form of Address

Vietnamese Art:


Vietnamese Food:

Vietnamese recipes use many vegetables, herbs and spices, including lemon grass and lime; and source such as fish sauce. Throughout all regions the emphasis is always on serving fresh vegetables and fresh herbs as side dishes along with dipping sauce. There are some great influence from French cuisine, such as French bagette, coffee and dessert, such as creme caramel.



Vietnamese Industries:



Details of Various Industries in Vietnam
News:
Vietnam Economic Times
Vietnam News
Vietnam News Agency
Radio:
Voice of Vietnam
Television:
VTV - Vietnam Television