While global conditions are affecting it to varying degrees, Vietnam counts on political stability and a highly motivated workforce to continue attracting foreign investment.
As the world continues to reel from the economic slowdown and a possible crisis is looming, Thai investors continue to remain optimistic about prospects in Vietnam and are moving in droves to the country whose long-term potential they see as relatively sound.
The Binh Duong Industrial Zone has attracted companies in many sectors. Lien Phat Footwear Co (above) has invested US$30 million in the country's largest garment, leather and footwear materialsupply centre. Binh Tan Co Ltd (left) has invested heavily in technology and has trained 1,250 skilled workers.
''Despite the slowdown and the looming global crisis there have been a lot of delegations that have been going to Vietnam and this is the reason why we decided to bring a delegation to Thailand in such market conditions,'' said Tran Van Lieu, Chairman of the Binh Duong Industrial Zone Authorities in Vietnam, at a seminar in Bangkok this week.
Vietnam has been under intense pressure lately due to runaway inflation of close to 30%, but it is still one of Asia's new tigers. The surge in foreign direct investment (FDI) has fuelled the growth of the once-closed communist country, which is increasingly a direct competitor to Thailand for attracting investment.
''The fact that there are so many of us present in this room means that Vietnam is still an attractive destination for investment,'' Nguyen Duy Hung, the Vietnamese ambassador to Thailand, told more than 100 participants at the event organised by the Embassy, the US Vietnam Chamber of Commerce and Bangkok Bank.
Mr Nguyen said that with Thailand and Vietnam now entering the 32nd year of their diplomatic relationship, it was time that the two-way trade between the countries take the next leap and head for the $10-billion mark expected by 2010.
He said that the rise in FDI from Thailand into Vietnam was one such way of increasing trade. Currently Thailand ranks eighth among the 80-odd countries that have poured money into the country of 86 million.
Despite all the gloom and slowdowns worldwide, in the first 10 months of this year Vietnam received $59.3 billion in FDI, nearly three times the figure that was there in 2007, Mr Nguyen said, adding that as a long-term investment destination, Vietnam continued to remain attractive.
Vietnam, which allows 100% foreign ownership of companies, has seen its gross domestic product (GDP) grow by more than 7% over the past few years. Its stable government, investor-friendly policies and highly attractive incentives were cited as the key reasons why investors continued to favour the country.
As well, the quality of products made by Vietnamese workers is considered to be among the highest in the region, in the view of major manufacturers such as Nike, said Christopher Runckel, the chairman of the
US-Vietnam Chamber of Commerce
and president of
Runckel & Associates
, a consulting firm.
''The Vietnamese government's probusiness policies, its continued improvement of the legal and business environment and the work ethic of the people there are cited as among the most positive attributes by investors,'' he said.
Government stability has been a constant in Vietnam at a time when neighbours including Thailand continue to remain mired in internal strife.
Although Thailand ranks far better in terms of ability to start a business — 44th in World Bank's Doing Business 2009 survey against 108th for Vietnam — the overall tax structure in Vietnam is more favourable than in Thailand, Mr Runckel said.
With nearly 69% of the population in the 15-64-year age group, Vietnam wins hands down for potential labour supply, which has also translated into cheap wages, although some dispute the actual figures and say potential future wage increases will bring the country's labour market more in line with regional peers.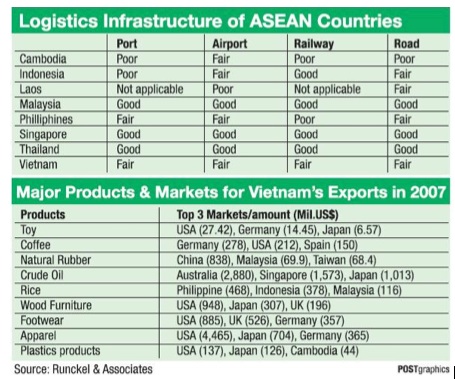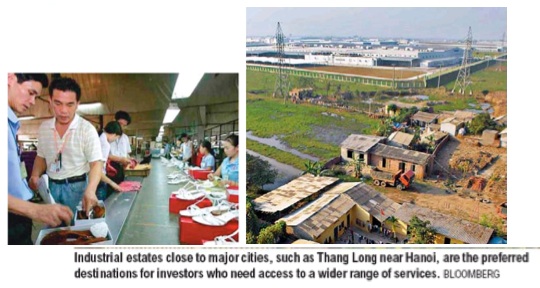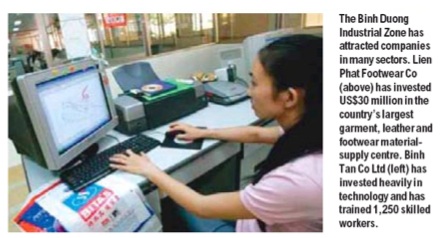 ''There is a possibility of a wage hike next year after more than 500 strikes were seen during this year amid surging inflation,'' acknowledged Wittaya Supatanakul, the adviser for Vietnam at Bangkok Bank.
But despite possible wage rises and other top-up benefits that need to be paid, Vietnam's labour cost would still be lower than in Thailand.
Mr Wittaya said the government may lift wages around the two major cities (Zone 1: Ho Chi Minh City and Hanoi) by around US$73 per month, and increases in other areas would be lower depending on their zones. Other social and health benefits must also be factored in, and from next year 1% would be added as trade union fees.
Currently in Zone 1, the labour cost for unskilled workers is around $100 a month all-inclusive, against $120 in Thailand most developed areas. In Zone 2 (satellite cities around Vietnam's two main cities) monthly wages are $70-80 against $110 in comparable locations in Thailand.
A similar percentage difference in skilled labour wages also exists, which has made Vietnam an attractive destination for manufacturing and sourcing for various companies across the globe.
Mr Runckel said these factors had helped Vietnam record a surge in output of products such as furniture and household goods (up 25-35%), textiles (15-20%), shipbuilding (40%), ceramic tiles (27.7%), beer (36.5%), office supplies (45%) and vehicle assembly (64%).
He said that most Vietnamese view Thai products to be high-end and therefore Thai goods can be manufactured there for domestic consumption as well and not just for export.
With all the safety and health concerns from Chinese-made products, Thai companies have an opportunity to make a mark, he said. As well, with the booming urban population where disposable income is four to five times higher than the national average, there are opportunities for the Thai service sector.
Apart from that, sales of equipment and technologies to tap surging demand from industries in Vietnam could be an area where Thai firms could prosper.
Aviation, telecoms, information technology, oil and gas, power generation and education are all areas that can be looked into, he said.
With all the positives, Mr Runckel said, it does not mean that Vietnam is perfect in every area. he outlined some key concerns, among them:
Inflation is at an all-time high due to the surge in oil prices, though pressure is now easing somewhat.
Improvements needed in educational and training systems.
Infrastructure that still lacks expressways, bridges, with inadequate ports, narrow and clogged roads.
Lack of supporting industries that could feed into the bigger industries being established in the country.
Corruption that is prevalent at many levels, as in many Asian countries.
Environmental issues are taken for granted, although this is gradually improving.
Lack of intellectual property rights, something that is improving but still remains an issue of big concern.
He added that despite all this the government is determined to improve the overall situation and is undertaking a major revamp of the system, as part of a broader strategy to increase per capita GDP to $1,000 by 2010 from the current $835.
---
SCG paper unit confident it's picked the right location


1 Nov 2008, Bangkok Post ASIA FOCUS, UMESH PANDEY
SCG paper unit confident it's picked the right location
Having had a successful run in Thailand and looking to expand across the region, Siam Cement Plc in recent years set its sights on Vietnam, where despite having just a trading presence, the conglomerate had captured 18% of Vietnam's kraft paper market.
''Paper is one of the core businesses of SCG (Siam Cement Group) and we had our sights set on expanding across the region,'' said Yunyong Puthapipat, the managing director of the SCG subsidiary Siam Kraft Industries.
''Our initial study of various countries pointed us [in the direction of having] a bigger operation in Vietnam and we decided to take up the task.''
He said the decision was an easy one as nearly 35% of SCG's paper output was exported to Vietnam to meet the growing needs of the country's booming manufacturing businesses.
After months of searches that took executives of the group to seven provinces and 14 industrial estates, the group decided to settle in the Binh Duong Industrial Zone.
Vietnam, whose economy has been growing at a breakneck pace of more than 7-8% per year, exported 150,000 tonnes of SCG paper in 2007 against a mere 40,000 tonnes in 2001. The $170million paper plant will have a production capacity of 220,000 tonnes per year when it starts operations mid-2009.
Although SCG's paper mill is still not operational, Siam Kraft hopes that the plant should be able to operate within the first half of next year, making the mill one of the largest in the group.
The key in Vietnam, Mr Yunyong says, is that people looking to set up plants need access to where their clients are and thus should locate their plants near their customers. For SCG it was more toward the Ho Chi Minh City (HCM) area, therefore the location of Binh Duong was chosen.
Binh Duong is part of the economic zone located around the key business area of HCM which includes HCM, Dong Nai, and Vung Tau, which together contribute about 45% of Vietnam's gross domestic product (GDP).
But SCG, despite its mammoth size in Thailand, had its share of problems as the company was unable to initially convince the authorities that its coalfired boilers that were to be used for electricity generation were environmentally friendly.
''Electricity in Vietnam is expensive and therefore we had to generate our own electricity to keep our cost down,'' Mr Yunyong said, adding that this was a big stumbling block as company executives had to make many presentations to the authorities to convince them. The time-consuming process came as a surprise to SCG, given the fact that it had operated its trading firm in Vietnam for 15 years.
But despite all the problems SCG has settled into Binh Duong where other Thai companies such as the Charoen Pokphand Group have operations as well.
Binh Duong covers 2,695 square kilometres with a population of 1.5 million and an adult working population of 800,000. The region's economy is growing by 15% per year against the 7-8% for the entire nation. The area is one of the largest in terms of attracting foreign direct investment, and so far the region has 1,600 projects from around 35 countries with a value of more than $10 billion.
The region is connected to major highways and is not too far from the major port cities. As well, proximity to HCM means that the expatriates living in the area have good access to services such as schools, hospitals and other key infrastructure they require.
-----------------------------------------------------------------------------------------------------------------
More of our useful articles: