University of Notre Dame EMBA Program Visits Beijing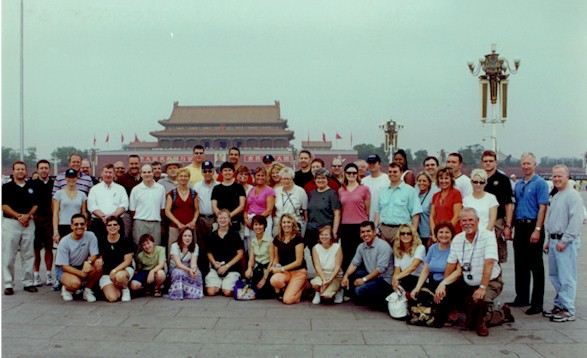 (Picture) University of Notre Dame EMBA program students. spouses, friends and professors at the
Tiananmen Square on the first day of the Beijing visit
Runckel & Associates arranged the July 2006 visit of University of Notre Dame's first visit to Beijing. Although Notre Dame's EMBA program has long visited Europe as part of the program, the first visits to Asia started two years ago with visits to Suzhou and Shanghai. This year the program was extended to include a five-day visit to Beijing and Runckel & Associates was chosen to arrange both the logistics and the substantive program.

The Beijing visit began with a visit to Tiananmen Square where the group noted both the clock registering the countdown to the 2008 Beijing Olympic Games and the large and imposing square, which is so often flocked with visitors during the warm summer weather. Following a visit to the Square, the group of 50 visited the Forbidden City, the site of Ming and Qing Dynasty rule. Much of the Forbidden City and in fact much of China's most well-known sites are under renovation in preparation for the large crowds that will flock to the city in 2008 in the days before and during the Olympics. Despite this, the former imperial residence continues to be an awe-inspiring representation of the power that was imperial China. That evening, the group dined on Beijing's signature meal Beijing or Peking duck to cap off a signature day.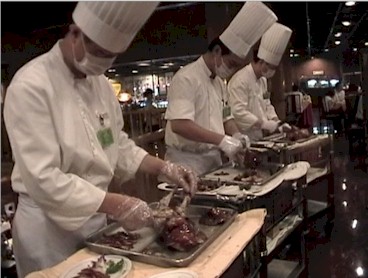 (Left Picture) The carving of Peking ducks is demonstrated for the group before serving at the Peking duck restaurant in
Tiananmen area and (right picture) at another outstanding Chinese restaurant in Beijing
Generally Beijing is hot and clear in July, but Sunday dawned to fog and a light mist as the group proceeded to the Great Wall. Despite the weather which hid much of the wall and its imposing architecture, the visitors enjoyed the day outside of Beijing which included visits to the Great Wall, a sumptuous lunch and then a visit to the Ming Tombs and the Sacred or Hidden Road leading up to the Tombs. The day was capped by a visit to the "Legend of Chinese Gongfu" show where the group observed Chinese Wushu or Gongfu, the Chinese martial art.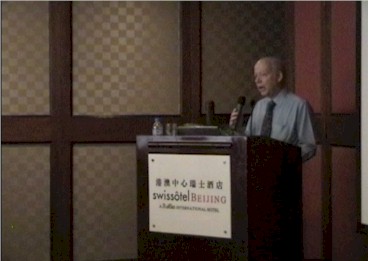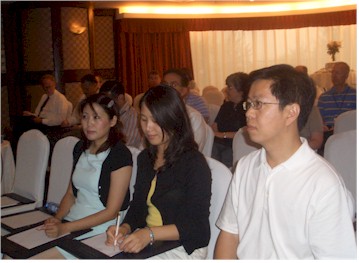 (Left Picture) Chris Runckel, President of Runckel & Associates, introduces the first speaker and (right picture)
From left: Michelle Liu - Jobmet.com partner and co-founder; Eliza Duan - Senior Reporter of the 21st Century Business Herald;
and Owen Sha - Jobmet.com partner and co-founder
Monday the group split with the Executives starting the day with a presentation on "The Evolving China Labor and Talent Market" by Owen Sha and Michelle Liu of Jobmet.com (www.jobmet.com). Further clarification was offered by Eliza Duan, Senior Reporter of the 21st Century Business Herald (www.21cbh.com), a leading business paper with a circulation of over 629,000 per issue who often reports on HR issues in business. Mr. Sha and Ms. Liu, who are two of the partners and co-founders of Jobmet.com described the issues that face managers in attracting and securing management and other technical staff in an HR market that is very competitive and changing fast. They also described some of the major players in this very competitive sector of the HR market and described their own company's start-up and challenges.

(picture) University of Notre Dame's Director of Executive MBA Programs, Barry Van Dyck (far left), and some of his students
Later the Executive group headed to Beijing University International MBA program (BIMBA) where the group listened to a presentation on the Chinese Economy by Dr. Ling Li. Dr. Li in her presentation noted that although China continues to face a number of current problems that China's economy overall was continuing to perform well. Her presentation was followed with lots of Questions and Answers. In these, Dr. Li noted both the current problems and the challenges that issues like excess capacity, low per capita income because of the large population, degradation of resources and the environment, income disparity, social security and aging and the unfinished reform agenda placed on China's continued development.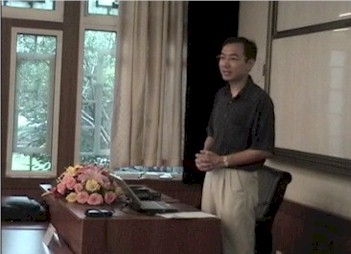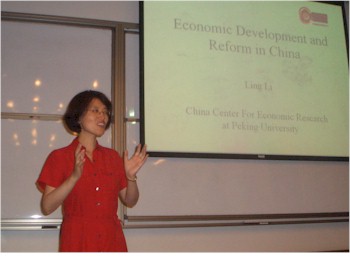 (Left Picture) Tony Liu, Director of External Relations Department, Beijing University International MBA program (BIMBA)
introduces the speakers (right picture) A presentation on Chinese Economy by Dr. Ling Li, Deputy Director of
China Center for Economic Research (CCER), Peking University
This presentation was followed by a second presentation by Dr. Lee Zhang, Associate Professor in Management and Assistant Dean of BIMBA on "Marketing in China" which used a case study of a major pharmaceutical company to point out the challenges of marketing even a well-known product in China. Dr. Zhang's presentation noted that even major and well-known brands could make mistakes in pricing strategy, properly choosing marketing channels and understanding Chinese culture. He further noted the dangers of multi-national companies in trying to run operations too much from their international headquarters where these local concerns were less understood and appreciated.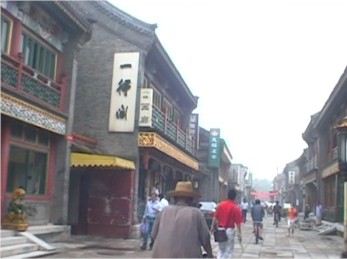 (Left Picture) Pam Van Dyck lead the spouse and other visitors to Liulichang on a separate program
(right picture) Scene at Liulichang, Beijing
While the Executives enjoyed the above presentation, Pam Van Dyck, wife of Notre Dame's Director of Executive MBA Programs Barry Van Dyck, led the spouse and other visitors on a separate program for the day. University of Notre Dame's EMBA program differs from many EMBA visits on the encouragement it gives to Executives to include their spouses, alumni and others in the visit in order to learn more about work in an international environment which increasingly is becoming a part of many executives career development.
Late on Monday, both groups rejoined for a presentation at the U.S. Embassy by U.S. Embassy, Beijing Deputy Chief of Mission, David S. Sedney, whom discussed current U.S. – China political and economic relations and current challenges in the wider relationship between the two superpowers. This presentation at the U.S. Embassy's San Ban Complex was extremely well received by the group and was followed by extensive questions and answers. That evening the group enjoyed a dinner of Northern Chinese cuisine and Chinese music. which capped a highly productive and enjoyable day.

(picture) In front of the U.S. Embassy in Beijing, where Beijing Deputy Chief of Mission, David S. Sedney, talked about U.S. - China political and economic relations with the group
On Tuesday, all members of the group were in attendance for a presentation by Mr. Jack Perkowski, Chairman and CEO of Asimco Technologies (www.asimco.com). Mr. Perkowski who is a graduate of Yale University and has an MBA (with high Distinction) from Harvard Graduate School of Business and Administration and was designated a Baker Scholar, spent 20 plus years on Wall Street before coming to China in the early 1990s. He founded Asimco Technologies in 1994. Asimco now is China's largest Auto components firms with 14 factories located in 10 provinces in China. Asimco Technologies was named one of the "Ten Best Employers in China" by Hewitt Associates and 21st Century Business Herald and was ranked third country wide in this category. Mr. Perkowski and his company Asimco are portrayed in Tim Clissold's book, Mr. China. Mr. Perkowski and his company are also featured in Thomas Friedman's "The World is Flat" in the chapter dealing with China.
| | |
| --- | --- |
| (Picture) Mr. Jack Perkowski of Asimco Technologies speaks to University of Notre Dame EMBA group | Mr. Perkowski during his presentation, which was the highlight of the groups visit to Beijing and to China, noted that you don't have to speak Chinese or to be a Chinese expert to succeed in business in China and noted himself as an example of this observation. He continued that this is not to say that you don't need a keen and observant eye, an ear that listens closely or a mind that is not willing to constantly be looking at how to better your business model and deal with new challenges. Mr. Perkowski discussed his own decision to invest in China and noted how this decision was based on his thoughtful analysis of changing business realities and the tremendous potential that China offers both as a production base and as a future market. He explained that China is changing so rapidly that you need to continually be in China to understand the changing environment and the challenges it offers. Although Mr. Perkowski appreciates the challenges China faces with an unfinished economic reform, remaining bank bad loan issues, the lack of a good legal structure and other issues, he continues to be optimistic that China will weather these challenges and that the leadership will continue to deliver on needed reforms. |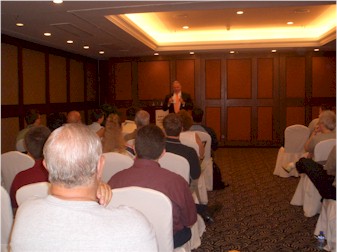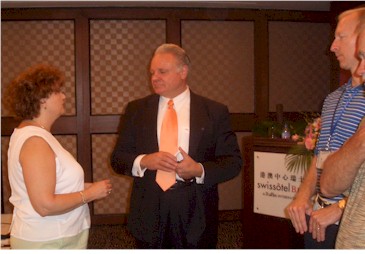 (Left Picture) Mr. Jack Perkowski during the lecture and (right) talking to some of the students afterwards
Mr. Perkowski also was emphatic that finding and securing good management talent remains one of the key items for focus. He recommends that organizations rapidly localize management although he continues to see roles for foreign managers in making your China Company a truly international player. Mr. Perkowski also advised regional localization of management employees and that those companies focused on the China market look outside the coastal areas to fully deal with a fractionated national market, which is in fact based on a series of provincial or regional sub-markets where most of a company's efforts will be based.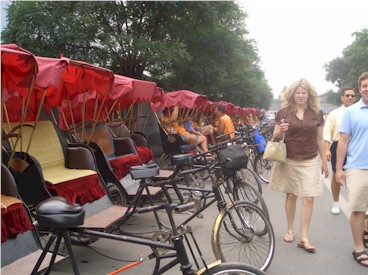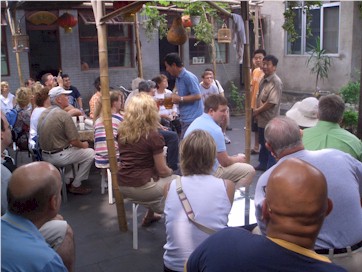 (Above Pictures) EMBA students, spouses and teachers at the Hutong, old town area of Beijing
In the afternoon, the group capped off their visit to Beijing with a visit to Beijing's famous Hutong's (narrow alleys) where the group visited Beijing residents in their courtyard houses and discussed the daily challenges of life. This was followed by lunch at Beihai Park where the group sampled Imperial-style cuisine and later visited the Temple of Heaven to cap off a memorable first visit of the program to Beijing.

About the Author:

Christopher W. Runckel, a former senior US diplomat who served in many counties in Asia, is a graduate of the University of Oregon and Lewis and Clark Law School. He served as Deputy General Counsel of President Gerald Ford's Presidential Clemency Board. Mr. Runckel is the principal and founder of Runckel & Associates, a Portland, Oregon based consulting company that assists businesses expand business opportunities in Asia. (www.business-in-asia.com)

Until April of 1999, Mr. Runckel was Minister-Counselor of the US Embassy in Beijing, China. Mr. Runckel lived and worked in Thailand for over six years. He was the first permanently assigned U.S. diplomat to return to Vietnam after the Vietnam War. In 1997, he was awarded the U.S. Department of States highest award for service, the Distinguished Honor Award, for his contribution to improving U.S.-Vietnam relations. Mr. Runckel is one of only two non-Ambassadors to receive this award in the 200-year history of the U.S. diplomatic service.