The Vietnamese Plastic's Industry
Rapid growth and Much Future Promise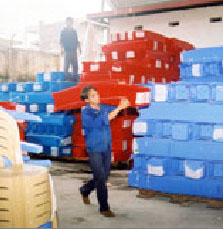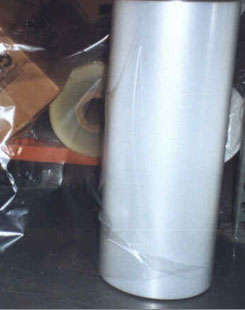 The plastic industry commenced almost half a century ago in Vietnam; however, the production remained limited and diminutive until recent years. Thus, the Vietnamese plastic industry is considered still in its infancy compared to that of other countries in the region like Malaysia, Singapore, Thailand and China. By way of comparison, Vietnam's production output of plastics per capita was 25 kg of plastic per person in 2005, and is expected to rise to 40 kg per capita by 2010. Although this is a rapid increase, plastic output per capita of Malaysia in 1999 was 49kg, five times higher than Vietnam's figure in the same year (9.4kg). Singapore's output per capita for the same year was 10 times higher and Thailand's was three times greater and even Indonesia was two times greater for the same period.

Currently, there are about 2700 plastic corporations in Vietnam, 80% of which are of small or medium size and privately owned. Only 6% are state-owned, but they represent about 20% of the total capital invested in the industry. State-owned companies tend to be larger and to employee more workers and have a greater investment total than their small or medium sized private competitors. The rest are foreign invested enterprises, with about 35% in terms of overall capital investment.


| | |
| --- | --- |
| | Despite its somewhat smaller size than competitor markets in China, Thailand and Malaysia, plastics is a growth industry in Vietnam with an annual growth rate of around 30 percent per year in recent years. This growth has made plastics a major export earner for the country. In 2005, Plastics was third after coal and rice as the fastest growing sector despite the rapid rise of petroleum and other inputs that caused major jumps in plastic resins prices. This growth has been noted particularly by regional competitors such as Malaysia which has responded by investing to try to develop new markets. Examples of this are Poly Tower Ventures Bhd, and Tong Guan Industries Berhad are both opening factories in Vietnam shortly , in order to gain both local market share and to be able to take more orders from EU and the U.S.. |

The plastic industry in Vietnam is centered around Ho Chi Minh City and the surrounding provinces and cities such as Binh Duong, Dong Nai, Long An, and Ba Ria Vung Tau attract 80 percent of total investment in the plastic industry of Vietnam, accounting for 80 percent of total plastic products. Ho Chi Minh City is also the centerfor supply production, supply chain support, technical development, distribution and international transaction of the industry in Vietnam.

The national plastic industry produces virtually all of what the domestic market consumes and production is currently more oriented toward domestic items and packaging vis-à-vis export. Vietnam's internal market is changing and increasingly there is more demand for hi-tech plastics products. Prior to 2004, all Vietnamese plastic products were manufactured with genuine plastic resins. Since then, to comply with the growing demand, the government has allowed the imports of cheaper plastic scrap: Vietnam is Asia's second largest importer of plastic materials. Nonetheless, such fact is raising an issue as raw plastic material prices have soared recently.


The plastics industry in Vietnam tends to be highly labor intensive. A survey in 2004 revealed that 70% of the labor force in the Vietnamese plastic industry is unskilled, seven times higher than the combined average of other sectors. Most plastics companies employ between 10 and 50 people. The average monthly salary for a plastics industry employee is just under 2 million VND, with a large degree of variation depending on whether the company is foreign or locally owned and dependent on location of the factory facility.

The industry also is characterized by under capitalization and lack of technology. Much of the equipment used in Vietnam plastics firms is out-of-date equipment imported from China, South Korea and Taiwan. Most of the capital equipment in the plastics industry is imported. Between $2.5 -$3 billion in investment is expected between now and 2010.
The Vietnamese plastics industry is highly dependent on imports. Currently the Vietnamese plastic industry must import about 1.5 - 2 million tons of raw materials annually, plus hundreds of auxiliary chemicals used in the plastics industry. Domestic raw materials can meet only 30 percent of the country's demand. In 2004 Vietnam was Asia's second largest importer of plastics materials. The Vietnamese government is attempting to promote import substitution by helping to finance several domestic production facilities but the government forecasts that Vietnam will still have to import roughly half of the resins it needs after these production facilities are completed in 2010.

Vietnam is dependent upon polyethylene (PE), polypropylene (PP), polyvinyl chloride E (PVCE) and polyvinyl styrene (PS) imported from abroad. Vietnam is less dependent upon imports of B oriented polypropylene (BOPP), polyvinyl chloride S (PVCS) and dioctyl phthalate (DOP) resins as growing amounts of this are being produced domestically - supply is still inadequate to meet demand.

The major plastic exporters to Vietnam are regional countries such as China, South Korea, Japan and Taiwan. In 2005, Vietnam imported 1,147 MT of both raw materials and finished products. The plastic import value was $1,426mil, equal to four times of export value of $350 in 2005. In 2004, Vietnam exported only 10 percent of total output, i.e. 90 percent for domestic demand (VPA).

Vietnamese plastics products have been shipped to many countries, such as Cambodia, Laos, India, Sri Lanka, Japan, China, the EU, Taiwan and the US.

Investment opportunities exist in the packaging field, plastics machinery production, plastics resin production and waste plastics reprocessing sub-sectors. Good sources for additional information besides Runckel & Associates, which has done numerous projects in this field, are your Embassy's commercial section or the Vietnam South Plastics Association (VSPA), the Vietnam Plastics Association (VPA) and the ASEAN Federation of Plastics Industries (AFPI). The VSPA and the VPA are the two largest industry organizations in Vietnam. The VSPA has more than 800 member companies.. The VPMA is a non-government organization with nearly 500 members in 2006. The AFPI is the largest regional industry organization for the plastics industry.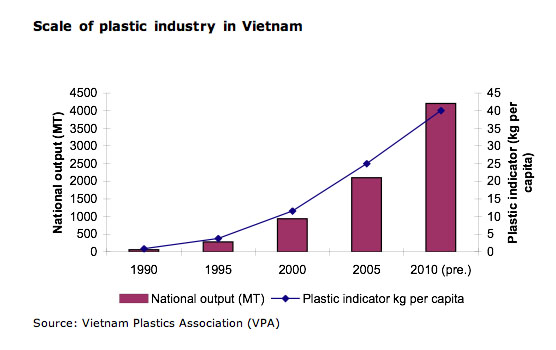 The below figure shows the polymer processing demand growth of Vietnam in comparison to other ASEAN countries from 1999 - 2004 (million tons). Demand for polymer processing of Vietnam grows rapidly and ranks third after Thailand and Indonesia.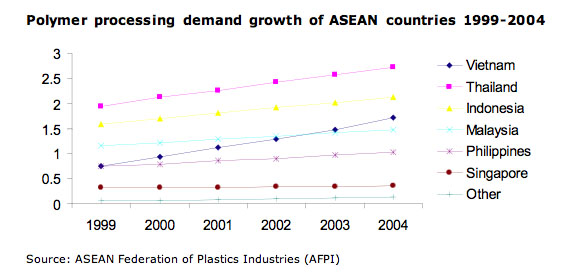 ---
About the Author:
Christopher W. Runckel, a former senior US diplomat who served in many counties in Asia, is a graduate of the University of Oregon and Lewis and Clark Law School. He served as Deputy General Counsel of President Gerald Ford's Presidential Clemency Board. Mr. Runckel is the principal and founder of Runckel & Associates, a Portland, Oregon based consulting company that assists businesses expand business opportunities in Asia. (www.business-in-asia.com)
Until April of 1999, Mr. Runckel was Minister-Counselor of the US Embassy in Beijing, China. Mr. Runckel lived and worked in Thailand for over six years. He was the first permanently assigned U.S. diplomat to return to Vietnam after the Vietnam War. In 1997, he was awarded the U.S. Department of States highest award for service, the Distinguished Honor Award, for his contribution to improving U.S.-Vietnam relations. Mr. Runckel is one of only two non-Ambassadors to receive this award in the 200-year history of the U.S. diplomatic service.
---