SOURCING AND BUSINESS TRAVELLING
IN CHINA'S SHANGHAI DELTA REGION

In June 2004, I again visited Shanghai and Zhejiang province to assist clients source items and to visit the China International Consumer Goods Fair in Ningbo on June 8-9, 2004. Shanghai is a world city which with a population of over 14 million often is overwhelming. The City though is not only a "go-go" business Mecca but also a city of great parks, sights to see and fantastic restaurants, bars and entertainment locations.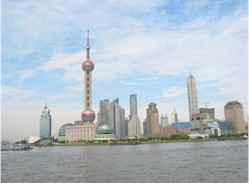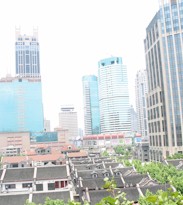 No visit to business visit to Shanghai is complete without at least a short time off to visit a little of the city. Some of the sites I always try to include are a visit to one of Shanghai's parks – I would recommend – the Jing'an Park and the Jing'an Temple. Both are central but not touristy and with many sights of real Chinese life.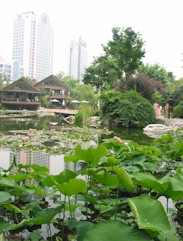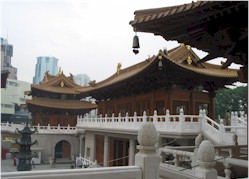 I also recommend a visit to the Shanghai Museum which has a collection so large that trying to "do" the entire museum in a day will put you in sensory overload – try it instead in parts – a day for the ceramics, a day for Chinese furniture, painting and calligraphy and another sections on other days. At one-two hour "chunks", the Museum is a much more pleasant and relaxing venue. Also, don't forget a visit to the Museum store – it is a great location for a unique and tasteful gift.
For a different eating experience, try the Dong Bei Ren (Litterally North East People) restaurant for a fun and tasteful change. For a great western eating experience in a very unique atmosphere try T8 at the Xindiandi complex which is a great area to people watch some of the over 100,000 expatriates that live in Shanghai and the hundreds of thousands more than visit yearly.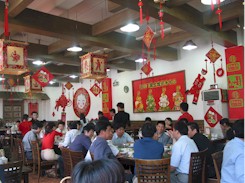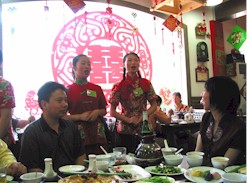 (above) Dong Bei Ren Restaurant
(below) Xindiandi Area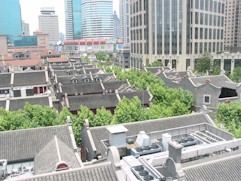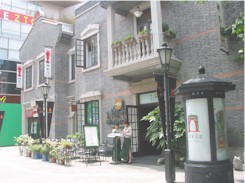 HAINING – CHINA'S LEATHER CAPITAL

When your country has twenty-five percent of the world's population as China does and increasingly is becoming the workshop to the world, cities can and do in China specialize to differentiate themselves and to take advantage of their specific local advantages. Although I had often heard knowledgeable friends note that Zhejiang province and the city of Haining was the place to start any search for a leather product, this was my first visit.
First, a little geography, Haining is what the Chinese term a small city (less than a half million people - although still with a population which would make it a mid-sized city in Europe or the U.S.) and is a part of Jiaxing. (A larger city of about one million located next to Haining). Haining has a number of attractive sites and is known for its tides as the Emperor was said to visit here at one point in ancient times to view the moon at this location. It is located in Zhejiang province which neighbors Shanghai and requires about a two hour drive from Shanghai to reach the city.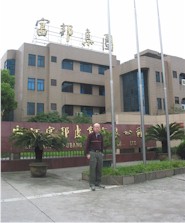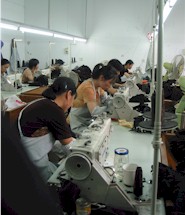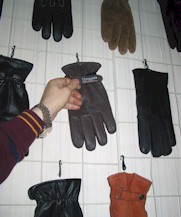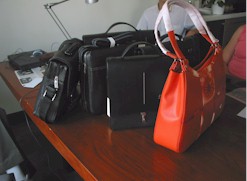 Haining has over 3,000 factories with the majority of them involved in the leather business. About 2-300 firms already are export qualified and items are shipped yearly to Korea, Japan, Germany, the U.S., Canada, Russia and many other locations. English language skills of some of the staff are still developing and finding a good partner who understands international business can take some work but there are several good agents working this field who we can recommend through prior experience.
Each year Haining hosts major Leather and Leather goods fair in September (the next major exhibition is scheduled for September 3-5, 2004) we were told by Mr. Anthon Huang from the Haining China Leather Market Administrative Committee. According to Mr. Huang this exhibit usually hosts up to 800 exhibitors and includes all the major quality leather goods vendors not only in Haining but from all over China. For those in the leather trade, the Haining Leather Exhibition is a very convenient way to see new products and to make new sourcing connections.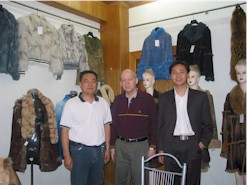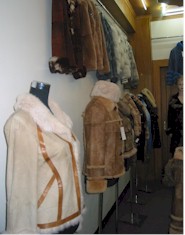 During our visit, we observed companies making leather, rabbit fur, sheepskin and other coats and jackets. We also saw companies making wallets, purses, bags, belts and many other accessories. The range of goods was very high with leather sofas and chairs, leather automobile seats and many other items also being produced at factories that are located throughout the city and its suburbs. One of these factories has over 5,000 employees but many were a hundred or less employees and were much more basic in operation.
NINGBO – PORT AND MAJOR EXPORT CENTER

Ningbo is a 25-30 minute flight from Shanghai's Pudong or Honggiao airports. It also is a three hour drive although this drive time should be cut greatly by a long bridge and viaduct that will shortly span Hangzhou Bay from Shanghai to Ningbo. . Ningbo is a city of about eight million people. It is a major port, food processing and other business hub. Ningbo has been a major city from ancient times and there are a number of very well preserved and interesting temples and other sites to see in the city. In Ningbo we stayed at the Ningbo New Century Hotel, a four star property, in the central city that has conference facilities and a full range of restaurants with everything from Western to naturally Chinese food.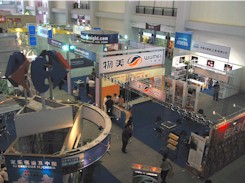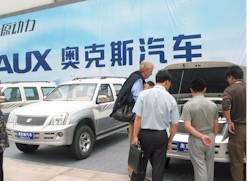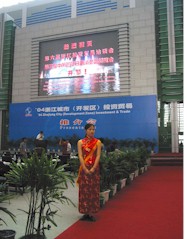 Ningbo each year hosts on behalf of Zhejiang Province the China International Consumer Goods Fair and the Zhejiang International Trade and Investment Seminar. These two events are hosted concurrently yearly. The first event this year had over 2,200 exhibitors in one of the largest and a quite modern exhibition center. The exhibition included manufacturers, trading companies, e-sourcing companies, shippers and other service providers. The range of products was very extensive – everything from cars to light handicrafts with everything between. International visitors at the show included visitors from all continents – Africans, South Americans, Australians, Indian, Pakistani, Arab, U.S., Canada, Europeans and Russian with Chinese suppliers all trying to attract interest in their company and foreign and domestic buyers looking to negotiate favorable business deals.
The Zhejiang International Trade and Investment Seminar included nine cities in Zhejiang province that are all competing to attract investment and to lure new factories and other investments to their cities plus to promote international trade as a means of increasing employment and trade. One exhibition hall was set aside for these exhibitions which were highly professional and very well laid out. Additionally, each city held smaller seminars for interested investors at which they set-out their programs and discussed incentives and the cities comparative advantages in comparison to its neighbors.
TAIZHOU – MAJOR TOURIST AND INDUSTRIAL CITY


Taizhou is located a two hour drive from Ningbo and about a three hour drive from Shanghai. It is the middle part of Zhejiang's costal are and on the southern wing of the Shanghai Economic Zone bordering Ningbo and Hangzhou on the north and connecting to Wenzhou on the South. Taizhou made up of three districts which include Jiaojiang, Huangyan and Luqiao and includes two sub cities – Linhai and Wenling. It is served by Taizhou Huangyen Airport which is modern and has flights from many Chinese cities. Flight time from Shanghai is about thirty-five minutes.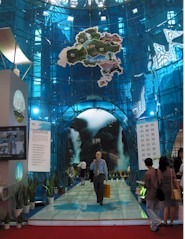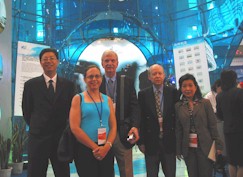 (above left) Taizhou's exhibition area at the Ninbo's Zhejiang Province the China International Consumer Goods Fair and the Zhejiang International Trade and Investment Seminar this year. (above right) Deputy Mayor of Taizhou greets visitors at the Taizhou exhibition area.
Taizhou is the largest base of China's plastic, plastic mould, automobile and motorcycle spare parts, sewing machines, chemical and pharmaceutical, valves and pumps and many other industries. The city was formed years back from joining together several nearby cities into a larger urban complex and currently has a population of 5.5 million.
As most of Chinese cities, construction is taking place everywhere with new buildings being added, new roads constructed and many major infrastructure projects being undertaken. Taizhou is definitely a city on the move and you can see this in the aggressive leadership of the Cities female Mayor and its active Vice Mayor who at six foot two is a person who most people look up to.
Taizhou also is a scenic area with sites as diverse as the largest Ancient Great Wall in the South of China, Shiliang waterfall, Changyu Caves, drifting in Yangan River plus many temple and tranquil gardens tied to Confusius and Taizhou's links to Southern Buddhist traditions in the area.
Taizhou also is served by another of New Century Hotels plus a new five star facility is set to open shortly. Restaurants specializing in seafood, excellent fresh fruit and vegetables raised nearby and many unique local products make Taizhou a great visit site as well as a good place to do business