---
THAILAND-CHINA TRADE (mil.USD)
Year

Total Trade

Total trade

Export

Export

Import

Import

Trade



Value

Growth

Value

Growth

Value

Growth


Balance



2006

34,039

21.59

18,894

22.23

15,144

19.6

3,750

2007

41,207

21.06

23,541

24.59

17,666

16.6

5,875

2008

48,350

17.33

26,236

11.45

22.114

25.1

4,121

2009

44,362

-8.25

25,603

-2.4

18,759

-15.1

6,844

2010

60,661

36.74

34,604

35.16

26,056

38.9

8,548

2011

(Jan-Apr)



23,923


(Jan-Apr)



33.16


(Jan-Apr)



14,019


(Jan-Apr)



37.29


(Jan-Apr)



9,903


(Jan-Apr)



27.7


(Jan-Apr)



4,115


(Jan-Apr)



Source: Kasikorn Thai Bank, Asean-China SME Conference, 2011
Table: www.Business-in-Asia.com

Statistics shows that in 2011, Chinese investors applied for Board of Investment (BOI) promotion on a total of 31 new projects worth about 10.67 billion baht (350.64 million U.S. dollars), according to BOI statistics. The project number grew a healthily 24% while the value increased by 75.2% over a year earlier. Large projects were mainly in electricity, natural rubber products and auto parts industries.


CHINA TRADE WITH THAILAND




Total Trade growing at 22% (CAGR) since 2000
Thailand's exports to China heavily skewed towards electrical equipment and machinery (57% of total exports) after growing rapidly since 2000
No substantial change in China's exports pattern to Thailand save significant volatility in exports of natural resources and electrical equpment

Source: CIMB Group, Asean-China SME Conference, 2011




The BOI has approved over 357 investment projects from China with the total investment amounting to USD 1.087 billion from 2001 to 2008 (in 2007, investment from China approved by the Thailand BOI reached USD 442 million, which was the highest within 10 years). The value of Chinese investments in Thailand now ranks fifth behind Japan, the European Union, the Cayman Islands and ASEAN, respectively. Chinese investments are mainly earmarked for manufacturing and processing industries whereas the proportion being invested in high-technology remains insignificant. This indicates that Chinese investors are focusing primarily on stable supplies of natural resources, and are seeking raw materials and intermediate products to supply their manufacturing sector.
THAI TOP IMPORT PRODUCTS TO CHINA
(mil.USD)


Year 2007

Year 2008




Year 2009
Year 2010
Year 2011


(Jan-Apr)

1. Fuel lubricants
168

244

96

210

891


(Jan-Apr)



2. Capital goods
7,002

8,368

7,557

10,758

3,968


(Jan-Apr)



3. Raw materials
7,092

9,083

6,583

9,540

3,614


(Jan-Apr)



4. Consumer goods
3,12

4,105

3,875

5,090

2,057


(Jan-Apr)



5. Vehicles & transportation
221

307

274

424

160


(Jan-Apr)



6. Arms, amunitions
18

5.7

53

32

13


(Jan-Apr)



Total

17,666

22,114

18,759

26,056

9,903


(Jan-Apr)



Source: Kasikorn Thai Bank, Asean-China SME Conference, 2011
Table: www.Business-in-Asia.com
THAI TOP EXPORT PRODUCTS TO CHINA
(mil.USD)


Year 2008

Year 2009
Year 2010
Year 2011


(Jan-Apr)



1. Automatic data processing machine

6,702

5,788

7,154

2,366


(Jan-Apr)



2. Printed matters

1,096

1,326

1,886

1,724


(Jan-Apr)



3. Rubber

1,965

1,568

2,467

1,439


(Jan-Apr)



4. Electronic integrated circuits

2,118

1,984

2,927

971


(Jan-Apr)



5. Precious stones & Jewelry

1,539

1,923

2,608


346


(Jan-Apr)



6. Polymers of ethylene

1,726

1,553

2,165

884


(Jan-Apr)



7. Chemical products

889

1,399

1,827

746


(Jan-Apr)

8. Rubber products

657

950

1,555

686


(Jan-Apr)



9. Tapioca products

351

800

1,170

494


(Jan-Apr)



10. Electrical equipment

541

588

831

361


(Jan-Apr)



Total

17,588

17,884

25,594

10,623


(Jan-Apr)



Others

8,647

7,719

10,010

3,395


(Jan-Apr)



TOTAL

26,236

25,603

34,605

14,019


(Jan-Apr)



Source: Kasikorn Thai Bank, Asean-China SME Conference, 2011
Table: www.Business-in-Asia.com

Although Chinese investment projects and accumulative value in Thailand are less than those in its neighboring countries such as Cambodia and Myanmar, analysts said in Thailand, the Chinese community has been for generations seamlessly integrated into most of Thai society.

Bilateral trade volume between Thailand and China in January 2010 reached 3.36 billion U.S. dollars, up by 63.4 % year-on-year, 26% points higher than the growth rate of Thailand's trade with the world as a whole, according to statistics of the Thai Customs. Surely the reason for this unprecedented trade growth lays in the bilateral FTA both countries agreed to in June 2003 which has sharply decreased tariffs on trade, said the Bangkok Post.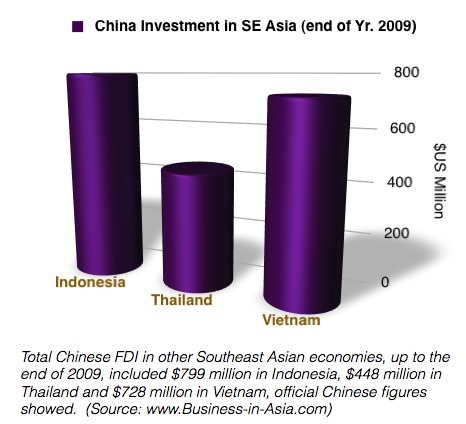 ---
Read Our Other Related Articles:
China Now in Top Five in Terms of Overseas Investment China moved up in 2010 into the number five position in terms of overseas investment, surpassing Japan who had previously held this position. According to the United Nations Conference on Trade and Development (UNCTAD), the top five countries in terms of outbound investment are the US, Germany, France, Hong Kong and China. Last year, the Chinese mainland's outbound direct investment (ODI) grew by 17 percent to a historic high of $68 billion. China's accumulative ODI by 2010 grew tenfold from a decade ago to $300 billion, ranking 17th worldwide. According to the UN report, China's outbound mergers and acquisitions topped $29 billion last year, accounting for 43 percent of the total overseas investment.

CHINA'S INVESTMENT IN ASEAN COUNTRIES

: For China, ASEAN has been viewed as both potential market and investment base, given proximity and land links. China's direct investment to the Association of Southeast Asian Nations (ASEAN) countries stood around 2.57 billion U.S. dollars since the China- ASEAN Free Trade Area came into force one year ago, according to an official from China's Ministry of Commerce (MOC), reported Xinhua News Agency in China. ASEAN market, with a total population of nearly 600 million, is attractive and given ASEAN FTA (AFTA) in place, many types of goods produced in and traded among country members are enjoying zero duty. These factors have so far contributed to China's increasing investment into ASEAN's industrial sector. More at our article "maximizing trade under the ASEAN-CHINA FTA"
---