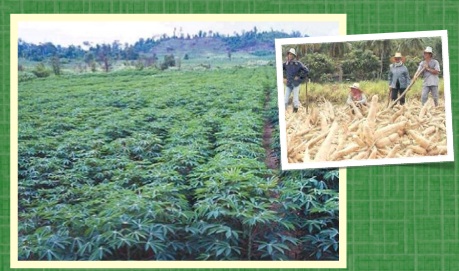 Ethanol projects in Northearn Thailand
Cassava is Thailand Northeastern region's key crop. Ethanol projects largely dominated investments seeking promotional privileges from the Board of Investment (BoI) in the region last year, which totalled 62 billion baht, reported the Bangkok Post newspaper in early 2008. Five ethanol plants approved by the BOI are being established at a combined cost of 16.5 billion baht. These plants would be located in Nakhon Ratchasima, Ubon Ratchathani, Chaiyaphum, and Kalasin over the next few years.
The planted area of cassava in Thailand rose to 7.47 million rai in 2006, up 12% from 2005. Yields in 2007 increased by 36% in the same period to 26.41 million tons, and from only 15 million tons the country produced 10 years ago. Based on a report of the Office of Agricultural Economics, cassava is now grown on 3.96 million rai in 19 northeastern provinces. Fresh-cassava output exceeds 14 million tonnes, up strongly from 8.7 million tonnes the region harvested two years ago. Its farm value last year increased to 29.58 billion baht, up from 29.13 billion in 2006 and 22.52 billion baht in 2005.
According to a study of the Thailand Development Research Institute (TDRI), the farm sector will create 13.21 million jobs nationwide between 2007 and 2009, the second-highest after the services sector, which is expected to hire approximately 15.10 million employees during the period. The TDRI indicates that most employment in the farm sector will be spread among the northeastern provinces, at about 6.17 million jobs, followed by 2.98 million in the North and two million in the central region.
Investment in Neighbouring Countries
Thai companies are being encouraged to invest more in producing grains for the animal-feed industry in neighbouring countries where they can benefit from a regional co-operation program, reported the Bangkok Post. For producing ethanol, experts found that Burma, Cambodia and Laos offer opportunities to grow maize and soybeans at lower cost under the Ayeyawady-Chao Phraya-Mekong Economic Co-operation Strategy (Acmecs).
Some Thai companies, such as the CP Group which is involved in the maize intergration business, have started taking advantage of this Acmecs program as prices of maize have increased substantially.
Food Crops VS Higher-priced Crops
Thailand is seeking cooperation between various government agencies such as the Agriculture, Energy, Industry and Commerce ministries in setting a national agenda to reduce supply and demand pressures that could intensify between the need for energy and for food. As more farmers turn to higher-priced crops, this will inevitably lead to smaller areas of food crops, then food prices will rise as a consequence. The Agriculture Ministry will also have to investigate whether farmers are really benefiting from higher prices for farm goods or simply being forced to bear higher costs of living like everyone else, also reported the Nation newspaper, one of the nation's leading newspaper.
Last year 7.3 million rai was planted with tapioca, producing 26.72 million tons of cassava root. The area is expected to increase marginally to 7.4 million rai this year, for an output of 27.97 million tons. At present, domestic consumption demands 6 million tons. The rest is exported. The Office of Agricultural Economics is still optimistic about tapioca prices, which are now Bt1.90 per kilogram, against a farmer break-even point of Bt1.20. Still, with higher demand for ethanol production from limited plantation areas. The Agriculture Department faces the need to raise tapioca yields from 3.2 tons per rai to 3.5 tons.
Because corn is more expensive, China and Europe need more tapioca for animal feed and energy production. Consequently, this will raise prices further and could lead to farmers switching land from sugar cane to tapioca.
Sugar - Facing Troubles
Thailand's sugar production this year is expected to be about 7 million tons. Of this, 5 million tons will be exported. Thailand's Commerce Ministry is expecting a sugar problem. The Nation newspaper reported that due to an ongoing disputes with sugar mills, farmers who suffered from low prices last year may turn to other crops. This will hurt the country's 11 ethanol plants, which need sugar molasses as a raw material. The Office of Agricultural Economics predicts the plants will need 1.87 million tons of molasses this year, but output will be only 1.48 million tons. The office foresees that the farmers might be more enthusiastic about planting sugar cane if there were a benefit-sharing scheme between sugar mills and farmers for revenue from molasses. At present, farmers make money only from sugar cane.
---
More of our useful articles: