---
Recently, data from the annual World Economic Forum (WEF) surveys show that Thailand's overall competitiveness ranking by the WEF is 39th in 2011, down from 38th in 2010, 36th in 2009, 34th in 2008 and 28th 2007.
Even though it seems that Thailand's ranking is only one point lower, the key contributors to competitiveness — institutions, health and primary education, higher education and training, and technological readiness — worsened from previous years.
The important aspect to note is that Thailand's key indicators for 2011 competitiveness have worsened from 2007-11.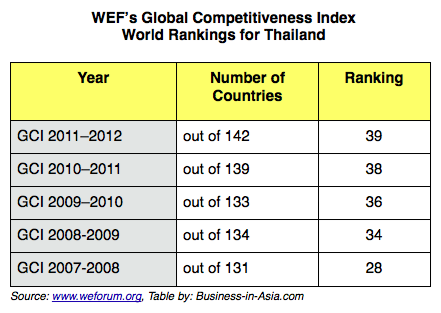 The World Economic Forum's Report's Comments on Thailand for 2011-2012
(Source: www.weforum.org)
The 2011-2012 report covers 142 major and emerging economies. The Global Competitiveness Index measures the set of institutions, policies, and factors that set the sustainable current and medium-term levels of economic prosperity, depending on how productively a country uses available resources. There are now many annual ratings of a country's competitiveness. This annual report is the original annual rating and the one that we still feel is the best in term of the survey done by the World Economic Forum (WEF): The Global Competitiveness Report (GCI). The annual report has been published since 1979.
The report commented on Thailand for 2011-2012:
"Although dropping one more rank, Thailand (39th) maintains its score and appears to be stabilizing after its eroding performance of the previous four years. The improved macroeconomic environment (28th, up 18 places) represents the most positive aspect of Thailand's accomplishment in this year's assessment.)
Its public deficit has been reined in and brought to a more manageable level, and the efficiency of its labor market also stands out positively (30th). Moreover, labor markets are flexible (44th) and allow for an efficient allocation of talent (34th).
However, many challenges will need to be addressed to make Thailand more competitive. One of the biggest areas of concern is the efficiency of its public institutions (74th), which has been deteriorating over the past three years. Property rights for intellectual as well as physical and financial goods remain under protected (101st), and the worrying security situation imposes a high cost on business (91st). It remains to be seen what impact the new political landscape will have on the economy and whether the new government will succeed in restoring the trust and confidence of the business community."



Our Comments:



- Thailand's performance in the WEF's report, in terms of institutions, fell 20 places from 2007 to 2011. The most alarming declines found in property rights (down 58 places to 108th) - lower than Vietnam, intellectual property protection (down 48 to 92nd), public trust in politicians (down 31 to 91st), transparency of government policymaking (down 36 to 75th), reliability of police services (down 40 to 91st) and business cost from terrorism, stemming mainly from unrest in the South (down 15 to 117th)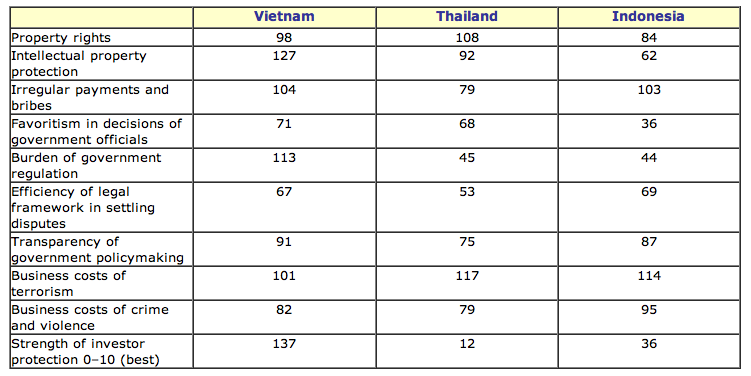 Source: www.weforum.org; table by Business-in-Asia.com

- Education and Innovation: The deterioration in the area of quality of primary education (30 to 85th) and enrollment in primary education (down 8 places to 95th) and lower than Vietnam. Higher education and training indicators were dragged down by secondary education enrollment (down 4 places to 94th), quality of the education system (down 36 to 77th) - lower than Vietnam and Cambodia, quality of math and science education and Internet access in school are also lower than Vietnam. Quality of management schools (down 40 to 73rd).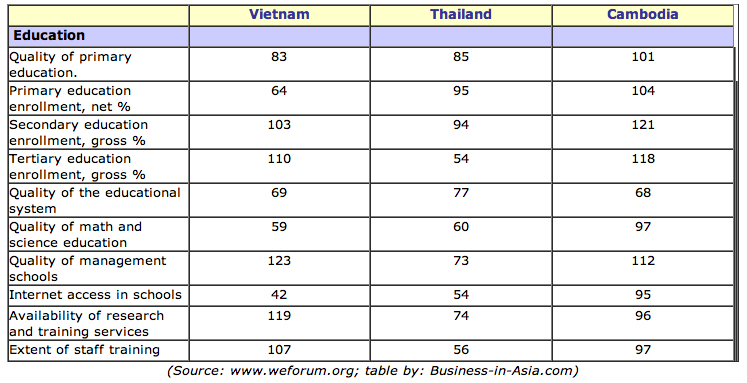 Comparing to other Asian countries, China moved up one place to 26th in primary education, poverty reduction, good market efficiency and innovations. On innovation, Singapore climbed up one place to second in the world and the Philippines also improved 10 places to 75th in innovation; while Thailand remains in the same position as last year (56). Our comment: consecutive Thai governments have not done enough in priortizing improvements in education. This area needs to be addressed by all facets of Thailand's society.

- Thailand's low technology readiness ranking reflected availability of latest technology (down 41 to 82nd), company-level technology absorption (down 31 to 75th), and internet users (down 21 to 93rd).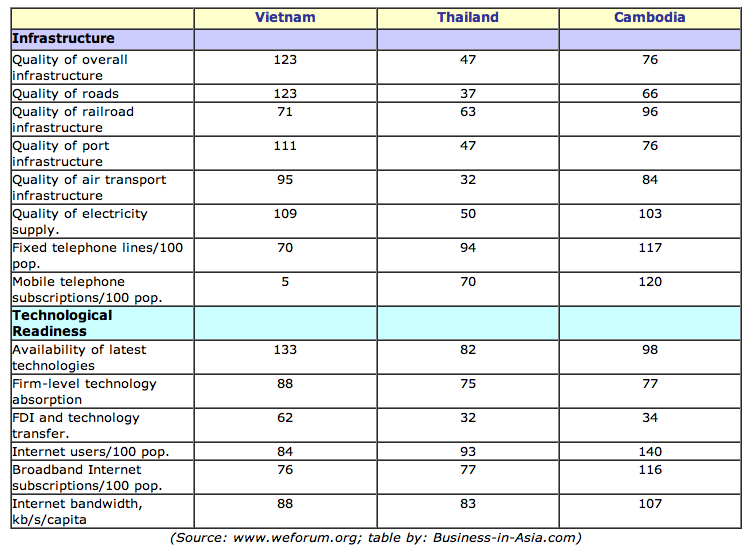 - Thailand leads over other countries like Vietnam and Indonesia in physical infrastructures, health and financial market development. However, the flood's effect on the economy will be long-lasting. Public as well as private infrastructure needs to be repaired or reconstructed. Canals need to be cleaned and repaired and the nations system of surface water canals, rivers, etc. needs to be greatly improved. During that reconstruction period, production will not return to full-capacity, which will lead to a contraction mainly in the production side of the economy, such as the manufacturing and transport sectors.

- Besides suffering from political instability in the past years , the country now suffers from one of the highest rates of income disparity in the region, facing the 'middle income trap', a fact that has certainly contributed to the social and political tensions of recent years.

- Preventative systems for future floods: (read our article, "Thailand Floods Disrupt Supply Chains") The flood crisis has presented an opportunity for the country to start planning a long-term and much needed comprehensive flood prevention system. The government is now facing a monumental challenge in fulfilling its commitment to investors that the flood would not happen again this year.



What Next?



Just recently, the Thai government has announced the reduction in corporate income tax effective in 2012. By decreasing taxation costs, it hopes to appease business ire with the government and help strengthen the competitiveness of the Thai private sector and encourage new investment. As of Jan 1, corporate tax rates are now 23% and will fall to 20% in 2013 compared with the previous rate of 30%. At the same time, the government plans to overhaul personal income tax rates to reduce the tax burden for lower and middle-income earners.

Our view is that the floods and more importantly Thai government actions in responding to the floods have already lost Thailand considerable luster in global boardrooms. Thailand will need to play catch up to help convince these companies that it has fully responded to the dangers exposed by the floods and the rather chaotic government response. This will not be an easy task. The move to lower corporate tax rates will be welcomed by business but it is a little early to say at this point whether this was a brilliant move to improve productivity and lower costs or an act of desperation by a government that proved to be highly chaotic in its response to the challenges created by the 2011 floods.




---



About the Author:

Christopher W. Runckel, a former senior US diplomat who served in many counties in Asia, is a graduate of the University of Oregon and Lewis and Clark Law School. He served as Deputy General Counsel of President Gerald Ford's Presidential Clemency Board. Mr. Runckel is the principal and founder of Runckel & Associates, a Portland, Oregon based consulting company that assists businesses expand business opportunities in Asia. (www.business-in-asia.com)

Until April of 1999, Mr. Runckel was Minister-Counselor of the US Embassy in Beijing, China. Mr. Runckel lived and worked in Thailand for over six years. He was the first permanently assigned U.S. diplomat to return to Vietnam after the Vietnam War. In 1997, he was awarded the U.S. Department of States highest award for service, the Distinguished Honor Award, for his contribution to improving U.S.-Vietnam relations.


---