---
Vietnamese ambassador to Thailand, Nguyen Duy Hung, commented recently that bilateral trade between Thailand and Vietnam should grow by 64% in 2010 despite economic and political problems that Thailand has recently experience, reported the Bangkok Post newspaper by Umesh Pandey. The two-way trade of both countries is targeted to reach US$10 billion in 2010, said the Ambassador.

The increased awareness of the benefits of investing in Vietnam has helped attract more Thai businesses (read more here). There are over 216 investment projects in the pipeline that are being undertaken by about 25 large Thai companies in Vietnam

VietNam's exports are enjoying a larger market share than their Thai counterparts in the US, the EU and Japan, according to a recent study conducted by the University of Thai Chamber of Commerce's Centre for International Trade Studies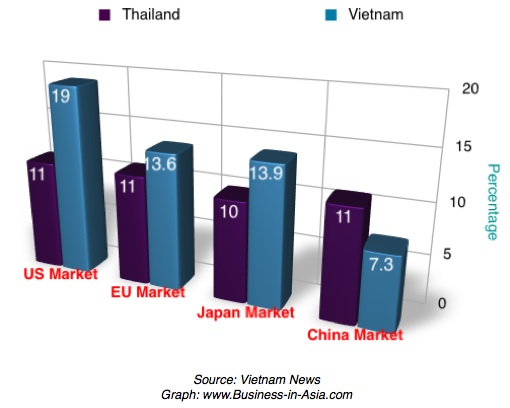 (Notes: most of the U.S. market trade is accounted for by garments, textiles and shoes;
of the major markets, Thailand has the advantage in China)

In the graph above:

- Vietnam holds a 19 % share of the US market, while Thailand holds 11 % - in Vietnam - most of this is accounted for by garments, textiles and shoes;
- Vietnam has a 13.6% share of EU markets against Thailand's 11 per cent
- in Japan VN occupies a 13.9 % market share in comparison with Thailand's 10 %
- Of the major markets, Thailand only has the advantage in China with an 11 % market share, compared to Vietnam's 7.3 %.

Economic experts foresaw that last year's 5.2 % devaluation of the Vietnam currency (Dong) and possibility of another 5 % depreciation this year could slow down Thailand's Exports even further. Thailand's export growth have been projected to grow 10.5 % in 2010 compared to a 15.1 % increase in 2009. If Viet Nam devalues its currency another 5 per cent this year, Thai exports will be 0.82 % lower than the estimated 10.5 % expansion, according to the study. At the same time, the Thai currency (Baht) is expected to continue appreciating to 31 to the US dollar in the first half of 2010.

Furthermore, The US, Viet Nam and Australia are in negotiations to join the Trans-Pacific Strategic Economic Partnership Agreement (TPP) with New Zealand, Chile, Singapore and Brunei. If Viet Nam joins the trade zone it will enjoy preferential trade tariffs with all other member countries and Thai manufacturers will face more difficulties. Sectors that would be the most influenced by the new agreement include garments, shoes, farm products, electronics and food processing.

This year Vietnam is the current chair of ASEAN, following Thailand's unstable leadership in 2009 (please read more at our ASEAN page). Vietnam's government is getting ready for even more foreign investment. Vietnam has particular interest in cooperation in scientific research, education and training with the ASEAN community, achieving hopes to continue initial results in these areas in co-operation with Singapore and Thailand. The new Vietnamese Ambassador to Thailand, Ngo Duc Thang, would continue to promote trade between the two countries following in the path of the outstanding achievement from his predecessor, Ambassador Nguyen Duy Hung.



---