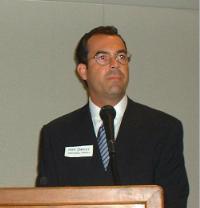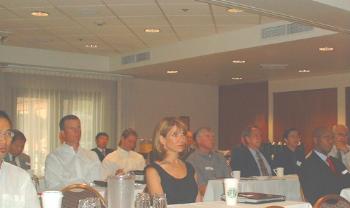 (Left) Thailand Honorary Consul General of Portland, Oregon, Mr. Nick Stanley. (Right) Participants listen to Mr. Stanley's speech opening the Thailand Investment and Trade Seminar.
The seminar was opened by the Thailand Honorary Consul General of Portland, Oregon, Mr. Nick Stanley. Mr. Stanley thanked Chris and Soraya of Runckel & Associates for their work in organizing the seminar and extended his welcome to all attendees and his hope that everyone would gain a better understanding of Thailand during the two hour seminar. Mr. Stanley stated that he was thoroughly convinced that Thailand was an excellent location for investment and trade and he urged all the participants to look at Thailand as a place to invest and do business. He said the Consulate General of the Kingdom of Thailand in Portland believed that increased Trade and Investment between Thailand and the Pacific Northwest would help to improve the economy in both locations by creating quality jobs in trade and further deepen the already wide and broad ties between the Kingdom and the U.S.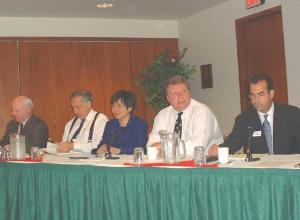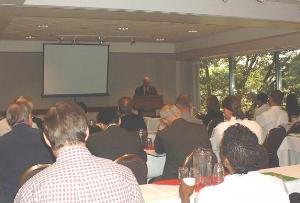 (From left) Mr. John Wilkinson from Jeld-Wen Industries of Oregon, Mr. Walt Evans of the Pacific Northwest International Trade Association (PNITA), Ms. Vasana Mututanont of the Government of Thailand Board of Investment (BOI), Mike Doyle, Director of the International Division for the State of Oregon Economic & Community Development Department (OECDD), and Mr. Stanley, Consul General.
(Right) Mr. Christopher Runckel, President of Runckel & Associates, introduced the organizers and speakers to the participants.

Mr. Stanley was followed by Mike Doyle, Director of the International Division for the State of Oregon Economic & Community Development Department (OECDD). Mr. Doyle said that the way Oregon business should look at Thailand was as an entree to Southeast Asia. He said if Southeast was looked at as a block which is what it is, it is Oregon's largest trading partner and everyone ought to be considering it. Doyle mentioned that Oregon was planning to lead a trade mission to Thailand in conjunction with the APEC meetings to be hosted in Bangkok in October and urged interested Oregon companies to contact the OECDD.
Mr. Doyle was followed by Walt Evans of the Pacific Northwest International Trade Association (PNITA). Mr. Evans said that PNITA was dedicated to the creation of quality living wage jobs in Oregon and felt that international trade with Asia offered excellent opportunities for the State. He urged attendees to not look at Asia as a challenge but as an opportunity that could create jobs, earn exports and make profits for Oregon companies.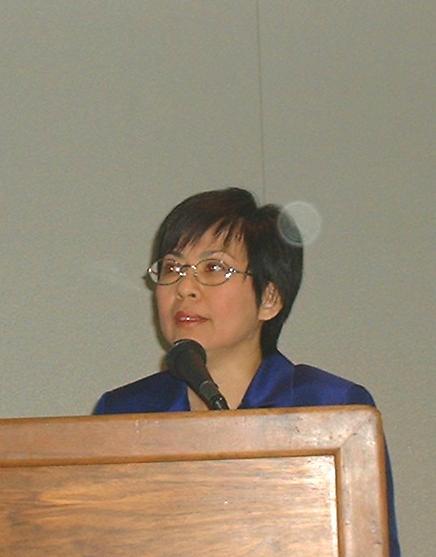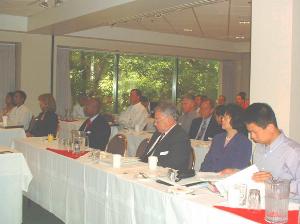 (Left) Ms. Vasana Mututanont from Thailand Board of Investment (BOI) presents a presentation on Investment in Thailand, while (right) the participants look on.
The first featured speaker, Ms. Vasana Mututanont for the Government of Thailand Board of Investment (BOI) then spoke. She explained that she heads the BOI office in New York and that the New York office provides assistance to all of the U.S. and Canada. Ms. Mututanont noted that most big-name corporations were already in Thailand. These include Ford, Chrysler, GM, Proctor and Gamble, Lucent, Intel, Dole, Cargill and even fairly small companies like Montana Fly, a fishing tackle company located in Montana. The Thai people speak and read English well, are hard working and are part of a peaceful, stable and business oriented society that is modern and very centrally located in Asia. Japan is the largest investor in Asia and the USA is number 5 although if investment in the Oil and Gas sector is included the U.S. would be number one. Ms. Mututanont said that Thailand seeks to attract companies to locate in Thailand with the purpose of creating jobs, expanding exports and assisting the areas continued development. She said that Thailand offered more incentives in certain areas further from Bangkok to encourage increased development in these areas. For promotion purposes, Thailand was divided into three zones with an additional sub-area in Zone 3 that included the most remote provinces where the Thai government offered the highest incentives because of the need to expand infrastructure in these areas and to create employment. A scanned document of Ms. Muntutanont's presentation is included with this document showing the incentives and target incentives. In concluding, Ms. Mututanont urged those interested in Thailand to explore the BOI website at
www.boi.go.th
which has been consistently ranked the #5 top ranked investment promotion website in the World.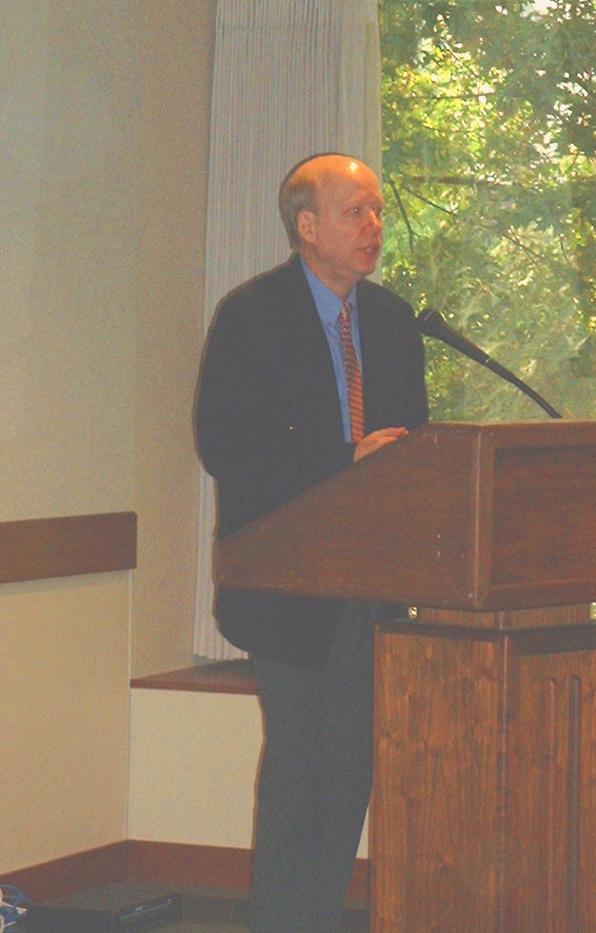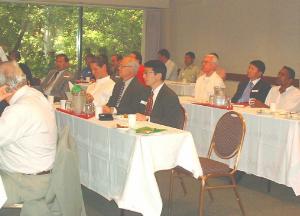 Mr. Chris Runckel, President of Runckel & Associates, speaks to the participants
Chris Runckel, President of Runckel & Associates, who worked for the White House and U.S. Department of State with years of experience in Thailand, was the second featured speaker. Runckel covered some of the issues introduced earlier. He noted that Thailand's economy was expected to increase this year by approximately five percent. The figure had been six percent earlier in the year but unfortunately Thailand's success in tourism worked against it in this case as the fall off in tourists caused by fear of SARS would slow economic growth. Runckel noted this was despite the fact that Thailand had never had a home grown case of SARS and had further more shown that its medical care system was strong by handling the two cases of tourists who had contracted SARS elsewhere and then been medically evacuated to Thailand. This showed Thailand's strong medical care was not only strong but superior to that found in Hong Kong, Singapore and even Canada who had experienced more difficulty controlling the spread of the disease.
Runckel noted that his company often worked with investors interested in locating a factory in Asia. In these cases, his firm advised that the company look at multiple locations. He then discussed the comparison of investment opportunities offered by Vietnam, Thailand and China. Runckel demonstrated that Thailand was overall the best choice at the present in both price and other factors and that although not always the lowest cost labor supplier often won out overall (please refer to Comparison Table at:
http://www.business-in-asia.com/investment_comparison.html
) Runckel discussed the good transportation infrastructure (roads, ports, railroad and airports in Thailand and discussed Rayong an area considered Zone 3 - the Maximum for BOI privileges) and also an industrial zone near Rayong that they feel offers excellent opportunities for U.S. companies. Runckel said his company particularly favors Rayong because although new factories established in the province get maximum BOI incentives, the province is close to Bangkok and to modern ports, had good infrastructure and was also a very attractive place to live and work.
Runckel noted that Thailand is the 14th largest Automobile Market and is expected to move up to the number 10 position within two-four years. Runckel listed the many car makers producing in Thailand primarily in Rayong and Ayuddia (about an hours drive from Bangkok). Runckel noted that many U.S. car and auto parts companies were already in Thailand and showed a list of companies currently doing business. Runckel also noted that this sector of the economy is hot right now and many U.S., Japanese and European companies are buying Thai firms to expand their hold in the growing automobile sector. Runckel noted that Thailand is the largest producer of pick-up trucks in Asia and that it exports these to Cambodia, Vietnam, Laos, Malaysia and elsewhere in Asia.
Mr. Runckel, a former Senior U.S. diplomat, also discussed the international political factors that were making the Southeast Asian region more attractive. These include the Asia Free Trade Area (AFTA) that just this year had led to the reduction of customs duties to 5% or less on the majority of items exported to neighboring countries. Runckel also discussed the Thailand-China Free Trade Agreement that was announced last year in Bangkok. This agreement has already led to an agreement whereby all Thai agriculture items are tax free for entry into China. It further has cemented Thailand's leadership in building an AFTA- China Free Trade agreement that China and Thailand both believe will be achieved in the next several years. Runckel explained the effect this agreement was having in spurring Japan to speed up its own plans for a free trade agreement with ASEAN. Japan had earlier announced its plans for an AFTA-Japan Free Trade Agreement but then taken a slower initial approach in implementation. The China agreement is causing Japan according to Runckel to act more quickly and therefore makes Thailand a very good option to not only for export to Southeast Asia but also to China and in the future Japan as well.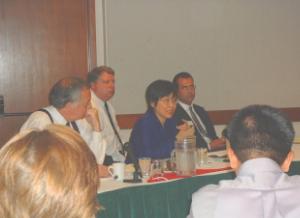 (Left) Mr. John Wilkinson, Vice President Pacific Rim Operation of Jeld-Wen Industries, shares his company's experiences in Thailand. (Right) Ms. Vasana Mututanont responses to a question from the participant.
Mr. John Wilkinson from Jeld-Wen Industries of Oregon was the last speaker. Mr. Wilkinson noted that his company currently has operations in 8 countries and does over a billion dollars in sales. The company primarily focuses on construction materials – doors, windows, etc. In Thailand, the company owns two factories with a total of about 6-700 workers. One factory produces totally for export to Japan and the other factory produces partially for the Thai market and partially for export. In respect to the local market, Jeld-Wen entered the market when the economy was at its lowest point as a result of the Asian financial crisis. This had passed but the construction market was just starting to recover and Mr. Wilkinson said that his company was just starting to see the results.
Mr. Wilkinson gave a very frank presentation noting that his company had received a warm welcome in Thailand and had found Thai employees to be hard working, very cost competitive and quite trainable. Mr. Wilkinson said that his company had never been requested to pay any inappropriate payments and that shipments moved quickly in and out of the country and that the country had good roads, ports and airports. Mr. Wilkinson noted challenges his company has faced with developing Thai management talent and initial difficulties in understanding BOI reporting requirements. In summation, he said, however, that his company was very satisfied with there two plants in Thailand, both plants were profitable and that Jeld-Wen Corporation had no thought of moving the plants elsewhere.
A question and answer period concluded the program. The BOI representative and Mr. Runckel stayed to answer questions. Totally over 40 Pacific Northwest companies attended the seminar and comments from attendees was uniformly positive as to the quality of the speakers and the information provided.
---