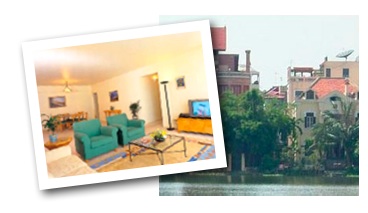 Vietnam is in the midst of a supply shortage for property projects and office rents in Ho Chi Minh City are now more expensive than those in Bangkok, Jakarta and Manila and are rising by the day. Rising foreign investment, which is expected to reach $6 billion this year compared to $4.5 billion last year, and the level of official development assistance (ODA), which remains at more than $3 billion a year, are drawing more foreigners to Vietnam.
Condominium and Serviced Apartment
Prices of condominium units are also rising sharply and are selling like hotcakes. Foreigners living and working in Vietnam are driving up demand for high quality apartments. Most of the expats first live for months in hotels, then moving to a serviced apartments. There are usually two choices of serviced apartment: a serviced apartment building built to lease exclusively to expatriates, and locally built apartments.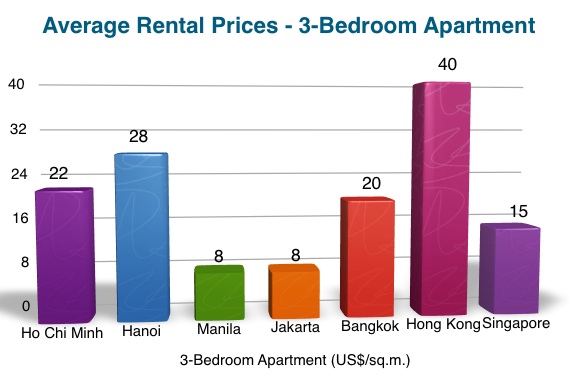 In the old days, it was almost impossible for expats to find a locally built quality apartment that was professionally designed, well constructed and well-furnished. Now, there are actually housing complexes developed by local contractors, such as Vinaconex, designed and built to sell to Vietnamese. Many of these complexes are of good quality and Vietnamese owners buy them as investments to lease to foreigners.
In Hanoi, the complex like Trung Hoa-Nhan Chinh, which is about seven kilometers from Hanoi's downtown area, has become a community not only for well-off Vietnamese, but also a lot of foreigners, especially Koreans. There is also another area close to West Lake: the newly completed first phase of the Indonesian-bank Ciputra International City. This place is drawing more foreigners to lease spacious villas and apartments. The United Nations International School (UNIS) has been set up in Ciputra for foreign children there and this makes this area even more desirable.
Down in Ho Chi Minh City, Phu My Hung residential complex has become a favorite address for expatriates. Alongside the waterfront, a high-end serviced villa complex built for lease to foreigners, many of the Vietnamese owners there are leasing their properties to Koreans, Taiwanese and Singaporeans. Khaisilk, a restaurant operator and silk cloth trader, has bought a number of apartments and villas at Phu My Hung and leased them to expatriates, who can find Franco-Vietnamese Hospital, some international schools, a golf course, a spacious playground and in the future, a shopping mall and cinemas nearby.
| | |
| --- | --- |
| Location | Price |
| Locally built serviced apartment - A 120-square meter apartment | Rental fee about $800 to $1,500 a unit a month. |
| Newly developed residential developments such as Phu My Hung and Ciputra | Rental levels at new developments range from $600 to $1,500, much lower than the rate a serviced apartment charges. |
| Hanoi's serviced apartments | At an average price of $20 per square metre a month. |
| Prices of condominium units | With per-square metre prices ranging from $1,200 to in excess of $4,000 |
Source: VCCI;
Table: by Runckel & Associates
Some of the Serviced apartment in Vietnam:
The serviced apartment market has become tighter over the last few years due to increasing demand and small supply. Rentals in this category are very hard to find. Almost all buildings are full.
Strengths
Upcoming

Sedona Suites
Hanoi Towers
Sofitel Plaza


190-unit Pacific Place
80-unit Skyline Building
DMC office and apartment building opposite the Daewoo Hotel
HCMC


Phu My Hung, one of several fast-growing districts in HCMC
LTT Court
HBT Court
Nguyen Du Park Villas
the Manor
the Lancaster
Pasteur Court
Avalon
Saigon Pearl
Saigon Residences
Strengths
Weaknesses

Vibrant fast-grwoing ecomony
Political stability and safety
Foreign investment welcomed
Ground level opportunity - still early days
Beneficial investment terms available
Improving legal system
Low costs

Project delays
Legal system
Land clearance
Land title
Uncertain planning
Vulnerable to force majeure
Immature market
Inexperienced developers and partners
Infrastructure
Real Estate Investment Overview
(as of May, 2007)
Foreign Projects in real estate: 115

Location:
Ho Chi Minh City: 52
Hanoi: 24
Others: 39
Types:
Golf courses: 19
Office building/apartment: 19
Urban development: 9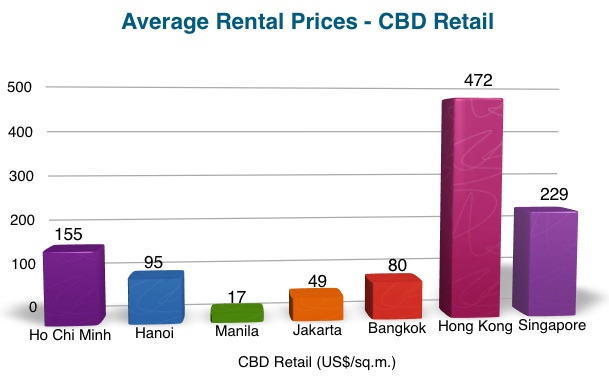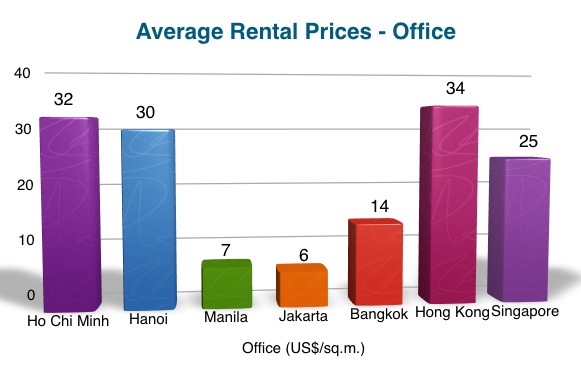 Hotels in Vietnam

The Vietnam National Administration of Tourism estimates that the country will receive over four million foreign visitors in 2007, a 14 percent rise over last year. While the number of tourists and foreign business people coming to Vietnam to attend conferences since Vietnam's admission into the WTO (World Trade Organization) increased sharply, the number of hotel rooms has not increased at the same pace.
Vietnam is no longer an inexpensive but an exotic destination. Hotel prices in Vietnam are quite high and during this year's peak spring travel season, travel agents report that prices for accommodation rose as much as 60 percent over the previous year's rates. There also is a shortage of international standard hotel rooms.
Despite the hotel shortage, Vietnam is still hoping to lure six million foreign visitors annually to its shores by 2010.
The above conditions are making for higher prices for hotel rooms, apartment and house rentals for foreign business owners but they also have been noted as an opportunity for many investors. Currently investors from Vietnam and overseas are considering numerous projects for new hotels, apartments and other complexes. The skylines of Hanoi and Ho Chi Minh City will be changing as a result so market forces are at work but they may be not fast enough for many hotel, apartment and house seeking expatriates who are destined to face higher costs in the years ahead.


---
More of our useful articles: