---



(Picture above) From left: Dr. Wim Wiewel -

PSU President

; Mr. Loi Nguyen, EIU Associate President; Dr.Nguyen Van Phuc, EIU President; Dr. Michael Reardon, EIU Co-President and Dr. Gil Latz, PSU Vice Provost for International Affairs.



(Picture above)

Dr.Nguyen Van Phuc, EIU President signed the Memorandum of Understanding (MOU) with PSU; while

Mr. Loi Nguyen, EIU Associate President and

PSU President Dr. Wim Wiewel looked on.




Human Resource development is getting increased focus not only in the boardrooms in Vietnam but also in Education. An example of the growing focus on education is the recent visit to Portland, Oregon of Dr. Nguyen Van Phuc, President of Eastern International University (EIU) in Binh Duong, Vietnam and the Associate President Loi Nguyen. Both senior educators of the newly established Eastern International University in Binh Duong were in the US to cement collaboration with Portland State University.

Why PSU?

The reason is that PSU has over the last 10 years built a large number of collaborative learning projects in Vietnam. These include the Intel Vietnam Scholars (IVS) program, a highly successful program in computer engineering and computer studies with the University of Science in Ho Chi Minh City plus programs in sustainability, urban planning, leadership and many other fields.


(Picture above) In front of PSU's College of Engineering - from left: Chris Runckel - President of Runckel & Associates, Nguyen Loi and Dr. Nguyen Van Phuc.



(Picture above)

A meeting with Dean of the Business School of PSU, Dr. Scott Dawson.




As of the fall of 2010, PSU had 136 Vietnamese students studying in programs with the University; of those, approximately 50 are IVS, and 25 are U of Science/Computer Science (transfer students after 2 years in HCMC). Vietnamese students studying at PSU are the fifth highest in total and the President of PSU says he wants that figure to rise with new programs like that with EIU and others. In terms of international students studying at PSU, Saudi Arabian students are first followed by China, India, Japan and then Vietnam.

EIU is one of Vietnam's newest and most modern and well laid out Universities. Students are registering now for start of programs in August 2011 and plans as approved by the Ministry of Education and Training(MOET) are for a beginning class of near to 1,000 students.


| | |
| --- | --- |
| | |
| | |
(Pictures above)
The Eastern International University (EIU) in Binh Duong province, Vietnam, has a Western-standard and well laid out campus to facilitate its new students.

Initial programs will include:


- Standard undergraduate programs approved by MOET
- Business Administration (the most popular course in most Vietnamese Universities)
- Science Engineering Technology (EIU SET) faculty with programs in
Electrical & Electronics Engineering Technology

Automation Engineering Technology

Mechatronics Engineering Technology

Mechanics (Machine Building Engineering Technology)

EIU which now has over 10 buildings in a well laid-out and landscaped campus of over 26 hectares is a 1.7 trillion Dong (US$100 million) project that is a first in Vietnam as the campus with its new teaching classrooms, dormitories and administrative and support buildings would not look out of place in Singapore, the U.S. or Europe. By comparison, most Vietnam Universities, which are state-owned, tend to be housed in overcrowded and not well laid out facilities that have skimped on maintenance and are often rapidly deteriorating under heavy use and lack of needed repairs and upkeep.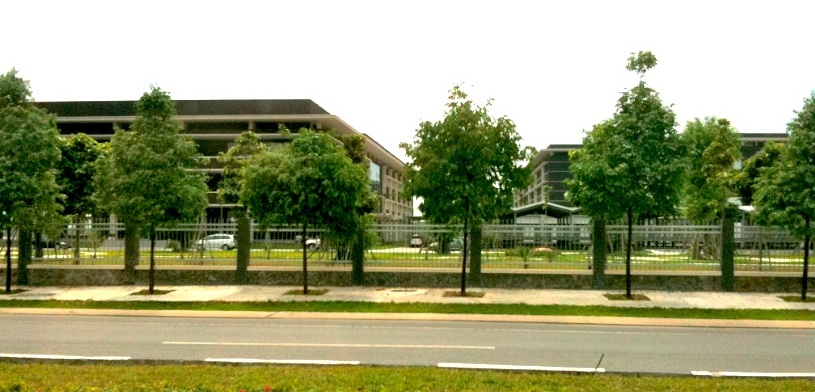 EIU not only differs in its outward appearance but also in its focus. EIU, which sits in the middle of Binh Duong New City, the future hub of the province, is surrounded by over 20 industrial parks, logistical and other business support facilities. In total 10,000 businesses are in the province. Binh Duong is part of the Southern Key Economic Zone (SKEZ),which includes Ho Chi Minh City (Saigon) and the four surrounding provinces. This area produces nearly 70 percent of the entire economic wealth of the country and is considered by most western companies as the place to locate because it is close to the major consumer markets but with cost of land, labor, utilities, etc. much less than those in Saigon. EIU was started to serve this growing business sector and to provide the trained human resources and to get them "job ready" so that they can easily make the transition from University to workplace. According to EIU President, Dr. Nguyen Van Phuc, EIU will concentrate on producing graduates who have the not only the technical skills but also the language and soft skills (team building, working in groups, written and speaking skills that business needs). Programs will be both in Vietnamese and in English, particularly in Business and Engineering to help these graduates gain the skills needed.

EIU was founded by Becamex. Becamex IDC Corporation is a state owned company belonging to Binh Duong province. Becamex is the largest industrial park operator and largest infrastructure company in Vietnam. The company operates a total of over 20 industrial parks including the Vietnam Singapore Industrial Park (VSIP) in conjunction with the Singapore government and the My Phuoc Industrial City, the largest integrated industrial and supporting industries project in the country. The Vietnam Singapore Industrial Park (VSIP) hosts some 400 tenants from 30 countries. My Phuoc Industrial City is another mega development of Becamex IDC after their early success in VSIP with a new concept for Vietnam of integrated and self-contained complex city with a master plan of 6,000 hectares – much of which is already sold and occupied.




Currently Becamex is building Binh Duong New City which will be a new City of over 100,000 people which is well on the way to actual completion and already has all the infrastructure and many of the focal sites like a large and modern International University, a logistics center operated by Mapletree in Singapore plus golf course, residential, commercial and government buildings - much of them already under construction and the remainder in the late planning stages. Becamex has 30 subsidiaries and affiliates focused on banking, financing, securities, process and manufacturing, pharmaceuticals, trading especially investment and development of industrial, commercial and residential projects.

Becamex focus on human resources development and education is welcomed by parents, business owners and elements of the New City. All are locating near to the new facility to both support it and to also gain in the future as university-business partnerships like EIU is forming often lead to new business start-up companies and most importantly new jobs for the community. With Becamex behind it, EIU is certainly the University to watch in Vietnam.



---
About the Author
:
Christopher W. Runckel, a former senior US diplomat who served in many counties in Asia, is a graduate of the University of Oregon and Lewis and Clark Law School. He served as Deputy General Counsel of President Gerald Ford's Presidential Clemency Board. Mr. Runckel is the principal and founder of Runckel & Associates, a Portland, Oregon based consulting company that assists businesses expand business opportunities in Asia. (
www.business-in-asia.com
)
Until April of 1999, Mr. Runckel was Minister-Counselor of the US Embassy in Beijing, China. Mr. Runckel lived and worked in Thailand for over six years. He was the first permanently assigned U.S. diplomat to return to Vietnam after the Vietnam War. In 1997, he was awarded the U.S. Department of States highest award for service, the Distinguished Honor Award, for his contribution to improving U.S.-Vietnam relations.