---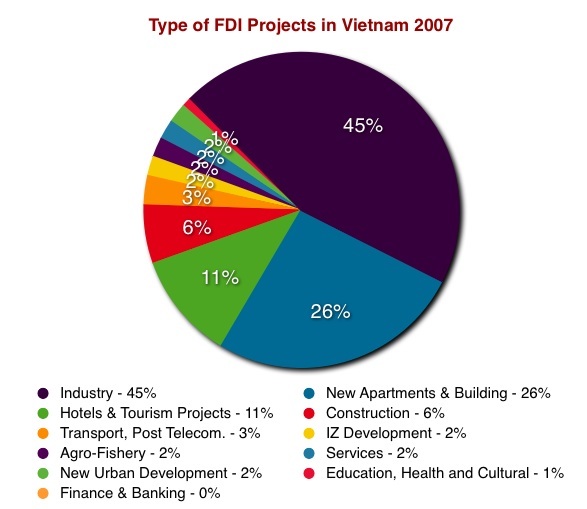 Source: Ministry of Planning and Investment
Graph by: Runckel & Associates

According to Vietnam News Agency (VNS) in a November 27, 2007 report, Vietnam attracted more than US$15 billion in committed foreign investments so far in 2007 and the number is likely to hit $16 billion for the year as a whole, a senior official from the Ministry of Planning and Investment (MPI) said at the investment forum on November 26 in Hanoi. Runckel & Associates notes, however, that for clarity purposes that much of this investment, over half according to reports available, is for property speculation and is not in new factories or in job creating sectors.
These figures, compared to $10.2 billion in 2006, and $6.4 billion in 2005, meant that foreign investment was growing strongly, said Phan Huu Thang, general director of the MPI's Foreign Investment Agency.
"That is the most practical measure of our efforts to improve the business environment in Vietnam," Thang said. Vietnam was ranked number sixth in the world for investment desirability, after China, India, US, Russia and Brazil, according to UN Conference on Trade and Development 2007.
Thang was speaking at an investment seminar entitled, "Viet Nam: the Rising Star - Prospects for Investment and Business", organised by Vietnam's MPI and the Malaysia-based Asian Strategy and Leadership Institute (Asli). The seminar aimed to promote investment by Malaysian businesses in Ha Noi and 31 of Vietnam's northern provinces. According to the conference and to the VNS article reporting on it, Vietnam's economy is expected to grow at 8.5 percent in 2007 and maintain the high growth of 9 per cent through to 2009. Investments are still increasing at 18 per cent a year, accounting for 41 per cent of GDP.
The State budget allocated 55 per cent of its investment for infrastructure and 20 percent for education, Dat said, both areas whose improvement remain major challenges facing Viet Nam.