Frequently if you read about U.S. companies going overseas, the stories you see are about Intel's one billion dollar plus investment in Vietnam or other stories of large and well known brands and the grand opening of their new factories. In 2009, the stories have become less frequent but you still don't hear much about the smaller family-owned or small and medium enterprises (SMEs) which are the largest generators of job growth and whose health and prosperity is critical to us all.


| | |
| --- | --- |
| | This article hopefully in a small way will help to bridge this void in news of these small and family owned U.S. companies and their moves offshore. This is a story of such a company; the company – Acrylic Idea Factory (AIF) – a U.S. based company with a 40-year history and operations in the U.S. and Mexico. Headquartered in Tucson, Arizona, the holding company, Acrylic Idea Factory, has been operational since 1948 with a wide variety of high-quality Acrylic awards and recognition products, interior building signage, and gift products for the photograph industry. AIF has looked to Asia for further room to grow and specifically to Vietnam and to Binh Duong province as a haven in these challenging times. |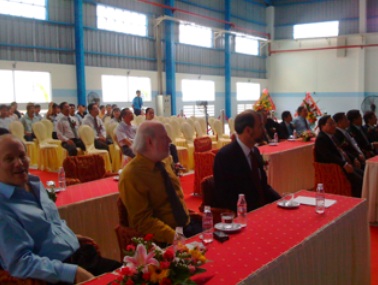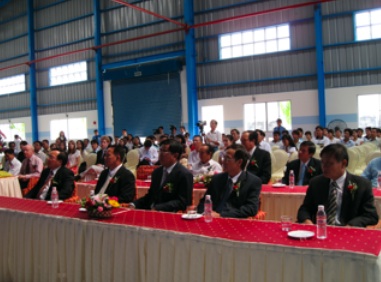 The parents of Eric and Brad Waldstein around their kitchen table conceived the idea of Acrylic Idea Factory over 40 years ago. Mr. Waldstein was fascinated by the then new material of acrylic and how it could be worked to create unique designs such as an acrylic rose that people amazed his neighbors and later customers with his realistic and beautiful creations and these led to a family business that has stood the test of time under the innovative management and creative product creation of Erica and Brad Waldstein, the second generation of this family.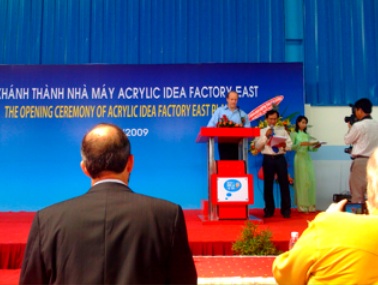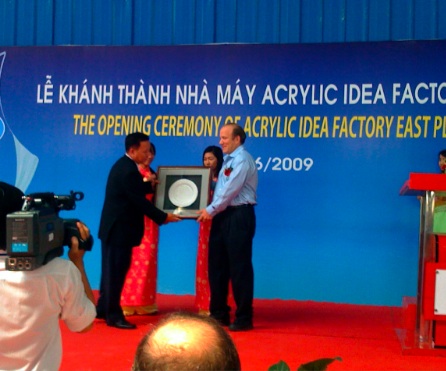 Tuesday, June 9, 2009 represented another big step for Acrylic Idea Factory East Co. Ltd., a subsidiary of AIF, when they opened a factory in the southern province of Binh Duong in Vietnam to manufacture high-quality Acrylic awards for export.

The US$4-million-plus plant of the American firm is located in the rapidly expanding My Phuoc 3 industrial park in the province's Ben Cat District. This industrial park which is owned and managed by Becamex, Vietnam's largest and most innovative infrastructure and industrial park operators.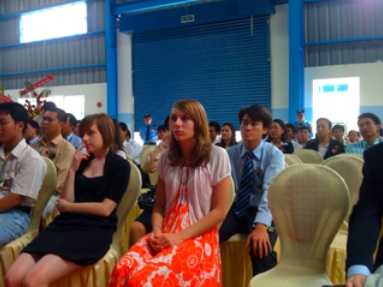 Speaking at the ceremony, Eric Waldstein, Vice President of Acrylic Idea Factory, said this was the 4th and the largest of Acrylic Idea Factories worldwide. The Vietnam facility is able to turn out 120,000 units a month. He said originally neither he nor his brother had any knowledge of Vietnam and lauded the advise and assistance offered by Chris Runckel of Runckel & Associates and the hands-on assistance of Mr. Runckel and his Ho Chi Minh City, Vietnam associate Ms. Nguyen Thi Nhu, nicknamed Ruby, for their on-going help and assistance that led to the opening of the new facility.

Mr. Waldstein continued, "All of our products made in Vietnam will be initially exported to the United States market. Later we will expand sales to other markets in Asia - to Vietnam and beyond". He said.

This is also the first facility of Acrylic Idea Factory East LLC in Asia. He said his company needed a factory in Asia as his international customer base was growing and that to stay competitive, costs should be competitive but quality was always of first importance and that Vietnam had proven over the last year that the company operated out of rental space while the factory was being built that the stories about high quality workmanship that has led Nike, Columbia Sports and so many other U.S. companies to source product out of here was absolutely true for AIF as well.

The facility imports Acrylic material from Taiwan, Thailand and China. In the near future, the company will buy the material in Vietnam, according to Mr. Waldstein, because some foreign companies like Taiwan's Chochen are building facilities here and the supply chain for products is improving.


| | |
| --- | --- |
| | Later, U.S. Consul General to Ho Chi Minh City (Saigon), Ken Fairfax who spoke at the Grand Opening following the most senior Binh Duong Province Authorities welcomed AIF's new operations and noted that Vietnam and in particular Binh Duong province were proving good and fertile ground for American family and small and medium enterprises (SMEs). Separately in a later interview with Vietnam television Consul General Fairfax noted that Binh Duong had consistently been judged the top or nearly top destination for investment in Vietnam. Consul General Fairfax noted that in the Provincial Competitiveness Index (PCI), a tool used to judge all provinces as a location for investment that Binh Duong had been judged the top destination in every year except the most recent when it was number two and that he knew that Binh Duong would be trying hard to return to the number one slot in the coming year. |
In the same interview, Consul General Fairfax lauded the My Phuoc Industrial Zone which is not only home to AIF but also to U.S. companies like Colgate Palmolive, Miller Beer, Gem Manufacturing, Precision Machining Service, United Industries, Huyck Wagner, Remington Sroufe International and Applied Technologies.


| | |
| --- | --- |
| | During the ceremony, Mr. Waldstein presented a check to local schools on behalf of his family for 40 million Vietnamese Dong. The funds were to assist poorer students in Binh Duong Province with their student fees and other school costs. Becamex Senior Advisor Vo Son Dien on behalf of Becamex Chairman Nguyen Van Hung commended AIF for their donation. He noted that My Phuoc Industrial Zone and Binh Duong province welcomed U.S. and other nation SMEs. He noted that AIF was representative of the community involvement, environmental protection and respect and fair treatment of staff that had characterized U.S. and other SME involvement in the industrial zone and in the province. |
As can be seen from the list above, AIF is part of a growing list of U.S. companies choosing Vietnam. Although the global financial downturn has been hard on all companies, big and small, AIF is emblematic of the move by many smaller and family owned U.S. companies to look to Vietnam and to Binh Duong province as a new base for their Asia operations.


---
About the Author:
Christopher W. Runckel, a former senior US diplomat who served in many counties in Asia, is a graduate of the University of Oregon and Lewis and Clark Law School. He served as Deputy General Counsel of President Gerald Ford's Presidential Clemency Board. Mr. Runckel is the principal and founder of Runckel & Associates, a Portland, Oregon based consulting company that assists businesses expand business opportunities in Asia. (www.business-in-asia.com)
Until April of 1999, Mr. Runckel was Minister-Counselor of the US Embassy in Beijing, China. Mr. Runckel lived and worked in Thailand for over six years. He was the first permanently assigned U.S. diplomat to return to Vietnam after the Vietnam War. In 1997, he was awarded the U.S. Department of States highest award for service, the Distinguished Honor Award, for his contribution to improving U.S.-Vietnam relations. Mr. Runckel is one of only two non-Ambassadors to receive this award in the 200-year history of the U.S. diplomatic service.