While Vietnam's economy is increasingly driven by manufacturing, the technology and services sectors are fast catching up. The Ministry of Post and Telematics (MPT) has recently issued an instruction, "Strategic Orientations for the Development of Information and Communication Industry (ICT) of Vietnam in 2011-2020", which is called the "Taking-off strategy". This new policy claims that after 20 years of renovation, the post and telecommunications sector of Vietnam has made comprehensive and outstanding progress, quickly narrowing the gap of development with countries in the region and the world.
| | |
| --- | --- |
| | At present, 100% of communes in Vietnam have access to telephone services. The number of Internet users accounts for 20% of the population. The hardware industry gains an average annual growth rate of 20-30% and that is 30-40% for the software and IT service industry. However, the "Taking-off strategy" aims higher than that. Vietnam's goal is bringing its ICT industry to an advanced level compared to ASEAN countries while post and telecommunications infrastructure reaches the average of developed countries. In the future, ICT and the Internet will be applied widely and deeply in all fields of economics, culture, and politics. Other goals include: ICT to become a key economic sector; some major products in the hardware and software industry to reach the level of developed countries; human resources in the field of ICT to reach the level of leading ASEAN countries in terms of quantity, standards and quality. |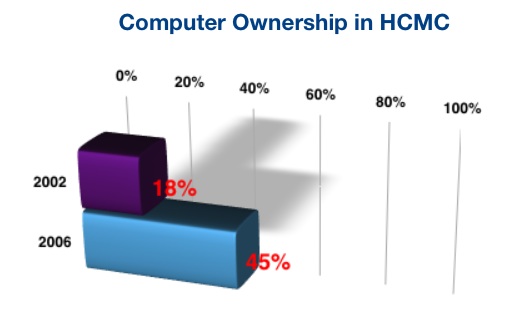 In reality, to achieve these goals, it means Vietnam has to investing on IT and training which will be the priority task. Vietnam will have to perfect its laws and policies to facilitate the development of ICT. Can Vietnam achieve this?
The Internet





Internet World Stats reported there were an estimated 15 million Internet users in Vietnam in early 2007, representing almost 18% of population. Vietnam has shown incredible growth rates of 7,356% since 2000 when it had only 200,000 Internet users. Vietnam's Internet users represent 3.7% of Asia's online


45% of households in Vietnam have computers, compared to 41% in 2005; and 72% of househole have a mobile phone, up from 68% in 2005. 10% of households across Vietnam are predicted to make their purchases online by 2010.

The Euromonitor also reported Vietnam's online travel market is expected to grow by a rate of 20.8% from now till 2010.

The government has announced plans to increase Vietnam's Internet penetration rate to 35% by 2010 and will invest VND 100.5 trillion ($6.3 billion) by 2010 to meet its target. The number of Internet users in Vietnam is forecase to increase to around 30 million, according to the Ministry of Posts and Telecommunications.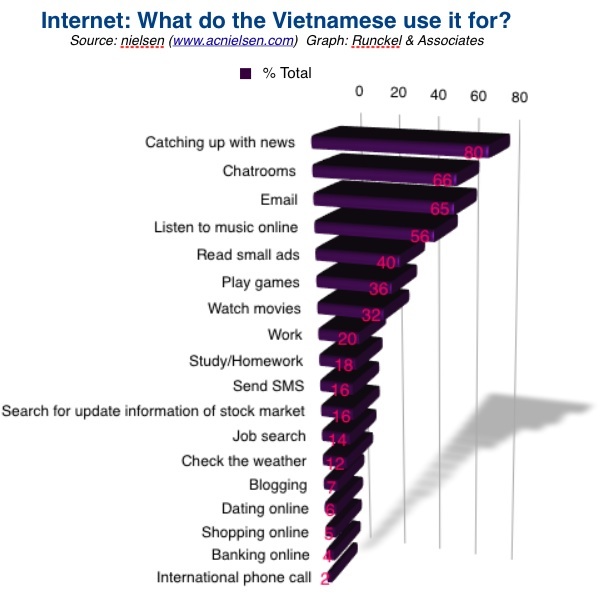 Top Websites:
1. Yahoo!

2. Google.com.vn

3. VnExpress

4. www19.dantri.com.vn/news/

5. 24h.com.vn

(source: Alexa.com, 2007)



Vietnamese Telecom Industry
Vietnam's telecom market was worth US$2 billion in 2005. Its teledensity is at 18.41 per 100 people, meaning that Vietnam's telecom industry is expected to grow. Between 2001 and 2004, the country's telecom sector grew 47.8 percent each year. In the last 3 years, Vietnam's mobile phone market has boomed, exceeding the economy's 8% average growth rate. The number of subscribers increased by 7 million, a 70% jump, in 2006 to reach 17 million people. It is predicted by Wireless Asia that Vietnam will have 46 million mobile users by 2010, growing at a rate of 270% from 2007's level. By 2008, the number of cellphone users in Vietnam is expected to increase to 21 million. The International Telecommunication Union has also named Vietnam as the world's second fastest growing telecom market, after China.
Workers on the Market
Vietnam has 60 percent of population under 30 years old and has a high literacy rate of 96 percent. These factors have contributed Vietnam being included among the world's top 20 destinations for soft­ware outsourcing and infor­mation technology services.
Comparison Among Countries in Asia


Average Age
(years old)

Average Literacy Rate

Average Years of Education

Cambodia

20

69%

9

China

32

91%

10

Indonesia

26

88%

11

Laos

19

66%

9

Thailand

31

93%

12

Vietnam

26

90%

11

Software
Vietnam's software sector was also put on the map after IBM opened its software service office in the Quang Trung Software Centre. Japanese investors also consider Viet Nam as one of the most effective destinations for software outsourcing behind China.
In 2006, the software in­dustry generated US$350 million in revenue, of which $110 million was from outsourcing. There are currently around 750 software firms employing 35,000 people. Many companies have already received inter­national quality control and standards certificates in­cluding CMMI-4 (Capability Maturity Model Integration) and ISO 9001.
Large U.S. investment in Vietnam in this Sector
In 2007, Intel announced an investment of US$300 million to build a semiconductor assembly and test facility in Ho Chi Minh City. Later this investment was raised to one billion dollars. This marked the first such investment by the semiconductor industry in Vietnam. Another U.S.-based firm, International Data Group (IDG), the world's leading technology media, research, and event management organization, pledged to help Vietnam develop its information and communication technology (ICT) industry. IDG was growing at 6% in Vietnam and has invested more than US$100 million in Vietnam by mid 2007.
In mid July 2007, the U.S.' Global Equipment Services (GES) company was granted an investment certificate in HCM City. GES will invest $36 million to build a hi-tech centre inside the HCM City Hi-tech Park. GES plans to hire around 500 Vietnamese engineers. The GES plant will begin to operate in September 2008.
Vietnam's Challenges
Even with the fast pace growth in the ICT sector, Vietnam still faces some serious challenges. Among them:
Vietnam's IT industry is hardware-focused, largely due to widespread software piracy, and the lack of effective intellectual property protection in the country. The Business Software Alliance put Vietnam's software piracy rate last year at 90 percent.
According to experts, Vietnamese companies gain greater awareness of the need for security. The market needs to be educated on the importance of security and availability. The sense of technical discipline is not as good as it should be.
Human resources and management skills still remains a big problems. Human resource training in the country is weak, both in quantity and quality, and far below what is required by western standards. Human resource development should be established to help IT workers master new technology and conduct research and development activities.
The need to improve companies' access to capital. Vietnam unlike much of SE Asia has good access to venture capital but capitalization of many IT companies in Vietnam is limited.

Firms also needs to spend more time on specializing in specific areas of software development, and it ihas been suggested that they increase advertising budgets in order to build relationships with larger companies.
Vietnam needs other institutions to support the market, including insurance, security, co-author and technology consultancy firms.
Corruption and bureaucracy in investment and basic capital construction could also be considered as a serious challenge to the technology market.
Despite the above, Vietnam although it does not get the publicity of India or China remains a highly attractive location for software development and for many IT and IT equipment companies because of the fast pace of growth in the market. If your company is not currently in Vietnam, you would certainly be wise to further investigate this market.
---