---

To date there are several research projects on Vietnam's competitiveness that have been announced, most notably are the annual Global Competitiveness Report by the World Economic Forum (WEF) and a report on ASEAN countries' competitiveness and a provincial competitiveness index (PCI), published annually by the Vietnam Chamber of Commerce and Industry (VCCI).



The "Global Competitiveness Report 2010-2011", released by the World Economic Forum (WEF), has rankings that are based on the Global Competitiveness Index (GCI), developed for the World Economic Forum (WEF) by Professor Salai Martin, and introduced in 2004. The GCI is based on 12 pillars of competitiveness: institutions, infrastructure, macroeconomic environment, health and primary education, higher education and training, market efficiency, labor market efficiency, financial development, technological readiness, market size, business sophistication, and innovation. The rankings are calculated from both publicly available data and the Executive Opinion Survey, a comprehensive annual survey conducted by the World Economic Forum together with its network of partner institutes (leading research institutes and business organizations) in the countries covered by the study. This year, over 13,500 business leaders were polled in 139 economies. The report also lists the main strengths and weaknesses of countries, making it possible to identify key priorities for policy reform.


Vietnam's positive outcomes according to the report:
- Vietnam was up 16 positions, Vietnam (59th) has improved in 10 of the 12 GCI pillars.
- Among the country's competitive strengths are:
a. Vietnam's efficient labor market (30th)
b. Vietnam's innovation potential given its stage of development (49th), including its relatively large market size (35th) with a particularly large export market.
c. Total tax rate (67th), lower than China and India
d. Labor-Employer Relations (38th)

---
Total tax rate


This variable is a combination of profit tax (% of profits), labor tax and contribution (% of profits), and other taxes (% of profits) | 2009





Labor-Employer Relations

Cooperation in labor-employer relations



---
Vietnam's challenges according to the report:
a. Trade with Vietnam "remains hindered by very high import tariffs (90th), other trade barriers (112th), and burdensome customs procedures (106th)".
b. "Following a hectic period marked by high inflation, a dramatic fall in the Dong(the local currency), and large swings in interest rates, the macroeconomic situation improved sharply (85th, up 27), but yet still shows a low ranking. Vietnam's government budget deficit remains one of the highest in the world, contributing to rising public debt and pointing to a need to continue efforts toward macroeconomic stability".
c. "Infrastructure, strained by rapid economic growth, remains a major challenge for the country despite some improvement in recent years, with particular concerns about the quality of roads (117th) and ports (97th)".
d. "While there is a sense that the quality of education is improving, enrollment rates at all levels remain low (ranked 71st, 102nd, and 109th for primary, secondary, and tertiary enrollments, respectively)".
e. "In order to further improve its competitiveness,Vietnam must also continue to strengthen its institutional environment. Regulation is perceived as burdensome (120th), with the number of procedures (11 procedures, 110th) and time (50 days, 118th) required to start a business making this a daunting process".
f. "In addition, there are concerns regarding the level of intellectual property protection (109th) and to a lesser extent the respect of property rights (81st)".
g. "Corruption is considered frequent and pervasive (107th).
h. "On the corporate governance side, the private sector is not seen as being sufficiently accountable (124th), partly because of the weakness of investor protection in the country (133rd— third to last)".
Quality of overall infrastructure
General infrastructure (e.g., transport, telephony, and energy) in the country (2009–10)



---

Burden of government regulation


Burdensome for businesses in the country to comply with governmental administrative requirements (e.g., permits, regulations, reporting) (2009–10)




---
Vietnam's Provincial Competitiveness Index (PCI) Report
The Provincial Competitiveness Index (PCI), published by the Vietnam Chamber of Commerce and Industry, is an effort to explain why some parts of the country perform better than others in terms of private sector dynamism, job creation and economic growth. Using new survey data from businesses that describe their perceptions of their local business environments, as well as credible and comparable data from official and other sources regarding local conditions, the PCI rates provinces on a 100-point scale.

Danang Tops Provincial Competitive Index released on Jan 28, 2010; ranking followed by Binh Duong Province in the south. Once again in 2009, the two provinces are statistically indistinguishable (read our reports for PCI results: 2009, 2008, 2007)



The most notable provinces and their progresses are:



Highest ranking from 2005-2009
Yr 2009: Danang 75.96; Binh Duong 74.01; Lao Cai 70.47

Yr 2008: Danang 75.96; Binh Duong 74.01; Vinh Phuc 69.37

Yr 2007: Dinh Duong 77.20; Danang 72.96; Vinh Long 70.14

Yr. 2006: Binh Duong 78.23; Danang 75.39; Binh Dinh 66.49


Yr. 2005: Bihn Duong 78.82; Danang 70.67; Vinh Long 68.56

The Provincial Competitiveness Index 2009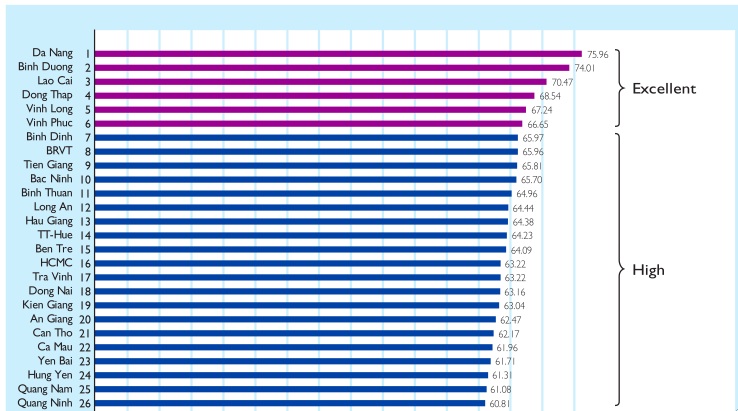 -

Danang:

This is the second consecutive year that Danang finished first place in the index. Danang has an advantage as an important seaport in the central region and is the country's fourth largest city. Danang's ranking remains higher than Binh Duong even though not by much. Both Danang and Binh Duong have a substantial lead to the number 3 province which is nearly 4 points after Binh Duong's total.
-

Binh Duong

ranks top on many important categories, such as infrastructure, total investment environment, private providers of business services and has improved substantially to be the top on transparency ranking (with new province website in English at http://www.binhduong.gov.vn/en/index.php#)
-

Ho Chih Minh City

and Hanoi fell in the PCI rankings with Ho Chih Minh City dropping by three places to 16th place and

Hanoi

sinking by two places to 33rd place. Provinces with the best total investment environments include Binh Duong, Da Nang, Dong Nai, HCMC,Vinh Phuc, Binh Dinh, and Lao Cai.
- Vietnam's northeast

Lao Cai

Province which borders China and has benefited from the border trade with China which may explain much of its improvement ranked higher than Vinh Phuc Province to be included in the top three localities with favorable business conditions
- Private providers of business services, such as consultancies, accounting firms, strategic advisors, and lawyers, were operating primarily in the country's two biggest cities, Hanoi and HCMC. The report said that there were nearly 4,000 private business service providers throughout the country, but found little evidence that there are such services in provinces outside the two biggest cities. A number of very successful provinces, such as Binh Duong, no longer provide state-funded services but have instead focused on creating a hospitable environment for private service providers to operate, said the report. In past iterations of the PCI, this very positive development was not appropriately rewarded. Active private sector participation in business services and robust competition among these providers will lead to higher-quality products that will be sustainable over the long term.
- For firms that were intending to expand their businesses, the report further queried which provinces, outside of their own, they envisioned as the most attractive places for business expansion. The number of times a province was selected as an investment location are as follow: Ho Chi Minh City (493), Hanoi (352), Binh Duong (335) and Da Nang (221). For Hanoi, HCMC and Danang, the report noted that the choice was based on their large, middle-class populations, offer of attractive markets for domestic sales. For Binh Duong, it is because of the province's strong association with provincial economic governance, as measured by the PCI. It appears that ambitious investors are using good economic decision making and governance as a focal point for their business decisions.
- The 3 provinces that excel in labor training face different sets of labor challenges in addition to the general problems faced throughout the country. Danang is an urban center that attracts migrant labor, but also has a relatively large and sophisticated service sector with specific requirements for its labor force. Binh Duong faces a different problem as a manufacturing center for the country. Its challenges include a shortage of unskilled laborers, a strained social security system due to large number of immigrant laborers, and increasing labor disputes and strikes. The study identifies a number of important policies practiced by these provinces that could be implemented generally across the country. Key among them are:
1) the attraction of private investment into vocational training programs;
2) encouragement of talented trainers and teachers to work for vocational training institutions;
3) demand-based vocational training and human resource development to ensure that schools meet the needs of students and potential employers; and
4) the establishment of vocational institutions as part of the industrial zone development, such as the Vietnam-Singapore Vocational College in Binh Duong.
In addition, the report identified special practices by these provinces to meet their unique challenges. These include:
1) the development of clear policies for job change and job creation in land clearance and re-zoning that are responsive to the demands of the people who have been displayed;
2) well implemented surveys on the needs for vocational training and job change to ensure evidence-based decision making;
3) formulation of specific projects in support of job change and job creation in strategic economic sectors;
4) provision of free training for laborers who must change their jobs as a result of technical obsolescence and economic transition; and
5) diversification of vocational training and priorities to help create jobs for over-age laborers.
There is a policy research paper by Le Duy Binh and the research team that studied vocational training and identified three of the top-ranked provinces for labor quality: Danang, Vinh Phuc, and Binh Duong. They are also identified as having best practices for erecting schools, devising curriculums, and incorporating private sector participation.
- Binh Duong, Dong Nai, and Ba Ria-Vung Tau (BRVT) account for 59 percent of total private operations in the country. Binh Duong, Dong Nai, and HCMC are the three powerhouse industrial provinces of the Northern Southeast, which alone account for a quarter of the non-oil GDP in the country—and receive the three highest scores. Binh Dinh, Ha Noi, and Hai Phong round out the top performers.
- Binh Duong, Dong Nai, Ho Chi Minh City, Binh Dinh, Da Nang and Hanoi emerge as having the best overall infrastructure in the country; the rural Northwestern Uplands score the worst. Unsurprisingly, the lowest infrastructure scores are in the rural, Northern Uplands of the country, including Bac Kan, Lai Chau, Cao Bang, and Lang Son. The Infrastructure Index ranks provinces along four dimensions: 1) industrial zone quality and capacity; 2) road quality and transportation costs; 3) telecommunications and energy costs and stability; and 4) information and communications technology.
- The list shows the emergence of increasingly competitive destinations. Binh Dinh, Ba Ria-Vung Tau, Tien Giang and Bac Ninh climbed up the rankings to be included in the top 10 provinces in the country.
- The top places showing marked improvement in their business environment were Ca Mau, Dien Bien and Long An. The chamber said overall there was improvement in the competitiveness of all localities since the number of localities rated under the "medium" and in the "low" groups dropped from 34 to 10 provinces.


Results of Vietnam's North Southeast Cluster
PCI Scores 2009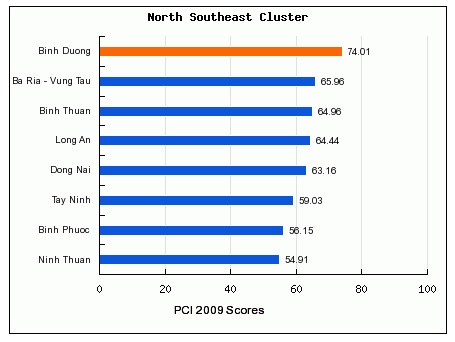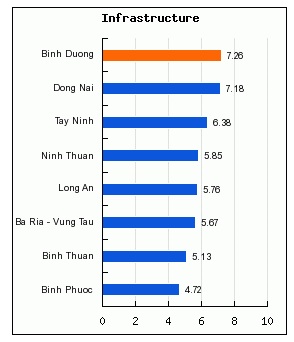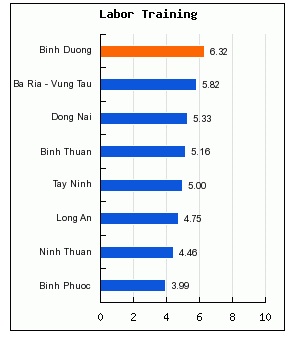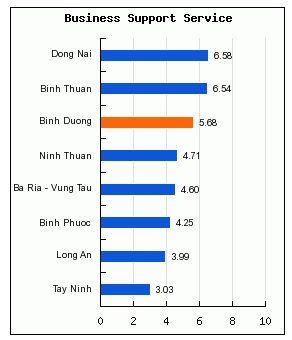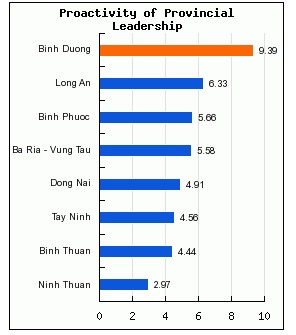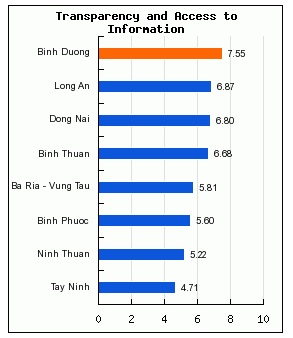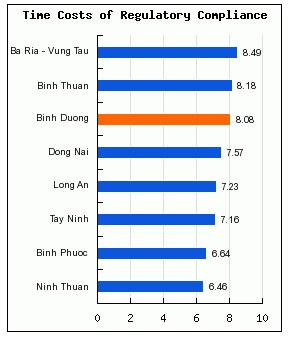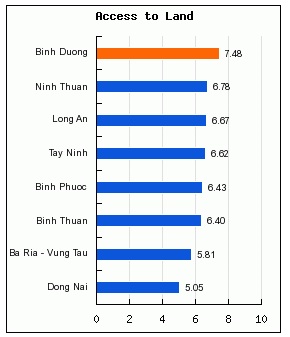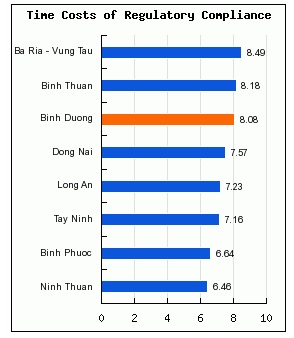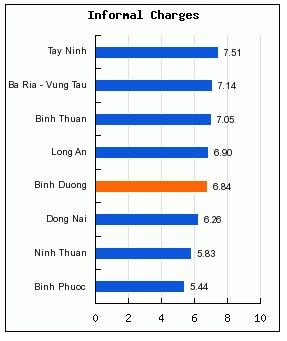 ---
---