---

Two years after the Government launched the "Vietnamese Use Vietnamese Goods" campaign, consumers had a better view of locally made products; however the plan has not progressed well. Experts at a conference in Hanoi on August 2011 aimed at promoting Vietnamese-made products concluded that better product design and quality, with reasonable price and better after-sales service are factors that make domestic goods more appealing to Vietnamese consumers, reported Tuoi Tre newspaper.

Even though a recent survey by global market research company Nielsen showed Vietnamese Goods Trend of 83% of consumers in HCM City and 95% in Hanoi were aware of the buy-Vietnamese campaign launched in 2009, only a small percentage of Vietnamese consumers would prefer local products over foreign imports.

To further the campaign on "Vietnamese Use Vietnamese Goods", the government issued encouraged results of the in-country survey conducted by the Institute for Public Opinion, an agency under the Party Central Committee's Commission for Publicity and Education, revealing that 59% of customers surveyed would buy Vietnamese goods. Meanwhile, 38% said they would encourage relatives and friends to use domestically made products, while 36% who used to buy just foreign-made goods said they would buy more Vietnamese products. According to the survey, the most popular Vietnamese products were textiles and garments, footwear, foodstuffs, fruit and vegetables, household appliances and home decorations.

According to the paper, experts suggested how to strengthen Vietnamese products and their sales as follow:
Nguyen Minh Phong, head of the Economics Department at the Hanoi Institute for Social Development Studies said

a better distribution network was needed to reach customers in rural areas

.
Nguyen Bich Hoan, from Trung Thanh Limited Company, suggested

manufacturers employ consultants from respected distribution companies to help firms enhance their profile and reputation in the face of foreign competition.

Better quality

was also vital to attracting consumers, she said.
Dinh Thi My Loan, Vice Chairwoman of the Viet Nam Retailers Association, said

domestic consumers needed to know more about Vietnamese products.

In addition to

drawing up strategies to better advertise products

,

producers should also concentrate on after-sales services

, Loan said.
Vietnamese Consumers' Confidence is Still Optimistic


The MasterCard Worldwide Index of Consumer Confidence 2011
Note: The Index is based on a survey which measures consumer confidence on prevailing expectations in the market for the next 6 months based on five economic indicators: Economy, Employment, Stock Market, Regular Income and Quality of Life.
- The Index score is calculated with zero as the most pessimistic, 100 as most optimistic and 50 as neutral.The latest survey was conducted from 15 March to 27 April 2011 and involved 10,374 consumers from 14 regional markets.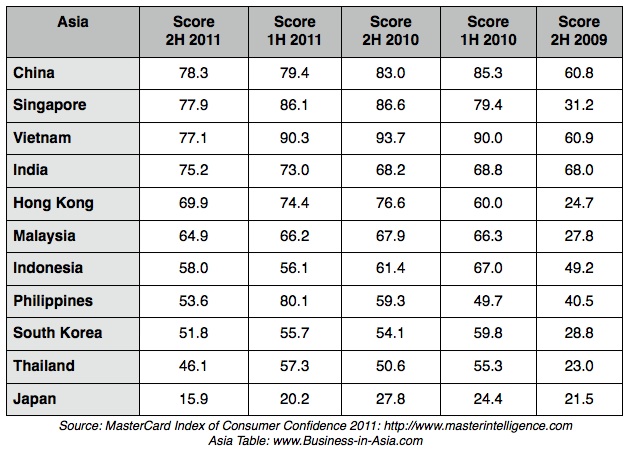 The confidence index of Vietnamese consumers published by the MasterCard's survey recently showed that for the second half of 2011 the outlook is still optimistic. Despite the loss of 13.2 points quarter on quarter, the Vietnamese consumers' confidence is still ranked 3rd regionally after China and Singapore.

The overall regional average rate for consumers across Asia/Pacific showed a 6.5 points drop quarter on quarter. Consumers are concerned about the slow pace of the global economic recovery with a dip in optimism recorded over the last six months, said the survey.
According to the bi-annual survey, Vietnamese consumers, even though positive, became less optimistic across all five indicators compared to six months ago with 'quality of life', 'economy', 'regular income', 'employment' and the 'stock market' all lower. Ten out of the 14 Asia/Pacific markets also experienced an overall decline in consumer confidence when compared to the previous six months, especially the three markets: Thailand, New Zealand and Japan showed widespread pessimism across the five key indicators.



---
Our Other Related Articles:
---