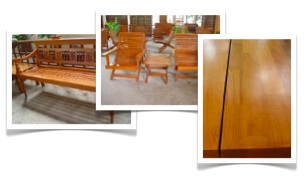 Vietnam's wooden products are expected to fetch 3 billion US dollars in 2008, a 30 percent increase against the year before, according to the Ministry of Industry and Trade (MIT). The figure has increased from 219 million US dollarsin 2000 to 2.34 billion US dollars in 2007.
The Vietnamese-made furniture have found good niche in some 120 countries and territories worldwide, including the US, the UK, Germany, China, the Republic of Korea and European countries. The US remains the biggest market of Viet Nam's woodwork with the export turnover of 930 million US dollars in 2007, accounting for 40 percent of the total. In 2008, woodwork export to the US market is expected to reach 1.1 billion US dollars. For the EU market, the woodwork sector hopes to earn 780 million US dollars in 2008, up 30 percent against 2007.
Challenges:
Viet Nam's wood producers are relying on imported materials, up to 80 percent, which makes the industry dependent on the fluctuating world market.
To strengthen the fledging industry, many measures have been put on the table, including afforestation,processing technologies, credit and vocational training.
Besides effort to reduce the volume of imported artificial planks by 50 percent by 2010, the MIT also gave priorities to diversifying products and improving the products quality.
In an interview with Nguyen Ton Quyen, Deputy Chairman of the Wooden and Forestry Products Association, by VietNamNet Bridge, Mr. Nguyen Ton Quyen added on some more points concerning problems of the wood processing industry in Vietnam as follows:
Vietnamese wood processors still have small production scale.
The Government still has not released the overall plan on wooden products development
Currently, most of the forest land (nearly 5 million ha) are being managed by state owned yards and local authorities. 3.1 million ha of land have been allocated to more than 1 milionl households and individuals to develop forests. However, only 20-30% of the allocated land have been used for other purposes. At the same time, the 70% has not made any progress for the industry. Many large investors with forestry projects can not allocate land for their investment.
the master plan for the wood processing industry should define the key products for the wood processing industry, which are the competitive products of Vietnam on the world's market such as wooden furniture, fine arts or artificial boards. The definition of the key products will decide the planning of material growing areas and investments levels.