Vietnam Rising in the Global Furniture Market
American consumers may be surprised to know that some of the furniture pieces sitting in their living room or other parts of their house were made in Vietnam, but that is no surprise to those who follow industry and globalization more regularly: Vietnam furniture exports have made headlines in the last few years. Although Vietnam furniture imports to the US only have a humble share as shown in Table 1,the rate of Vietnam's furniture export growth nonetheless dwarfs those of other countries.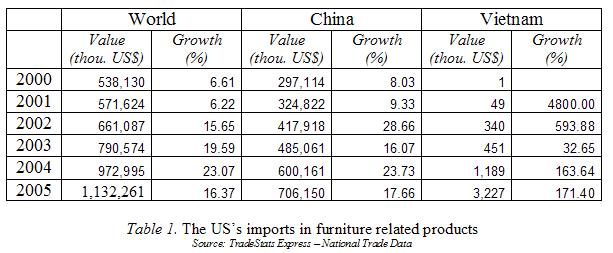 Three years ago, stories about furniture companies outsourcing to China appeared most frequently in the news, marking both retailers' and furniture supply chain ecstasy and manufacturers' concern about market share lost. On top of that, the US furniture producers, most of whom were then located in North Carolina and Virginia, pointed to lost jobs and "unfair" trade to file a petition, requesting 150% to 440% import duty penalties on Chinese furniture. In 2004, the case was settled at 198% tariffs on Chinese bedroom furniture, causing reconsideration from both US furniture manufacturers and retailers. Given the large stake of U.S. furniture export markets (more than 62%) China is holding and what many consider reasonable import duties, US furniture companies outsourcing production face difficulty turning their back to the Chinese suppliers. Runckel & Associates has toured furniture factories in Shandong province, the Shanghai area and in the Pearl River Delta area and the size and often the low prices coming from these Chinese suppliers cannot be ignored. However, despite China's success and oftentimes because of it, many companies have to look at diversifying their supply chain so that they are not overly dependent on one nation - China. As a result many companies are seeking actively for alternative producers and one name that comes up early in these initial searches is - Vietnam. Vietnam prevails over other foreign suppliers for a number of reasons, including inexpensive price and high quality.
The Pearl River Delta – a prosperous region of China – has been an important furniture production base as well as an ideal furniture outsourcing base for the US and the world for some time. Yet the thriving economy entails higher labor cost (according to many companies which Runckel & Associates has worked salary increases in the Pearl River delta were in the 20% increase range last year and are also expected to incur double digit increases in 2006), rendering the already-saturated market even less attractive to the outsourcers. Since 2000, more and more US companies have flocked to Vietnam, notably the southern region including Ho Chi Minh City, Binh Duong, Dong Nai, and some of the central provinces such as Binh Dinh and Da Nang. Over the years, Vietnamese furniture manufacturers have been able to convince their US partners and consumers by the consistency in quality and competitive price that they can not only meet Chinese standards but also exceed them. The increasingly favorable investment environment this track record has generated also has acted as a catalyst in drawing foreign investors' attention and willingness to either start operations or now in many cases, expand their operations further.
Vietnam's furniture industry benefits directly from the imposed import duties on Chinese furniture. Cheaper labor, combined with the absence of tariffs, a diligent work ethic by Vietnamese workers and quality products have made foreign outsourcers shift their eyes from China to Vietnam. Moreover, since imported furniture from Vietnam still remains a small share of the overall imported market, the US furniture suppliers perceive the unlikelihood of import duty penalties being applied on Vietnamese goods. They are indeed correct. Still far from having an effect on the US furniture market, the Vietnamese furniture manufacturers will be able to enjoy a long-time benefit if nothing drastic happens.

Picture Left: Some of the furniture in Vietnam (courtesy of US-Vietnam Chamber of Commerce)
Nonetheless, price is not the only factor and certainly not the only important factor for the outsourcers. Foreign companies knock on Vietnam's door for many other reasons, notably its products' quality. Before America came along, Vietnam had been a long-time furniture exporter of the European Union (EU), and hence, had tried its best to promote that business relationship, including complying with all the European Union's regulations on material origin and environmental standards. Conscious about the products' origin in use as the US consumers are, Vietnamese furniture with European standard certified (which is higher than the current US standard) and all other advantages becomes increasingly notable to US retailers. Frank Judd from Rainforest Alliance was quoted in an interview with Infolink that "furniture manufacturers in Vietnam are among the most active for having a reliable FSC (Forest Stewardship Council) chain of custodies with more than 70% coming from certified sources."
But that is not all. Bernadette Carroll, President of Minneapolis-based Creative Woodwork International acknowledged in the same interview that craftsmanship and quality was really what attracted her company to Vietnam: "Vietnam is really a leader in their woodworking. They produce top-quality work." Vietnamese furniture goes beyond high quality; they also come up with some unique details and decorations, such as that of eggshells, lacquer, and carvings. These features help set Vietnam as different from other competing countries with low labor cost and similar products. Nevertheless, some foreign importers, especially those from Japan, have commented on Vietnamese manufacturers' lack of design and product diversification. This drawback, however, will not be a long-term issue, as Vietnamese furniture manufacturers now closely follow market trends and are more than receptive in noting and responding to the market's reactions to their products.
| | |
| --- | --- |
| | |
| (Picture left) the author, Mr. Christopher Runckel, President of Runckel & Associates, is seen at the entrance of a large furniture factory, Kaiser Furniture (Vietnam) Co., Ltd | (Picture right) one of the small furniture factories in Danang |
Many businesses, including Hoang Nam Co Ltd. in Ho Chi Minh City and Ho Nai II Wood Company have invested in labor, machinery and design teams to maintain their competitiveness. By proactively researching the market's demand and taste and providing the outsourcers with their own catalogs, they are able to retain current customers (foreign furniture suppliers), catch more investors' eye, and increase the products' added value. Some Vietnamese furniture companies are also substituting high-skilled workers to enhance the products' quality and get a portion of the global more upscale products' market. Two large furniture producers visited by Runckel & Associates are Kaiser and Grand Art Furniture, which are two large Taiwanese owned factories location in the My Phuoc Industrial Zone. The Kaiser facility is one of the largest furniture exporting companies anywhere in Asia exporting 30 forty-foot containers a day currently to the U.S. and according to management soon to target a daily export figure of 50 40-foot containers.
To deal with the issue of decreasing input material resource (wood) costs without breaching standard regulations, Vietnamese companies have scanned their eyes around to secure more materials from all over the world: from the neighboring countries, Laos and Indonesia, to Africa, and even America. Potential for further imports of U.S. wood, which is then transformed into U.S. bound exports, is an area where there are currently many opportunities. Industry analysts have also advised Vietnamese producers to seek partnership with Russia, where wood, particularly White Birch and other key resources are more abundant. Diversifying the input sources will help to ensure stability in production and match increasing demand from markets such as America, Canada or the European Union.
Within five years, furniture has become one of the key export staples of Vietnam, ranking fifth in overall export revenues. By 2005, the total wood products exports rose to US$1.5 billion, trailing only crude oil, footwear, garments, and seafood. Realizing the potential of the furniture industry, particularly of the US export market, the Vietnamese central and local governments in the regions where the furniture industry has been a key economic development tool are swinging the door to the market wide open, welcoming both foreign investors and trade partners. Furniture outsourcing to Vietnam, therefore, has grown rapidly in recent years and is projected to have very strong growth in 2006.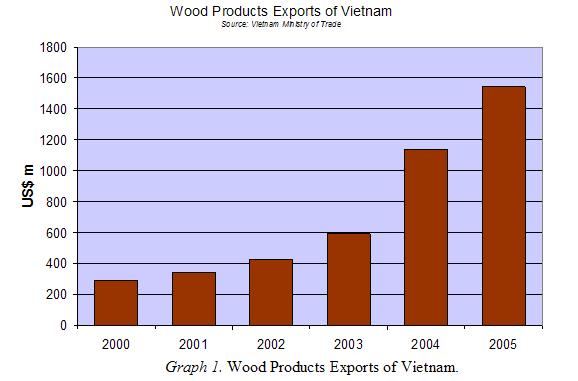 As the furniture industry in Vietnam prospers, many analysts have warned the government about the inefficiency of the current structure and the lack of a strategy and plan for further development of the industry. Outsourcing experts, quoted in VietnamNet Bridge in an article issued on July 24 2006, suggested that the wood processing enterprises should form financial alliances to ease legal and financial processes when dealing with foreign customers. The Vietnam Timber and Forest Production Association also proposed to form three major financial firms to act as wood importers for the country's local processors. Dinh Van Quy, director of Ho Go Nai Wood Processing Company in Dong Nai, pointed out that each furniture manufacturer in Vietnam currently tends to carry on all the stages to produce complete products, which limits the amount of goods produced nationally. Specialization, he suggested, would be the key to increase production.
For the last few years, Ho Chi Minh City has held the HCMC International Furniture and Handicraft Fair and Exhibition (HCMC Expo) to further publicize the nation's thriving furniture industry. The event draws in both Vietnamese furniture manufacturers and potential foreign partners who look to locate their business in Vietnam. Many outsourcing contracts have been signed; many business relationships have been established through this exhibition. Initial successes in the global market have caused many producers to consider how best to increase their business and as a result many Vietnamese furniture producers have set many goals for themselves, including expanding sales in the large US and some untapped EU markets. Similar to the electronic and car industries ten or fifteen years ago, this has caused many US furniture enterprises to transform themselves from manufacturing-based to service-based (supplying furniture) to survive in this new global competition. If these companies research for outsourcing destination, Vietnam will undoubtedly emerge high if not at the top of their list. As demonstrated by such large US furniture firms as Jofran, John-Richards, Wyckes, Stickley, Wallmart and many others who have already found their partners in Vietnam.
---