Quang Nam map (above)

Vietnam map (right)
Quang Nam is a province in central Vietnam, formed from a separation from Da Nang in 1997. It was named by the government as one of the four focal central regions for economic development of Vietnam along with Da Nang, Hue, and Quang Ngai. In 2005, the Prime Minister of Vietnam issued an overall scheme for Quang Nam's social and economic development until 2015, indicating that local authorities would promote the industry and service sectors as a means to socioeconomic achievement. Similar to other provinces and cities in Vietnam, the local government realizes that the fastest way to lift up the economy is through investment, and has acted promptly to entice investment from both domestic and foreign investors (see Graph 5). Despite some of the drawbacks, Quang Nam has managed to accomplish a number of successes toward its goal of industrialization.
A rigorous climate including both annual floods and droughts has made Quang Nam and most central regions economically underdeveloped compared to an average province in Vietnam. Despite impressive GDP growth rates in the last few years (higher than Vietnam's average), Quang Nam's actual GDP per capita remains lower than an average region of Vietnam (see figure 1). Aiming for an average of 12% GDP growth in the next five years, Quang Nam is solidifying its roadmap to catch up with other regions and to become one of the economic centers of Vietnam in the future. Like many Vietnamese regions with ambitious economic development plans, Quang Nam has devoted much of its focus to the industry and construction sector. In 2003 agriculture was still the leading industry with a 36% share of GDP, but by 2005, the industry and construction sector rapidly took the lead with over 50%. Despite this initial success, the goal of becoming an industrial province will not be completed until Quang Nam's GDP per capita reaches $470-570, which is scheduled for 2010.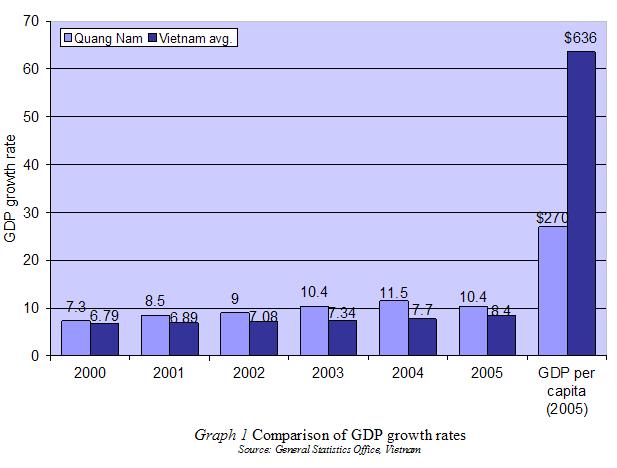 Notwithstanding the status of its' economic structure, agriculture has always played an essential role in Quang Nam's economy and will continue to do so as it provides materials to the thriving food processing industry which is a core job creator for the region plus provides some major export products (cashews, cinnamon, etc…). Moreover, a large percentage of the workforce is currently in the agriculture sector: 65% versus about 16% in industry and construction, and 19% in services. Although the distribution appears disproportionate, a cross comparison with other focused regions reveals a similar ratio (see Graph 2). On the other hand, provinces that have been economic centers for some time usually have a much lower share of labor force in agriculture.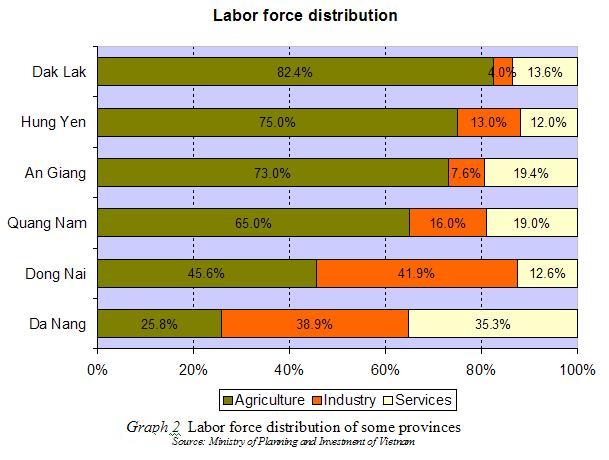 While moving towards industrialization, Quang Nam has been able to take advantage of abundant and diverse agricultural products, handicraft materials, and rich mineral reserves. However, Quang Nam's contribution in exports remains modest, both regionally and nationally. In 2005, the total export value was US$ 112.629 million, about 5% of the south central region's, and 0.35% of the national figure. Five main exports of Quang Nam by volume include dried and frozen seafood, cashew nuts, cinnamon (high quality) and sand (see Graph 3). The main exports by value (US$) are garments, shoes and leather products, aquatic products, and forestry products (see Graph 4). The availability of various input materials remains one of the important reasons that draw investors to Quang Nam.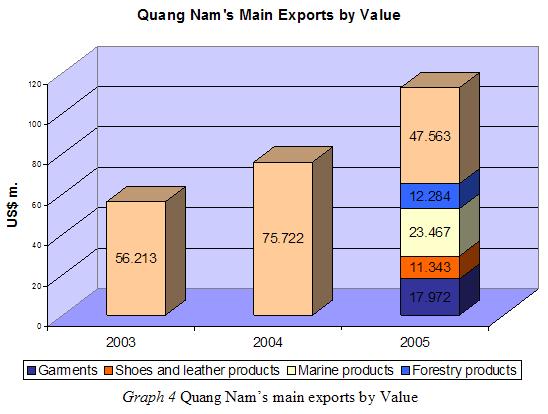 A newly established region in a lesser developed part of Vietnam, Quang Nam poses some drawbacks, notably in infrastructure. Currently, Ky Ha is the only seaport and Chu Lai is also the only airport of Quang Nam, both located in the south of the province. Moreover, both of them are very limited in size: Ky Ha has one pier, and Chu Lai one runway. As a result, most high-volume transportation is undertaken through Da Nang International Airport and Tien Sa deep water six-pier seaport (which lies to the north of Quang Nam). The road system in Quang Nam is also modest and underdeveloped for a province with an ambition to become industrialized. Nonetheless, Quang Nam's local government realizes and appreciates the challenges that these factors create for large-scale industrialization and is trying their best to overcome these obstacles.
In June 2006, Quang Nam authorities signed a contract to expand Chu Lai airport into an international hub for Central Vietnam. Although the construction is slated to take place over 20 years, it demonstrates local government's resolution and signals a warm welcome from Quang Nam to potential investors. Ky Ha is also scheduled for update: two container wharfs will be installed and put into operation by 2007, accommodating up to 20,000-tonne ships. Bridges, roads and highways will be reconstructed and built anew to further enhance transportation within Quang Nam and between itself and other major economic regional hubs such as Da Nang and Binh Dinh. The construction of South Quang Nam highway was commenced in July 2006; the road will bridge between Highway 1A and Ho Chi Minh Highway – two major highways stretching from north to south of Vietnam and both running through Quang Nam.
Until the provinces infrastructure is fully developed, Quang Nam is relying on the abutting position to Da Nang of several of its industrial parks that are located in the north of the province, as they are only about 20km away from Da Nang International Airport and Tien Sa deep water seaport, to entice a larger slice of the province's overall investment. As a matter of fact, most industrial parks, including Dien Nam – Dien Ngoc IZ, Trang Nhat IZ, Dai Hiep IZ, and An Hoa – Nong Son IZ, currently cluster not far from the border between Quang Nam and Da Nang and therefore have relatively easy access to ocean shipping. The rest spreads out along the coast and the national freeway 1A. Quang Nam is hoping to attract more investors to these industrial parks, especially those that specialize in electronics, food processing, food packaging, and other services and has had a fair amount of initial success in this although much more investment is required due to the areas historical low level of industrialization.
Lack of infrastructure is not the only factor that hinders investors from flocking to Quang Nam. Many have also pointed out Quang Nam's current inability to provide raw materials and supporting products in high volumes, resulting in inefficient manufacturing and production. For instance, the province launched a program to build and augment the processing of local ingredient plants, including sugarcane for sugar, cassava for cassava powder, pineapple for condensed juice, and cashews. Consequently, dozens of new manufacturers sprouted; many existing firms also expanded their production lines. The program nonetheless failed after two years due to shortage of material inputs: the hills and indigenous soil were not suitable for intensive cultivation that industrialized production of these agricultural products entailed.
Despite the above-listed shortages, Quang Nam is considered "fairly attractive" to investors, ranking in the mid-high14th position in the most recent Provincial Competitiveness Index (PCI) among 64 provinces of Vietnam (surveyed by the Vietnam Chamber of Commerce and Industry). The survey shows that Quang Nam has an advantage in entry costs, committed provincial leadership, and development services. Especially, Quang Nam is ranked very high (2nd) in solving business problems and working with central authorities, indicating investors' benefit as the local government side works actively with them in attempting to achieve prospering businesses and ultimately promoting provincial development.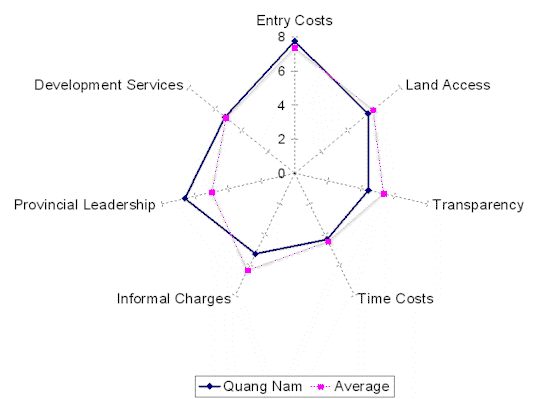 Graph 5. PCI Comparison between Quang Nam and an average province
Source: Vietnam Chamber of Commerce and Industry (VCCI)
Although time costs to investors in Quang Nam appear lower than average (i.e., it takes longer to register a business), other reports have shown that the duration is more than acceptable. For instance, a study done by Mr. Le Duy Binh, senior advisor to the GTZ SME Development Program, assessed start-up business costs in seven Vietnam provinces and pointed out that it took less than 15 days to register a business and about 68 days to complete land acquisition in Quang Nam. The same study also showed that investors considered Quang Nam to have an unambiguous or much easier to understand registering procedures and business regulations. In the mean time, the local government has promised to hasten the registering process to 1-5 days (Note: Runckel & Associates have found that in China, Thailand and Vietnam the registration of a new business is slowed more by the failure of the investing foreign company to promptly provide necessary documents required than any action by local authorities in most instances.) and to provide an increasing number of investment incentives. Quoted in China's People's Daily Online, Nguyen Xuan Phuc, Chairman of the People's Committee of Quang Nam, emphasized that the province offered "the lowest land rentals and the biggest tax reduction to investors compared to other localities." In response to the newly promulgated Common Investment Law, Quang Nam officials have addressed a letter to the Vietnamese government, asking for permission to offer new investment incentives to some geographical areas as well as some economic sectors of Quang Nam province.
The local government's endeavor to attract more investors does not help to alleviate one of the persisting issues in Quang Nam as well as other regions in Vietnam: transparency. Surveys by the Vietnam Chamber of Commerce and Industry (VCCI) and other independent organizations have addressed this particular problem, insisting that actions from the local government are necessary to bring about a competitive and healthy business environment. Frequent natural disasters and some other existing problems aside, Quang Nam has always taken pride on one of the major factors that are critical to its development: a resilient and assiduous labor force used to plain hard work. Many analysts have expressed their belief that if properly trained for management skills and to develop a more business-oriented mind, Quang Nam residents will be able to take charge and drive the province to prosperity.
Runckel & Associates own experience with provincial authorities is that they actively seek to promote business and are supportive of investment. Getting trained management staff, particularly those with good English language skills, is difficult but can be overcome through hiring professional assistance from a company like Runckel & Associates in the start-up process and through effective hiring and training. Living conditions for expatriates in the greater Danang/Quang Nam region is more than acceptable at the present time and further improving day-by- day. All in all, we feel Quang Nam particularly the Northern portion of the province can be a good location for businesses requiring lower labor costs now and that other areas in the province will open in the future and even at this time offer opportunities for agriculture, seafood cultivation and processing and a number of other opportunities.
---
About the Author:
Christopher W. Runckel, a former senior US diplomat who served in many counties in Asia, is a graduate of the University of Oregon and Lewis and Clark Law School. He served as Deputy General Counsel of President Gerald Ford's Presidential Clemency Board. Mr. Runckel is the principal and founder of Runckel & Associates, a Portland, Oregon based consulting company that assists businesses expand business opportunities in Asia. (www.business-in-asia.com)
Until April of 1999, Mr. Runckel was Minister-Counselor of the US Embassy in Beijing, China. Mr. Runckel lived and worked in Thailand for over six years. He was the first permanently assigned U.S. diplomat to return to Vietnam after the Vietnam War. In 1997, he was awarded the U.S. Department of States highest award for service, the Distinguished Honor Award, for his contribution to improving U.S.-Vietnam relations. Mr. Runckel is one of only two non-Ambassadors to receive this award in the 200-year history of the U.S. diplomatic service.
---