Connecting domestic rail networks to form a continuous link from Singapore to Kunming in China,
easing travel between various Southeast Asian countries and China
Source: Association of Southeast Asian Nations's Fact Sheet - www.aseansec.org
Runckel & Associates has followed news on the progress of The Singapore-Kunming Rail Link (SKRL) which was was first proposed by Asean in 1995. The SKRL is a flagship project of the ASEAN-Mekong Basin Development Cooperation (AMBDC). This regional railway line, spanning some 5,000 kilometers (3,000 miles) from Singapore to the Chinese city of Kunming, would be a very efficient and most economical mode of cross-border cargo transportation. However, the project has been hindered by a lack of funds and other technical issues in connecting the rail to major towns across the region. The project also includes constructing railway stations and related infrastructure, and has been estimated to cost US$15 billion (€12.5 billion). ASEAN hopes the link will be ready by 2015.
Recent Progress in Cambodia:
The Strait Times of Singapore reported in early 2008 that Cambodia received US$80m funding for its Thailand rail link. Cambodia will build a rail link to Thailand after it received these funds from the Asian Development Bank and the Organization of Petroleum Exporting Countries, according to Cambodia's transport minister. Work on the 48km connection between Sisophan in Cambodia and Poipet near the Thai border will be completed by 2010.
Besides the progress in funding of the Cambodia link, Malaysia also donated used rail tracks worth more than US$2 million to Cambodia for a China-Singapore link as part of regional efforts to build a railway linking Singapore to southern China, reported late last year by the Associate Press. This would also help fill in 48 kilometers (30 miles) of missing rails there.
Association of Southeast Asian Nations's Fact Sheet - Sept, 2007 reveals the SKRL feasibility study examining six alternative routes to link Singapore to Kunming, China, which all six routes have a common sector from Singapore to Bangkok via Kuala Lumpur.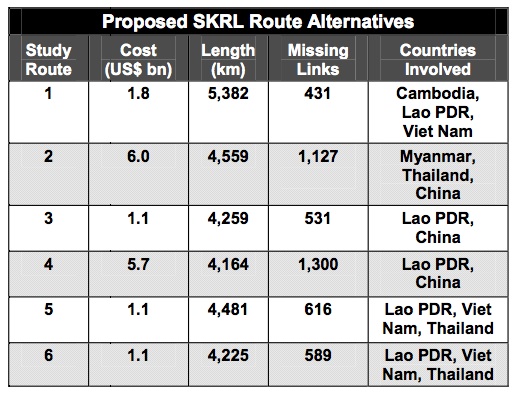 Source: Association of Southeast Asian Nations's Fact Sheet - www.aseansec.org
Route 1: which connects Cambodia, Lao PDR, Viet Nam and China, was selected by the ASEAN Transport Ministers for its high social and economic impact. It will cost an estimated US$1.8 billion to construct. Its 5,382 km length includes the missing links from Poipet to Sisophon, and from Phnom Penh to Loc Ninh and Ho Chi Minh City, as well as the spur lines from Ho Chi Minh City to Vung Tau and from Vientiane to Vung Anh.
Routes 2 to 6 will be considered for implementation in national rail plans or other railway network projects, such as the
Trans-Asian Railway
.
Developments of SKRL:
Cambodia's construction of the missing links, guided by the Inter-Ministerial Committee for SKRL, is on schedule. Cambodia will also start its rail rehabilitation project on its existing rail system, partially funded by the Asian Development Bank (ADB) as reported above. Royal Railways of Cambodia Director-General Sokhom Pheakavanmony said construction of the rail link between Poipet and Sisophon is expected to be completed by the end of next year or early 2008. For the 225-kilometer missing link between Phnom Penh and Loc Ninh, a border town between Cambodia and Vietnam, Pheakavanmony said a feasibility study on the missing link, funded and conducted by China, has been completed.
Viet Nam completed a feasibility study on the Ho Chi Minh City–Loc Ninh missing link and is negotiating with Cambodia for the location of rail connection points. A feasibility study for a spur link from Vung Ang to Tan Ap-Mu Gia for further linking with Vientiane is also being undertaken. Vietnam Railways Deputy Director-General Nguyen Dat Tuong recently said Vietnam and Cambodia were working to finalize the connecting rail point near Loc Ninh. Once the two countries have decided on the exact connecting point, Vietnam will immediately start construction of the 145- kilometer missing link between Loc Ninh and Ho Chi Minh City.
In December 2006, the ADB approved a US$60 million loan to Viet Nam to assist in the rehabilitation of the Hanoi–Lao Cai section and a US$42 million loan to Cambodia to assist in the rehabilitation of Cambodia railways that include sections of the SKRL route. The ADB is also undertaking a detailed design study on the Phnom Penh–Loc Ninh sector with financing from China.
China has made progress on the Chinese sectors of the SKRL, including the Yuxi-Hekou route (Eastern portion), the Yuxi-Mohan (Middle portion) and the Dali-Ruili (Western portion). Construction of the Yuxi-Mengzi railway is scheduled to be completed in 2009. The feasibility study of the Dali-Ruili railway has been completed.
The Republic of Korea has completed a US$1.2 million feasibility study on the SKRL portion linking Bangkok to Yangon.
---
More of our useful articles: