Thailand



Our early tastings had left us questioning the assignment but our travels throughout Thailand showed us that despite some spotty efforts elsewhere - Thailand in particular is making great leaps in the quality of its wine production. This comes in spite of Thai government tax laws that actually punish local producers and weigh them down with very high taxes when their Australian competitors are actually getting lower rates under the Thai-Australia Free Trade Agreement.

In Thailand we were fortunate to meet and to have considerable access to Khun

(Khun in Thai is equivalent to Mister and is a polite address)

Visooth Lohitnavy, founder and former Head(president) of the Thai Wine Association till last year and also CEO & Managing Director of GranMonte Asoke Valley Winery. I had reached out to Khun Visooth when our trip was first planned and he had invited us to his Wineries Harvest Festival which we unfortunately missed. We met up with him in mid February, 2011, a few short days later. GranMonte was started in 1999 and has 100 Rai or 40 acres in grapes.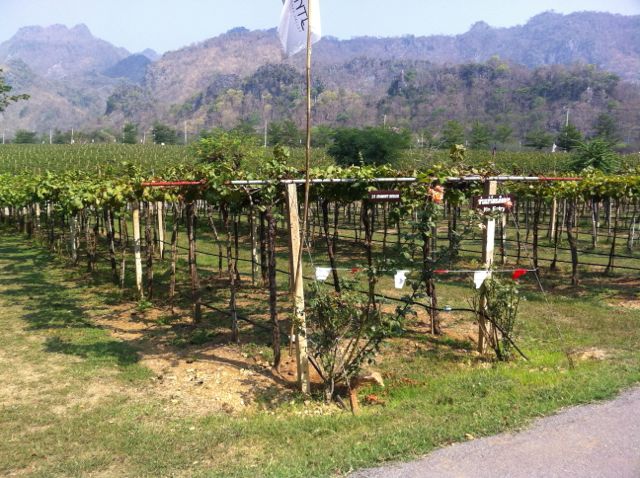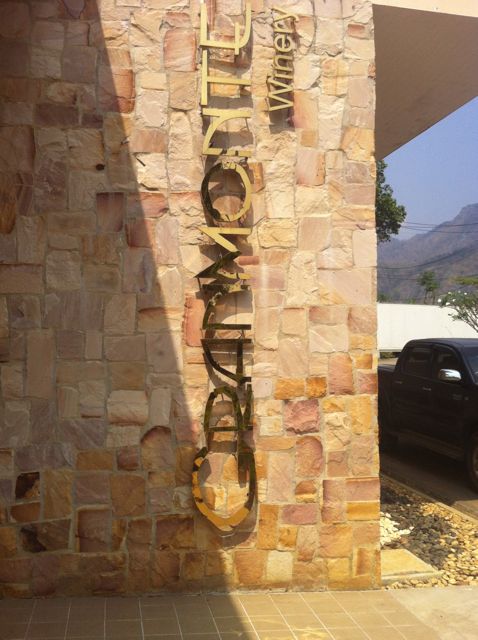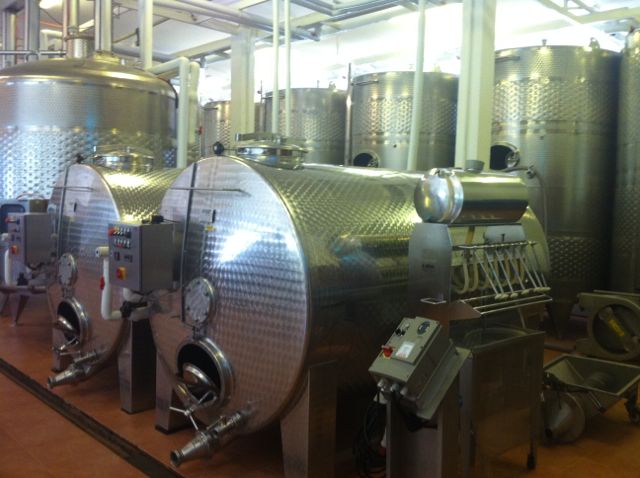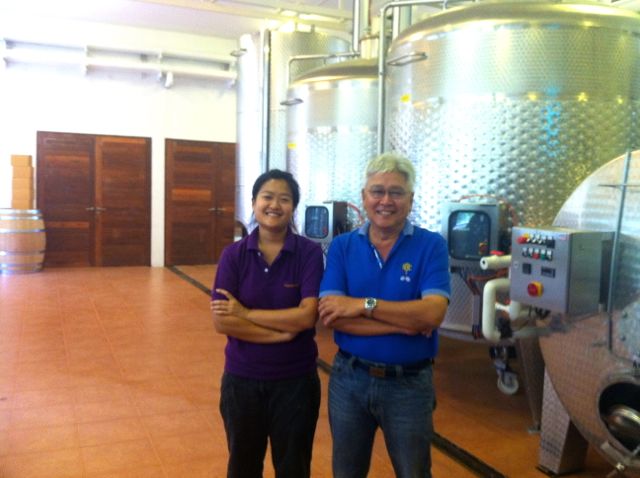 Pictures above left: Grapes at GranMonte. Above Right: The exterior of the wine making facility.
Bottom Left: The modern wine making facilities at GranMonte and Nikki and Visooth Lohitnavy.

Khun Visooth studied in Germany in the mid 1960s and after returning to Thailand in the early 1970s started thinking of doing something different in terms of Thai wine based on early influence by Dr. Chaiyudth Karnasuta of Chateau De Loei, one of the earliest pioneers in the Thai wine industry. Dr. Chaijudh Karnasuta who was then with Ital Thai - one of Thailand's most successful construction companies, discovered that the Phurua highlands of Northeastern Thailand could produce good wine-making grapes. In 1995 Chateau de Loei, the first commercially produced quality Thai wine, came to market. Visooth was also influenced by the owner of Singha Beer who was just then planning to start a vineyard and winery in the Khao Yai area.

Khun Visooth started out with Syrah, Chenin Blanc and Temprannillo and later with Cabernet Sauvignon and Viognier grapes but later up-rooted Tempranillo and replanted with Duriff (aka Petite Sirah) and Grenache. Later they experimented and planted with other grape varietals such as Verdelho and Semillon. Visooth impressed us with his knowledge of wine and his obvious passion for both the growing and the wine making. Later we met his daughter Nikki who is Thailand's first and only female winemaker. Nikki who was educated in Australia brings her father's passion to her work. The winery produces about 70--80,000 bottles a year of wine. Their winery produces 60% red, 30% white and 10% rose. All winery material was imported and looked state-of-the-art. Oak barrels are used new every year and come from France.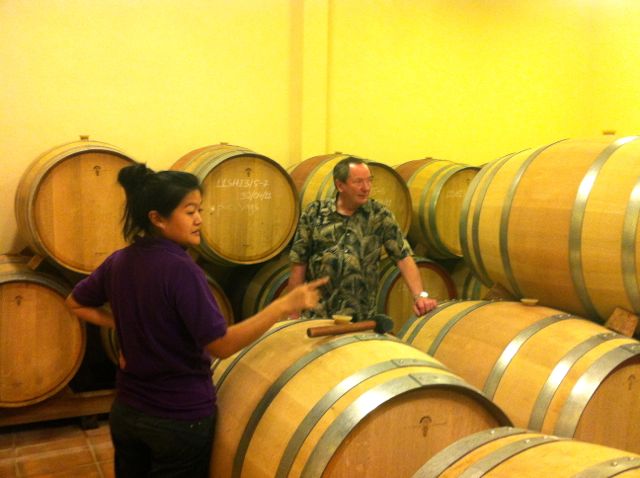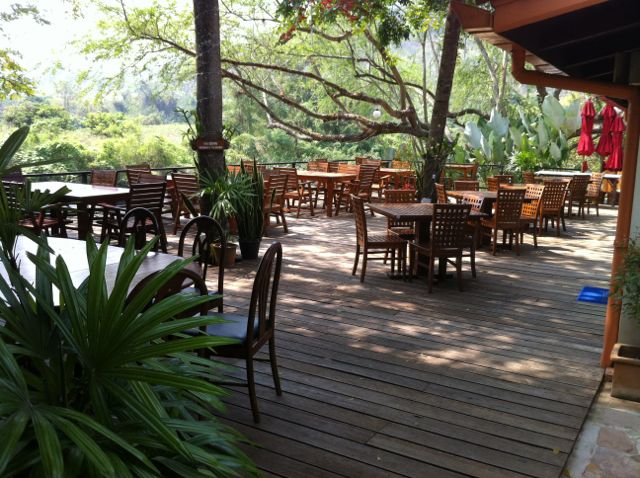 Pictures above Left: Nikki
Lohitnavy, wine maker at GranMonte and George.
Right: The outdoor restaurant area at GranMonte

Wine from GranMonte is exported to Japan, Hong Kong, Germany and the Maldives and currently less than 20 percent of production goes for export. Most sales are at the winery but GranMonte also has a sales agreement through Central, the largest Thai shopping and Consumer Sales company, for sales in Bangkok. The winery also has a guest house, a high quality bistro or restaurant and a nicely laid-out sales area.

Over a tasty lunch we tried many of GranMonte's wines. I was most impressed by the rose but also found both the whites and the final red we tasted to be fully the equivalent to any Australian, French or US wine I had tasted. Many of these have won awards and both GranMonte and the following vineyard often compete in wine competitions.

Visooth talked about the establishment of the Thai Wine Association which he helped to found in 2004. This was established to build the name of the Thai Wine Industry and the Association has annual wine inspections and a central lab in Bangkok. Visooth headed the association until last year but has now stepped down in favor of younger wine growers. Visooth said that one of the biggest dis-incentives to a flourishing wine industry was the Thai tax on wines. Wines are taxed at 260% and local wines are fully as expensive as most foreign wines. Various groups have tried to change this law to recognize the benefits vineyards bring in hiring local labor, creating economic activity, etc. but to-date these efforts have not been successful in changing the tax.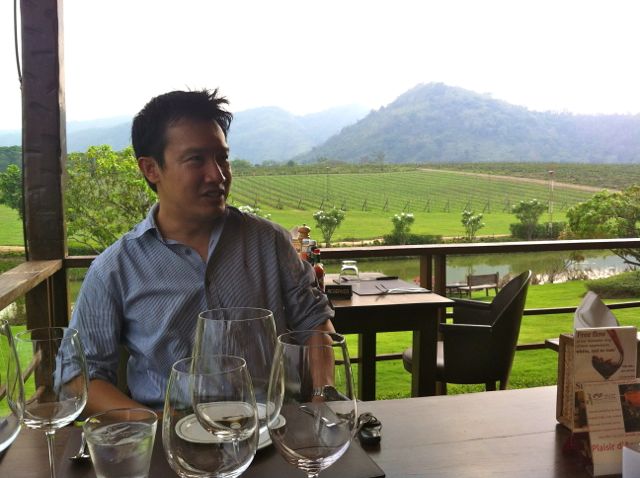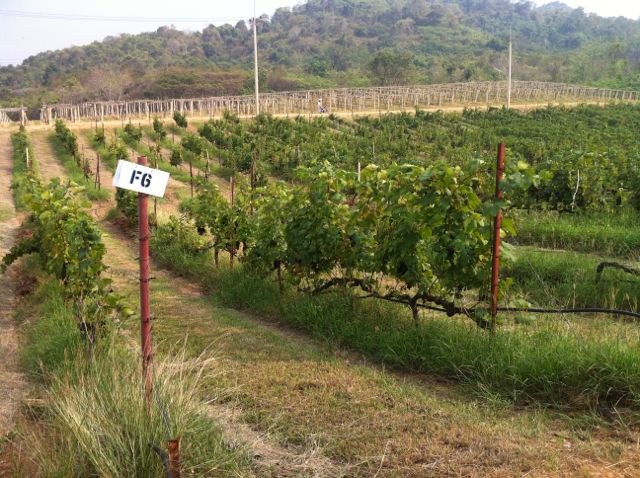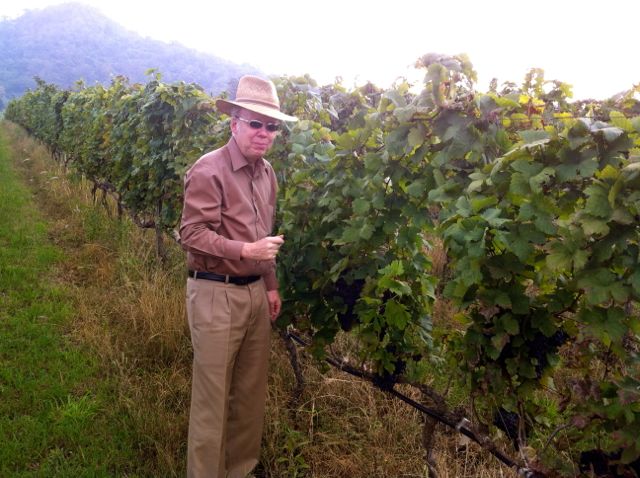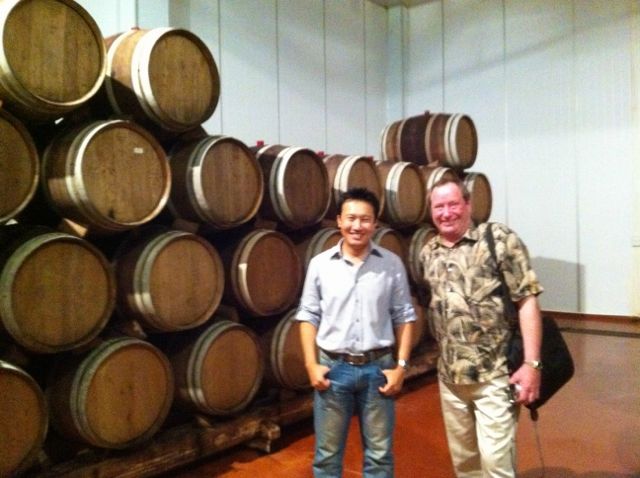 Pictures above: Khun Prayut Piangbunta
, Managing Director and Chief Wine Maker
of PB Valley Khao Yai Winery and some of their grapes. Below left: The author sampling Syrah grapes and Khun Prayut and George Bursick in PB Valley Khao Yai Winery's well set out and modern wine making facilities.

We then proceeded on to PB Valley Winery which is on the same road as GranMontes and other winery operations. PB was one of the first vineyards in Khao Yai or in Thailand as it started growing grapes in 1992-93. It is owned by the Singha Beer group, one of Thailand's longest and still best known beer company. At PB Winery, we met Khun Prayut Piangbunta, Managing Director and Chief Wine Maker.

PB Winery began in 1989 on a large piece of land with the total area of 320 hectares surrounded by mountain range and preferred macroclimate for viticulture. It was also a birth place for Khao Yai wine producer region. The owner, Dr.Piya Bhirombhakdi who once was the president of Boonrawd Brewery Co.,Ltd. (Singha Beer) and a visionary entrepreneur with a great appreciation for the finest things in life set about his mission to produce wine with a world-class taste under his initial "PB" label for the people of Thailand.


Prayut said that at first they had great difficulty in selecting suitable grapevine varieties for Thailand's soil and tropical weather. At the beginning PB experimented growing over 50 grapevine varieties originated from several countries like Germany, Italy, France, Spain and Australia and after 2 years trial, we did come out with a good results, Shiraz (Syrah), Tempranillo, Chenin Blanc and Colombard were doing well in their new home with reasonable amount of yield per hectare. Propagation of these varieties has been carried out ever since with initial planting area of 20 hectares including table grape





Picture above:Khun Prayut and George Bursick at PB Valley Khao Yai Winery

At first the winery had two locations, one in the North at Chiangrai and the other in Khao Yai. The location in Chiangrai ultimately proved to have liabilities because of fogs in the early morning and problems with downy mildrew and other diseases and was subsequently dropped.

In 1995, the winery started construction and took two years to build. In Feb, 1998, the winery produced its first vintage. In that year Prayuth was studying brewing and wine making in Germany. In 1995, the owner of Singha beer told Prayuth that they needed him back in Thailand and he returned after studying wine making in addition to his earlier studies in beer making.

Over the initial years, wine production grew and reached a peak in 2004 when 400 tons of grapes were harvested. Since that time, grape production has fallen as the winery had focussed more on quality and less on quantity.

Currently PB Winery produces 150,000 bottles of wine from 150-180 tons of grapes. Over the years, Prayut was very honest that PB has learned from its mistakes and has passed along these lessons to other Thai wine makers who have vastly profited from the errors. For example originally they experienced infection from trimming of the grapes as they didn't paint the cuts.


Prayut took us on a tour of the winery and vineyard which is much larger but just as state of the art and well set out as any we had seen in the U.S. The Winery was planned for one million bottles at full capacity but has never reached 50% of this. Prayut said that production costs for grapes in Thailand are high compared to Australia and other countries and will rise further when the new minimum wage law is enacted. This will push Thai owners to go even more into mechanization. Currently, the vineyard was harvesting and a crew of 40 was working. PB like Grandmonte down the road has an annual rainfall of 1,500-1,800 mm of rainfall a year with most of this falling in the rainy season. There is one harvest a year which occurs in Feb-March and normally plants go through a serious pruning in September.





Picture above:Pirom Kho Yai Reserve Wine: the Winery's premium vintage.


Prayut noted that their is a 60% Alcohol Tax and a 10% Municipal tax which all together ends up in a tax of about 68%. Most liquor and wine makers have a separate company to distribute their wine or liquor as the taxes make most wine producers and distilleries low profit margin companies.

Sixty-five percent of PB's production is red with Syrah, Tempranillo being major varietals. Thirty percent is white wine with Chenin Blanc and Columbard being biggest produces and about 5% is Rose. Eighty percent of their wine is consumed domestically with major exports to Japan.



Later we tasted the wines made by Prayut at "The Great Hornbill Grill". Prayut who had impressed both George and I with his obvious passion and knowledge of wine making told us that PB goal was to make wine for Thai people to international standards. He said that in Thailand most people who consume liquor start with beer, move on to whiskey in mid-age and then to red wine as they aged.



Because most of the drinker had first gained a taste for whiskey, most of them tended to find white wine too light and red wine was most popular. In our tasting, we started with white wine under their Sawasdee label and then went to their middle level PB Reserve label and finally to their top-end Pirom Khao Yai Reserve range. George and I were very impressed with the range and the taste of wines and the beautiful nature of the Great Hornbill Lodge that looked out over the surrounding grapes and was both scenic and a peaceful setting to enjoy the luscious wines.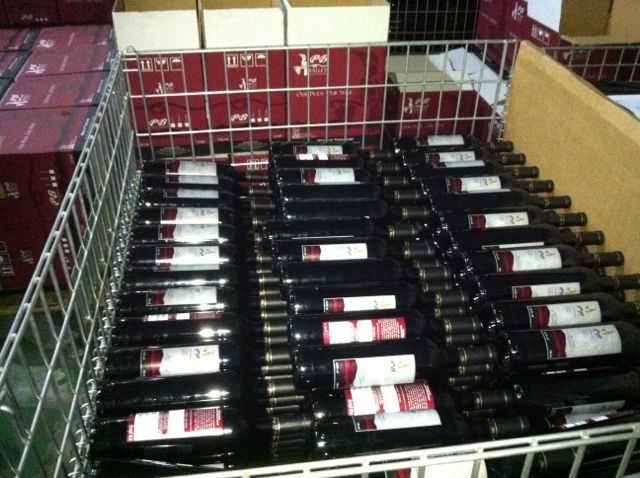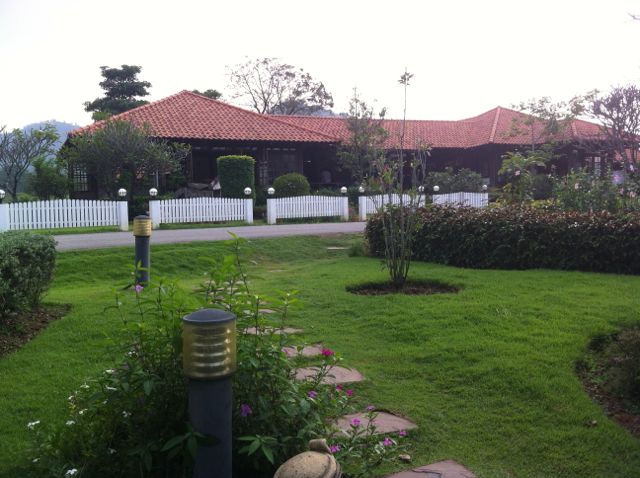 Pictures above:Recently bottled vintage and the outer view of the Great Hornbill Grill Restaurant
at PB Valley Khao Yai Winery.


Later we tried some of the wines of Siam Winery which is the largest Winery by production in Thailand and produces, Spy, a wine drink, bulk wine plus a number of other lines. Siam Winery owns the 300 Baht (US Dols 10) wine category which is the low end of wines in Thailand. Their Wineries in Samut Sakorn and near Hua Hin further South of Bangkok are among the countries largest. PB Winery is the second largest wine producer in Thailand by volume and is followed by Grandmonte and Village Farm. Chateau de Loei in the Northeast of Thailand still produces but is now mostly known for their Chenin Blanc.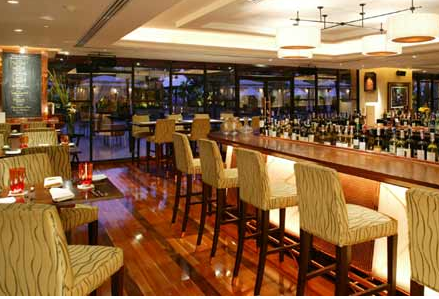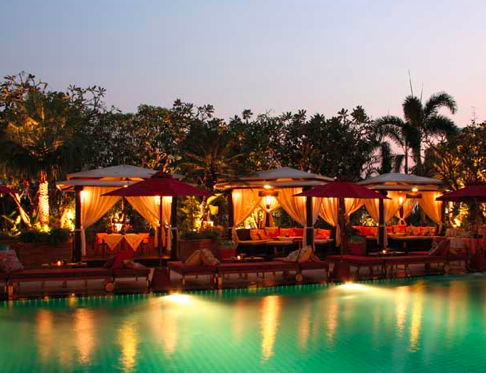 Pictures above: Aldo's Mediterannean Bistro and Wine Bar

That evening we saw the top end of the wine tasting segment in Thailand at the Aldo's Mediterranean Bistro and Wine Bar where two U.S. wine afficionados are trying to increase opportunities for good quality U.S. wines. This top quality restaurant and wine bar in the Aston Hotel on Sathorn is a pick for the nearby banking and financial crowd.


| | |
| --- | --- |
| | With the owners, Ken Stevens and George Foose, we tasted a bottle of Syrah under the PB Valley Pirom Khao Yai Reserve brand which we had opened at the PB Winery, they both agreed the wine was well done and a demonstration of the Thai wine industry's growing stature. We then tasted and discussed a series of wine's from the U.S. We were impressed that even though high taxes deter growth of the wine sector in Thailand that many in Bangkok appreciate and savor wines and really are trying to do everything possible to bring good wines to those who care. As we discussed our observations on wines in Southeast Asia, I couldn't help but feeling that we will be seeing more of South East Asian wines and that quality standards will soon be similar throughout the region to what is now seen in the best Thai wineries and those of their companions in Australia, France and the U.S. |

Both George and I were encouraged as to the advancement of the Vietnam and Thai wine industries, but we felt that there is still more to be gained through the implementation of international grape growing and winemaking techniques.

Related Article on our website:
China may not be the first country you think about when you think about wine consumption or production but this is fast changing along with so much else in China....(
more
>>)
---



About the Author:

Christopher W. Runckel, a former senior US diplomat who served in many counties in Asia, is a graduate of the University of Oregon and Lewis and Clark Law School. He served as Deputy General Counsel of President Gerald Ford's Presidential Clemency Board. Mr. Runckel is the principal and founder of Runckel & Associates, a Portland, Oregon based consulting company that assists businesses expand business opportunities in Asia. (www.business-in-asia.com)

Until April of 1999, Mr. Runckel was Minister-Counselor of the US Embassy in Beijing, China. Mr. Runckel lived and worked in Thailand for over six years. He was the first permanently assigned U.S. diplomat to return to Vietnam after the Vietnam War. In 1997, he was awarded the U.S. Department of States highest award for service, the Distinguished Honor Award, for his contribution to improving U.S.-Vietnam relations.


---