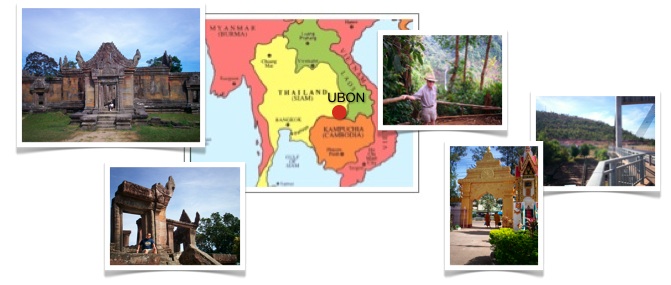 Most travelers to SE Asia rarely leave Singapore, Bangkok or the major cities. This is very much a shame as generally the cities of SE Asia, whether it be Bangkok, Ho Chi Minh City or even Phnom Penh or Singapore are not as scenic, nor is the air as clear or the people as friendly as once you step off the beaten path and enjoy Southeast Asia's rural beauty.
In December 2007, I took a trip with my wife and son to Northeast Thailand, Southern Laos and Western Cambodia. To say the trip was memorable and scenic would be an understatement. The trip was stunning. The crowds were virtually nil; the air was clean; the temperatures relatively low; the costs very reasonable and the friendship we met at many points on the trip memorable.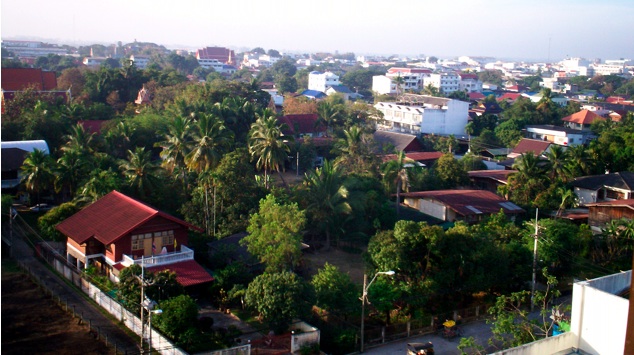 Picture above: Ubon Rachathanee, Thailand
We started our trip in Bangkok by flying to Ubon Rachathanee (or Ubon) in Northeast Thailand (Issarn in Thai). Ubon sits at the convergence of several rivers and although relatively dry at many points of the year, has much more tree cover than most Thai cities. Temperatures there especially in December, the coolest point in the year, are more pleasant. Additionally, Ubon as it is called, does not have lots of high rises and breezes blow across the town in the evening helping to cool the city.
For our stay, we selected the Lai Thong Hotel, which is a clean five-star hotel in the city center with 124 rooms. The hotel is well designed, air conditioned, well cared for and although service is not as quick in a five-star in Bangkok, the staff is friendly and will try to resolve any issue raised. Additionally at a little more that $35 per room prices were right.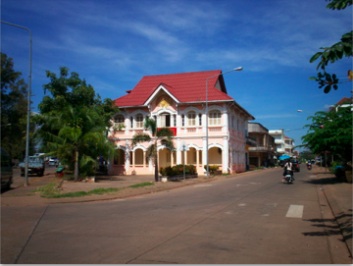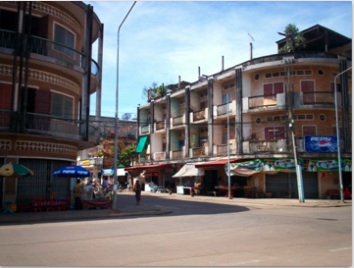 Pictures above: Downtown Pakse, Laos;
Pictures below: At one of the Lao temple in Pakse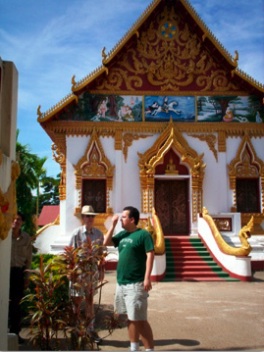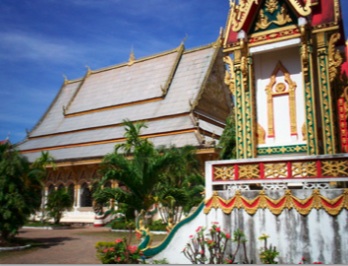 The first day we rented a van and headed to Pakse in Southern Laos. We went for the day but in retrospect one day is too short and you really need 2-3 days to see and enjoy Pakse and the surrounding area. The road to the border is as most Thai highways today smooth, multi-lane and safe. The border was not complicated but still takes about a half an hour to navigate as you are stamped out of Thailand for Customs and Immigration and stamped into Laos.
Roads are not quite as smooth or as broad in Laos but still travel can be carried on at a rapid rate. In Pakse, we visited the Central Market, several of the major temples, a number of the noteworthy bridges and the heart of the old French quarter but what really "wowed" us were the many scenic areas. Laos is in many respects a scenic and natural retreat in which large trees, magnificent forests and rivers and steep mountains give your eye much to see and appreciate.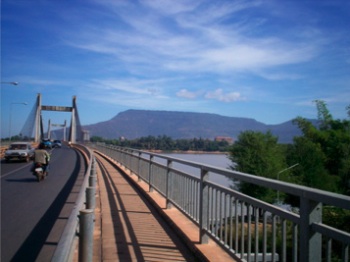 Picture above: Laos-Nippon Bridge;
Pictures below: At one of waterfalls around Pakse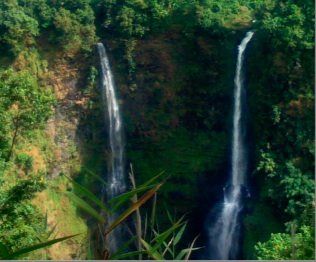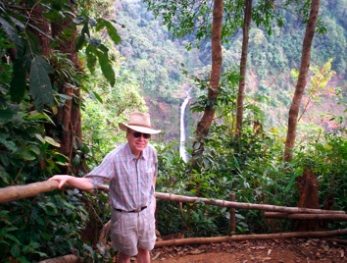 Eco-tourism is a natural in Laos and the Lao government, the provincial government and many NGO groups are working to help build "sustainable" tourism that protects the environment and helps create jobs for local people as guides and other support workers with a stake in forest, water and land conservation. This work is just getting started and there are still much that needs to be done but all one has to do is to look out on the hills, waterfalls and forests to cause you to hope that these efforts succeed.
One historical noted of interest on the Thai-Lao-Cambodia border is that in the 1950s, Vietnamese refugees fleeing war in their country settled extensively along both sides of the border. We met descendents of these early refugees who have stayed on and grow coffee, tea, fruit and other crops in Pakse. The Robusta coffee they grow is excellent but strong. They also raise several types of tea and all of this is very good quality. It was interesting speaking with these families in Vietnamese, which they continue to speak inside the house although Lao is spoken when marketing or dealing with the government. That evening back in Ubon, we dined on good Vietnamese food at a fraction of Bangkok prices before enjoying the hot water showers and air-conditioned quiet of the Lai Thong Hotel again.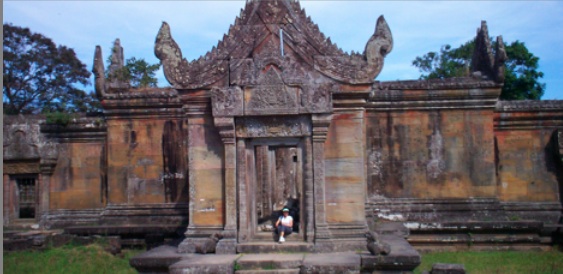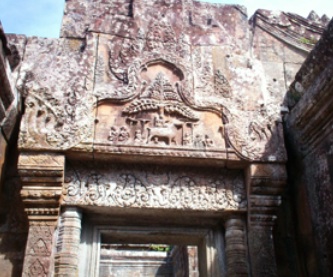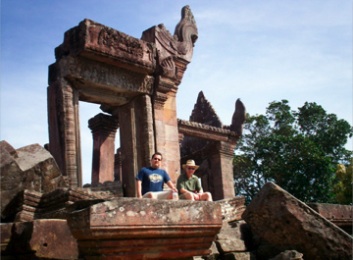 Pictures above:
Preah Vihear Temple in Cambodia
The next day we headed again along well maintained roads in Thailand to Si Sa Ket province where the borders of Thailand, Laos and Cambodia join near the Preah Vihear Temple (or Khao Phra Wihan as the Thais call it). Preah Vihear is best accessed from the Thai side in that the roads are infinitely better maintained on the Thai side. The temple complex which was built over two and a half centuries starting in the 14th Century stands on a hill very near Thailand but is actually in Cambodia and you need to leave your car on the Thai side and walk about a mile or more along a well cared for road and path. You pay a fee for entry in Thailand and again in Cambodia but both are modest. You will need to pay a fee for entrance but there is no need to show your passport or have it stamped. The site is accessible from the Cambodian side but the presence of unremoved minefields, which are still being cleared, tends to inhibit many to stray too far off the well-cleared paths.
Shortly after the Cambodian border the temple complex rises up in several separate sections as one ascends the mountain. I have been to Bayon and Angkor Wat n Seam Reap and to many of the temple complexes in Thailand and in Cambodia. Of all these, Preah Vihear is my favorite and the reason is that the lack of tourists allow you appreciate the grandeur of the location and the challenge of building such a structure without the crowds that one finds elsewhere. Further, the fact that the view from the top is so stunning on a clear day and that the complex is still largely unrestored is in my view more memorable than some of the bigger but reconstructed complexes elsewhere. I really recommend this as a hidden jewel that all travelers should take the time to search out.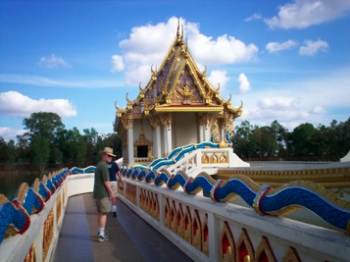 Picture left: From
Preah Vihear Temple's highest point, visitors can see the mountain range that marked borders for 3 countries: Cambodia, Thailand and Laos; Picture Right: On the way back to Ubon, we visited one of Ubon's main temples near the airport.
Traveling along the Thai-Lao-Cambodian border one is struck by the untapped tourist appeal of many of the mountain and other sites. Eco-tourism offers much continued appeal in all three locations and hopefully operators will be sensitive to protecting the scenic treasure of this three-border region.
Christopher W. Runckel, a former senior US diplomat who served in many counties in Asia, is a graduate of the University of Oregon and Lewis and Clark Law School. He served as Deputy General Counsel of President Gerald Ford's Presidential Clemency Board. Mr. Runckel is the principal and founder of Runckel & Associates, a Portland, Oregon based consulting company that assists businesses expand business opportunities in Asia. (www.business-in-asia.com)
Until April of 1999, Mr. Runckel was Minister-Counselor of the US Embassy in Beijing, China. Mr. Runckel lived and worked in Thailand for over six years. He was the first permanently assigned U.S. diplomat to return to Vietnam after the Vietnam War. In 1997, he was awarded the U.S. Department of States highest award for service, the Distinguished Honor Award, for his contribution to improving U.S.-Vietnam relations. Mr. Runckel is one of only two non-Ambassadors to receive this award in the 200-year history of the U.S. diplomatic service.