THE ROAD TO SAVANNAKHET
Laos does not get the tourists attention in the same way its larger neighbors of Thailand and Vietnam. It is not yet a country frequently visited although this is changing quickly. In 2003 there were 636 thousand visitors. In 2004 the number jumped to 894 thousand, an increase of 41% which demonstrates how things are changing. My visit there was for business and so I was part of an even smaller group of visitors but this too is changing as Laos opens up to the world.
Upon my arrival in Vientiane, the capital of Laos, on a Lao Aviation ATR airplane, I got my visa upon arrival. The process was quick and efficient and at $30 was not expensive since I was saved all the time of going to the Embassy and/or mailing my passport and waiting for processing. Upon arrival in Vientiane, I was met by my Lao Associates Sihattha and Xaybandith Rasphone, who are both highly trained and experienced businessman and both know how to help a client move his project in Laos forward plus also how to do business on their own right.

(Above) Chris Runckel with Sihattha and Xaybandith Rasphone
Vientiane has developed markedly over the last several years. Although not as outwardly prosperous as Thailand to its south, roads are well paved, many new businesses have opened up and the city's hotels are packed with Korean, Chinese, Taiwanese, Hong Kong and Thai businessmen looking for opportunities in the mining, energy business, particularly the hydro-power industry, plus increasingly sectors such as agriculture, feed grains and light manufactures. Japanese are also seen around the city but most of them tend to be consultants our on Japan government sponsored tied aid projects as opposed to businessmen. The reality as demonstrated earlier in Vietnam is that Koreans, Taiwanese, Chinese and often Thai businessmen and women are much more willing today to lead the way in new markets and to accept and deal with risk than their Japanese competitors. The result is that increasingly Japan businesses are playing catch-up and losing the best opportunities to Korean and Taiwanese and others.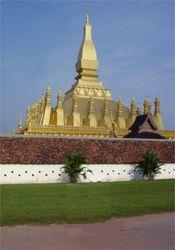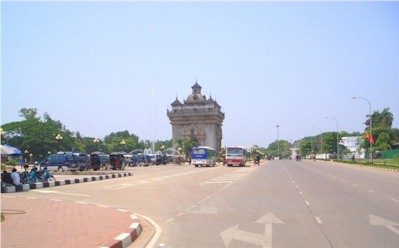 (Above) Scenes of Vientiane, Laos
In Vientiane, I welcomed the chance to view Laos's capital and to see the changes that had occurred since my last visit which included the new Don Chan Hotel built on an island in the Mekong with Malaysian money but with Chinese contractors. (Please note that because of the quick construction, there are many finer places to stay such as the Lao Plaza or the nearby boutique hotel.) I stayed at the Novotel which still remains a good bet. I also was saddened to look with wonder on the low level of the river caused by five up river hydro-electric dams in China that are greatly affecting Laos, Thailand, Cambodia and Vietnam and that are wiping out much of the inland fishing in the Mekong.
| | |
| --- | --- |
| | Finally, I was quite impressed with the new Laos National Exhibition Center built by a pair of Laotian brothers who left for France and gained success and who had agreed to build the center for the government to both celebrate their success and also assist their country. |
Despite a pleasant revisit to the capital, my visit this time was not focused on Vientiane but to on the middle section of Laos, specifically the area around Savannakhet that has not developed as rapidly or as prosperously as Vientiane, Luang Prabang or Pakse in the South. Much of the prosperity in both Vientiane and Pakse is attributable to the easier transit to Laos from Thailand brought about by the construction of two bridges. Savannakhet remained more remote although that again is changing with better roads north and South and East to Vietnam and west a new bridge to Thailand which is being jointly supported by Laos, Thailand and Japan.
(Above left) Road to Savannakhet is paved and smooth. (Above right) Logging trucks.
The road South for Vientiane demonstrates the effect foreign aid money, largely from Japan, has had on the country. The road is smooth, level and largely straight and allows rapid transit southward. We rented a four wheel drive Toyota Land cruiser and driver for a little over $100/day but the road is so good that you could easily use a sedan or van. Savannakhet is a five to six hour drive south from Vientiane and the ride gives you ample opportunities to both view the scenery which often involves long stretches of the Mekong and scenic hills. On the way south, we noted many logging trucks and often burned and destroyed forests as Laos both sells off its native hardwoods and then still allows encroachment on the secondary forest. According to my companion on the trip, Laos has already lost over seventy percent of its forest cover and the remainder is still being cut although lately the government seems to realize that such destruction will inevitably affect tourism and seems to be more determined to limit the worst cutting. Seeing a native rain forest that has not yet been cut is a memorable experience. Laos possesses some incredible scenery and the forests and hills that stretch for miles are something that shouldn't be missed.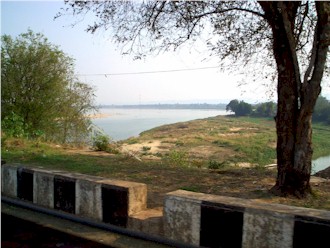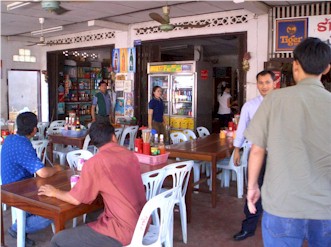 (Above left) Mekong river scenic view along the road to Savannakhet (Above right) Small local restaurant.
Despite the relatively less developed conditions in the countryside, small restaurants and places for getting a cup of good Lao coffee, soft drinks or a bite to eat are found in every major or even minor town. In these more remote locations, Lao hospitality is much in view and a friendly Lao hello or thank you will often win you a smile and a laugh as you struggle to explain your requirements.
| | |
| --- | --- |
| | Nearly six hours after leaving the capital we reached Savannakhet. The province of Savannakhet is larger in population than the capital but as I mentioned earlier, still has not seeing the first wave of prosperity that is appearing in parts of the capital and in Luang Prabang in the North and Pakse in the South. Savannakhet lies across the Mekong River from Mukdahan, Thailand which has two very nice hotels in the Mukdahan Grand and the Ploy Palace Hotels and is joined to the city by a vehicular ferry although a new bridge is rapidly taking shape across the river and should start taking traffic in a little over a year's time. |
Savannakhet has a Thai Consulate which is in one of the older colonial buildings which can be appreciated throughout the city. Laos has approved an agreement with its regional neighbors that allows nationals of both sides to enter and leave the country without visas. This agreement is increasing tourism and also business as Thai, Vietnamese and other Asean businessmen and women visit and look for opportunities.
Just next to the bridge which is being constructed across the Mekhong from Mukdahan to Savannakhet stands Laos only Special Economic Zone (SEZ). The Savan-Seno SEZ is located very advantageously immediately next to the bridge from Thailand, nearby to labor and city services from Savannakhet and on the East West Economic Corridor (Route 9) that links Vietnams' deepwater Da Nang Port and many industrial processing (IP) zones with Thailand and on to Moulmein in Myranmar (Burma). The zone is also located very close to the new road from China through Laos to Cambodia and Thailand (Route 13) that will in the future link all of Southeast Asia with Southwest China. In real estate, they say there are three important factors – location, location and location. The SEZ has a highly advantageous location and is bound to prosper. For right now, however the zone is still in the process of doing site clearance and in planning for infrastructure development and site layout. We met with Dr. Sonephet Inthavong, Deputy Director of the SEZ and one of his talented young staff. Both impressed us with their commitment to the project and with their enthusiasm and sense of mission.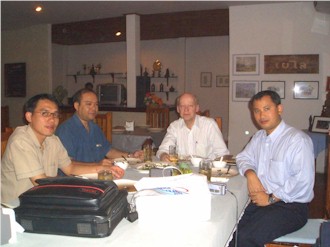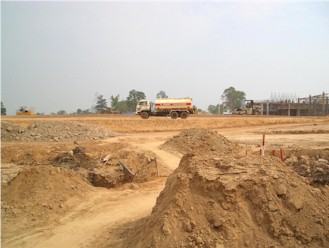 (Above left) Mr. Runckel and his team met with Management of SEZ. (Above right) SEZ site layout and development.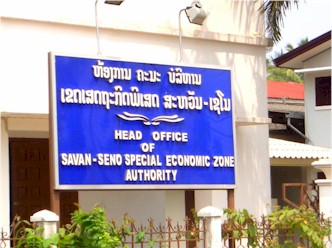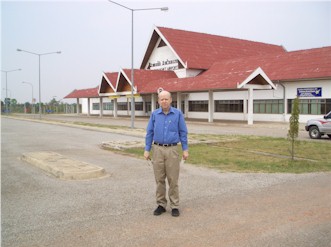 (Above left) SEZ Head Office. (Above right) Mr. Runckel at the Savannakhet's new airport
The next day we viewed the Savannakhet airport which is fairly new and should be operating and helping to increase tourist and business arrivals. The terminal is quite new and well sized and the runway is in excellent condition but the whole facility is currently under utilized because of the lack of aircraft and demand for service. Hopefully this will soon change as opening of the airport would serve not only Savannakhet but also Mukdahan in Thailand which doesn't currently have an airport. Further, as the SEZ develops and as tourism increases in Savannakhet, tourists will increasingly demand an easier and quicker way to visit this river city.
Savannakhet and the area surrounding it has a number of tourist attractions such as That Ing Hang Stupa, one of the most sacred Buddhist sites in Southern Laos or Northern Thailand, Wat Sayaphoum Temple, several sites with Dinosaur fossils, Heuan Hin Stone Temple, an outpost of the Khmer civilization and more than 1,000 years old, Hor Tai Pitok Ancient Library, a 200 year old wooden house and home to many stunning palm leaf scripts and the Lam Seun 719 Battlefield. But Savannakhet's true strength is in eco-tourism such as that found in the Dong Natad Provincial Conservation Area, the Phu Xang Hae National Biodiversity Conservation Area, the Dong Phu Vieng National Biodiversity Conservation Center, Bane Don Muang Primate Conservation area, Mai Te Kha Nature Trail in Houei Nhang Forest Reserve, Tad Salaen Waterfalls and Don Daeng Turtle Lake. Guided treks are offered throughout the area as part of the Provincial Guides training and set-up of Village Development and Conservation Trust Funds. This program is attempting to develop fair community-based eco-tourism to reduce poverty, increase support for wildlife conservation and encourage nature and cultural conservation. The forest areas being preserved are truly impressive and during treks you can see wild Asian Bison (Gaur), Siamese crocodiles, the Asian Black Bear, the Asian Golden Cat, the endangered Irawaddy Dolphin, the endangered Eld's deer, more common barking deer, langur leaf monkeys and elephants.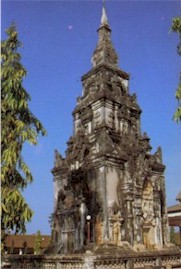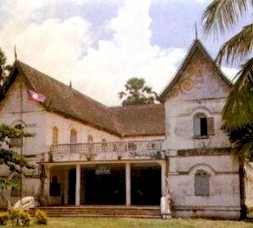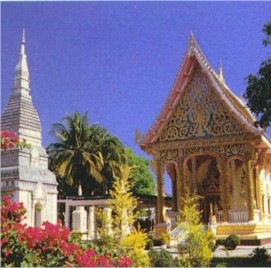 Savannakhet is not yet developed. Tourism resources are not yet as prevalent as in Vientiane, Pakse or Luang Prabang and certainly not as much as those in Mukdahan. Business resources through the Savan-Seno SEZ are still not as developed nor is business infrastructure of what either the authorities or many businesses will seek. Nevertheless I couldn't help but leave Savannakhet with a smile on my face and a twinkle in my eye as I thought of the natural charms, friendly hospitality and scenic beauty that make this city such a treat.